Traveling to Ho Chi Minh City means you are going to immerse yourself in a vibrant and bustling lifestyle. This city is made of a variety of colors simply lying there in its daily life waiting to be discovered. No matter if you're a wanderer who loves to capture and save every single moment on the go or an extreme instaholic with a ton of followers, Ho Chi Minh City deserves a place in your Instagram feed. 
Although you'll find lots of photogenic sights around the city, the following are among the most Instagram-worthy spots that can't be missed once you're in Ho Chi Minh. 
Unique Instagrammable Cafes in Ho Chi Minh City
Nguyen Hue Café Apartment
Would you like to let everyone know that you're right in the heart of Ho Chi Minh City? Take a photo and check-in at No.42 Nguyen Hue Apartment right away! Standing proudly in one of the most festive and expensive streets in Ho Chi Minh City, what this iconic apartment holds inside is more than meets the eye.
Nguyen Hue Apartment was built in the 1960s and only high-ranking officials in Saigon were able to own a room here at that time. Over the years, more and more residents had left this place due to the poor maintenance. It's the privileged location that saves the apartment from abandonment. 
Nguyen Hue Apartment features over 30 businesses, including coffee shops, workshops, and local brand boutiques. Many of the shop owners here are artists and designers. Nguyen Hue Apartment has blossomed into a hot spot not only for cafe hoppers and shopaholics but also art lovers. You'll find plenty of inspiration in this apartment to make your followers jealous! From minimalism to impressionism, there will be a place that satisfies most any eathestic. All the shops face down Nguyen Hue Street and utilize their balcony space, giving you a perfect view of the crowded walking street. 
Because this is actually an old-school apartment that wasn't designed for commercial purposes, you may find it a bit puzzling when exploring the apartment for the first time. Here's a tip for you:
Research for a certain coffee shop or business before heading into the building. This will save a lot of time wondering and looking for your destination in this 9-floor maze. If you have no idea where to go, here are some of my favorite places to visit:
Thinker & Dreamer Cafe – 4th floor
Partea – English Tearoom – 4th floor
DOSH – Doughnuts and Shakes – 3rd floor
Orientea – 7th floor 
Where to find it: 42 Nguyen Hue Street, Ben Nghe Ward, District 1, HCMC
Opening hours: 7 a.m – 10:30 p.m
Price: 30,000VND – 150,000VND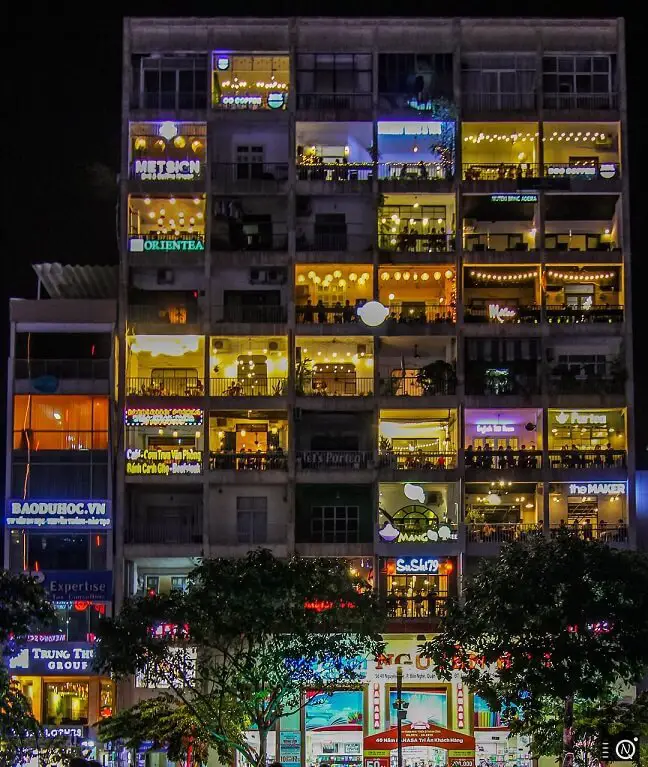 Source: nhatquanghoang   
Ba Lu Café
Another destination in District 5 that will drive your followers crazy with envy is Ba Lu Café. Hiding itself in a busy local market, the coffee shop is a frequent destination of residents in the area and those who enjoy the Vietnam's traditional coffee culture.
This is an heirloom coffee shop owned by a Chinese family. Its former owner is Mr.Lu (he's the second child in his family, this is how the name "Ba Lu" was formed), a Chinese who left his homeland and settled down in Saigon in the 1940s. The over-70-year old business is now run by his daughter, Ms.Hoang with support from her brother.
Even if you've visited lots of coffee shops downtown, Ba Lu Café is a totally unique experience. This experience first comes from the way they roast coffee beans to make a cup of "đen đá" or "nâu đá". Every step is handmade with traditional roasting equipment that is no longer used widely. Come to the shop at night and you might get lucky enough to watch the roasting process right on the street. The shop also uses an old school filter when making their coffee, which results in a very special and different flavor from modern coffees.
Ba Lu Café is not just a place where you come to enjoy a cup of coffee. People keep coming to this coffee shop for over 70 years to share daily stories with each other and to take part in the memories of generations of Vietnamese-Chinese that stay alive with every drop of coffee served here. 
As a foreign visitor, it's best to have a native tour guide or a Vietnamese friend accompany you to this coffee shop. So that you can have an easier time talking with the owner and get to know more about this interesting coffee shop.
Where to find it: 193 Phung Hung, Ward 14, District 5, HCMC (inside Phung Hung Market)
Opening hours: 2 a.m – 5 p.m (YES, the café is open that early to serve the merchants at the market) 
Price: 12,000VND – 15,000VND
Source: sooriarajan
Best Photo Spots of Ho Chi Minh City Attractions
Ben Thanh Market
If you want to capture all shades of the bustling lifestyle of Saigon in just one photo, do it in Ben Thanh Market. Although the market is becoming touristy over the years, it's still worth a visit since you can have a ton of iconic photos here.
The market was built even before the French colony came to Vietnam. In 1912, it was rebuilt and relocated to the current location in order to serve higher commercial demands. Since then, Ben Thanh Market has survived through several major events in Vietnam's History, including the revolution against the French and later the American War. This market has been featured in many movies filmed in Saigon, and mentioned in every single Vietnam tourist guidebook for decades.   
Apart from being the single most notable Ho Chi Minh City icon, the market is an Instagram-worthy place thanks to its architecture. Ben Thanh Market inherits the typical French Architecture that you can find sprinkled all over Vietnam. Over 100 years, it hasn't gone out of style but has even matched well with the continuously changing pace of life in Saigon. Outside of Ben Thanh market, there are four main entrances called East, West, South and North. The South entrance, which is ornate with a facade clock a facade clock above the door, is one of the most recognized icons of the market. You may have seen it somewhere on Instagram before because it is depicted in several pictures from those who have traveled to Ho Chi Minh City.
Tips: Feel free to take photos inside the market, however, don't touch any goods unless you intend to buy them. Picking up things without buying them may get the sellers angry.
Ben Thanh Market is definitely an eye-catching background for your photos, but watch your back when posing here. Traffic in Ho Chi Minh City is crazy, and it's even worse at market areas like this one. Check out our articles about Shoe Shopping in Ho Chi Minh for safety and shopping tips. 
Where to find it: Le Loi Street, Ben Thanh Ward, District 1, HCMC.
Price: No entrance fee   
Opening Hours:
Ben Thanh Market : 6 a.m – 6 p.m
Ben Thanh Night Market: 6 p.m – 10 p.m
Source: tranghy.1603
Tan Dinh Church
More than a religious destination, Tan Dinh Church attracts both Vietnamese and foreign visitors due to its charming pink color. This is why its so-called name "The Pink Church" is somehow more popular than its official name.
Tan Dinh Church is the second oldest cathedral in Saigon. You will be amazed at the architecture of Tan Dinh Church. This is a Roman-style cathedral with the combination of Gothic and Renaissance elements. The church was built in 1870 under the French colonization in Vietnam. This over-hundred-year-old church has been reconstructed many times since then. In the fourth construction in 1957, Tan Dinh Church was repainted into its current lovely color – pink. The whole building is covered in 3 shades of pink inside out, turning the solemn cathedral into a dreamy Cinderella Castle.  
I know it's a bit disappointing but tourists are not allowed to visit inside the church. The good news is, the best photos of Tan Dinh Church are usually taken from the roadside. The best time to visit the church and get some photos here is in the early morning (except Sundays) when the surrounding streets are vacant. For those who are not professional photographers, shooting vertical panorama with your smartphone is a good idea to get the full stunning view of the whole church.
Where to find it: 289 Hai Ba Trung, District 3, Ho Chi Minh City
Open hours: Daily 5 a.m – 5 p.m 
Price: No entrance fee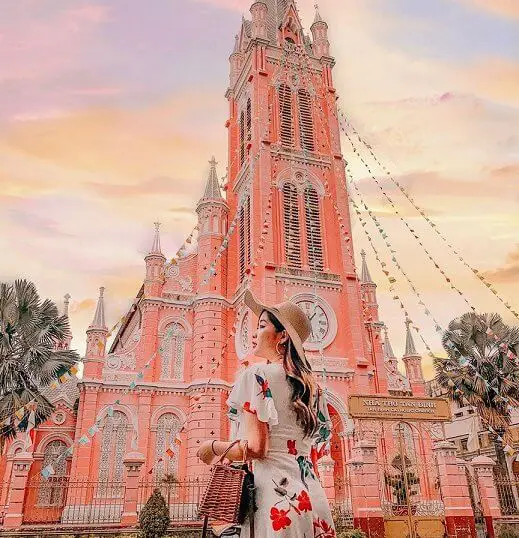 Source: jessicachaw
Thien Hau Temple
Welcome to the biggest ChinaTown in Vietnam – District 5. Your next destination, Thien Hau Temple or Ba Thien Hau Temple, is an iconic and Instagram-worthy destination that can't be missed. Built in the 19th century, the temple represents important religious traditions which have been valued by the Chinese community living in the South of Vietnam for over 200 years.
Thien Hau Temple is a Taoist temple dedicated to Mazu Goddess, the "Lady of the Sea" in Taoism. The temple is miscalled in Vietnamese as "Thien Hau Pagoda" because "pagoda" is labeled for any religious places except for churches in Vietnam. Thien Hau Temple, in fact, has nothing to do with Buddhism. The temple displays the famous ancient Chinese architecture with the traditional curvy roof, well-carved pillars, and sculpted holy animals. Having survived for over 2 centuries, the temple and its interior decorations are still in good condition.
There are 2 things that shouldn't go unnoticed once you visit Thien Hau Temple: worshiping and photo shooting. Take your time and zen your soul in the deeply sacred atmosphere of the temple. Don't forget to pray for health and good fortune as this temple is very famous for its spiritual power. Then it's time to capture your best moments here. Every single corner of the temple is photogenic. If you want to have some fantastic ancient mood photos, don't hesitate to wear Ao Dai – the Vietnamese traditional costume. It matches perfectly with the background here.
You're going to visit a solemn destination, right? So please mind your clothes before dashing to the temple: dress smart and appropriately. Long clothes like trousers and shirts are always the safe choice. Anything that is too revealing is not recommended in order to keep this place respectful.
Where to find it: 710 Nguyen Trai Street, Ward 11, District 5, Ho Chi Minh City, Vietnam
Opening hours: 8 a.m – 4:30 p.m
Source: cuongkhii
Landmark 81
This is the latest Instagrammable hotspot in Ho Chi Minh City.
Landmark 81 was completed in the mid-2018 and is now the tallest skyscraper in Vietnam. This 81-floor skyscraper offers a lot of high-end services, including shopping, entertainment, long and short term apartments. On important holidays or events in Vietnam, the building is also used as a giant led screen for celebrating purposes.         
Inside the building there are tons of shops to explore but the Landmark Skyview is the must visit destination here. The views are located on the 79th, 80th and 81st floor. They are the highest spots to observe the whole of Saigon with an awesome view along the river. Each of the 3 floors is a different experience. The 79th floor is a coffee lounge called MIWAKU. The 81th floor is MIWAKU Premium. Its highlight is a Japanese restaurant, where you can enjoy a fine dinner high up in the sky. And the highest floor – 81st floor offers a full-view telescope. There is also a service called SkyTouch, which allows true thrill seekers to step outside the building from an altitude of nearly 400 meters.
Due to its outstanding height, Landmark 81 is recognizable from almost every corner of the city. Yet the best place for you to capture the whole building is from Saigon Bridge or Thu Thiem Bridge.
Did you know that there's an amazing park inspired from the famous Central Park in New York City right in the residential of Landmark 81? The park that first served the Vinhomes residents exclusively is now open for all visitors. From the main entrance of the building, you'll see a huge red bridge leading to the park. This is the easiest way for you to visit the park after exploring the fabulous Landmark 81.
Where to find it: Vinhomes Central Park, 208 Nguyen Huu Canh, Ward 22, Binh Thanh District, HCMC
Opening hours: 8 a.m – 10 p.m
Landmark Skyview ticket price: 810,000VND/adult – 450,000VND/child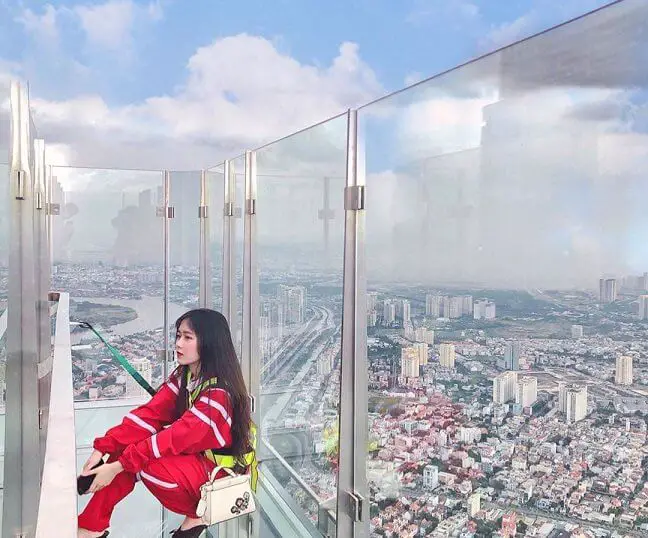 Source: lengocanh97
Abandoned Places in Ho Chi Minh City
Nguyen Thien Thuat Apartment
Another aged apartment cracks our top ten list, guess what's waiting for you here? While this apartment is far from being abandoned, if you are looking for that old empty feeling instagram spot for a great photo, there are tons of opportunities in this location. While Nguyen Hue Apartment embraces a dynamic and young vitality of Ho Chi Minh City, Nguyen Thien Thuat Apartment is where you can breathe in the old Saigon of the last century.
The apartment was originally aimed to provide contemporary accommodation for residents who suffered from the fire loss in 1968, and no one expected it to last for such a long time. After the Vietnam War, the apartment was governmentalized and rented out to residents. While some people have decided to move on, a lot of residents still live here. Many of them are doing quite well though with local business here, and they also probably love the location.
It's best to visit Nguyen Thien Thuat Apartment in the late evening. This is when people coming home after a long working day, light up their homes, or gather around the playground for some small talk with their neighbors. In the warm light that spreads from home to home, don't forget to capture this lazy but cozy pace of life right in the middle of bustling Saigon.
One of the best things about this old apartment is that you're free to enter the building. And Nguyen Thien Thuat Apartment is no exception. At block G of the apartment, there is a small temple that you would love to visit. Unlike other temples, this one is located on the 3rd floor, which also allows you to have a full view of the apartment complex.
Where to find it: Nguyen Thien Thuat Street, Ward 1, District 3, HCMC
Opening hours: Always open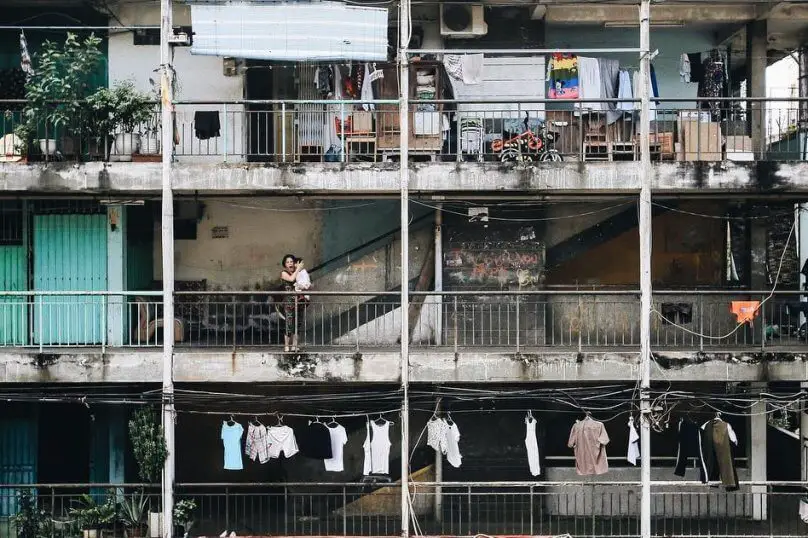 Source: mai.lannnn 
More Instagram Worthy Places around Ho Chi Minh City
Bui Vien Street
It's time for a night out on the most touristy and controversial street in Saigon! You may love the overfilled atmosphere of Bui Vien, while some can't stand such a flood of people. But still, no trip in Saigon is completed without a visit to Bui Vien Street. This is where every photo taken is extremely energetic and full of nightlife.
Started as a small alley that foreigners can easily find a hostel room, Bui Vien has turned out to be a famous (and infamous) party destination, where there's more to do than just drinking. Walking through this short street, you can capture every typical scene of this city. It is filled with pubs, bars, massage services, restaurants, hostels, and street food. All these things are squeezed in a crowded space and seasoned with high pitch EDM, making the whole street insanely chaotic and thrilling.
The typical Instagrammable shot on Bui Vien will show the large crowd of people on the streets with the Bitexco looming large in the background. Don't miss the perfect Bui Vien plastic chair instagram moment: A small stool right on the sidewalk with a local beer and street food.
Important tips: ALWAYS take care of your things! There is no better place for a pickpocket than this street. Put your valuable things at the hotel, keep your stuff on your front and use a neck strap for your phone or camera and you'll be fine.
Where to find it: Bui Vien Street, Pham Ngu Lao Ward, District 1, HCMC
Opening hours: Always open – but the street actually wakes up at night.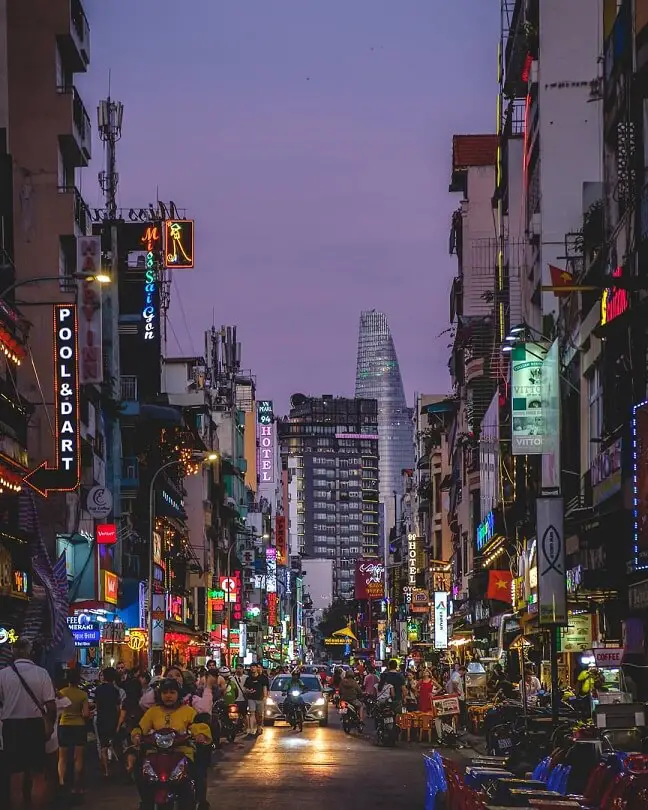 Source: poraquivaiprala
Cu Chi Tunnels
Getting off the central city around 50 kilometers, you're heading to the most iconic historical destination in the South – Cu Chi Tunnels.
Let's take a quick glance at the history of this destination back in 1948. The tunnels in Cu Chi are parts of a tunnel system stretching from the South Vietnamese capital to the Cambodian border. In Cu Chi, the total length of the tunnel is around 250 kilometers. Can you imagine that whole area of underground honeycomb was completely man-made? There were trapdoors, constructed living areas, storage facilities, weapon factories, field hospitals, command centres and kitchens all underground in the network of tunnels. This is where Vietnamese soldiers lived and survived the fiercest carpet-boombings during the war.
Your trip to Cu Chi Tunnels will be an eye-opening journey, which gives you the chance to peek into the past of Vietnam during the war-time. The deeper you dig into the tunnels, the more you unearth about how "real" the war was, and what the soldiers had suffered in those darkest days. Along with these tunnels, historical exhibits are also displayed here such as tanks, guns, military aircraft, and punji sticks – which are a type of booby trapped stake.
The tunnels have a lot of activities for visitors to experience the real atmosphere of days long gone. One of the most recommended reasons to visit Cu Chi Tunnels is to try crawling in the tunnels, experiencing how terrible it would be as a soldier during those times. There is also the opportunity to fire a gun. Wouldn't it be cool to capture and share the moment you are letting the bullets fly from an AK-47?
Tips: Although exploring the tunnels seems to be an interesting experience, it's not advisable for visitors with breathing problems because the tunnels are extremely narrow. Photos from the internet may be hard for you to know the tunnels' actual size. Large people can fit into the tunnels but some may be too large. So consider it before jumping into these tunnels. 
If the history of Vietnam excites you, then spend more time visiting the nearby Cu Chi War History Museum. You can find many old and valuable photographs and large chunks of rusting military hardware here. For an in-depth guide to visit Cu Chi Tunnels on your own, check out our article here!             
Where to find it: Provincial road 15, Phu My Hung Ward, Cu Chi District, Ho Chi Minh City
Opening hours: 7:00 AM – 6:00 PM
Price: Entrance fee: 80,000 VND
Minimum Price to shoot 10 Bullets: 600,000 VND\
Source: rohitreddygoa
Floating Market – Can Tho, Mekong Delta
How about taking your Instagram followers a bit further to the South and explore the unique experience in the Mekong Delta – floating market? Although the floating market is quite popular in the South, Can Tho stands out as the capital of this kind of market. You can opt to visit one of the two biggest floating markets in Can Tho, Cai Rang and Phong Dien. Cai Rang Floating Market is also the oldest and located in the Mekong Delta.
With the absence of the road traffic system over 100 years ago, floating markets were initially formed to serve the demand of trading activities. It made good use of the river systems in the Mekong Delta. Now since the traffic system has been developed, the floating market today serves mainly as a tradition rather than the original purposes it was created for.
For all first-time visitors, I'm sure that you're going to marvel at the merchants' boating skills. On their medium-size boats, which are also their floating houses, they can run a very fine business. Fresh farm products, fish, flowers, fruits, foods and drinks are all available at any floating market just like a normal market.
The best time to capture the busy atmosphere of a floating market is in the morning. As the Southern residents have the habit of starting a day very early, you should plan to visit the market before 7 A.M. The temperature is also more comfortable at that time.
If you're interested in floating market and Can Tho, don't miss out our article about the perfect overnight trip to the heart of the Mekong Delta!
Where to find it:  Cai Rang District, Can Tho Province
Tip: The floating market as lost a bit of it's business over the years, so it isn't the destination it once was. We recommend checking out the Mekong Delta with a tour company who will show you more than just the market so you can have a trip that was well worth the journey. Read more about how to get to the Mekong Delta in our article.
Opening hours: 3 a.m – 9 a.m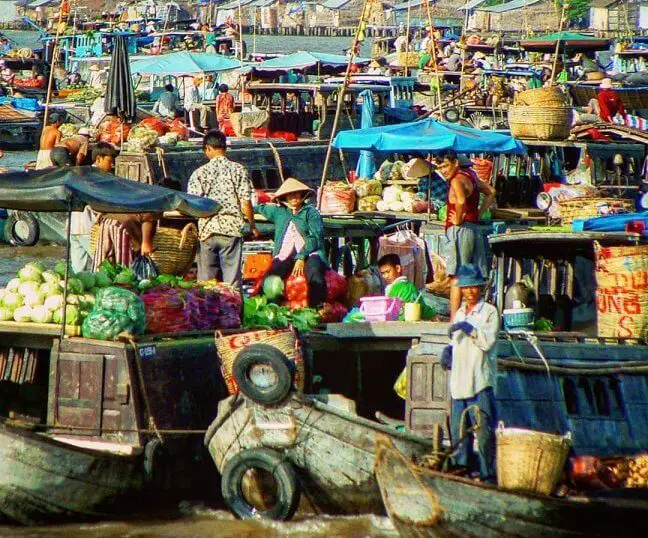 Source: iwasthereonetime
Vietnam is a large country, this is one of the first things that you have to understand when planning your vacation to Vietnam. Over 1,000km in length makes the weather patterns of Vietnam very volatile year round. This does also mean, that during a vacation in Vietnam you will most likely be able to find some good weather during your trip here.
So when the weather in Northern Vietnam is feeling wet and cold during the December months, the weather in Southern Vietnam is warm and sunny. This makes the best time to go to Vietnam a difficult question to answer.
What we hope to do in this best time to go to Vietnam guide is to help you plan your vacation better by having a better understanding of what weather in certain parts of the country looks like year round.
Does it Rain a lot in Vietnam?
Before we jump in, we want to talk about understanding the unique rain patterns we receive in Vietnam.
In Hanoi during March, it rains a higher amount of days than the rest of the year at an average of 22 total days. Naturally, we would assume that means the amount of rainfall should be relatively high in the month of March, which actually isn't true. March in Hanoi has relatively low rainfall compared to the rest of the year.
Vietnam features many days of rain, where we will experience short bursts of rain daily. This means 15-20 minutes of rain in the afternoon, which let me tell you, in southern Vietnam this is a blessing.
When the weather app or website you are using says expect showers for the next 21 days in a row, this doesn't mean we will see nothing but rain. Just at some point in the day, we will have a little bit of rain that is usually over quite quickly.
What do these Rain Patterns mean for the best time to go to Vietnam?
Personally, I wouldn't worry about it too much. If you ABSOLUTELY must not have rain, then you can look below to find which time of the year features the least days of rain in the area you would like to visit.
What is the best time to go to Vietnam, Hanoi?
Hanoi Weather is described as Hot Wet Summer and a Cold Dry Winter.
Rainy Season is from January to September and Dry Season from October to April.
Average Monthly Temps for Hanoi
| Dec - Feb | March - May | June - August | Sep - Nov |
| --- | --- | --- | --- |
| 17-18℃ | 21-28℃ | 29℃ | 28-22℃ |
| 63-64℉ | 70-82℉ | 84℉ | 82-72℉ |
**We would like to note that the June and July temps of Hanoi are on the rise the last year reaching nearly 40℃* on some days**
Average Monthly Rainfall for Hanoi (mm)
As you can see above, the rain is heaviest during the hot summer months of June, July, and August. The Raining season begins to come to a close towards the end of September and early October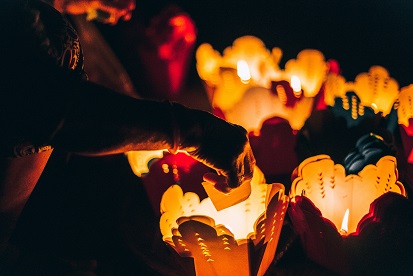 What is the best time to go to Vietnam, Hoi An?
Hoi An or Central Vietnam vacations should have travellers the most concerned when booking a vacation that they want to avoid rain.
Most people are going to flock to central Vietnam to spend mornings sun bathing at the beach and the afternoon walking around Hoi An's Old Town.
A day full of rain and wind could really cut a beach vacation short.
Rainy Season in Central Vietnam is usually around September til early February. Which unfortunately coincides with the best humidity and temperature of the entire year in Hoi An.
October til February is also the high season for tourism.
Important Note, typhoon season is underway from October to December, which could mean flooding for Hoi An's old town. If you are staying in Hoi An at this time, we recommend thinking about booking accomodations in the An Bang area of Hoi An.
What does all this mean for the best time to travel to Vietnam , Hoi An?
Our verdict for a beach vacation would be to try out Hoi An during the off season months, during the afternoon the temperature might be a bit hotter but you will have far less of a chance of having your beach vacation rained out.
Average Monthly Temps for Hoi An
| Dec - Feb | March - May | June - August | Sep - Nov |
| --- | --- | --- | --- |
| 22-23℃ | 25-29℃ | 29-31℃ | 24-28℃ |
| 72-73℉ | 77-84℉ | 84-88℉ | 75-82℉ |
Average Monthly Rainfall for Hoi An (mm)
Listed above, you can see the heaviest periods of rain will be September-November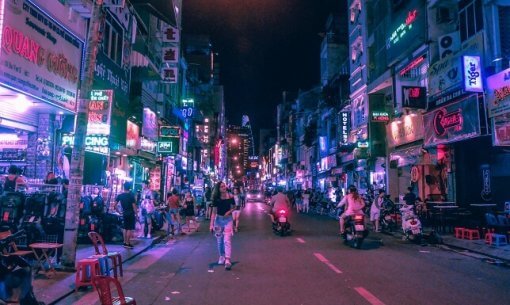 What is the best time to go to Vietnam, Ho Chi Minh City
Southern Vietnam is a pretty safe and easy bet when it comes to predicting the weather.
From May to October, we can expect hot weather with rain at least once a day.
From November to April, it will be hot and dry.
Average Monthly Temps Ho Chi Minh City
All Year (Jan - Dec)

27-30℃
81-86℉
Average Monthly Rainfall for Ho Chi Minh City (mm)
When should I not travel to Vietnam?
Great Question! There is only one time of the year, every single year, that you should not travel to Vietnam or some other Asian countries if you are looking to get the most out of your trip.
Chinese New Year or Tet Holiday is not a great time to come to Vietnam. This is the one time of year that everyone closes down shop for a minimum of 3 days, but plenty of great restaurants or activities will close for almost 2 weeks.
2019 Tet Holiday will fall on February 5th.
2020 Tet Holiday will fall on January 25th.
So for example, if you were looking to come to Vietnam and try one of our world famous City Tours or Food Tours we will be closed February 3rd – February 9th.
Thanks for Reading our Tips on the best time to go to Vietnam. If you have any more questions, please feel free to contact us
Imagine haggling for shoes in Ho Chi Minh City, many of you will fantasize about bargaining a great deal in the famous Ben Thanh Market. What if I told you this isn't the best place to get a deal on good quality shoes? I wrote this article to give my readers a better insight on where to actually get quality shoes for a good price. I'll help you dodge the majority of overpriced fakes peddled in the major tourist markets.
Using my expertise as a Vietnamese girl and a shoe fanatic, I'll be showing you where I personally recommend buying shoes, how to inspect for quality and where to strike a bargain on high-quality shoes of all kinds. I'll also discuss pricing so you can avoid overpaying when shopping for shoes in Saigon.
Tips for to Identify Quality Shoes
Shoes Markets in Ho Chi Minh City
Shoe Shopping in Malls
Ho Chi Minh City Shoes Streets
Boutique Shops for Women
-Naga
-Juno
-Vascara
-the NYsmile
What Should You Know Ho Chi Minh City Shoes Shopping?
The footwear market in Vietnam is huge and diverse. There are many factories in Vietnam and surrounding countries manufacturing Shoes for the rest of the world. Which means travelers worldwide frequently shop for shoes when traveling to a big city in South East Asia. These travellers salivate over the idea of a great pair of brand name shoes for half the price. Here comes the truth…. You cannot find factory rejects in such big and iconic markets like the Ben Thanh Market. The truth is that most shoppers are being duped into buying low quality fakes at a high price. Any well-known shoe brands you see in Ben Thanh Market and Saigon Square are fake.
Without these tips chances are you're going to waste a huge amount of money in return for something that is about to tear apart within a couple of weeks, or even days. Don't make the mistake of expecting high quality at an incredibly cheap price anywhere that is known to cater to only tourists.
Okay, so that was the hard truth that might deflate some dreams of bringing back 12 pairs of legit Nike sneakers to the US for $100. Not all is lost though! I'm gonna give you some great tips on looking for quality shoes in Ho Chi Minh City, even if you are shopping in iconic places like the Ben Thanh Market.
Useful Tips to Identify Good-Quality Shoes
First, let's discuss how to identify good-quality shoes that deserve the amount of money you pay for them. Depending on which kind of shoes you're getting specifically, the criteria may vary. Here are four crucial tips to tell if a shoe is well-made or not.
If The Price Seems too Good to Be True, It is
Who doesn't love a good deal? It's such a rewarding feeling when you walk out of the store in a stunning pair of shoes after paying only a few bucks for them. That initial joy may turn sour after few weeks or even days. Your "victory" will soon break your heart as the heel is falling off or the leather is horribly scratched.
One big tip to avoiding a scam when buying shoes are to look at the price tag. I'm not advising you to buy something that costs a fortune but make sure you raise your eyebrow at a price that seems too good to be true.
In general, a good pair of shoes barely go for under $10 USD. Well-manufactured shoes cost a lot during the making process, from designing, using the right material, seaming, shipping and so on.
If you happen to get an offer of $20 USD for a pair of brand name sneakers in Ben Thanh Market or Saigon Square, you'll know what to do!
The Tags Says it All
Checking the tags sewn on the tongue or side liner is another way to identify the quality of the item you have in your hands. Pay attention to the font, size, and colors of each digit and letter. Are they equally colored? Do they look even from letter to letter? How is it printed or sewn into the shoes?
If a tag is glued carelessly or blurred out, chances are those shoes are not gonna last as long as you would want them to. An authentic, well-made shoe should present its size on the inside or along the sole. If this is missing, I don't recommend purchasing that shoe.
Check on the texture, color, and size
Colors
This may sound like a bizarre qualifier but premium shoes are barely covered with a flashy and flamboyant pigment. A quality shoe will look natural and eye-pleasing to customers. Poor-quality shoes sometimes come in showy colors with fun or random stickers. These shoes are much more likely to become faded and blurred shortly after a little bit of wear and tear.
Stitches
The seaming lines play a big role in telling if the shoes are worth it or not. If you spot out careless stitches that are rough and off-balance, the shoe is probably low-quality.
Don't be afraid to take a closer look at the shoe to try and check for its quality. These types of defects are meant to be hidden and only discoverable to a suspicious and diligent customer.
Form
One of the most essential steps during the making of shoes is that the shoemakers will use their shoe own forms to produce a standard pair of shoes. These mechanical forms provide a shape similar to a human foot. This step ensures people feel comfy and confident in their walk without feeling stiff and painful.
Knowing this clearly will help you identify poor-quality shoes as most of the fakes or low-quality shoes look stiff, coarse, and they apparently don't follow the structure of the human feet.
Take 'Em for a Test Spin
Lastly, before you decide to purchase, make sure you walk around and double check to see how comfy it makes you feel. Sometimes the low quality of a shoe isn't evident until you put it to use.
Shoes Markets in Ho Chi Minh City
Bargaining for shoes in local Markets, or anywhere else for that matter, brings a certain feeling for shopaholic travellers. The intensity of a bargain as you haggle to get a great deal but the seller isn't budging, finally you walk away, but then wait! The dealer suddenly offers their "very best price". In that treasured moment you feel like a champion ready to battle with every vendor in the market.
In this section, I'll introduce the various markets where you may choose to do your haggling battles. Each market will vary so you'll have to understand the market before you jump in and start shopping.
Ben Thanh Market
Ben Thanh Market is large. Spanning over 13,000 square meters with four different entry gates on each side. The footwear section is near the East Gate, which is written as "Cua Dong" in Vietnamese. You can easily navigate there by following Phan Chu Trinh street.
Ben Thanh market is overflowing with fake shoes of all various makes and models from Nike, Doc Martens, Puma, or any other brand you can think of. Keep a cool head, Use our tips about quality shoes to navigate to a vendor offering a decent product. A pair of shoes here should cost around $7 USD to $15 USD depending on its quality.
That will not be the starting price though. This is a tourist market where this vendor has another customer 10 minutes later who will pay way more than a wise shopper like yourself will pay.
Address:  Le Loi Street, Ben Thanh Ward, District 1, Ho Chi Minh City
Opening hours: 7 AM – 7 PM
Saigon Square
Compared to Ben Thanh Market, Saigon Square seems to be a better option for shopping regarding quality and price. This is also a great place to shop for those who don't want to haggle or bargain. All of the prices here are set and most vendors won't bargain.
Saigon Square is home to a massive collection of good-quality shoes made in Vietnam. Many native and Vietnamese from abroad like Saigon Square as their favorite market for shopping for this reason. Keep in mind that you should never expect to find original brand shoes here at a bargain, because any famous brands you see here are fakes. The fakes here should be high quality, and the selling price for them will be much cheaper than what you are told at other famous markets in Ho Chi Minh City.
Addresses:
81 Nam Ky Khoi Nghia Street, District  1, Ho Chi Minh City
176 Hai Ba Trung Street, District 1, Ho Chi Minh City
Opening hours: 9 AM – 9 PM
An Dong Market
An Dong Market is one of the biggest wholesale markets in Saigon. This is an ideal place if you are searching for a good shoe supplier to export or purchase in big quantities for your own retail shop. The shoes you'll find here usually come from Guangzhou, Thailand, South Korea, Cambodia, or Vietnam. Due to such a huge selection of goods, the price range and quality here varies accordingly.
Address: Cong Truong An Dong, Ward 9, District 5, Ho Chi Minh City
Opening hours: 5:30 AM – 8 PM
Binh Tay Market
If Ben Thanh is the biggest retail market in Saigon, Binh Tay is the largest wholesale market. Most of the products here, including shoes are imported from China. They come in various models and types such as sneakers, sports shoes, sandals, flip flops and kids' footwear.
As a wholesale market, buying shoes in small quantity is difficult and more expensive than purchasing wholesale. That's why it's easy to understand that sometimes the sellers refuse to sell when you want to buy shoes in just a small quantity.
Since their goods are only for wholesales buyers. Not every shop is the same, so depending on the vendor, they may or may not agree to sell shoes in small quantities.
Address: 57A Thap Muoi, Ward 2, District 6, Ho Chi Minh City
Opening hours: 6 AM – 7 PM
Russian Market
This is the only place in town where you can guarantee you will find large shoe sizes for both women and men. Most of the other stores in Saigon offer a normal size range for the Vietnamese feet. If you look for a size up to 45 or 49, Russian Market is the one place you should visit.
The merchandise here is mostly made in Vietnam for export to Russia or Europe. Hence, the size of both clothes and shoes are much bigger than typical Vietnamese wear. If you are looking for larger western sizes, then the Russian Market is a great option.
The shopkeepers here are friendly and respectful, so don't worry about being pestered to buy. The opposite of what you will experience at the Ben Thanh Market. Please note that all of the prices here are fixed so haggling is not needed.
In our video, I met a really nice gentlemen with a good shoe store in the market is name is Hoang and is stall is "Shop D35 Lau 1 Cho Nga"
You can call him at 0932828985
Address: 328 Vo Van Kiet Street, Co Giang Ward, District 1, Ho Chi Minh City.
Opening hours: 9 AM – 7 PM.
Shoe Shopping in Ho Chi Minh City Malls
The shopping malls in Vietnam are where you will find multiple famous shoe brands. Some of them include Nike, Stradivarius and Zara. Don't expect to grab a pair of Nike at a cheaper price than the price offered back in your hometown. Brand name shoes in Vietnam are quite expensive if you want the real deal. There are sometimes deals and clearance sales just like everywhere else, so hitting up a shopping mall for a bargain might be a fun treasure hunt for a shoe shopper. Below is a list of shopping malls in Ho Chi Minh City:
  Saigon Center – 65 Le Loi street, Ben Nghe Ward, District 1, Ho Chi Minh City.
  Vincom Centre – 72 Le Thanh Ton street, Ben Nghe Ward, District 1, Ho Chi Minh City.
  Diamond Plaza – 34 Le Duan street, Ben Nghe Ward, District 1, Ho Chi Minh City.
  Parkson Plaza – 35-45 Le Thanh Ton street, Ben Nghe Ward, District 1, Ho Chi Minh City.
  Crescent Mall – 101 Ton Dat Tien Street, Tan Phu Ward, District 7, Ho Chi Minh City.
  Landmark 81 – Vinhomes Tan Cang, Binh Thanh District, Ho Chi Minh City.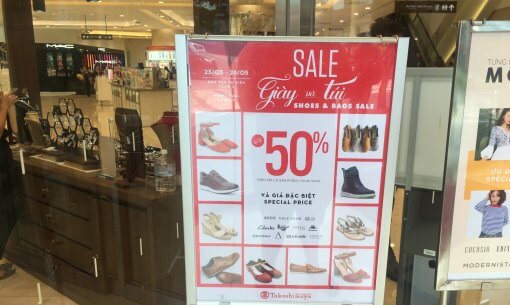 Famous Local Shoe Streets in Ho Chi Minh City
This is a popular option for shopaholic travelers looking for shoes at an affordable price in Saigon apart from the malls and big markets.
Ho Chi Minh City Shoe Streets
Below, I've rounded up 5 big shopping shoe streets where you can find plenty of shoe boutiques. I've narrowed down the approximate addresses for the best places to shop along those streets.
Walking along these streets, you can easily find a wide range of footwear, such as sports shoes, heels, sandals, flip flops, ballerina slippers and many other kinds. These are either domestic brands or imported from Thailand, South Korea, and China.
Even though there are 5 local streets where you can find shoes, the best street for shopping as a traveller that I recommend is Nguyen Dinh Chieu street where you can find almost any kind of shoe you want for a great price.
This street is located right in the city center and you can easily find it. The best shoe stores assemble around Ban Co Market. Almost every shop you see around here is a famous local brand like Juno, Vina Giay or Biti's. They sell mostly girls' footwear in these stores like heels, sandals, ballerina slippers, dockside, boots and flip flops. The price range is roughly from $15 to $30 USD depending on style, brand, and quality.
This street became popular to the white collar local Vietnamese and young women in Saigon thanks to the affordable price, and the variety of footwear for all occasions.
This section is near the backpacker area (Bui Vien – Cong Quynh).
The second shoe street worth mentioning is Nguyen Trai. This street is stretching from District 1 to District 5 but most of the best boutiques gather around the area of Nguyen Trai Hospital. This is a bit far outside of the typical Tourist area.
Luu Van Lang street is located at the right side of Ben Thanh Market. You can reach here from the West Gate of the Ben Thanh Market, which is perpendicular to Phan Boi Chau street. This is home to sandals, sneakers, pumps, and shoes which cost from $8 to $10 USD only.
On Le Van Sy street, Phu Nhuan District, there are dozens of shoe stores sitting next to each other. The area in front of the Ba Chuong Cathedral has the best shops in my opinion.
Another street that is worth a visit is Ly Chinh Thang street in District 3. There are not as many shops as on other 4 streets but the stores here are very popular. They are located near the Western Australian International School System.
Ho Chi Minh City Shoe Boutiques
The shoe streets above are great for saving time since you'll definitely find something you like with so many options to choose from. However, for enthusiastic shoes lovers like me, I don't mind visiting a smaller shop to grab what I like even though it's far away from where I live.
Here are the most sought-after shoe boutiques that are always on the top of the list of Saigonese girls and guys!
There's one thing you should note down, the Vietnamese shoe sizes are smaller than the average foreigner shoe sizes. When you are interested in a brand or a store listed below, make sure you give them a call to double check whether they offer the right sizes you need or not. Otherwise you may leave the stores with disappointment. Your hotel concierge can really be helpful with small requests like this.
Boutique Shops for Women
Naga
Most of the loyal customers at Naga are millennials who are university students or office staff. Naga offers a wide range of models which are made of polyurethane. It's durable, modern, and convenient. These are ideal for a night out with your girls or for long days working in the office.
Another reason why Naga popular amongst the young locals in Saigon is that they offer online shopping. We can easily scan through their available items on Facebook or Instagram, which are daily updated, and place an order within just a few minutes. The shop itself is spacious, bright and all items are arranged neatly on each shelf.
Addresses:
154 Nguyen Thuong Hien street, Ward 4, District 3, Ho Chi Minh City
221/5 Le Van Sy Street, Ward 13, District 3, Ho Chi Minh City
Opening hours: 8:30 AM – 9 PM
Price range: 10.7 USD – 12.8 USD
Facebook: Nagashoes
Phone number: (+84)126.664.9635
Size range: 35 – 40
Juno
Juno is a famous domestic brand widely praised by its customers. As of now, there are 81 branches open across Vietnam. If you work in the office daily, then Juno is definitely a good brand to keep in mind. A majority of Juno collections are designed and dedicated to the modern female who require convenience, comfort and also an eye-pleasing design.
You can find a broad range of stylish footwear here at Juno, most of which are heels and stilettos. Flip flops and sandals are also available, yet they come in limited models and colors.
In terms of the price range, Juno is well-known for its affordable prices. The shoes come in around $5 to $34 USD. Other than footwear, the bags are the second most popular item here which falls in the same price range. I believe the price range is reasonable for as reputable of a brand as Juno.
The brand also offers a lot of promotions and deals all year round. Many of us locals register for Juno membership, which means we usually get good deals, especially during the member's birthday month with a 10% or 20% discount.
Regarding the quality, Juno never disappoints me. Some Juno items I've had at home for two years, and amazingly they last for quite some time even though I wear them often.
Addresses:
269D Nguyen Trai, District 1, Ho Chi Minh City
246D Xo Viet Nghe Tinh Street, Ward 21, Binh Thanh District, Ho Chi Minh City
360 Hai Ba Trung Street, District 1, Ho Chi Minh City
236K Le Van Sy Street, Ward 1, Tan Binh District, Ho Chi Minh City
313 Nguyen Thi Thap Street, District 7, Ho Chi Minh City
385b Cach Mang Thang Tam street, Ward 13, District 10, Ho Chi Minh City
483 Le Quang Dinh street, Ward 1, Go Vap District, Ho Chi Minh City
2 Nguyen Trai street, Ward 3, District 5, Ho Chi Minh City
Opening hours: 9 AM – 10 PM
Price range: $5  – $34 USD
Phone number: 18001162
Size range: 34 – 39
Vascara
This Brazil-based brand can be seen as a big competitor with Juno. Both Vascara and Juno target the same market – office ladies. However, this niche doesn't seem to stop Vascara from expanding its market. Their new collections include Vascara Bridal – feminine designs for the bride-to-be; Vascara Junior – modern and stylish models for the Millennials, Vascara Wide Fit – large-sized shoes and Vascara Leather – premium real leather.
All Vascara items come in a huge diversity in terms of colors, forms, and designs. Most of the shoes are offered around $17 to $25 USD, excellent in quality, and comfy to walk around in all day long.
Addresses:
35 Le Thanh Ton street, Ben Nghe Ward, District 1, Ho Chi Minh City
189A Cong Quynh street, Nguyen Cu Trinh Ward, District 1, Ho Chi Minh City
375 Nguyen Dinh Chieu street, Ward 5, District 3, Ho Chi Minh City
478 Cach Mang Thang Tam street, Ward 10, District 3, Ho Chi Minh City
58 Nguyen Trai street, Ward 3, District 5, Ho Chi Minh City
Opening hours: 8 AM – 10 PM
Price range: $17 – $25 USD
Phone number: 18006909
Size range: 35 – 39
The Nysmile
Nysmile has a big community of fans in Saigon since their products meet are diverse. Meeting the needs of ladies from office staff, feminine women, or young dynamic girls. NYsmile footwear is high-quality, eye-catching, and all of them come with a six-month guarantee. Plus, the staff here are super friendly and helpful.
Currently, blue and white sneakers are their best sellers. This is a great pick for sporty girls to wear to the gym or travel.
Addresses:
436/14 Cach Mang Thang Tam street, District 3, Ho Chi Minh City
120 Hoa Lan Street, Phu Nhuan District, Ho Chi Minh City
Opening hours: 9:30 AM – 9:30 PM
Price range: $6.44 – $17.18 USD
Phone number: (+84)932.197.167
Size range: 35 – 39
Boutique Shoe Shops in Ho Chi Minh City for Men
Men usually find it hard when going out to shop for shoes. Compared to women's, men's shoes may not be that diverse, both in design and stores to choose from. In this section, I'll be walking you through two options for two different styles: gentlemen bespoke and sports shoes.
Tailor-made Bespoke Shoemakers
CNES
CNES has been rocking the bespoke shoemaking industry in Vietnam since 1994 and is proudly praised as the grandest shoemaking brand in Vietnam. All pairs of shoes and accessories are finely crafted by a group of 150 "artisans" who bring 200 pairs of shoes to CNES stores each day. For over 20 years of producing shoes, CNES has introduced the technique of making shoes by the Vietnamese to more than 30 different world-class shoe brands worldwide.
The price of a bespoke pair at CNES is affordable. Which includes bonus bundled deals like a belt, shoe trees, and more. The items are also available in many sizes and forms. At CNES, they sketch your feet and design the blucher in anyway you like.
The procedure of making a bespoke product here takes around 20 to 30 days after you have your feet measured. International delivery service is available. All you need to do is to pay the total amount of your shoe price beforehand and pay for the shipping fee by COD – Cash On Delivery.
At CNES stores, ready-made shoes are available. In case you cannot find the right shoe size, then you can offer to have your bespoke shoes tailored accordingly. You may love to scan through their stocks online, but if you need to have one tailor-made, you are advised to visit the store and meet the staff in person.
Otherwise, make sure you make a call and talk to them directly so they know exactly how to make the right shoes for you. The process of making bespoke shoes requires a good sophistication and details. That's why a call or a visit is necessary.
Addresses:
43A Ba Thang Hai, Ward 11, District 10, Ho Chi Minh City
206 Le Lai street, Pham Ngu Lao Ward, District 1, Ho Chi Minh City
Takashimaya – Floor 3, 92-94 Nam Ky Khoi Nghia street, Ben Nghe Ward, District 1, Ho Chi Minh City
Opening hours: 9 AM – 9 PM
Price range: $172 – $386 USD
Fugashin
Fugashin bespoke shoes can be found in many big countries worldwide, such as Japan, Germany, France, Canada, Italy, Spain, and Australia. Each of their shoes are produced carefully with the construction of Mckay (Blake), Goodyear-welted, Hand-sewn Welted, Moccasin and so on. Fugashins leathers are high quality and imported from France, England, and Italy.
As a top bespoke shoemaker itself, Fugashin shoes come in a wide array of styles, price ranges, shoemaking techniques as well as models. Fugashin is highly respected in terms of quality and after-sales service. You will feel pleased when shopping at Fugashin as both the manager and sales rep are very enthusiastic and considerate in helping you choose the right shoes.
Addresses:
15 Vo Van Tan Street, Ward 6, District 3, Ho Chi Minh City
Takashimaya – Floor 3, 92-94 Nam Ky Khoi Nghia street, Ben Nghe Ward, District 1, Ho Chi Minh City
97 D1 street, Binh Thanh District, Ho Chi Minh City
Opening hours: 9 AM – 9 PM
Price range: $94.5 – $1.289 USD
ManGii
Mangii is another iconic brand offering "Made in Vietnam" bespoke shoes. The brand puts a lot of effort into studying Orthopedics and aesthetics in order to customize the right shoes for both Asians and Westerners. You will feel like a true gentleman during your shopping time here at ManGii as the staff is excellent and accommodating.
One disadvantage is that the majority of ManGii shoes are not modern. If you are a fan of the classic look, then ManGii is the right choice. If you seek a more inventive and cutting-edge style, then other brands are probably more suitable.
Address: 196 Le Thanh Ton street, Ben Thanh Ward, District 1, Ho Chi Minh City
Opening hours: 9 AM – 10 PM
Price range: $116 – $215 USD
Sports Shoes Stores
If you're looking for sports shoes, then look no further! These are the two recommend big local shops in Saigon:
G-Lab
G-Lab is certainly one of the most famous brands in Saigon respected by the young community and basketball players since they mainly offer basketball shoes of various brands. You can find many popular shoe brands at G-Lab such as Nike, Jordan or Adidas. The customer service at G-Lab is superb, as you'll be assisted in getting the best kicks for your money's worth. As mentioned, if you are an avid basketball player yourself, especially if you're a fan of the old-school era, you may get to love G-Lab even more.
Address: 135/58 Tran Hung Dao street, District 1, Ho Chi Minh City
Opening hours: 9 AM – 9 PM
Price range: $25.7 –  $730 USD
Phone number: (+84)945.378.809
Size range: 35.5 – 47
Sole Station
Founded by two passionate students in Saigon, Sole Station is the most sought-after shopping store for sneaker fans in the city. All items come in a huge assortment of  brands and categories, such as jogging, running, basketball, and even fashion shoes.
The price range at Sole Station is consistent over time, coming along with good customer service and high appeal; which makes Sole Station a remarkable destination for sneaker lovers.
Address: 140/30 Dang Van Ngu street, Ward 14, Phu Nhuan District, Ho Chi Minh City
Opening hours: 10 AM – 9:30 PM
Price range: $8.58 – $429.3 USD
Phone number: (+84)903.76.9545
Size range: 35 – 47
Ho Chi Minh Factory Outlet Shopping
Finding shoe outlets in Saigon is very popular, especially when the number of travelers stopping in Saigon has greatly emerged over the past few years. Here in this article, I've listed down four different well-known outlets and their branches where you can find Nike, Converse, Adidas, Dr. Martens and more.
Nike
Addresses:
327 Cong Hoa street, Ward 13, Tan Binh District, Ho Chi Minh City.
386 Hoang Dieu, Ward 5, District 4, Ho Chi Minh City.
Opening times: 10 AM – 9:30 PM.
Price range: 21.4 USD – 429.3 USD.
Phone number: (+84)2838.428.342
Size range: 36 – 39 for women and 40 – 45 for men.
Converse
Addresses:
219 Nguyen Thi Thap Street, Tan Phu Ward, District 7, Ho Chi Minh City.
96 Tran Quang Khai street, Tan Dinh Ward, District 1, Ho Chi Minh City.
Opening hours: 9 AM – 10 PM.
Price range: 13 USD – 85.82 USD.
Phone number: (+84)2835.262.637
Size range: 35 – 44.
Adidas
Addresses:
366 Cong Hoa street, Ward 13, Tan Binh District, Ho Chi Minh City.
Opening hours: 10 AM – 9:30 PM
Price range: 25 USD – 429.3 USD
Phone number: (+84)28 38.125.141
Size range: 36 – 40 for women and 39 – 46 for men
'Factory Outlet' Store in Ho Chi Minh City
Factory Outlet is home to various world-class brands such as Clarks, Dr. Martens, Goex, San Marcos and so on. You can also find multiple women and men footwear in different categories which include ballerina, slip-on, moccasin, and dockside. One thing to remember is that Factory Outlet has a limited offering of models for heels and stilettos.
Addresses:
52 Hoa Hong street, Ward 2, Phu Nhuan District, Ho Chi Minh City.
Phone number: (+84)768.999.978
212B/D90 Nguyen Trai streets, Nguyen Cư Trinh Ward, District 1, TP. Ho Chi Minh City
Opening hours: 8:30 AM – 10 PM
Price range: 11 USD – 86 USD
Phone number: (+84)902.868.768
Size range: 30 – 50.5
Most of them are genuine outlets, but please be mindful that they are not exactly cheap. The items here are mostly imported as they don't own any factories in Vietnam. Popular as it seems, not every outlet is offering authentic merchandise, which means you can spot some fakes out there. In case you happen to find one while shopping, it's best to use your own judgment to get your money's worth.
Football Shoe Shopping in Saigon
Last but not least, let's talk about where to find football shoes in Saigon. Most of the time, tourists visit the Nike Or Adidas franchise stores in a mall to find the football shoes they like. Things are a little different for the Saigonese, we have some famous local-known stores dedicated only to football fans. These are where we find our favorite football shoes and other related outfits and accessories.
Here are four of the best sought-after boutiques where you can buy good quality football shoes if you ever need to find some when traveling to Saigon. You will find many different brands of football shoes, including big brands such as Nike, Adidas, Puma, Warrior, Zara and the list goes on.
Thanh Hung Futsal
Address: 27 D52 Street, Ward 12, Tan Binh District, Ho Chi Minh City.
Price range: 47.4 USD – 121 USD
Opening hours: 9 AM – 8 PM
Phone number:  (+84)2838.429.720
Size range: 37 – 45
Shop Giay Da Banh
Address: 38 Nam Chau Street, Ward 11, Tan Binh District, Ho Chi Minh City
Price range: 56 USD – 258.5 USD
Opening hours: 9:30 AM – 8:40 PM (Mon – Sat) | 9:30 AM – 3:30 PM (Sun)
Phone number: (+84)908.111.287
Size range: 29 – 48
Neymar Sport
Address: 57/1 Dien Bien Phu Street, Binh Thanh District, Ho Chi Minh City
Price range: 64.6 USD – 344.7 USD
Opening hours: 8:30 AM – 8 PM
Phone number: (+84)902.970.907
Size range: 28.5 – 48.5
Sport 1
Addresses:
63 Nguyen Thi Minh Khai Street, Pham Ngu Lao Ward, District 1, Ho Chi Minh City
273 – 275 Hai Ba Trung Street, District 1, Ho Chi Minh City
Price range: 56 USD – 181 USD
Opening hours: 8:00 AM – 9:30 PM
Phone number: (+84)903.624.466
Size range: 40 – 45 for men and 35 – 39 for women
With this comprehensive guide to buying shoes in Saigon, you now have no fears in finding the right place for your favorite kicks. Quickly bookmark our article right now and share it with your friends if you find it helpful!
Health issues are one of the top concerns of a traveler when visiting or moving to a new country. As Vietnam is one of the developing countries in the tropical area, it is necessary that you know what to eat and drink safely to avoid epidemics in this hot and humid weather. Our article will guide you on whether you can use water in Vietnam depending on where you are located and what you use it for.
Can I Drink Water in Vietnam? No, you cannot drink water straight from water sources without boiling or filtering. Bottled Water, Filtered Water, or Green Tea are the main sources of drinking water in Vietnam. You should never drink water straight from the tap or ground source to avoid contamination.
Vietnam's Water Supply
Water supply and sanitation is still a huge challenge for Vietnam's government. Besides urban areas, there is limited access to pipe water systems in rural areas. The local people there still have to use groundwater, river water, and rain water for daily activities. Even in major cities, during dry seasons, there can also be a shortage of water due to poor operation and management.
"Can I Drink Water In Vietnam?" is one of the most frequently asked questions of travelers first coming to Vietnam. This is natural as many countries are lucky that they have the infrastructure to drink straight from the well or tap.
Can I Drink Tap Water in Vietnam?
Water is vital for everyone. In developed countries, people can drink water right from the tap. Unfortunately, you must not do that in Vietnam. Tap water is considered to be suitable for only basic use like watering trees and washing. Though the government has announced that water supply system in urban areas are under strict surveillance and censorship, it is uncertain that the water filtration systems can purify water from the river.
Instead of drinking water directly from the tap, local people boil the water for at least one minute to kill bacteria and viruses. Then they store it in their own pitchers. Water is used within the day only. The remaining boiled water will be poured away to ensure the quality of water. Some local people also use bottled water from reputable firms with a water purifier. Some popular bottled water suppliers you can consider in Vietnam market are Lavie, Nestle, Aquafina from Suntory Pepsico, Dasani from Coca Cola, etc.
But if you travel during a few days in Vietnam only, portable bottled water in small bottles of 350ml to 1500ml, ranging from $0.2 to $1, is the most convenient choice for you. You can buy them at any convenience stores, supermarkets, and local markets throughout Vietnam. In some rural areas where there are almost no facilities like in the cities, you can ask the local where the nearest mom-and-pop stores are and pick up some bottles there.
Can I Eat Vegetables Washed in Water?
If you were to avoid eating fresh vegetables in Vietnam because they were washed in tap or well water, I believe you would be missing out on a ton of great food in Vietnam that depends on fresh herbs and vegetables. We use a common sense approach for this in Vietnam, it is okay to eat vegetables washed in tap water as long as you don't consume a lot of water.
The most important factor here will be the food safety of the actual restaurant. If there are a lot of locals eating here and the restaurant or vendor looks and feels safe to you, you will be okay. I would not stress about it.
Can I use tap water to brush my teeth in Vietnam?
Yes, you can brush your teeth with the water in Vietnam. You can be sure that the tap water in urban areas is safe to brush your teeth and bathe. In most rural areas, the water is going to be safe as well for bathing and brushing your teeth.
If you are in a very poor village with no infrastructure, brushing your teeth and taking a bath with bottled water will be better for you. Though it is a bit costly, it can prevent you from using the dirty water and getting sick.
What else can I drink in Vietnam?
Green Tea is by far the #1 drink that is consumed on a daily basis in Vietnam. Coffee must be a close second. As a country located in the tropical area, Vietnam is well-known for a lot of fruits which you can't find or are too expensive to buy in your own country. There are a variety of smoothies and fruit juices made with these fruits.
One favorite drink that many tourists love to drink is fresh coconut water. You can order this drink almost everywhere in Vietnam, even street food stalls. This can be drunk directly from the coconut with a straw and you can be sure that it is safe for your health.
You will regret traveling to Vietnam without trying Vietnamese traditional iced coffee. It is regarded as one of the strongest coffee's in the world. But the way we make coffee is special and a large part of our Culture. Coarsely ground beans go into a French drip filter (called a phin), which sits on top of the cup. The beans are pushed down with a thin lid, hot water is added to the phin, and then the water slowly trickles through into the cup. You can drink coffee with sugar or condensed milk. You can also drink with or without ice. A cup of coffee costs you from $0.5 if you drink in local cafeteria to $4 if you drink in luxurious coffee shops and restaurants. If you want to know if drinking coffee is safe in Vietnam, go ahead and check out our blog post.
If you love drinking beer, there are a variety for you to choose from. While local beer such as Saigon Beer, Huda, Ha Noi Beer is quite affordable for those who are on a budget, costing you around $0.5 per can. If you prefer international brand name, you can consider Heineken, Budweiser, Beck's, costing you from $0.8 per can.  Drinking beer on ice is very common in Vietnam, we recommend you check out our blog post about "Is Ice Safe to Drink in Vietnam?", if you want to learn more.
Where to go if you get sick from drinking water in Vietnam?
Sad but true, however careful you are when you choose where to eat and drink, you may suffer from some incidents. If your stomach is not strong enough, keep in mind some ways to get medication. You can ask the locals to guide you to reliable drugstore to buy medicine if it seems to you that the illness is not serious. Otherwise, it is highly recommended that you go to the doctor or the hospital. If you travel around Ho Chi Minh city, you can go to Vinmec International Hospital, which has branches spreading all over Vietnam with good customer service and modern facilities.
Vinmec International Hospital
Website: https://vinmec.com/
Address: 458 Minh Khai Street, Hai Ba Trung, Ha Noi

30 Thang 4 Street, Residential Area 4, Hai Chau District, Da Nang City
208 Nguyen Huu Canh Street, Binh Thanh District, Ho Chi Minh City

Hotline: Ha Noi: (+84) 2439743556

Da Nang: (+84) 2363711111
Ho Chi Minh: (+84) 2836221166
Besides, there are other prestigious hospitals in Vietnam. In Ho Chi Minh City, FV Hospital, City International Hospital are considered to have the best and fastest service for foreigners. In Ha Noi, HFH is known as the first International hospital in Hanoi. Thu Cuc International General Hospital is also a reliable address if you have health problems when staying in Ha Noi. If you travel to Hoi An or Da Nang City, you can bear in mind hospitals such as Hoan My Hospital, Gia Dinh Hospital.
FV Hospital (Ho Chi Minh City)
Website: http://www.fvhospital.com
Address: 6 Nguyen Luong Bang Street, Southern Sai Gon (Phu My Hung), District 7, Ho Chi Minh City
Hotline: (+84) 2854113333
City International Hospital (Ho Chi Minh City)
Website: https://cih.com.vn/
Address: No. 3, 17A Street, Binh Tri Dong B Ward, Binh Tan District, Ho Chi Minh City
Hotline: (+84) 862803333
HFH (Ha Noi)
Website: https://www.hfh.com.vn
Address: 1 Phuong Mai, Dong Da, Ha Noi
Hotline: (+84) 2435741111
Thu Cuc International General Hospital (Ha Noi)
Website: https://benhvienthucuc.vn/
Address: 286 Thuy Khe, Tay Ho, Ha Noi
Hotline: (+84) 904970909
Hoan My Hospital (Da Nang)
Website: https://www.hoanmydanang.com/
Address: 291 Nguyen Van Linh, Thanh Khe District, Da Nang City
Hotline: (+84) 2363650676
Gia Dinh Hospital (Da Nang)
Address: 73 Nguyen Huu Tho, Hai Chau District, Da Nang City
Hotline: (+84) 236363233
In brief, drinking water in Vietnam isn't as serious of an issue as some travelers may think. With the rapid development of tourism, food services in Vietnam are gradually improving in recent years. Like going to any other Southeast Asian countries, being prepared and choosing wisely will help you prevent unfortunate incidents so you can enjoy your trip. We hope that our guide in this blog will help you understand how and where to choose potable water when you travel to Vietnam and have a safe and memorable journey here.
We serve vegetarians on our Taste of Vietnam and our Big Eats & Small Seats Tours every day. We know how important it is for Vegetarian and vegan travellers to find some delicious local food that caters to their lifestyle.
Our goal as always is to provide travelers with the best spots for various Vietnamese street food or activities here in Saigon. One that was probably requested the most was a Top 5 vegetarians restaurants in this city. Finding 5 places for great vegetarian food in Ho Chi Minh City was not too much a challenge for us, and more an excellent opportunity for delicious food. Below is our video with the Top 5 Vegetarian restaurants in Saigon, scroll down below for the list of addresses to the top Vegan Restaurants in Ho Chi Minh City!
Vegetarian Restaurant Ho Chi Minh Top 5 Recommendations
#5 Cơm Chay Mani, 291/2 Võ Văn Tần Street, District 3
#4 Rou Vegetarian Restaurant, 37B Cô Bắc Street, District 1
#3 3 Lá Restaurant, 32A Cao Bá Nhạ Street, District 1
#2 Bông Súng, 86 Nguyễn Du Street, District 1
(dishes in the thumbnails are Phở Cuốn, Diếp Cuốn, Gỏi Bắp Chuối Chiên, Cơm Trộn Bông Súng, Bún Chả Giò)
#1 Hum, 32 Võ Văn Tần Street, District 1.
Have you tried any of these restaurants? which one was your favorite ? Let us know in the comments below!
As a local who has lived in Ho Chi Minh City for more than 20 years, I have to admit that that Saigon can be a bit dirty sometimes. Like most developing cities in the world household litter and air pollution are problematic. In fact, a majority of the problems and complaints by residents in Vietnam could be solved by not littering.
Is Ho Chi Minh City Dirty? No, Saigon is kept pretty clean despite its population and the amount of littering that happens daily. Tourist attractions and the center of the city are kept extremely clean compared to more local areas of the city. The city government has been trying their best to improve the hygiene and sanitation of the whole city in recent years. The efforts include placing public trash bins at the intersections and hiring sweepers to clean the streets have been paying off.
Although littering, air pollution, and flood are the main factors making the city dirty, it is not as bad as you would think. District 1 where people are better educated is generally cleaner than District 12 for example, but market areas near the bus station at September 23 Park, which is also in District 1, is dirty. Pollution is a global problem that all major cities around the world have to deal with on a daily basis. Don't expect Ho Chi Minh City to be as clean as Singapore, but it is comparable to Bangkok. This city isn't dirty enough to avoid visiting like some places in the world that have a reputation for this.
District 1, 3, and the center of the city are kept clean and nice
Littering is banned at popular places and tourist attractions in the city. If you are visiting Museums, pagodas, and cathedrals around the city you can expect nice clean areas. There is some littering that is annoying around areas like the Opera House and Nguyen Hue walking street because of young vietnamese who aren't cleaning up after their small get togethers. The city does a great job of getting these places cleaned up during the night though.
Bui Vien Street and Pham Ngu Lao Street are generally clean. The streets are crowded by heavy traffic during rush hour, which is around 5pm – 6.30pm. Also when there is a music event going on in the Park, the street will be so loud at night. It is great for partying but you should beware of the inevitable trash, littering, dust, smoke, and graffiti that comes hand in hand with partying and backpacker areas around the world.
Sanitation in the city is nice. Public toilets such as the ones on September 23rd Park near the backpacker area are kept clean. When using them, it is best to bring toilet paper yourself in case they are out and there isn't a bum gun. You should also prepare some small money like 5000 VND for the donation box in front of most public toilets. This donation rule works for other public toilets in Ho Chi Minh City too.
Littering
Ho Chi Minh City has a beautiful skyline sitting right along the Saigon river that is very charming.  The patchwork of different color houses sitting like a quilt spread out for kilometers in every direction is also breathtaking. When you get a closer look on the streets though, trash and dirt can be found in small alleys, sidewalks, canals, and parks. This sort of litter can come with the territory in certain areas of the city. The city averages a whopping 8,700 tons of household garbage everyday which can create some sanitation problems in smaller unnoticed or maintained areas.
Littering in Ho Chi Minh City, all over Vietnam for that matter, is an unfortunate problem that is very common. The government is doing a great job of educating the youth of Vietnam to be more aware of our environment but the older generation can still be seen littering with no remorse. There have been recent movement in the past few years to educate the older generation to take care about the environment which seems to be gaining some traction.
There will be a difference between someone throwing their plastic single use cup in a plastic bag into the river, when compared to the trash you see sitting under the trees when you walk along the sidewalks. The trash under the trees is actually the neighborhood spot for placing household garbage. Everynight Ho Chi Minh City sanitation workers, clean up every street collecting this trash. So placing it under the tree, electric pole, or lamp post is just a collection point for the city sanitation crew. This shouldn't be confused with careless littering.
Recycling isn't implement in Vietnam like other countries around the world. Even though people tried to separate waste into different trash bins, staff from environmental companies still mix them together before sending them to the city's dump sites.
Trash in markets and vendors
Most people go shopping at markets rather than supermarkets in Ho Chi Minh City because they can find fresh ingredients with cheaper prices. However, the hygiene is not guaranteed as the waste and garbage can be found all over local markets. Most vendors do not throw rubbish into bins. They just simply throw their rubbish into the gutters or directly to the ground under their stalls. The trash includes plastic bags, food scraps, rotten veggie, cigarette butts, and tissues. Only when the sellers need to close their stall they sweep the floor, collect trash, put them in big plastic bags and throw them at a collection point at the rear of the market.
These vendors aren't as dirty as it sounds, personally I feel most vendors are doing their best to keep things sanitary, but at the end of the day it is what it is. These markets are unique tourist attractions in Ho Chi Minh City because people can enjoy local food from people peddling their wares. 
Despite the fact that selling on sidewalks are banned by the government, local people still do these small businesses illegally to make a living. Sometimes you will witness vendor owners running away from police, or when you are enjoying your meal the vendor will make a quick dash down the street and you are left alone and confused.
Flooding in the city
This may be a blessing to any traveller who wants a great and unique local experience in the city, but it's always painful for us locals. Flooding in the city during the rainy season is a nightmare to every citizen. It is annoying not just because of trash floating on the street, but it's also an inconvenience afterwards. When the water level is above your knees, travelling around the city becomes harder than ever. The car and motorbike engines stopping in the middle of the street leads to prolonged traffic jams. Some people have to push their motorbikes by hands, while others trip and fall after riding on flooded potholes they can't see. 
Even if you are not living in the flooded area, you may deal with difficulties as well. Traffic jams usually occur in the whole city when there is flooding anywhere in the downtown area.
The main reason for flooding is uncontrollable littering by us locals. The drains are choked up with garbage, river runoff is slowed down because of household trash, giving rainwater no way to escape from the city. Therefore, if you visit the city during the rainy season which is from May to November, you should really bring a raincoat, waterproof accessories and flip flops to prevent you from getting wet
Optimism of people even in such situations may surprise you and make you want to visit the city anyway. Some visitors and citizens found this entertaining. When it rains, fish in canals swim to the streets and people try to catch them. Some travelers really enjoy this that they even go kayaking in the middle of the city.
Air pollution
Most cities in the world presumably face this problem. It is no doubt that the overpopulated city like Ho Chi Minh is in the same situation. Heavy traffic, smoke, dust, and air pollution is a part of citizen's daily life. In sunny season from December to April the air pollution is even worse in the sunlight.
Trucks carrying cattle or fish sauce is another cause of air pollution, but you can only see them in the suburb areas of Ho Chi Minh City like District 12. 
The mentioned factors are the reason why you should wear face masks and sunglasses when walking down the street in Ho Chi Minh City. They don't just keep you from sneezing but also protect you from respiratory diseases and other kinds of sickness. 
We hope this article answers your question about the cleanliness and safety of Ho Chi Minh City. This is my home, and it is surprisingly clean even though there are many sanitation issues that our city faces with such a large population. I feel that most travellers visiting Ho Chi Minh City will feel the same.
Put some Pate on It : The Best Banh Mi Saigon and Where to find the best Banh Mi Saigon at Huynh Hoa
The Banh Mi has become a Phenomenon across the globe over the last few years. In London alone, you can find approximately 26 shops selling their own versions of the Banh Mi for 4-6 on average. America is being swept up by its own wave of Banh Mi enthusiasts who are not even blinking while shelling out an expected $6 dollars for a quality Banh Mi.
What is it that makes the Banh Mi so fantastic that its notoriety is spreading across the world so quickly?
As a cook and foodie, I appreciate the balance of the sandwich. It touches every sensation on my tongue perfectly and leaves nothing more to be desired from such a humble and simple sandwich. Layered with meat, smothered in pate and mayo, and topped with fresh herbs, pickles, and chili creates a texture and flavor party that leaves the masses standing in line with their hands open begging for more night after night in Saigon.
The Saigon Banh Mi is a special type of bread that is unique and different from a standard French Baguette you might find at a French bakery.
Not only used for sandwiches, the Banh Mi has found its way onto many different Vietnamese dishes as a necessary side. One of the most notable being the French influenced Vietnamese dish Bo Kho, which requires the Banh Mi for soaking up the meaty rich broth making for an excellent breakfast. A very popular Goat Curry restaurant in Saigon, provides its guests with a stack of Banh Mi at each table used to soak up the rich curry gravy which provides a unique substitute to the Naan Bread that is typically placed alongside curry dishes.
The bread itself is much debated online in various forums given to the difficulty for finding a legitimate recipe that uses Rice Flour to create the Banh Mi. The complexity comes from the nature of Rice flour not containing any of the necessary proteins that help create gluten which assists the leavening agents to capture pockets of gas. Also that rice flour, depending much on the granule size of the flour itself, is slower to absorb liquids than wheat flour but will also absorb more liquid. This is a mystery that should be left to solve with someone that has an oven inside of their apartment, which would not be me at the time of this article.
Is the best Saigon Banh Mi the only sandwich we need to eat in Vietnam?
The Banh Mi sandwich has very different forms depending on where you are in Vietnam. There is the Infamous Banh Mi of Hoi An that was visited by Anthony Bourdain. This Banh mi is dubbed the "Deluxe" and along with fresh salad, pickles, and 4 types of pork is topped with a fried egg. Just a little bit up the road in Da Nang, you can find a specialty in the dehydrated pulled chicken sandwich called Banh Mi Ga. In Hanoi, you can find a grilled pork in a spicy sauce with fresh vegetables. Other variations found all over Vietnam include Fish sauce marinated grilled pork, Grilled Pork Patties with a sweet sauce, Meatballs in tomato sauce, and a morning favorite of fried egg. These are just a few of the variations, not even mentioning what foreign chefs and cooks are now doing with the humble Banh Mi.
Our favorite Banh Mi, aka The Best Banh Mi Saigon
Where is it?
At Banh Mi Huynh Hoa located at 26 Le Thi Rieng, There are two carts stacked with 9 different types of meat, fresh pate, and homemade mayo pushed up against the right wall of the building. On the left side, there will be a man who is constantly heating up baguettes inside of a low heat oven. Depending on the time that you have chosen to get the best Banh Mi Saigon, there will be a mob standing on the outside of the store, which is helpful in identifying the shop if you are not familiar with Ho Chi Minh City.
How to order
You want the best Banh Mi in Saigon? You are going to have to get through the mob. Now, don't be intimidated or offended by people cutting in front of you and ignoring you when you enter the mob. This is just Darwin's Theory at work, only the strong will get a sandwich!! Politely, but confidently push your way to the front as you feel that your turn is coming. The Banh Mi maker will be slathering bread and placing meat onto sandwiches at the speed of light. When it comes your time to order, be ready! Just use your fingers to indicate how many sandwiches you want. This lady is busy and has no time to provide excellent customer service. The Best Banh Mi in Saigon will do that for them. If she asks a question just shake your head "Yes". Most likely she asked if you want Chili or not. The sandwich is now getting made! Get excited! The Banh Mi will be passed down the line to be finished with pickles and vegetables. It will then be passed to a man who stands on the left side of the first sandwich maker. This will be the man you will pay.
Vietnam is not the easiest place for travelers especially when trying to experience it like a local. You just located and purchased the best Banh Mi Saigon without speaking any Vietnamese, Well done! Now please enjoy!
What is in the best banh mi Saigon?
I thought you might be curious on what you now have holding in your hand. This is a Banh Mi Thit, which translates into Wheat Bread Meat Sandwich.
Light and crispy Vietnamese Baguette
6 types of deli meat made from pork, with ranging textures. Some are smooth like Bologna and others chunky like head cheese with lots of fat.
2 types of roasted pork
Pork Floss, which is much like a dehydrated pulled pork that is packed with flavor
Homemade Mayonaisse
Homemade Pork Liver Pate
Pickled Carrots and Daikon
Cilantro
Chili
Well, that covers the best Banh Mi Saigon in our opinion. If you disagree, please let us know. We want to hear what your favorite is!
If you are interested in Vietnam Food Tours then be sure to check out our Saigon Food Tour, if you are looking to check out the Best Banh Mi Saigon then ask about our private tours and chefs tours!
District 3, Saigon has been a part of my daily life for two years since I started my career as a freelance tour guide. As a guide, I like discovering new places in my free time, either by myself or with a group of friends. As a result, I found so many interesting things to do in my current area. District 3 to me is a quiet town where a majority of the middle-class Saigonese live. When darkness falls, District 3 starts coming to life as people from other parts of Saigon flock here for a night of stress-killing.
What to do in Ho Chi Minh City District 3 at night?  District 3 nightlife has many coffee shops, boutique stores, hipster bars, restaurants, and clubs. Down below I will recommend my favorite spots to spend a night out in District 3. The price, vibe, and experience are different and diverse depending on which location you pick.
Feel free to mix and match from these recommendations to create a fun night out that is customized for you and friends! For me, a night date with my boyfriend would start with watching live music with a drink at the Acoustic Bar, then a lovely dinner at Shri, and a late night filled with dancing at the Social Club.
Acoustic Bar – Cafe Rock
Acoustic Bar to me is one of the leading bars with live music in Saigon. They hire fantastic bands who jam out classic rock ballads for customers to dance and sing to. These smart choices of rock ballad songs keep the faithful regulars coming back to the Acoustic Bar night after night. What we love about Acoustic Bar, besides the music, is the lounge itself which is not too big so we can actually feel the beat of the music.
There are several familiar bands playing at the bar each night as their regular customers always praise them highly. My favorites are the Stick-it-tu-da-man (Rock ballad), Akalika (Alternative Rock) and Acoustic Band (R&B, Pop Ballad, Blues).
When coming to the bar I would recommend taking a grab bike or taxi cab. Acoustic Bar is located at the end of an alley so parking is very limited. There are two things I would like to see improved in the future at the Acoustic Bar. The first is that smoking is allowed inside which becomes a bit heavy and smelly for non-smokers. My second suggestion is that the cocktails could have a better taste and variety if compared to other cocktail bars in the city. However, if you're here just for the live music then a bottle of Strongbow or beer still works perfectly for a fun night out. For fans of rock out there, remember to come before 9:45 PM, as this is when the bands ignite the crowd with impressive rock beats! Afterwards, feel free to request your favorite songs for the band to play. These bandmates are always happy to please their fans!
Address: 6E1 Ngo Thoi Nhiem Street, Ward 7, District 3, HCMC
Open hours: 06:00 PM – 11:30 PM
Phone number: (+84)816 777 773
Price: $
Biacraft Artisan Ales
I'm more than happy to include Biacraft Artisan Ales to any of my guests or friends every time they ask me for recommendations. I always come here at least once a month because Biacraft has the most extensive collection of craft beers in Vietnam, both locally brewed and imported.
The Space is cozy and delightful, which is fantastic for a discussion with customers, a romantic date, or simply a stress-killing night. Biacraft founders did an excellent job in offering a wide range of beers that differ in their taste and smell. The way they name their beers is cool and exceptional. You can find some beers with their funny names such as Holy Grail, Short But Arrogant, or Ugly But Vain. In addition to the beer itself, the food is very tasty. Biacraft offers some classic comfort food along with more creative dishes. I have really enjoyed their Chicken Skin Nachos, Fresh Oysters, and Fish and Chips. If you are craving some great craft beers and comfort food then don't miss Biacraft for a night out in D3.
Address: 1 Le Ngo Cat Street, District 3, HCMC
Open hours: 11:00AM – 11:00PM
Phone number: (+84)2839 330 903
Price: $$
SOHY – Sky Lounge and Dining
SOHY comes to my mind when I need a panoramic view of the city and a deep conversation with my friends. To me, SOHY is a lot more than just being the highest rooftop lounge in Saigon.
My experiences with SOHY usually start at around 7 PM, a great time for dinner. I prefer booking a table for a group of 4 somewhere near the glass window. I enjoy the vibrant view when looking down at the buildings lit up at night. I'm a devoted fan of Vietnamese cuisine , but there are times when I'm desperate for a new cuisine to taste. That's when SOHY pops up in my head with its wide range of European cuisine besides Vietnamese food.
Even though the food is very good, what I think SOHY does best is its theme as a drinking establishment rather than a restaurant. I prefer coming here for a glass of wine, and I love how diversified its wine choices are.
The space at SOHY is fancy, serene, charming, and cozy. Since the lounge attracts a huge number of celebrities in the city, the quality of staff, food and drinks are second to none, which make sense of the price. I think SOHY is a great choice for a drink at a rooftop lounge to enjoy the company of friends or a date. The price is on the expensive side so do expect to pay for the view.
Address: Floor 25-26 Centec Tower – 72 – 74 Nguyen Thi Minh Khai Street, District 3, HCMC.
Open hours: 5:30 PM – 1:30 AM
Phone number: (+84)907 878 778
Price: $$$
The Gangs – Grill and Beer
Beer and grilled meat definitely cannot go without each other, and The Gangs does a great job in combining the two together. This is indeed an exciting and popular spot where people can gather for a fun night out for delicious food and beers.
The Gangs offer both indoor and outdoor dining spaces, which I prefer the outdoor setting more as it's spacious, refreshing, and better for smoky grills. The grilled meat platters here are all excellent in taste and diversity. When I come with my close friends, we go for The Gangs Meat Platter. On the platter my favorite dish is the lamb shank. The meat can sometimes be a bit on the chewy side, which is the preferred texture for Vietnamese. If this is an issue for you, please be sure to let your waitress know. The next thing I would say about The Gangs is the atmosphere is very lively and crowded. This is a typical example of a memorable hangout or even a date with someone you like. Hence, there's no reason why you should skip this place when looking for what to do in Ho Chi Minh City District 3 at night!
The staff are active and quick when called, which means your girls' night out or boys' night out with beer, BBQ, talkfest, and laughter will be handled well with no issues. Some of their staff also speak a little bit of English to make it easier for travellers.
Address: 131 Nguyen Phuc Nguyen Street, Ward 10, District 3, HCMC
Phone number: (+84)971 565 557
Open hours: 11:00 AM – 02:00 AM
Price: $$
The Square Restaurant – Novotel Saigon Centre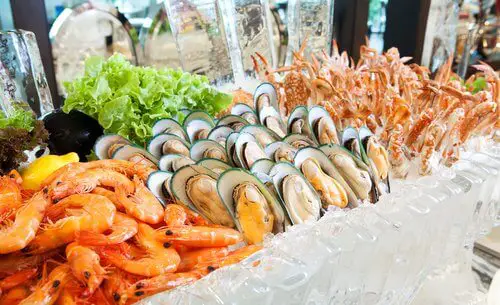 Since I'm a big fan of casual fun talk and crowded nightlife, I don't really go to a buffet restaurant quite often. In case I need some changes once in a while, I'll be opting for The Square Restaurant at Novotel Saigon Centre for their famous seafood buffet. The Square is located on the second floor of 4-star hotel in District 3 – Novotel Saigon Centre. That's why interior decoration and staff quality are undoubtedly excellent. This open kitchen allows you to feast in a wide array of Asian – European cuisine every day, where you can observe the cooking process up-close.
The seafood buffet is universally praised by patrons of the restaurant. Their seafood is fresh, tasty and diverse, which comes in a range of about 50 – 70 different dishes. Oysters, lobsters, crabs and fish can be grilled upon request. Sushi and desserts are available as well. While an expensive option, this is an excellent and fancy choice for a night out on the town.
Address: Novotel Saigon Centre – 167 Hai Ba Trung Street, District 3, HCMC.
Open hours: 06:00 PM – 11:00 PM.
Phone number: (+84)2838 224 866
Price: $$$
Rico Taco Saigon
Rico Taco is where big fans of authentic Mexican food can satisfy their needs when in District 3, Saigon. I'm honestly not an expert when it comes to Mexican food, but Fish Taco here really wake up my taste buds. It's crispy and delicious with a sweet corn salsa. I highly recommend Fish Tacos for anyone intending to check it out.
At Rico Taco Saigon, the staff are well-trained and the atmosphere is perfect. There are two dining sections, one with A/C indoor and one outdoor. The Mexican background music boosts the dining space even more. They also offer pizza for those who aren't in the mood for traditional mexican fare.
Address: 29 Ngo Thoi Nhiem Street, District 3, HCMC
Phone number: (+84)2839 300 233
Open hours: 11:00 AM – 11:00 PM
Price: $$
Shri Restaurant and Lounge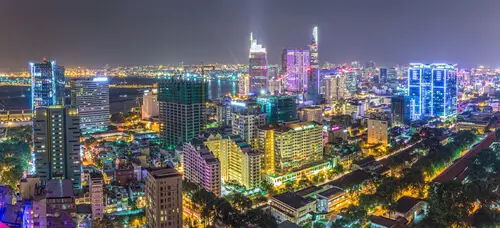 It's not hard to find Shri mentioned in multiple platforms and blogs advising people where to have fun in District 3 at night. What I like about Shri beside its fantastic view are the food and drink selections.
Shri is well known for its stunning view from the outside patio on the 23rd floor. While Shri does serve food throughout the day on their lunch and dinner menu, I highly recommend checking out the Bar and Tapas menu for some small plates. This will go great with a cocktail on the patio as you sit and enjoy the gorgeous view of the city with a drink in your hand. I would recommend Shri for a romantic view and some cocktails with your significant other or a quiet conversation with a group of friends.
Address: Floor 23, Centec Tower – 72-74, Nguyen Thi Minh Khai Street, District 3, HCMC
Open hours: Mon – Fri: 10:30 AM – 12:00 AM | Sat – Sun: 04:00 PM – 12:00 AM
Phone number: (+84)2838 279 631
Price: $$$
Social Club – Hotel Des Art
Sitting up above the rooftop of the Hôtel des Arts Saigon, Social Club Rooftop Bar is where I drop by for an overview of the hectic streets of District 3 down below. The first time I came to Social Club, I was joining a networking event by Travel Massive. I knew right away I would be back soon.
You will find a setting of standing tables and  tall chairs scattered throughout the outside lounge, which is a thoughtful design for different group sizes. The quiet and high-end atmosphere here makes it perfect for a meet-up with customers or a date.
I don't just come here for a sip of cocktails, because the vibrant ambient music and DJs playing also help chase my stress away, especially at the end of a hard-working day. Uplifting music by the local DJ is in between 8:30 PM and 1:00 AM weekdays, and 8:30 PM – 2:00 AM weekend. Social Club's staff are fluent in English, well-trained, and active. If you are staying nearby this area, you may consider coming here at least once during your stay.
Address: 76 78 Nguyen Thi Minh Khai Street, District 3, HCMC
Phone number: (+84)2839 898 888
Open hours: 12:05 PM – 12:00 AM
Price: $$$
What to do in Ho Chi Minh City District 3 at night? It's not a problem anymore with the list above. I believe you will have up to two or three fun nights out with these 8 places. Feel free to save this list for later use and don't hesitate to share it with your friends!
You've just finished your trip to Ho Chi Minh City. You've developed a crush on our kind hearted people, street food, the constant sound of honking and crazy traffic. You've decided to explore some more nearby places, yet you have no idea where to go next?
The following are 9 places to go after Ho Chi Minh City  that you should consider. They are all close by and you can easily get there by taking a bus or a short-haul flight (except for Chau Doc) from Ho Chi Minh City. Let my article guide you so you can seize the chance to explore these beautiful areas in South East Asia.
Chau Doc
Phu Quoc
Da Lat
Nha Trang
Hoi An
Siem Reap
Phnom Penh
Bangkok
Singapore
Chau Doc
Chau Doc is truly a hidden gem in the Mekong Delta that not everybody has a chance to discover. Tourism has yet to shatter the natural lazy feel of this small peaceful town. Travel 3 to 4 hours from Ho Chi Minh city to plunge into a completely different atmosphere in Chau Doc – quite and peaceful.
There are fancy luxury resorts in Chau Doc, such as the famous Victoria Nui Sam Lodge. This may not be for you if unearthing  the modest and natural scenery of this area is important for your trip. Instead, check out staying in local homestays to be immersed in the true vietnamese culture of Chau Doc.
Marvellous natural landscape is what will steal your heart away in Chau Doc. It's like you've just jumped into a whole new world. This is the kingdom of green fields, shining rivers and mountains stretching over the horizon. Don't forget to get involved in the solemn atmosphere at Buddhist temples and pagodas. They are what help Chau Doc gains its reputation as a religious area. Check out Ba Chua Xu Temple, Tay An pagoda and Chau Phu temple and let the pure spirituality engulf your soul.  
Phu Quoc
Phu Quoc island is now one of the most attractive destinations in Vietnam. Beautiful and clean beaches will amaze you. This will be the ideal destination for a luxury trip with modern resorts and excellent services. But you may need to think twice if you're looking for a budget trip. It's because the majority of the goods on Phu Quoc is imported from the mainland, which raises up the prices in general.  
It's so enjoyable to indulge yourself in Phu Quoc. You can spend your whole day lying under the sun, having some fruity cocktails and fresh seafood right on the beach. Although no one would get tired of such a lazy day, but if you want to stay a bit more active, these activities can wipe out your boredom:
Spend your whole day in Vinpearl Land Phu Quoc amusement park
Engage in water sports like snorkeling, scuba-diving or kayaking
Get around on a motorbike with an informative tour guide
Visit Ham Ninh fishing village and place yourself in a slow pace of local life  
When the night comes, you surely don't want to miss out visiting Dinh Cau Night market. This is a wonderful place to try fresh local dishes and get some souvenirs for your beloved ones.
Da Lat
Here comes an all-time favorite destination in Vietnam for any romantic soul. Just a short trip to escape from the bustling Ho Chi Minh and fall into the heart of Da Lat, the poetic "Little Paris".
Hotels and homestays there take great advantage of this romantic city.  They feature spacious views dotted with elegant French-style villas. Whichever you choose to stay, you can breathe in the scent of thousands of pine trees and become absorbed in the idle life in Da Lat.
Riding a bicycle or walking is the best way to get around and explore Da Lat. This is because the city has many little corners embracing simple yet interesting shades of the local life. You may miss out on those moments if traveling by car or motorbike. Try to wake up early and wander around Da Lat in the morning, this is when the whole city is still under the cover of a huge foggy curtain. You can catch most of the significant sights and landmarks in the town on your way, like Xuan Huong Lake, Da Lat Market, Lam Vien Square and Rooster Church. For places outside the town, you may need to rent a motorbike or book a day tour that is available at almost every hotel. In the tranquil suburban area, your senses will be awakened by the beauty of nature in Da Lat. Must-see sites include Elephant Waterfalls, Thien Vien Truc Lam, Cau Dat Farm and Me Linh Coffee garden.        
Nha Trang
If you've made your decision to visit Da Lat, why don't you include Nha Trang- a nearby city. Riding from Da Lat to Nha Trang is one of the most amazing journeys that you'll ever have in Vietnam.
A resort or hotel room by the sea is the best choice for you to savor every moment in Nha Trang. This is the mix-up of comfortable and luxurious services with stunning tropical surroundings: alluring beaches of white and crystalline turquoise water shining in the sunshine.
During the daytime, you can spend hours sunbathing by the sea, trying fresh seafood or taking outdoors activities such as snorkeling, surfing and motorcycling. There are also many spiritual activities for you, too. You can book a local guide and visit religious places like the ancient Cham towers. They are the symbols of the historic Champa – a great and distinct civilization in the past. When the sun sets and the nightlife wakes up, you will see Nha Trang is a party town. Rooftop lounges, swimming clubs, whiskey bars or sports bars & grills, everything is on offer in Nha Trang for you to have an unforgettable night.   
Hoi An
This ancient and vibrant town is an old trading port during the French colonial period. The town reflects a combination of indigenous and foreign (Chinese, Japanese with later European influences) spirit in its architecture.
Although Hoi An is such a small town, there are a number of interesting activities portraying Vietnamese traditions that you should take a try. For instance, you can:
Experience a boat trip down the Thu Bon river
Walk around Tra Que village and practice planting vegetables as a true farmer
Visit Hoi An silk village or join in the flower-garland releasing festival on the Hoai River to pray for luck and happiness.
The town truly comes into its own at night. Take a walk and you can feel an old Hoi An wrinkling under the magical light of several lanterns.
Siem Reap
Saying goodbye to Ho Chi Minh City, guess what's waiting for you in Siem Reap? This is where an ancient world meets the modern lifestyle of a developing city. This is the land of golden temples.
Angkor Wat is the religious landmark that you should first pay a visit in Siem Reap. Not only providing visitors with historical values, Angkor Wat has one of the most breathtaking sunset views in Cambodia. Taking an Angkor balloon tour is the best way for you to contemplate and capture that picturesque scenery.   
Adventurous trips outside of the town are also available for those who are interested. You can travel to the mysterious twelfth century temple, Beng Mealea, or try a wide range of cuisines at local markets. What if you plan to have a completely relaxed trip in Siem Reap? Then you can stay in a world-class hotel right in the center of Siem Reap, enjoying sumptuous spas and great shopping. Siem Reap can fulfill all your needs!
Bangkok
Bangkok city is an interesting mixture of traditional Asian culture and Western lifestyle. One moment you're walking in a local market bargaining with a seller, and just a few minutes later you are right in the center of a luxury shopping mall.
Your first impression with this city is probably strong smell of food from the streets and crowds of tourists. They are what vitalise Bangkok city. Street food is definitely the first thing you should try in Bangkok. You can taste the original Thailand with traditional dishes like Pad Thai, Khaohnew ma moung (or Mango sticky rice), Neua satay and Tom Yum Goong. Or if you are a brave tourist who dares to try exotic (and scary) things, how about eating scorpions and cockroaches? Hit the streets and you can find them all.
Siam Square, Terminal 21 Bangkok, and Chatuchak weekend market are the next worth-visiting stops in Bangkok, especially for shopaholics. You are looking for international brands and high quality clothes in Bangkok? Terminal 21 Bangkok shopping mall is your ticket. You're interested in Thai and Asian brands that offer great designs at affordable prices? Make a dash for Siam Square. And if you want to fall into one of the largest markets in the world, don't miss out Chatuchak market. This huge weekend market brims with almost all kinds of products. It's also a street food paradise and the best place to buy Thai handicrafts.
Phnom Penh
To put it simply, Phnom Penh is like a half-and-half pizza made from the lifestyle of Thailand and Saigon. It's the perfect contradiction between traditional values and modernity.
First thing first, the city is remarkable for its historical and religious sites. National museum of Cambodia, Royal Palace, Killing fields, and Silver Pagoda are among the most-visited places in Phnom Penh. There are several things for you to learn about Cambodian history and Buddhism there. The opposite side of Phnom Penh is all about fancy hotels and restaurants, heated festivals on the street with fireworks, impressive shopping hubs, charming café and bustling night bars.
Singapore         
The last destination in my list is a paradise for shopping. This tiny island can make every shopaholic marvel due to its huge number of shopping malls.
Orchard Street is on top of the recommended stops list in Singapore. ION Orchard and Paragon are the two most important complexes on this 2.2-kilometer road. They offer all the brands, both domestic and international, that you'll ever need and take you almost a day long to explore. Tourists favor the two malls also because they often provide them with promotions and exclusive deals.
During your visit in Singapore, make sure that you won't miss visiting Chinatown, another shopping landmark in this island-city-country. Here in Chinatown, you can spend your whole day, or even a whole week, wandering and shopping. For those who just want a quick tour around this town, I'd like to suggest Chinatown Street Market. It covers a large area including Pagoda Street, Trengganu Street, Sago Lane, Smith Street, and Temple Street. This deeply Chinese-inspired market gives you the feeling of being in the most bustling town in China. Souvenirs are probably the easiest to buy because they are sold at several stalls. Silk garments, paper fans decorated with calligraphy and lucky cats are among the most-favored stuff. You can also find a variety of street food there. Don't forget to try tasty Chinese dishes such as dim sum, noodles and peking duck.
For the sake of public health, more and more countries and states have enacted the smoke-free legislation on a nationwide scale. The law is frustrating for many smokers, especially heavy smokers when it comes to traveling overseas. Not to mention a long flight with tobacco cravings, smokers have to deal with the fact that smoking is banned in many public places all around the world.
Can you smoke in Vietnam? The answer is yes, you can smoke in Vietnam. Vietnam has a strong smoking culture along many of its middle aged and older residents. Because of this, cigarettes are rather inexpensive and easy to find. Most cigarette packs will cost less than $.150 USD in Vietnam.
Vietnam is in fact among the top smoker-friendly countries in the world. Many of Vietnamese citizens smoke, including males and females. It was reported that nearly 45% of Vietnamese men smoke in 2018, meaning that 4 out 10 men you come across on the streets probably smoke. You will find that Vietnam is truly a paradise for smokers. Smoking is allowed at most the outdoor spaces, except for some particular places like kid zones. Cigarettes are also sold widely available on every street corner and small shop. In major cities like Ho Chi Minh, you can easily buy a pack of cigarettes at all convenience stores as well as at almost every vendor stall, cafe, or restaurant in the city. This is mainly because the legislation to sell tobacco products is not regulated in Vietnam like other countries.  
If you are spending time in the countryside of Vietnam, feel free to smoke most anywhere you want. You just need to be aware and notice if other people around you are becoming uncomfortable with your cigarette smoking. Most families will actually put out an ashtray for you to use if they know you are a smoker as its been ingrained into the male culture here in Vietnam.
While in urban areas, there are more people concerned about the hazards of secondhand smoke. It leads to an increase in the demand for smoke-free environments, especially in unventilated spaces. However, it's not a big deal because usually there are special rooms for smokers. Take a look at the following lists to see whether you can smoke in those places.                
Where can I smoke in Vietnam?
Hotels
Universities and Colleges
Restaurants
Bars
Coffee shops
In order to avoid the odor of cigarette smoke annoying other guests, many hotels in Vietnam do not allow smoking inside the rooms. However, smoking rooms are also available in most of the big hotels and some smaller hostels. For further information about these rooms, you can check out the terms and conditions on their booking sites or ask the hotel's receptionist directly.
Restaurants, bars and coffee shops in Vietnam usually have open-air design so that they are quite welcoming of smokers. If you want to know if you can smoke or not, ask for an ashtray. If they provide you with one, then you can smoke. If they don't they will be sure to let you know that smoking isn't allowed which is rare in outside cafes or restaurants. Other guests may be annoyed even if the cafe or restaurant permits smoking. I suggest using common sense and try your best not to be rude.       
Universities and schools will have a separate place for smoking that will most likely be in a hidden area from the students or slightly off campus. This would be important to know for many expats moving to Vietnam for a teaching position.  
Places where you cannot smoke in Vietnam!
Hospitals
Gas stations
Children's zones
Public transport
Airports
In terms of airports, smoking is allowed but restricted to specific rooms in the airport. There are very few smoking rooms that you can find there. For instance, in Tan Son Nhat international airport, there are only three rooms for smokers – one in the domestic terminal and the two others in the international terminal.
Smoking is totally banned in the other locations mentioned above, including indoor and outdoor spaces. The government requires smoking restrictions for such places in order to improve population health as well as fire prevention. The penalty for lighting a cigarette at these places ranges from one hundred thousand to five hundred thousand VND so I wouldn't recommend trying it.
What should you know about Smoking in Vietnam?
Just like drinking, the legal age in Vietnam to smoke is 18. For those who are under 18, they are not allowed to smoke, buy and sell tobacco products. It's also illegal to sell nicotine and tobacco products for them.
In Vietnam, you can find both domestic and international tobacco brands. The most popular are Jet, Hero, Craven A, State Express 555, Sai Gon, Khanh Hoi and Vinataba. For more expensive brands like Marlboro and Dunhill, you can find them at convenience stores.
A pack of cigarettes in Vietnam costs you approximately from 20,000 VND to 30,000 VND. Surprisingly cheap, isn't it?
Notice that Vietnamese cigarettes are considerably "strong", which means they contain a high amount of nicotine, even with filters. If you are not a heavy smoker and prefer light cigarettes, Dunhill is a good option.
Not only smoking, do you know that you can also use e-cigarettes or vape legally in Vietnam? Vaping has become a trend in Vietnam recently, especially in big cities like Ho Chi Minh, Ha Noi or Da Nang. Click this link to read our full guide about vaping in Vietnam.
All in all, smokers are generally welcomed in Vietnam compared to other countries in the world. Keep in mind the lists above and have a nice trip here.