Thank you for Booking with Us!
Please read below to find out how to confirm your booking
1. Check Email
We've sent an email to your booking address. Please check all inboxes. If not received, contact us at [email protected].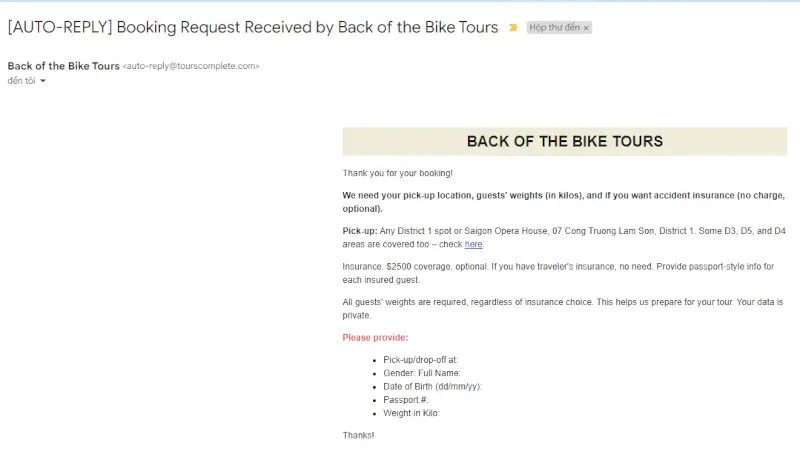 Kindly review this email and respond to confirm your pickup and drop-off spots. We serve all District 1 locations, and specific areas in D3, D5, and D4. To verify if your location falls within our coverage, check here.
For our optional $2500 accident insurance, we require some additional details. This insurance is included in your tour price, but participation is voluntary.
To enroll in accident insurance (at no extra cost), provide the following info for each guest. If you're not opting for insurance, simply share the weight in kilos for each person.
Full Name(on Passport):
Date of Birth (dd/mm/yy):
Gender:
Passport Number:
Weight in Kilos: (Your safety matters most – providing this helps us ensure a secure and enjoyable tour.)
3. Receive Confirmation
When we get your email reply, we'll send you a confirmation email. It will have all the info about getting ready for the tour, like what kind of tour it is, when and where we'll pick you up, and if you need to pay anything else on the tour day. Once you get that email, your tour is all set and confirmed!