If you're an architecture enthusiast or an aficionado of art and music, Saigon Opera House is no doubt somewhere on your Saigon to-do list. To fully appreciate such a palace of beauty, it is undeniably essential that you need some guides or guidelines! From the municipal theatre's history, location, and its most famous and recent shows, to purchasing tickets and other very helpful insider tips, this article will assist you every step of the way in exploring this gorgeous antique gem of the Southern city!
Location
Saigon Opera House can easily be found at 7 Cong Truong Lam Son, Ben Nghe Ward, District 1, right in the middle of the intersection between Le Loi street and Dong Khoi street.
History
Regarding its age, Saigon Opera House has existed for over a century. Thus, before becoming the endearing landmark of Saigon today, the construction has gone through many changes. Before its construction in 1898, troupe performers from France began coming to Vietnam to perform for French officials, but there weren't any theatres in the city at the time. This demand is precedent to the birth of the Saigon Opera House. In 1900, the theatre is officially opened for art and play performances.
An often overlooked phase of the Opera House is its remodeling in 1943. At this point in time, the theatre was considered "too ornate", and was remodeled to remove its signature "flamboyant" designs, such as the lady statues at the gate. After this renovation, however, this building was heavily damaged and shut down during the war.
In 1955, the house was restored and served as the Congress House for a while. Then, it again became an Opera House in 1975 and only in 1998 was the building given back its original ornament (which remained undamaged because of preservation during the war) that we can admire today.
Architecture
Even without much artistic inclination, anyone that has taken a look at it can describe Saigon Opera House as a sophisticated masterpiece of art and architecture. This is an absolutely correct perception as the building was designed and overseen by the reputable French architects Felix Oliver and Eugene Ferret, who also took inspiration from two of French most popular constructions: the Palais Garnier and Petit Palais. If you see the pictures of these three artworks together, you will immediately notice the uncanny similarity!
However, the Saigon Opera House is no cheap replica! Most of its materials – granite, crystal chandelier, as well as the signature stone statues, outside and inside the theatre – are exported or made by famous French artists.
Today, standing proud at the intersection of Le Loi and Dong Khoi streets, Saigon Opera House also successfully meets Vietnamese and international visitors' theatrical demands. It consists of 468 seats, separated into three levels (one ground floor facing the stage and two higher floors). The seats are adorned in the manner of classic curtained boxes, giving its visitors and audiences a uniquely authentic 18th-century, vintage experience.
Programs
Its design makes Saigon Opera House the perfect stage for ballet, plays, orchestral performances, and especially cultural circus shows. The theatre is fully scheduled year-round with ballets, orchestras, and plays, but if you're new to town and want a very special, unforgettable Vietnamese experience, it is highly recommended that you book a ticket for the house's most popular performances: the À Ố Show (A O show) and the Teh Dar show!
The À Ố show and Teh Dar show share the same father – the talented Creative Director Tuan Le. They both attract thousands of foreign and Vietnamese audiences, capturing and bringing to them the greatest essence of the country's colorful culture.
Despite all that, these shows are also distinct and explicitly unique in expression as well as themes, which is certainly a plus if you have time to enjoy both!
À Ố Show (A O Show)
À Ố show uses the language of "bamboo circus" to tell the contrasting story of Vietnam as a rapidly developing city. With unbelievable lighting effects, mesmerizing circus stunts, and a touch of witty humor, the opposite shades of rural and urbanized Vietnam are communicated to you in the most passionate way. By using bamboo as the main performing material, À Ố show also gives a distinguished vibe of Vietnam's culture, making this show a must to see while on your trip to Ho Chi Minh city!
Teh Dar show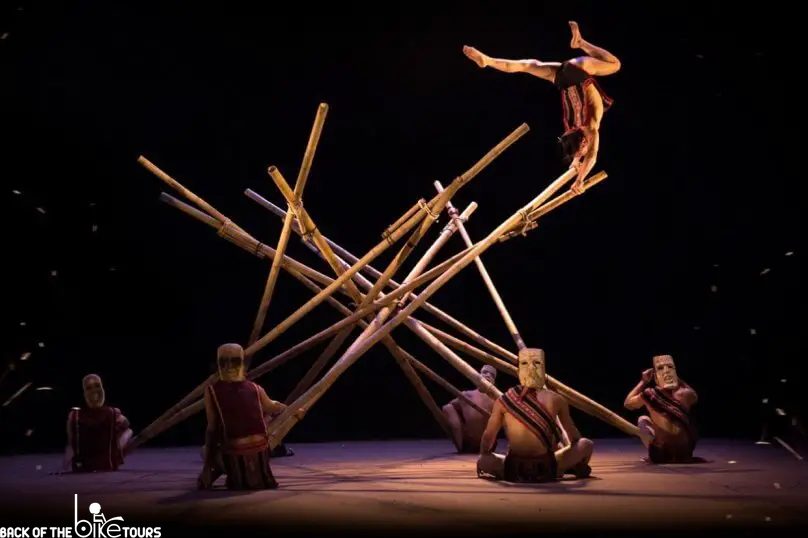 In contrast to the À Ố show, Teh Dar show gives a "wild, strong, at times romantic" vibe, said Tuan Le – Teh Dar creator. The theme of Teh Dar is the eroding culture of Vietnam's ethnic minorities. In the vibrant colors of Central Highland Vietnam, Teh Dar brings the bewitching music of traditional tribal instruments to the modernized Saigon, resulting in an absolutely enchanting and inspiring artful experience! This show is perfect not only for musical enthusiasts but also for any admirers of Vietnamese culture.
Tickets
Offline
There are ticket boxes outside Saigon Opera House that will inform you about all the details of the shows, but they usually only sell tickets of the most popular shows like Teh Dar and À Ố show. If you want to buy tickets for other types of shows like the Ballet or Orchestra, it's best that you contact the organizers of such shows instead of buying directly from these ticket boxes.
Online
Tickets to both the À Ố show, the Teh Dar show, and many other cultural shows from Lune production can be purchased online at https://www.luneproduction.com/. Right now you can book ahead for up to December 2020!
Another website where you can find programs other than À Ố show and Teh Dar show is https://ticketbox.vn/hbso. Programs such as Ballet, music performances, and plays are posted frequently here.
A small tip
Like many theatres, in Saigon Opera House, ticket prices can vary depending on where you choose to sit. If you book your tickets on the Lune Production website, you can easily choose from three types of seats: aah! (A) zone: lowest price (700.000 VND), furthest seats ground floor and second-floor seats; ooh! (O) zone: middle price (1.150.000 VND), ground floor center seats; wow! (W) zone: highest price (1.600.000 VND), first-floor seats.
Similarly, when you book a ticket on the ticket box website, you can also choose seats accordingly. There are seats that are available for 450.000 VND, but of course, unfortunately, they are the furthest from the stage.
So before booking tickets, just remember to research, consider carefully and book the ticket that is suitable for your budget and needs.
Extra Tips
A place of class such as Saigon Opera House, inevitably, will implement some strict rules. That shouldn't prevent you from having a great evening, though! Just keep in mind these few tips for a problem-free Opera House visit.
Punctuality
Saigon Opera House has a strict rule for visitation hours. Despite and maybe because of its valuable architecture, Saigon Opera House is one of the rare landmarks in Saigon that are not open 24/7 for visitors to take a look whenever they want.
To visit the opera house, first, you must have a ticket, second, you must come within 1 hour and 30 minutes before the first showtime! This time frame is specially designed for (personal) photography and visitation. Besides this period of time, the theatre must stray from being a tourist landmark and focus on being a space for artistic performances. Therefore, make sure that you have purchased a ticket beforehand and come at the scheduled time, 1hr30 before the show starts if you want to do a bit of exploring the interior.
Another small note: À Ố show usually includes a short tea-tasting section 30 minutes before the show starts. Better come early if you want to take advantage of that as well!
Dress code
An opera house is a fancy and overwhelming place to be. So it is completely understandable if you are confused about what to wear to a show. However, please be reassured that no one will kick you out if you tie your tie wrong.
If dressing up is a hobby for you, a visit to the Saigon Opera House is the perfect opportunity to do it!
If you're not comfortable with suits and dresses, don't fret either! Just dress smart and casually. Any outfit you can wear to a job interview can definitely pass at the Saigon Opera House!
Transportation
You can go to Saigon Opera House by any vehicle at your convenience. It is helpful to keep in mind, though, that parking here is not very ample, so if you have a choice, a taxi or public transportation should be preferred.
Food
It is always a plus to have a place to sit and snack while you wait for the show to start, or after the show when you're looking for a late dinner. Here are a few nearby recommendations from us.
"Opera milk tea"
Besides being the city's cultural and art center, Saigon Opera House is also a popular gathering spot for the youth and Saigon locals. "Opera milk tea" exists mainly to satisfy the demands of this population. This street vendor is located on the fence of Highland cafe, on the side of the Saigon Opera House. It's got no chairs, no tables, but a lot of customers! The menu includes milk tea, peach tea, and lychee tea, all for 10,000 – 15,000 VND, made from not much else than teabag and ice. As ordinary as it is, such tea vendors have become a culture of Vietnam, and Saigon specifically.
If you're looking for a small drink before or during your Opera visit, give "Opera milk tea" a try! It might add just a little simplistic joy to your fancier viewing experience!
Address: Behind Saigon Opera House
Highland Coffee
Behind "Opera milk tea" is a Highland Coffee. This is a familiar coffee shop chain in Vietnam so there is not much to explain about its convenience. Highland Coffee is especially kid-friendly, so it's the perfect place to chill with your family as you wait for the show to start!
Address: Behind Saigon Opera House
Saigon Rooftop Bar
Not only is this one of the closest bars to Saigon Opera House, it is also one of the highly recommended rooftop bars in the city. Besides good cocktails and craft beer, this bar also serves tasty nibbles and light dinners. Overall, a great place to end a classy evening!
Address: Rooftop via 9th floor, Caravelle Saigon
If you're looking for the perfect restaurant near Saigon Opera House to have dinner pre or post-showtime, L'Usine Dong Khoi is one of your best options! With a view of the city's opera house, this famous restaurant serves contemporary Vietnam-infused Western cuisine. Both their brunch and late dinner options (7 a.m. – 10:30 p.m.) are greatly reviewed! In addition to all of this, they are also said to have amazing vegan options and a family-friendly vibe!
Address: 151/5 Dong Khoi Street, District 1.
Saigon Opera House becomes one of the most prominent tourist attractions in Saigon, not only for its architecture and historic representation but also for the love it receives from Saigonese and visitors all over the world. A visit to a regular opera house is overwhelming, but a visit to the Saigon Opera House will certainly leave you with unforgettable images and experiences, both of Vietnam and Saigon. So linger no longer, this is certainly a must-check in your Saigon travel schedule!