Parents who travel with children are superheroes. There are many people in the world who find traveling fun but stressful, with children, that stress can be tenfold. So our hats off to the globe-trotting parents across the world who are smashing the idea, "You can't travel with children", to smithereens.
We know that sightseeing, walking, and more adult-oriented activities can get exhausting for children and move them into the cranky zone.
The good news is, Ho Chi Minh City has been turned into a more kid-friendly destination recently. Our team put together the best child-oriented activities for parents looking to cater to the little ones. Read on to find out our recommendations on places that both children and parents can find fun and entertainment during your holiday.
Golden Dragon Water Puppet Theater
How about putting your family holiday under the theme of original Vietnam for your kids to have some brand new experiences? Golden Dragon Water Puppet Theater is where you can find one of the best original Vietnamese experiences.
The origin of the water puppetry art rooted over 1000 years ago in Vietnam. After a millennium, this kind of traditional stage art is now preserved mainly for its cultural values and tourism purposes. Golden Dragon Water Puppet Theater is one of the few puppet theaters across Vietnam that brings you the most authentic water puppet shows.
Traditional music, excellent stage props and costumes, and the atmosphere there are what will make your first time with water puppet unforgettable. Although all the shows are presented in Vietnamese, language is not a barrier for you and even your kids at all. This is more of a visual experience than just the ears. Surely you will be able to catch up with the main theme of the show, which is mainly about folk stories.
At the moment, there are 2 daily shows available at Golden Dragon Theater, one at 5 p.m and the other at 6:30 p.m. In order to get the perfect view, I would suggest you book your tickets in advance, especially when you are traveling with your family. You can easily book your tickets with the hotel's receptionist. You can also buy the tickets before the show starts around 30 minutes at the ticket booth next to the theater.
Address: 55B Nguyen Thi Minh Khai St., Ben Thanh Ward, District 1, Ho Chi Minh City.
Website: http://thanglongwaterpuppet.org/
Ticket price: 5 USD – 10 USD/ticket depending on your seat
Age group: Suitable for children of all ages
Arcade Games at Games World – Vincom B Shopping Mall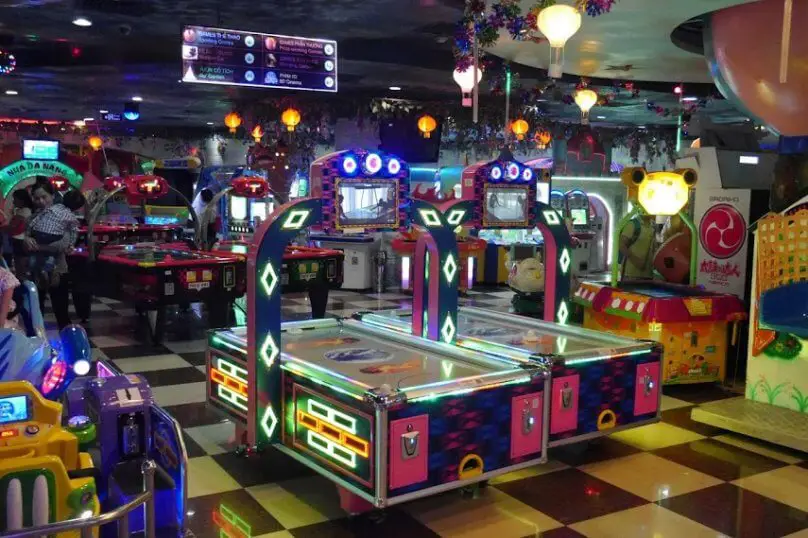 Oldie but goldie, that's arcade games! Located in most malls around Ho Chi Minh City, Games World is where kids can take a break and let loose in the various malls around the city. There are several activities at the arcade such as basketball hoops, air hockey, bumper cars, video games, and bowling alleys. Vietnam is a little bit behind in newer, well-known arcade games, so we would go in with an open mind but we believe the games are suitable for most kids 9 and under.
Ass arcade centers are usually located in big shopping malls, there are also food courts, restaurants, ice cream shops, and bubble tea shops if you fancy lunch or dinner.
After having fun and filling up the stomach, how about watching a movie together with your family? The CGV Cinema – one of the largest cinema chains in Vietnam – is located in most major malls. You can easily find a suitable movie for every family member in English there as it always has the latest on-screen movies. Catching a movie can be a nice break from the heat of Saigon for kids, and the price of a movie is very affordable in comparison to most other countries.
Address:
B2 Vincom Center – 72 Le Thanh Ton Street, Ben Nghe Ward, District 1, Ho Chi Minh City
Diamond Plaza – 34 Le Duan Street, Ben Nghe Ward, District 1, Ho Chi Minh City
Aeon Mall Tan Phu Celadon, 30 Bo Bao Tan Thang street, Son Ky Ward, Tan Phu District, Ho Chi Minh City
Artinus 3D Art Museum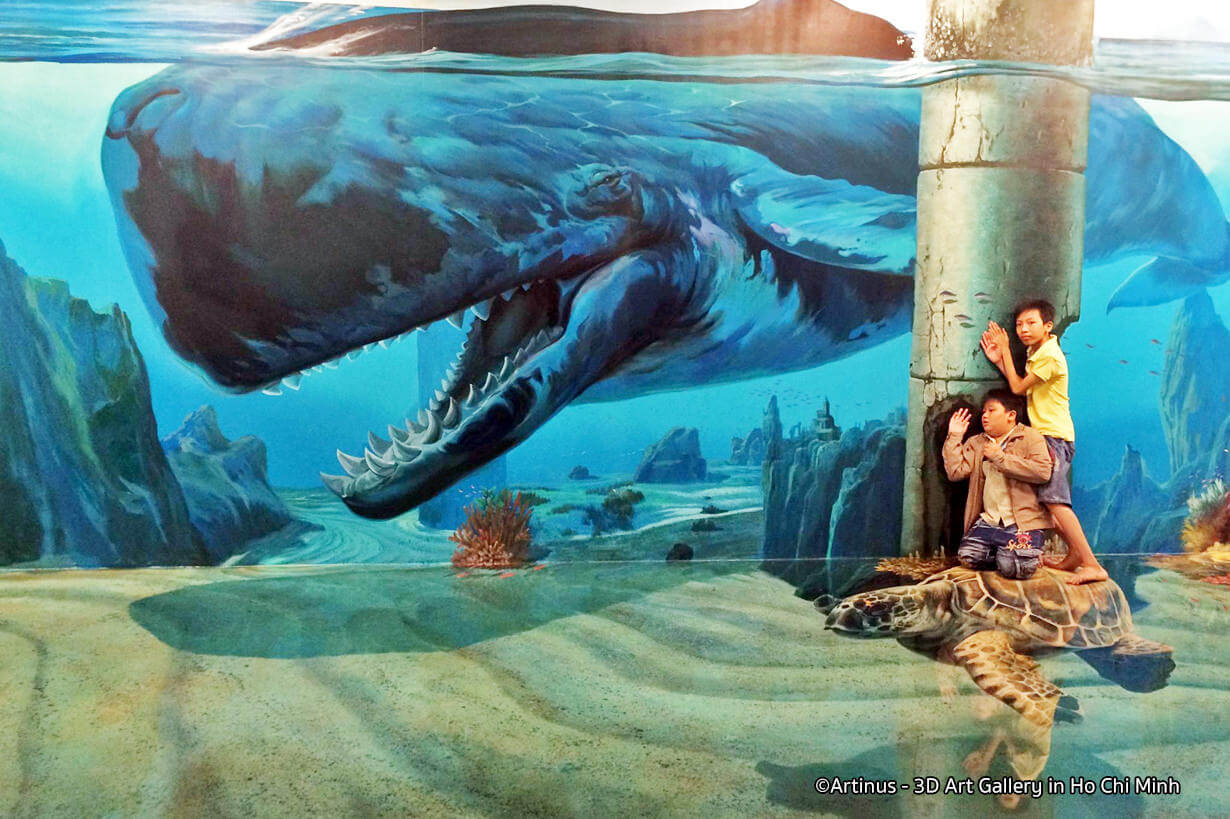 Let your kids enter a new world and be a part of some stunning 3D scenes at Artinus 3D Art Museum.
Artinus is the first and largest 3D art museum in Vietnam. The museum features over 100 3D paintings, which are created by professional Korean artists. Artinus Museum is divided into 9 sections with 9 different themes that are suitable for a wide range of ages. Vietnamese inspirations like the ao dai, fishing boats, and famous destinations such as Hoi An, Ha Long Bay or Hoan Kiem Lake are the main themes of the exhibition. World's landmarks are also featured with the combination of dragons, dinosaurs, fairies, etc., giving kids the chance to travel back in time and around the world.
The most exciting part of visiting such a 3D museum is the great photos you can take. As all of the paintings are created especially for visitors to step in, get ready for lots of fun pictures! Getting trapped in the running away from dinosaurs in Jurassic World or falling out of a boat into the water are some creative poses that your kids will love at the Museum.
Address: 02-04, Street No.9, Tan Hung Ward, District 7, Ho Chi Minh City
Tel: 028 6298 3767
Entrance fee: 9 USD/ticket on weekdays and 11 USD/ticket on weekends & holidays; free entrance fee for children under 90 centimeters
Opening hours: From 9 a.m – 6 p.m on weekdays; From 9 a.m – 8 p.m on weekends and holidays
Age group: Suitable for children of all ages
Book Street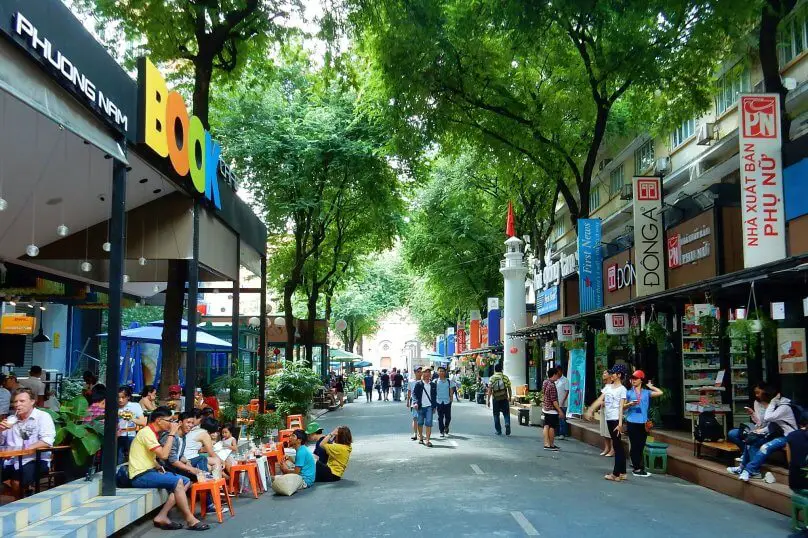 This street is a little peaceful space in the busiest city in Vietnam – Dang Van Binh Book Street! More than just a quick stop, the Book Street is a worthwhile use of your time during the holiday in Vietnam.
This place is highly recommended for families to hang out as every member can find a book they are looking for during their trip. There are comics, children's books, and toys, available for your kids. For adults, you will probably find your favorite books there as almost all big Vietnamese publishing houses have their stalls on this street. English, French and Chinese books are very popular on the street, so you can usually find something in your language that you can enjoy during your trip. There are some stores specializing in old books where you can look for older novels at a great price!
With some nice coffee shops located right on this street and surrounding shopping malls, you can easily plan a multi-stop route. Some nearby suggestions for you are McDonald's Café, Phuong Nam Book Cafe, Vincom Center, and Diamond Plaza.
Address: Dang Van Binh Street, Ben Nghe Ward, District 1, HCMC
Opening hours: 8 a.m – 10 p.m daily
Entrance fee: 4-5 USD/person
Age group: Suitable for children of all ages
Cu Chi Tunnels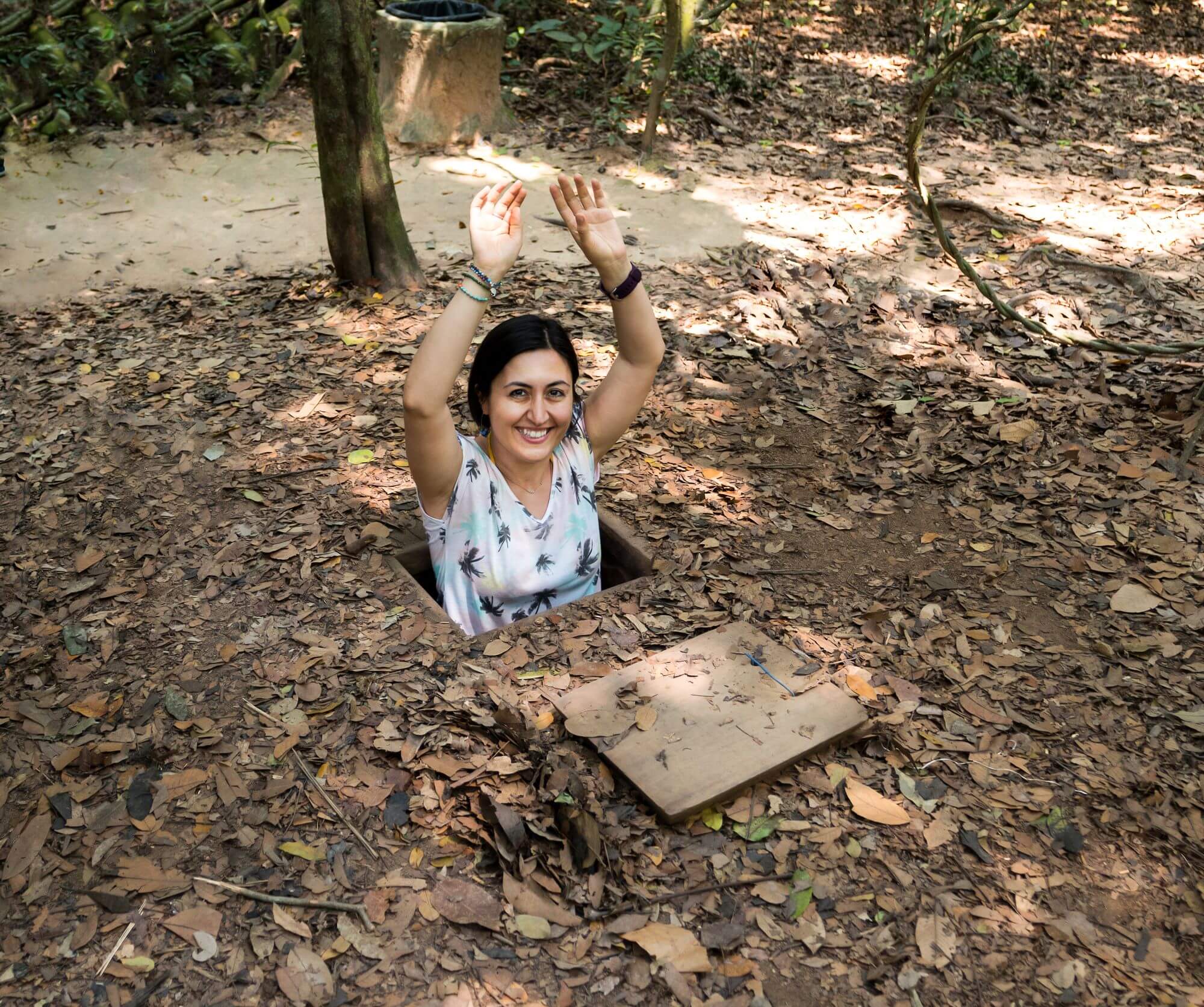 While most adults are going to be intrigued by the history and life of the Viet Cong during their trip to the Cu Chi Tunnels, some children might enjoy getting a bit out into the jungle to take a short trip through the tunnels. If you are concerned about crawling around in the tunnels, the actual part you crawl through is very short and shouldn't worry you. They are also the perfect size for kids to take a short underground trip.
Most likely more interesting for little boys than girls, the War Remnants also has displays of the weapons used during the war including various rifles, bomb fragments, and tank remains where you can climb and take a photo.
Some adults can enjoy holding a real AK-47, adjusting the scope, and firing, at the onsite gun range. If you want to take your trip up a notch with an absolutely awesome speedboat ride to the tunnels, check out our Cu Chi Tunnels tour. The trip 2-hour bus/car ride to the tunnels might just be a boring nightmare for both children and adults, but on a speedboat, no one is bored!
Address: Provincial Road no.15, Phu Hiep, Cu Chi, HCMC
Opening hours: 7 a.m – 5 p.m daily
Entrance fee: 4-5 USD/person
Age group: Suitable for children over 11 years old
Tipsy Art Workshop
How about awakening the artistic soul inside your kids and yourself with a painting workshop at Tipsy Art? If you have absolutely no skills in painting, that's perfect! Your family will find 3 joyful hours and lots of fun while enjoying a new experience in a different country.
Tipsy Art is well-known for taking the lead in popularizing art workshops in Saigon. Their Workshop locations are one of the unique things that differentiate Tipsy Art with others. Their workshops usually take place at coffee shops and co-working spaces with relaxing music and joyful vibes that are comfortable for children.
Here at the Tipsy Art painting workshop, your kids will have the chance to create their best piece of art on their own. Even though this may be their very first time taking on a painting brush, Tipsy Art's dedicated facilitators are always there to help. A workshop ticket includes a 3-hour painting session, a free drink, and your own work! Imagine how excited your little cuties will be about taking their product home as a souvenir from their trip to Vietnam.
Address: As the workshop location changes regularly, you will be informed about the address after registering
Website: https://tipsyart.vn/
Ticket price: 18 USD/participant/painting
Age group: Suitable for children from 3 years old
Landmark 81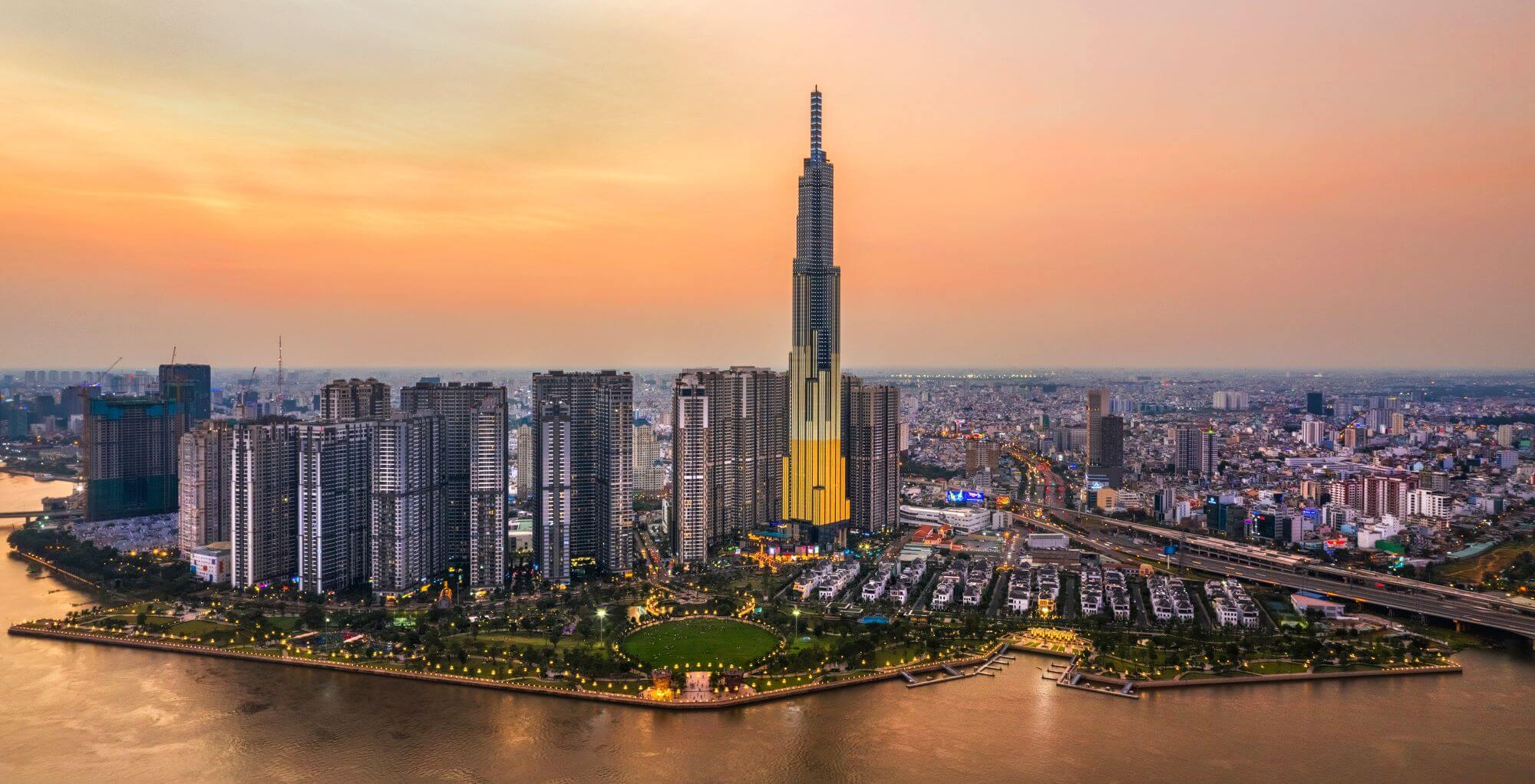 Being named as the tallest skyscraper in Vietnam has named Landmark 81 in the list of must-visit destinations in Ho Chi Minh. Landmark 81 houses a diverse selection of activities for both kids and adults, from entertainment to high-end shopping experience.
Located in Vinhomes residential, Landmark 81 is surrounded by a large stunning park with a small playground for your kids to play around. Besides that, the most significant stop for your kids when visiting Landmark 81 is Vincom Ice Rink. This is the first and the only naturally frozen ice rink across Vietnam. With a wide range of activities and fantastic performances, Vincom Ice Rink is the perfect fit for your family to cool down a scorching day ịn Saigon.
Getting inside the building, there are tons of shops and places for your family to have fun. On top of Landmark 81 is the Landmark Skyview where your kids have a chance to explore the sky from a fabulous angle – the highest point of the city! You can also find a fancy coffee shop called MIWAKU that serves excellent Japanese food and drinks.
Address: Landmark 81, 772 Dien Bien Phu, Ward 22, Binh Thanh District, HCMC
Age group: Suitable for children of all ages
Vàng Pottery Workshop
Craft activities are fun and children love them! There are few things that can get children engaged as willingly as hands-on crafts! Let them play with their creativity and shape their own product with a hand-on pottery workshop at Vàng Pottery.
Vàng Pottery's workshops are held at River Side Cottage, which gives everyone a perfect and relaxing view by the river. You will be guided through the process of clay, glaze, and firing by dedicated ceramics professionals. Even if you're a little clumsy for this kind of art, the workshop will fill your day with fun, smiles, and the enjoyable smell of clay.
As the number of participants is limited, you will need to book your workshop in advance with Vàng Pottery. Each workshop lasts around 2.5 hours. There are various topics for you to choose from, such as carving & painting, slab building, or making Vietnamese mask puzzles.
Address: Workshop is organized at The River Cottage, 18 Lane 6, Thao Dien Ward, District 2, HCMC
Contact: Booking your workshop via email at [email protected]
Ticket fee: 24 USD/participant
Age group: Suitable for children from 7 years old
Floral Workshop at Ted & Anna Flower Shop
Another engaging and active workshop for your kids to join from our list is floral workshops from Ted & Anna. Gorgeous flower arrangements form these workshops will bloom your day!
Unlike other workshop organizers, Ted & Anna feature seasonal floral workshops. This means you will only get the best flowers available at each workshop. Another unique thing about Ted & Anna's workshops is their topics. They are not solely meant to be all about flowers. They are combined with well-chosen themes such as flowers & cooking or flowers & beauty. They also have exclusive workshops for kids on special occasions like the International Children's Day.
Please notice that all of these workshops are seasonal, you have to contact them in advance for detailed information on their current workshop selections.
Address: 63 Xuan Thuy, Thao Dien Ward, District 2, HCMC
Booking Contact: 090 493 91 99 or via email at [email protected]
Ticket price: 13 – 40 USD/participant
Age group: Suitable for children from 8 years old
The Snap Cafe & Restaurant
Have you ever got nervous when taking your kids with you to a restaurant or a café? With The Snap Cafe & Restaurant, you and your kids will all have a playful and relaxing time. There is an outdoor playground exclusively for kids with a big sandpit.
The Snap is a western-style restaurant. After the kiddos work up an appetite, then it's time to treat your family with a tasty meal. BBQ, beefsteak, risotto, and spaghetti are some of the best picks for you to try at The Snap.
On Saturday evenings, The Snap usually has free live music performance. You can simply enjoy the music with your family or take the stage and test out your vocal chops!
Address: 32 Tran Ngoc Dien, Thao Dien Ward, District 2, Ho Chi Minh City
Opening hours: 7 a.m – 10 p.m daily
Age group: Suitable for children of all ages
Bee Bee Premium Kids cafe
Here comes another kid-friendly café for your trip – Bee Bee Premium Kids Cafe. If you are looking for a coffee shop that you can enjoy a nice coffee and good steak while capturing the best moments of your kids, this is the answer for you.
Located in District 7, Bee Bee Premium Kids is a coffee shop that provides an indoor playground for kids. The playground is truly a paradise for kids as it is fully equipped with toys. Bee Bee Premium Kids also provides other activities cater for a range of ages and interests such as books, baby pianos, bracelet-making, and statue painting sessions.
More than just a place for kids, Bee Bee Premim's menu is taken seriously with many choices for food. Coffee, ice cream, salads, pasta, sandwiches, and even beer are all available here. Western and Korean food is also served at Bee Bee Premium, giving you and your family more choices for your favorite taste.
Address: F4, 96-98 Cao Trieu Phat, District 7, Ho Chi Minh City
Contact: (028) 3873 4351
Opening hours: 10 a.m – 8 p.m daily; Closed on Tuesdays
Age group: Suitable for children of all ages
Dam Sen Water Park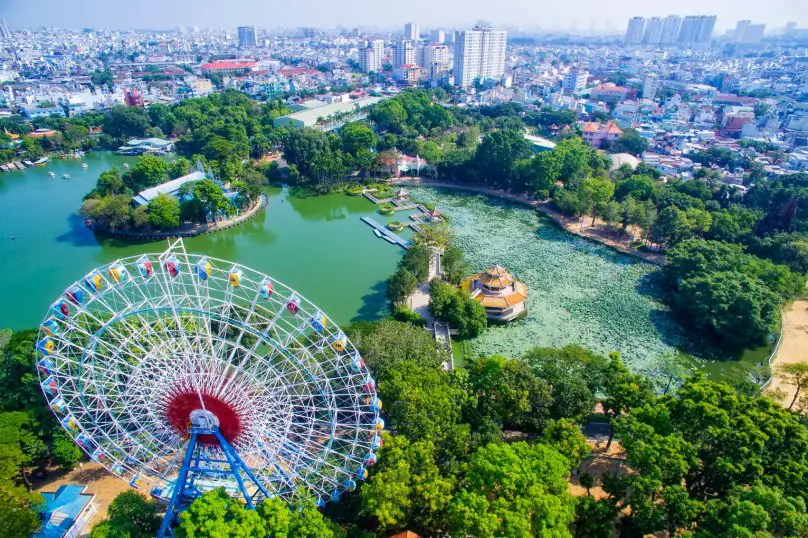 Dam Sen Water Park is our choice for your next destination. Dam Sen Water Park is one of the very first and most favored theme parks in Vietnam.
One of the top reasons that make Dam Sen Park a favorable destination for kids is its variety of amusing activities. There is a big wave pool for your kids to swim freely. If you are looking for more thrilling experiences, then give a try to its high-speed water slides or a Kamikaze ride. Every pool is observed by well-trained staff and guards.
Located right next to this park is Dam Sen Cultural Park, another place for you to spend time with your children. You can find over 30 different types of activities, all are fun and kid-friendly. There is a small zoo, a botanical garden, and a butterfly farm for your kids to learn about flora and fauna. Here is a tip for you: there is a monorail train traveling above the whole park. This is the best idea for you to get an initial overview of the park and see what excites your kids the most!
Address: 3D Hoa Binh, District 11, Ho Chi Minh City
Opening hours: 9 a.m – 6 p.m from Wednesday to Monday
Ticket price: 4 USD/child and 6 USD/adult
Age group: Suitable for children from 5 years old
Motorbike Tour around the city
The best way to unearth the true Vietnam's daily life with your kids is to observe it from the back of a motorbike! As the "Sidewalk culture" is actually a thing in Vietnam, especially in Ho Chi Minh City, a motorbike tour is easier for you to get around the city with your children without worrying about the crowded sidewalks and busy traffic.
Back of the Bike Tours provides you with one of the best motorbike-tour experiences in Vietnam. We have 7 different tours which are kid-friendly designed, including tasty food tours, culture and sightseeing tours, night-life tours, and tours to the further parts of the city such as Cu Chi. Each tour with different colors will bring you the most authentic vibes of Ho Chi Minh City that you cannot find anywhere else.
If you're interested in having one-of-a-kind memories in Saigon with Back of the Bike Tours, book your tour now at:
These 12 destinations are our top picks for your trip with children in Ho Chi Minh. Fill it with endless fun and alluring moments, and don't forget to share with us your incredible trip here!
For foreigners who wish to travel to Vietnam, the dress code for famous attractions is a common question travelers ask about. Shorts make you feel comfortable and cool during the journey, which helps you to enjoy the best of your trip. On the other hand, you need to make sure that the types of outfits or the short level of clothes you wear are appropriate for the weather, culture, and etiquette in the places you visit. Doing these things well is the way you show respect for the culture of the country you come in. This guide tells you exactly what to bring in your suitcase.
When traveling to Vietnam, Famous Beaches, the Coastal Cities or Hot and Humid Areas … are the places you can feel free to choose short clothes to put on. On the contrary, there are also a few special places such as Ho Chi Minh Mausoleum, Temple, Church, Mosque, Small Villages … you must be covered up. Along the length of Vietnam, you will experience many changes that occur from one region to the next. Typically changes you can easily recognize are landscapes, climate, language, culture, and etiquette. All of them will decide how much short you can wear. Read on to discover the way locals dressing in Vietnam.
Places you need to dress conservatively
In the Eastern countries in general and Vietnam in particular, the culture of public dress, especially the sacred places, is highly respected and even becomes the criterion for assessing human qualities. Here are situations you must choose outfits carefully and dress conservatively to comply with regulations and do not cause offense to people around.
Ho Chi Minh Mausoleum
President Ho Chi Minh, who is called as the beloved Father of the Nation by Vietnamese, brought freedom and independence to this country. All Vietnamese people give him respect and love. So when visiting Ho Chi Minh mausoleum, you must dress conservatively to be allowed to enter.
Ho Chi Minh Mausoleum does not stipulate what visitors must wear exactly when they visit, but it needs to be polite and respectful. That means you absolutely have to stay away from Short pants, Two-piece shirt, Open-back shirt, Short skirts are not over the knee … In addition, you are also not allowed to choose Penetrating Clothes, Clothes with too Thin Material and Tight Legging Pants when walking around in this area. The suitable outfits for this place are discreet costumes with elegance colors.
On special occasions like National Day 1/9 or Ho Chi Minh's birthday 19/5, locals often wear Ao Dai (for women) and White Shirt (for men) to visit Ho Chi Minh Mausoleum to pay homage to the Father of the Nation.
Temple, Church, Mosque, and other prayer building
In Vietnam, there are two popular religions that are Buddhism and Christianity. Pagodas, Temples, and Churches are places where show cultural characteristics of Vietnam and also have many beautiful architectural works. That's why these destinations are often on the 'must visit' list of foreign tourists.
Vietnamese people believe that shorts show disrespect to the Gods. If you are wearing shorts, you will be denied to enter and everyone around you will criticize you. Costumes suitable for these sacred places are long pants to your heel, long-sleeved shirts or short-sleeved shirts but not the sleeveless shirts. Additionally, a shirt with a deep collar to reveal the chest and torn jeans is not a good choice.
Small villages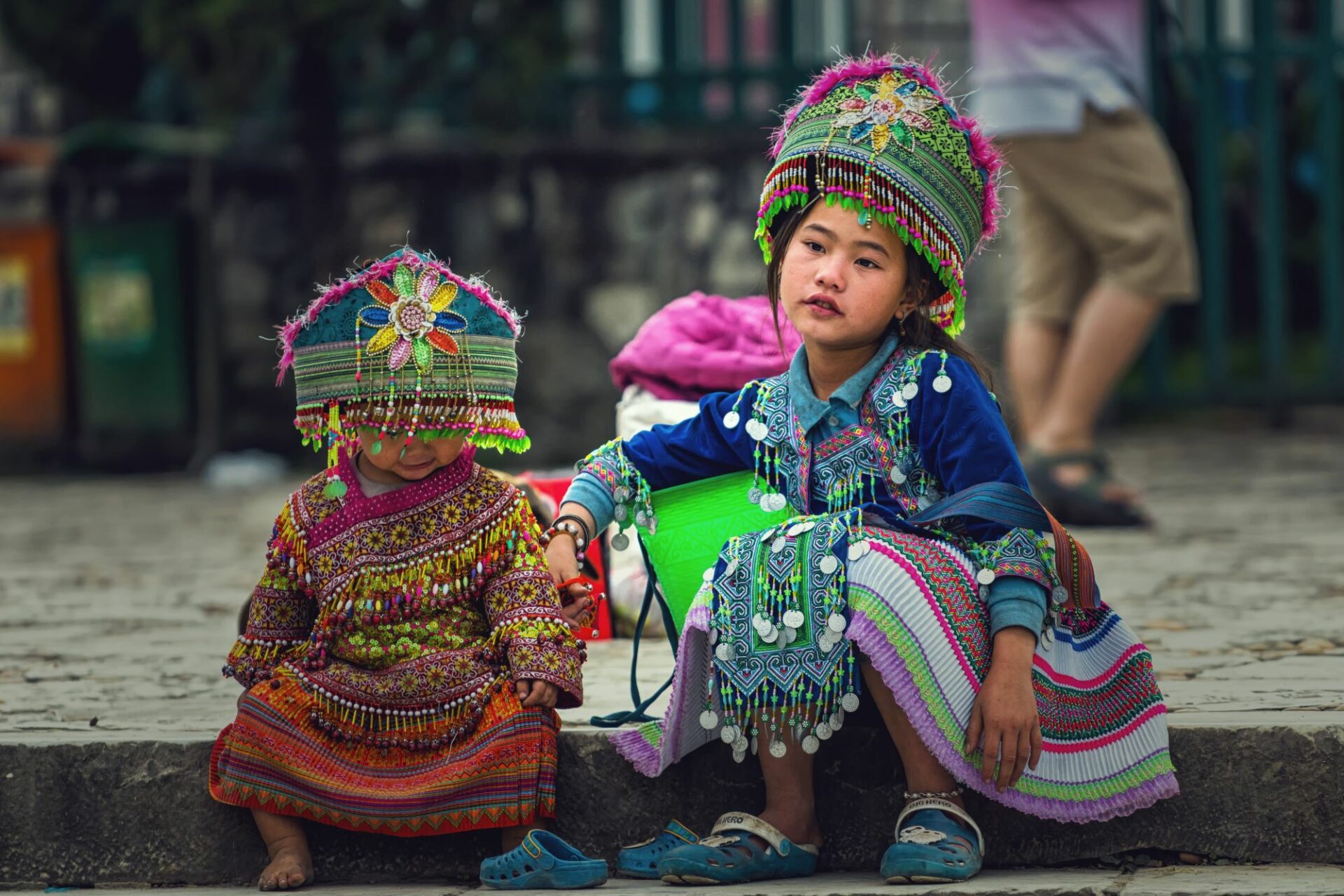 Vietnam has a total of 54 ethnic groups, the Kinh ethnic group accounts for the majority. Kinh people live in most areas of the country such as Ho Chi Minh City, Hanoi, Danang, Haiphong … 53 remaining ethnic groups account for less than and often live in highland areas. People of these ethnic groups often have a rather discreet dress tradition and rarely wear short outfits.
Different ways of dressing between the North, the Central, and the South in Vietnam
The climate is the first thing leading to the differences in the way locals dress in the North, the Central, and the South.
The South (Ho Chi Minh) and the Central (Danang) only includes 2 seasons in a year: Rainy season and Dry season.
Rainy season: from May to November
Dry season: from December to April next year
There is no Winter in the South and the Central, so the weather is really hot, especially in the Dry season. That's why locals often choose short outfits to make them feel cooler and comfortable. You will never see people dress warm clothes on the street in these areas.
Around 11:00 am to 1:00 am is the time sunlight is super strong. If you are exposing large parts of skin without protection, your skin may be burned or damaged. To protect the skin from sunlight, locals wear a coat, hat, and mask when going out, which makes them look like a ninja. My advice to you is to use Sunscreen while walking around, you can also wear a coat to better shield it.
The North (Hanoi) contains 4 seasons in a year includes Spring, Summer, Autumn, and Winter.
Spring: from February to April
Summer: from May to July
Autumn: from August to October
Winter: from November to February next year
In the North, the weather is quite cold in Autumn and Winter. At this time, locals wear long sleeves, long pants, and a sweater. Winter clothing is just available in the North and some areas with cold climate, not in the South. Young people in the South often complain that they can not wear beautiful winter outfits, because the weather in the South is too hot. When traveling to Northern Vietnam in the last months of the year, remember to bring warm clothes. Short outfits are not suitable for the weather around this time.
Spring which begins from February to April has a cool climate. Summer in the North has a high temperature but not as high as in the South and the Central. Locals prefer to wear T-shirts and shorts. So you can freely put your favorite Tank top into your suitcase and carry it with you in a trip to Northern Vietnam around this time.
Another factor affecting the dressing styles in the North, the Central, and the South is the cultures and lifestyles of locals. A long history of resistance and influences from invading countries have caused differences in the culture of the costumes in these regions. People in the South and the Central have a modern and liberal way of lifestyle and thinking. They often choose outfits that are trendy, comfortable and sexy. Meanwhile, in the North, people have traditional and humble views.
Wearing Shorts at Famous Beaches in Vietnam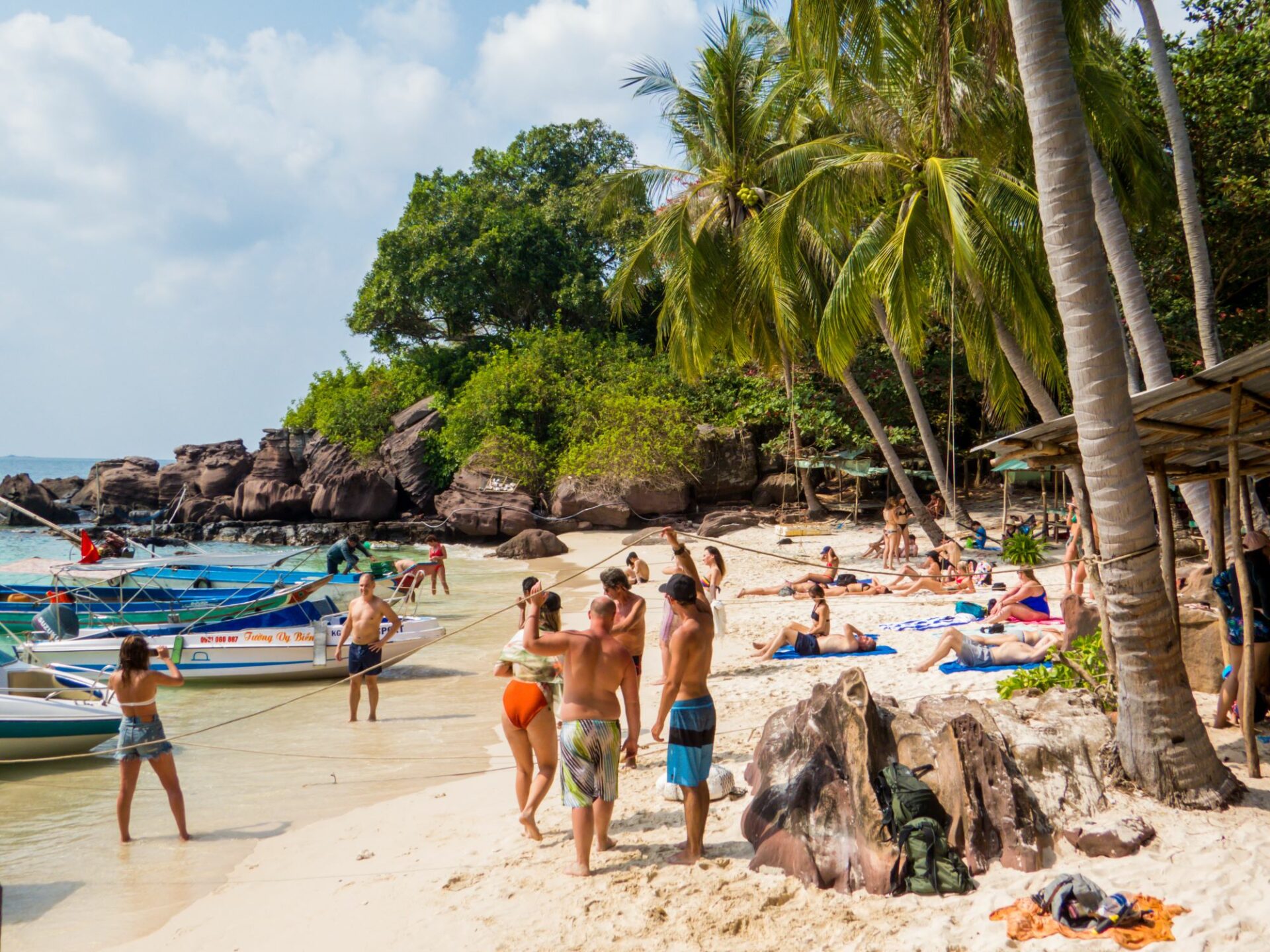 The cities or areas adjacent to the sea in Vietnam such as Phu Quoc, Nha Trang, Phan Thiet, Vung Tau, Con Dao … are the most suitable place for short outfits. Cool winds from the sea often blow into the city and the sun is not too intense. Revealing and comfortable clothes are the best choice in these places. The most popular clothes locals wear are Three-hole shirts, Crop top, Tank top, Shorts, and T-shirts.
However, you should note a few things about the short level of dress you can wear in coastal cities and the beaches.
Do not walk around half-naked in other places of the city apart from the beaches
Do not take off your bra and dress only a thin fabric when walking around the city
Most beaches in Vietnam do not allow nude
What to Wear in Areas having Cold Climates?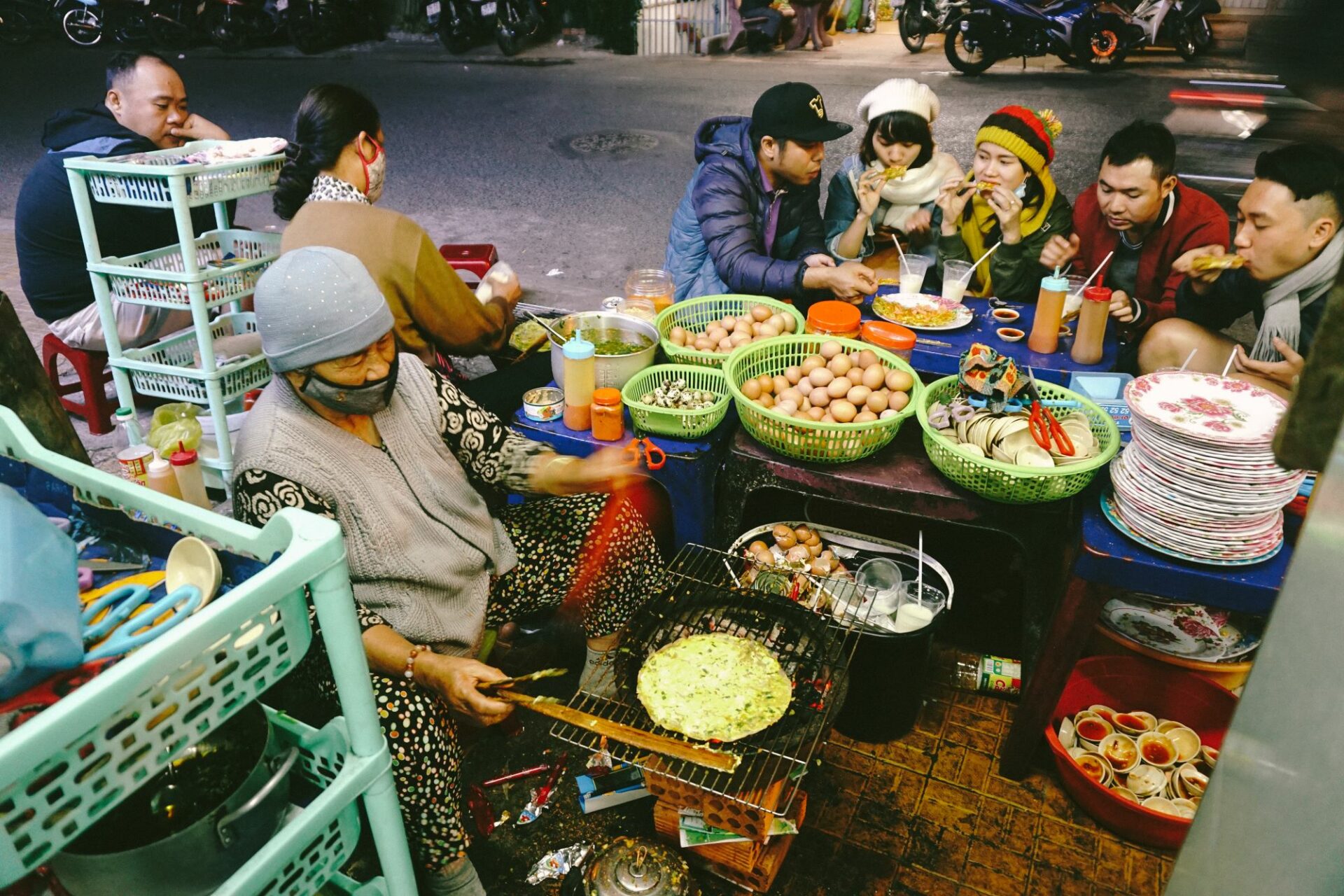 Sapa and Dalat are the two most popular tourist destinations in Vietnam not only by foreign tourists but also Vietnamese, especially young people. The reasons for that are they have pleasant weather, fresh air, and many majestic natural landscapes. They are suitable for those who love nature and want a vacation away from the bustling city center.
Sapa and Dalat are geographically located in the highlands, which makes them cool and cold all year round. When walking at markets in these places, you will often see dress shops displaying warm clothes such as sweaters, thick coats, gloves, scarves … Wearing shorts in cold weather (the lowest temperature in Sapa is below 0 degrees Celsius) is odd and not good for your health.
What to wear to Mekong Delta?
You are about to leave the bustling Ho Chi Minh City for a relaxing getaway to Mekong Delta – home to natural sights and on-the-water lifestyle. You are uncertain as what to wear to feel comfortable when you visit around the Delta. This article isn't going to help your itinerary go smoothly, it will help you wear the right clothes when going to the Mekong.


For the question "Does Mekong Delta have a dress code?", I flat-out shook my head NO. You are jolly free to wear what you feel at ease and confident in. From what I have learnt as a native Vietnamese, T-shirts, tank-tops, shorts, thin skirts, pants should be high on your list of priorities. My article below is about clothes you should and shouldn't wear to the Mekong Delta to help you feel comfortable and safe on your trip.
Clothes you should avoid
Mekong Delta has a tropical monsoon climate which is hot and cool all year round. Make sure you wave bye-bye to thick, warm clothes such as hoodies, heavyweight jackets and coats intended for SaPa or DaLat. You can just bring along a lightweight jacket to shelter you from scorching hot sun in the day time. You don't want to sweat buckets with clothes sticking to you like Scotch tape, do you?
I highly recommend you should wear linen, moisture-wicking or quick-dry fabric. These types of clothes help move your sweat to the outer surface, avoiding the clammy feeling.
Also, you'd best not be seen in light-colored and expensive clothes. Because when you weave through the jungle or get on the boat to explore floating markets, your light-colored clothes will get dirty with mud and stains. For these activities, make friends with neutral colors but not dark colors which easily absorb sunlight.
Sandals and sporty dark-colored shoes should be preferred to high-heels. Why? Coming to the Mekong Delta, you will go on and off boat a lot. Wearing high-heels will make you easily trip and fall over if you aren't careful. To be honest, I could have had a lot of trouble if I hadn't had a friend who was raised in this region of Vietnam. She became my guru for my first trip that makes my vacation an unforgettable and flawless one.
Can I wear shorts, bare shoulders?
The answer is "OKEY-DOKEY" unless you pay a visit to pagodas, temples and other solemn places. In all honesty, locals there are very friendly, easy-going and genuinely interested in visitors. You'll be wholeheartedly received even when you have shorts or bare shoulders on. But it would be super nice of you to pay respect to the land of religion and history by wearing a little bit more formal than usual.
For this, you can wear long pants, jeans, shorts or long-sleeved T-shirts (no shoulders and knees revealed). Growing up a native Vietnamese, I get used to pants and long jeans every time I go out. It saves me from skin burns because Vietnam is synonymous with hot and humid weather. Also, these types of garments can partially block you from mosquitoes and other insects hovering around at night.
How about valuable accessories (rings, watches, bracelets,…)?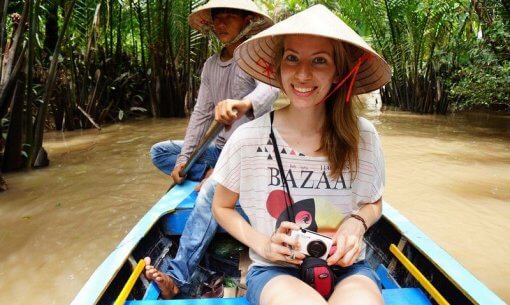 You can but as little as possible. The first reason is that your accessories may drop into the water because the life here is surrounded mostly by water. The second one is that without many valuable accessories, you can easily mix in with the nature and locals there.
You can still have you wedding rings or watches on if you don't want to take them off. You just need to pay attention to them and keep them safe and sound. That's it! Plus, it is not a half bad idea if you bring along a scarf, a hat and a pair of glasses. These kinds of accessories not only help you to avoid harsh sunlight in the day time but also to make your outfit look nicer.
What to wear to Mekong Delta if it is going to rain?
It is going to rain if you are visiting Southern Vietnam in between May and November. If you aren't sure about the weather in Vietnam, you can find and read some articles on the best time to visit Vietnam before you embark. Farmers in the Mekong Delta are happy with the rainy season because their rice fields can get abundant nutrients during this time. Visitors, do not. Be sure to go online to check the weather forecast before planning your trip if you want to avoid rain.
Here is another trick for you from a native Vietnamese and a visitor who has explored the Mekong Delta before. If you intend to take along a small backpack or a cross-bag, you could slip a back-up pair of sandals and a small foldable umbrella inside. In case it rains, the pair of sandals will save you from getting dirty and the umbrella will protect you from getting wet.Also, raincoats are sold in every general store for you to find easily (10-15.000 dong/ per regular type and 60-100.000 dong/ per high quality type)
Ao Ba Ba – another option for an authentic feel
If you want to look like a real Vietnamese local, have a crack at the traditional "Ao Ba Ba" – a traditional set of clothes with a silk pair of pants and a collarless long-sleeve shirt. This type of garment is very loose and comfortable for you to explore the delta while wearing. You can buy it at any small store or shopping center when you come to Vietnam. You will look even more Vietnamese if you match the set of clothes with a checkered scarf and a conical hat. There are two color options of the Ao Ba Ba for you to choose from: dark and bright colors. The dark ones (brown, black, grey, etc.) are for daily working, the colorful ones (red, green, blue, pink, etc.) are for special festivals when you visit the Mekong Delta during a Vietnamese traditional holiday. Visitors in the picture below looks really nice and comfy in the combo Ao Ba Ba and conical hats, don't they?
What else should I take along to the Mekong Delta?
There are four things you can pack with you when coming to the Mekong Delta that will be helpful for your trip. The first one is anti-mosquitoes cream to protect you from being bitten. The Mekong has a lot of mosquitoes which can be really irritating at night. The next recommendation would be Allergy medicine if you suffer from any food allergies. This is a good one to remember as Vietnames culture in general is not very aware of food allergies. A waterproof bag for your camera, smartphone, or any other electronic device is my next recommendation. The trip is gonna feature sometime on a boat if you go to the floating market, and this bag might be a real life saver.
Last but not least, high SPF lotion to take care of your skin is a must for a more pleasant experience. If you forget, don't worry, you can buy them at any brick-and-mortar stores right in the Delta. Anyway, wish you a safe and sound trip to our beautiful and abundant Mekong Delta.
The Best Breakfasts in Ho Chi Minh Minh City Food Guide
Ho Chi Minh City is a street food wonderland. It's easy to find authentic treats around the hotels but why don't we kick the morning off with delicious dishes only local people know? In this blog post, I'm going to share with you the best breakfasts to die for in this foodies paradise.
Dear food lovers from all over the world, please be ready for these mind-blowing tips!
Phở
Let's start our journey with something traditional. Known as the most popular Vietnamese dish in the world, Pho is the local favorite as it's a perfect and healthy meal to enjoy on a peaceful morning. Once you start, you can't stop slurping on fresh, thin noodles dipped in the simmering broth. The meat in Pho can vary between beef or chicken but most restaurants specialize in beef Pho.
A tip from a pro Pho eater is to order a small side bowl of raw egg submerged in the beef broth. Then use a spoon to scoop the egg yolk and let it melt in your mouth. It tastes like heaven! If you want to explore the best food in Ho Chi Minh City check out our Ho Chi Minh food tour at https://backofthebiketours.com/saigon-street-food-tours-vietnam/
Originally from the North, Pho came a long way to the South and became the spiritual dish of the whole country. Each region does it a little bit differently. The Pho in Saigon is topped with beef balls and eaten together with many kinds of herbs, bean sprouts, vegetables, and sweet black bean sauce. While Pho in Ha Noi doesn't have side vegetables but instead: youtiao – a kind of Chinese deep-fried doughnut. For those reasons, I would recommend more than just one restaurant and mark the regional specialty of them below:
Traditional Northern Pho:
Phở Dậu: Alley 288 Nam Kỳ Khởi Nghĩa, District 3, HCMC
Phở Hoà: 260C Pasteur, Ward 8, District 3, HCMC
Southern Style Pho:
Phở Lệ: 303 – 305 Võ Văn Tần, Ward 5, District 3, HCMC
Bánh mì Hoà Mã
If you have a habit of having bread in the early morning, then there is no other greater choice than Banh Mi. Let's forget the image of Vietnamese traditional sandwich stuffed with different meats, vegetables, herbs, mayonnaise, and pepper. I'm talking about Bánh Mì Chảo, in which "chảo" here is "pan" in English. So when you come to bánh mì Hoà Mã, you are served with a hot pan of mixed ingredients like fried eggs, ham, Vietnamese sausage, fishcake, and pork liver pate to dip the crunchy baguette in.
What makes Bánh Mì Hoà Mã so unique is their homemade sweet and sour pickled carrots and daikon making you feel more refreshed while indulging in a bunch of fried foods. Taste all the goodness and enjoy banh mi like local Vietnamese by tossing in pepper, soy sauce and chili sauce to your dish.
The shop was launched in 1958 and it still remains the same authentic taste like the good old days. For travelers looking for the nostalgic Sai Gon feeling, feel free to come to Banh mi Hoà Mã and don't be a sleepy head because it's only open until 11 AM.
Bánh mì Hoà Mã: 53 Cao Thắng, Ward 3, District 3, HCMC
Bún mọc
Vietnam is famous for its noodle soup dishes. If you're a pork lover, make sure to try Bun Moc when you come to Ho Chi Minh City.
Although Bún Mọc originated from the North, it's still important to Saigon food culture. The most popular shop for this special dish is definitely Bún Mọc Thanh Mai located right in the heart of the city center, near Ben Thanh market. This shop has been run by the same family for more than 40 years so the flavor is said to be the most authentic of all bun moc businesses in town.
The mushrooms are cooked with pork for hours to create a comforting, light and delicious broth with umami. Inside the bowl of Bún Mọc, you will find chunks of pork meat, pork balls, and slices of Vietnamese sausage topped with crispy fried shallots, green onions, and peppers. The vegetables served on the side include banana blossoms, bean sprouts, and fresh herbs. But that's not enough if the eater forgets to season his bowl of Bun Moc with lime juice, fish sauce, and crushed chilies. It's totally the type of noodle soup that you might want to eat in a relaxing rainy day.
Bún Mọc Thanh Mai: 14 Trương Định, Bến Thành Ward, District 1, HCMC
Cơm Tấm
Vietnamese love to eat rice so this list wouldn't be perfect if I forgot to bring up this extremely common dish. Broken rice or Cơm Tấm is available all over the streets. Perhaps only in Saigon, it's more famous than even Phở, I usually brought a takeaway box of Cơm Tấm to class when I was a kid from one of the local street food vendors near my home.
Broken rice refers to grains of rice that come loose during the milling process. This ingredient is less expensive compared to the whole grain white rice and is usually eaten by lower-income class families in the past. In present-day Ho Chi Minh City, broken rice is eaten by everyone in the southern part of Vietnam and can even be considered an expensive dish at some vendors.
The basic version of Cơm Tấm is broken rice and topped with a marinated grilled pork chop, carrot and radish pickles, cucumber, tomato, and cooked green onion mixed with crunchy pork fat. This whole combination is served with sweet fish sauce drizzled on top. You can upgrade all your com tam with loads of extras such as sausage, steamed egg & mushroom cake, a fried egg, or even thinly sliced pigskin.
Throughout the city, you can find many versions of Com Tam because each stall owner has their own recipe. My mom said, "The thing that makes Com Tam exclusive from place to place is the fish sauce and how the pork is marinated." As it's difficult for me to choose only one restaurant, here are some recommendations for the best Cơm Tấm in Sai Gon:
Cơm Tấm Bụi: 100 Thạch Thị Thanh, Tân Định Ward, District 1, HCMC
Cơm Tấm Mộc: 85 Lý Tự Trọng, Bến Thành Ward, District 1, HCMC
Cơm Tấm Nguyễn Văn Cừ: 74 Nguyễn Văn Cừ, Nguyễn Cư Trinh Ward, District, HCMC
Bò Kho
Finally, to complete this food guide, there is another wonderful and beloved Vietnamese favorite: Bò Kho. Bò Kho means beef stew in English.
The broth is savory and meaty in flavor as it is a combination of carrots, tough cuts of beef in cubes, shallots, and lemongrass simmered for hours. The beef is always marinated with different spices such as star anise, cinnamon, and seasonings for a long time before the cook pours them all into the cauldron. That's why the stew is so rich, flavorful, and the meat is deliciously tender.
A bowl of Bò Kho is accompanied with fresh herbs, vegetables and dipping sauce on the side just like other Vietnamese noodles. The taste is balanced but if you want extra flavor, add a few slices of spicy Vietnamese chilies to your bowl to extend the fragrant of natural spices and soothe the sweetness of luscious juicy carrots. It will be a mouthwatering breakfast you won't easily forget.
Beef stew is pretty popular for breakfast so there are many stalls serving it around the city. In Sai Gon, it's also common to eat Bò Kho with egg noodles.
Phở & Bò Kho Út Nhung: 109/7 Nguyễn Thiện Thuật, Ward 2, District 3, HCMC
Bonus Breakfast Tips for Saigon
Last but not least, I have a special mention for a small shop in Ho Chi Minh City that is a personal favorite of mine.
Craving for something light that still gives enough energy for the day? Then head to a small fresh milk shop in the vibrant center of Sai Gon. This place is pretty popular among the locals.
The shop is named "Mười", which literally means "10" in English. Milk at Mười is different from bottles of milk stacked in supermarkets because it's boiled fresh every day. The shop also offers milk mixed with classic black coffee for caffeine lovers. While fresh milk is the signature, Sữa Tươi Mười also serves traditional pastries as well.
Customers coming here are given plastic chairs to sit together along the sidewalk, right in front of the shop. This way of gathering is a wonderful way to enjoy the comforting morning while immersing in the Vietnamese culture.
Sữa Tươi Mười: 10 Phùng Khắc Khoan, Đa Kao, District 1, HCMC
If you're planning to have a trip to Ho Chi Minh City, I hope this has inspired you to seek some tasty, authentic treats around the city. The list has everything you need for a local traditional breakfast experience when exploring Sai Gon but you can check us out here to find a Ho Chi Minh Food tour that is right for you.
I would say this amazing culinary paradise has all kinds of foods from a renowned bowl of Pho to exotic snacks like fertilized duck embryo. As it's always good for a little wander, don't hesitate to taste other delicious treats if you stumble into some random stalls in the small alleys. Happy exploring!
More Vietnamese Street Food info…
Where is Nguyen Hue Coffee Apartment? – The one-of-a-kind building in downtown Saigon.
If you are searching for the best photogenic spots in Ho Chi Minh City, never skip the 60-year-old building on No.42 Nguyen Hue Walking Street. The newly redesigned street in downtown Ho Chi Minh City, is right in the center of District 1. The coffee apartment at 42 Nguyen Hue is right in the middle of the street inbetween the Saigon River and the City Hall that sits on either end of Nguyen Hue.
What turns such an antiquated building into the trendiest place in all of Saigon? It's the perfect combination of a youthful Saigon vibe with the timeless, nostalgic beauty that makes Building No. 42 stands out among other places. Come here to capture the best scenes of Saigon onto your Instagram, to shop until you drop and to fill your taste buds with endless food and coffee. Let this article guide you on your exploration into this spot, and take away plentiful recommendations for fun activities to do while you are here. 
Nguyen Hue Cafe Apartment History
From a 60-year-old building to the coolest address on Nguyen Hue Walking Street
Building No. 42 charms visitors at the first look with its glorious history. Back in the Vietnam War when Saigon was the capital of Southern Vietnam, the nine-storey building at no. 42 Nguyen Hue Street housed many top-ranking government officers, including Truong Buu Khanh – the first secretary of the Vietnamese Embassy in Washington, as well as countless American military advisors, thanks to the central location.
When the Fall of Saigon in 1975 came, the building's honored days slowly faded away. As Vietnam thrives in the world's economy, skyscrapers rise higher and higher to take over the sky of Ho Chi Minh City, which turns the old apartment building into a dwarf among giants. After decades, time stained every corner of Building No. 42, from the dimly lit entrance with interlacing electrical wires to yellow brick walls with peeling paint and the twisting French-style staircase. Every breath inside the building gives you such a strong nostalgic feeling from a chaotic era.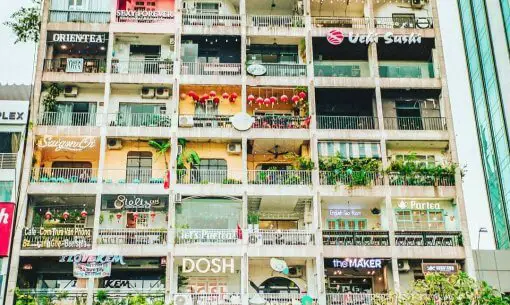 The building revived its fame in an unexpected event in 2015. Due to the high rental fee in the city centre, small coffee shops and fashion boutiques turned their eyes to the old building No. 42. A wave of renovation hit the building quickly, and when Nguyen Hue Walking Street was open to the public, Building No. 42 also went viral on social media for its brand new appearance: a hip complex filled with nearly 30 coffee stores, fashion boutiques and other independent stores, each with a unique concept and Instagram-worthy atmosphere. The building engages hundreds of local people and tourists every day from morning 'till dawn, and is now considered as the coolest address on Nguyen Hue walking street. 
Once you start your journey here, prepare to be confused since the 1st floor is occupied entirely by Fahasa – a renowned chain of bookstores in Vietnam. The diminutive entrance is on the left of the book store. Now squeeze yourself to make your way through vehicles and the flow of people in and out of the building. Visitors can either wander floor by floor on the stone staircase or pay 3.000 VND to use the elevator, which will be reimbursed by some shops. The exciting area starts on the 2nd floor.
Among 3 sections of the building, section A is where most stores locate, thanks to the good view looking down to Nguyen Hue walking street and the Saigon river. Section B is a little more hidden than section A, but it still attracts a good amount of businesses due to spacious apartments. Residents remain in section C as apartments are not favorable for renovation. 
While most stores open every day from 8 A.M to 10 P.M, the building is busiest in the evening. It's the best time to see the building glows in the beautiful light from balconies and decorative billboards. If you want to explore every corner of the building, it may take most of the day. To save your time, here's a list of what visitors usually do when visiting the building, from the most frequent activity to the unexpected ones. 
The Best Instagram Cafes at 42 Nguyen Hue Apartment
Whether you're a fan of photography, or you just want to share some beautiful holiday moments on social media, Building No. 42 is a must-go place for you. It's not exaggerating to say that the building is filled with Instagram-worthy backgrounds. The most photo-taken spot is not anywhere inside, but the outer view of the whole building when looking up from Nguyen Hue walking street, especially at night when the building sparkles in the light of lanterns, hanging naked light bulbs, neon lights, billboards and decorating signs. The building's cubic-like frame with evenly square balconies makes it look like a chocolate box full of tastes and styles. 
Inside the building, artistic layouts can be spotted anywhere, from the fuzzy tiled corridors, tarnished window frames to rusty apartment doors. Before settling inside any shop, do take some photos in the hallway.  The most recommended background is the corridor of the 4th floor where a little tropical garden flourishes in the middle of the building. Or opt to the 6th floor to be surrounded in a Hoi An atmosphere with bright yellow walls and hanging lanterns all along the aisle. Even the elevator lobbies can become a hip background with different signs, billboards and maps of floors.
Now you have to make a hard decision of which store to step inside because all stores in Building No. 42 deserve the praise for their aesthetic interior. Most well-known cafés to Instagrammers include Partea, The Maker Concept, and The Letter Cafe. Partea is a classic English teahouse that actualizes every girl's dream of living in a castle with royal-like decoration, while The Maker Concept's industrial décor focuses on the chic, modern and somewhat minimalist style. Otherwise, come to The Letter Café to stay on a tranquil oasis in the middle of the chaotic Saigon, thanks to the elegant Hoi An influenced decoration. 
After visiting beautiful stores recommended above, let's step out to the balconies and take a look. From there you'll get an overview of the busy walking street, Saigon River in a far sight and some iconic skyscrapers of Ho Chi Minh city. Buihaus Coffee & Workshop on the 7th floor or Boo Café on the 9th floor are most frequently visited for their spacious and wide-angled balconies, which is suitable to set up a good photo.
If you are an active Instagrammer, check out our recommendations for more Instagram-worthy places around Ho Chi Minh city. 
Best Coffee Shops in Cafe Apartment
Building No. 42 is called "the Coffee Apartment" for a reason. What makes people so excited about No. 42 is that the complex offers customers various drinks with different tastes in one place. Here you'll find people filling all seats in these cafés every day, mostly youngsters who not only want to have a good drink but also look for a cool place to hang out, socialize and date. Here in Building No. 42, all of their needs are fulfilled. 
For coffee addicts, you'll have a hard time choosing a café in the building, because each store has their signature drinks that you don't want to miss. To have a taste of Saigon style coffee, try Sai Gon Oi on the 5th floor. This shop has some different versions of the iconic ca phe sua da (Saigon iced milk coffee). A small detail that many customers like in this store is cute little name tags stuck onto your cup. The store also serves light desserts but we believe the true reason to visit is the drinks. 
On the same floor, you can find Nau Saigon Café, a cool place to try some unique Vietnamese coffee such as egg coffee, foam milk coffee, or coconut coffee. Egg Coffee is quite famous in Vietnam and worth trying for any newcomers to unique Vietnam's coffee universe. Don't hesitate of the bizarre combination of whisked egg yolk layered on top of black coffee, because it's likely that you'll crave for the creamy, tasty flavour of the drink.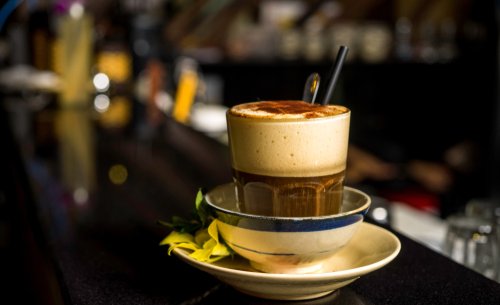 A tip for Instagram enthusiasts: Check out Thinker & Dreamer on the 4th floor. The drinks in this shop are famous for being Instagram-worthy. If you see a small camera icon on the menu, it means the drinks are "good for taking photos". Their drinks range from classic coffee like espresso or cappuccino to other popular drinks such as juices and tea. The combination of their tastes and looks is worth the price.
For tea lovers, there are two addresses that you shouldn't miss in this building: Partea on the 4th floor and Orientea on the 7th floor. Partea is considered as a fairy house in the middle of this tropical city. Customers are deeply in love with the royal-like ambience of the store, besides the extensive choice for tea flavours. You can even choose your own teacup from the store's huge display of vintage utensils.  
Orientea, as suggested in the name, is a place to taste oriental tea, mostly from Japan and China. The store receives positive reviews on the tranquil atmosphere and unique, delicate tea flavours. This is an ideal place to find a peaceful moment or to enjoy a Japanese tea ceremony. 
To cool down the heat of Saigon, don't forget to check out Mango Tree on the 3rd floor and taste the store's most recommended beverage: Mango Snowflake – a Korean famous drink/ dessert called bingsu, made from shaved ice topped with fruits, syrup and condensed milk. The dessert is famous for melting down in your mouth at the first bite. Eating a full bowl of bingsu guarantees to give you a shiver even on a blistering hot day. Other places of Saigon may also have bingsu, but  is notable for special flavours from coffee, bubble milk tea to durian. 
Cafe Apartment Food Recommendations
There are fewer restaurants in Building No. 42 than cafés, but almost all of them receive positive feedbacks for their quality and service. One thing for sure is whether you are into Eastern or Western cuisine, Building No. 42 has it all to offer. 
Start from the 2nd floor at Poke Saigon where you'll find tasty Hawaiian seafood. This is the first restaurant in Ho Chi Minh City that serves Poke – a popular appetizer in Hawaiian cuisine, composed of raw fish, salad, toppings and sauces, which tastes fresh and healthy. This restaurant is suitable for any meal in a day thanks to its diverse menu. Those who have a vegetarian or gluten-free diet can easily choose a dish from many options.  A great thing in Poke Saigon that many customers love is that you can create your own poke flavour from unlimited toppings and sauces.  
On the 3rd floor is the right place for people who look for a European taste, with Dosh and Downtown Steakhouse. Dosh is a perfect bakery for your sweet tooth. Doughnuts are must-try when you are here because of their unbelievable soft and tender taste. Besides doughnuts, freak shakes are highly recommended, both for the taste and the Instagrammable look. Since its opening, Dosh has been one of the top-ranking bakeries in Saigon and received much attention.  Downtown Steakhouse is lesser-known, but all reviews about this restaurant are compliments for their tasty food. As suggested in the name, the restaurant's main dish is American steaks and grills that satisfies your taste and vision. With delicious food, great outdoor setting, helpful service and affordable price, Downtown Steakhouse is worth visiting, especially suitable for dating and couples' night-outs. 
For fans of Italian cuisine, head to 8IELTS Café on the 4th floor. The good view and arty décor with beautiful wall drawings is the most significant feature of 8IELTS. The menu composes of general Italian food such as pizza and pasta. The price and customer service in this café receive mixed reviews but are still acceptable on the average. A good thing to note down is 8IELTS offers a generous weekly discount program every Wednesday and the cafe frequently throws live music nights.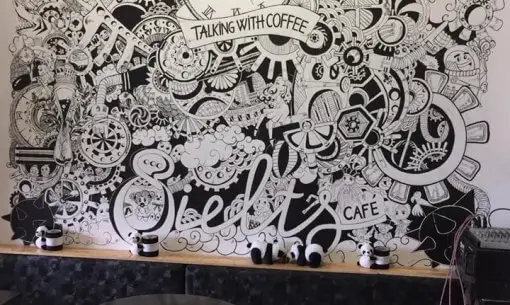 If you have had enough of Western food, look for Michi Sushi on the 7th floor. Their menu covers a broad range in Japanese cuisine, including sushi, sashimi (a delicacy made from raw sliced meat or fish and served with soy sauce), teriyaki (broiled or grilled meat with a glaze of mirin, soy sauce and sugar), udon (Japanese noodles) and some Western – Japanese combined dishes. The food in Michi Sushi is praised for its freshness and delicate preparation. The price is reasonable with frequent discount programs, making Michi Sushi one of the busiest stores in Building No. 42. 
Lastly, for those who want to try Vietnamese food, Saigon Vieux on the 2nd floor and Sai Gon Oi on the 5th floor are the places to go. Both cafes offer some traditional Vietnamese and Saigon dishes. While Saigon Vieux has a more diverse menu which is suitable for any meal in the day, Sai Gon Oi is better to grab a quick brunch.   
Best Shopping Spots in 42 Nguyen Hue
When it comes to shopping, Building No. 42 confidently beats down other luxurious shopping malls for its dynamic atmosphere. Fashionaholics dash down here to search for trendiest, one-of-a-kind items. Young local designers find No. 42 a heavenly place to start up and promote their styles. Both result in No. 42 becomes a fashion treasure where new boutiques pop up frequently and customers can dive into various choices on a budget. What's more, shopaholics crave for the aesthetic atmosphere not any less than clothes. Since social media is the main marketing platform of all start-ups here, shop owners strive to make every corner in their stores picturesque. All in combination makes a shopping spree in Building No. 42 definitely worth your time. 
A small thing to keep in mind: clothing stores in Building No. 42 are mainly for female customers with standard Asian sizes, so don't be surprised if you struggle to find a fit item. In that case, look for accessories, such as cool bags or jewels because you won't be disappointed. Below are some recommendations for stores you should swing by. 
For those who favour a minimalist style, Hayho Concept on the 2nd floor definitely wins your heart. Hayho Concept claims to serve customers "classic basics clothing with a twist". The store sells men and women's fashion clothes with uniquely designed embroidery and high-quality material. Customers usually look for cool T-shirts and polo shirts when they come here. For couples: don't forget to dig into their T-shirt section and find some cool matching outfits as the store provides plentiful unisex items at all sizes.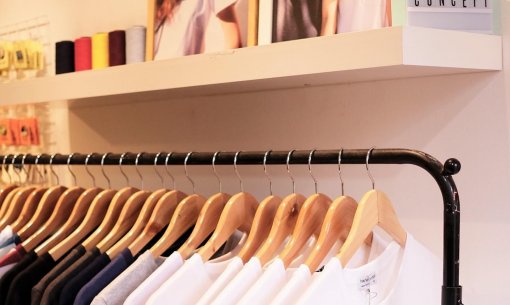 To complete your minimalism – inspired look, head to a Scandinavian style store named The E.Y.E Saigon on the 4th floor. The artistic decor and display charm your eyes at first sight. Even though all products are plain black and white tote bags, they can add flavour to your outfit with creative designs, printings and unique slogans. The brand's mission is to proudly promote sustainable buying habit and showcase Vietnamese culture through modern fashion. The store also offers good quality, stylish white tees and chic wall prints that are worth considering. 
For girls who look for a feminine outfit, try Cosette or Chanchan. Cosette is a Vietnamese designer brand that emphasizes the classy beauty of vintage clothing. Their target customers are young office ladies who love to be trendy, yet maintain their formal and professional look.  If you adore the ao dai of Vietnam, do put this store onto your bucket list when you come to No. 42 as they offer a good selection of traditional, elegant ao dai styles. 
Come to Chanchan to find some funky pieces with gorgeous designs and nice materials. The store aims to customers who are into a somewhat casual and colourful style. Their most sold items are lovely dresses with nice cut-outs and tropical designs that brighten up your look. If you happen to come here around the Vietnamese New Year, you should also look for their very cool section of modern and chic ao dai designs.
Now let's spice your outfit up with some cool accessories from Buom Boutique or The Maker Showroom. At Buom Boutique, take a look of their wide selection of various Japanese clothes and handmade accessories, from kimono, silk tank tops to wooden sandals and seagrass handbags. At The Maker Showroom, try out plentiful hip products from backpacks to jewellery and even designed phone cases. It's pretty hard to step out of the building without one or two items from these cool fashion stores. 
Co-working Spaces in Saigon
Now, just when you think that you have known everything about this building, it still has more to offer. Besides eating and drinking, many cafes define themselves as co-working space and provide a great environment for freelancers or anyone who simply needs to make something done. Famous cafés that are dedicated to working or study space include The Maker Concept, Buihaus Coffee & Workshop and Thinker & Dreamer. Other cafés are also fine for working, except for busy hours in the evening. 
For beauties, don't forget to wander around some beauty stores in the building, such as Naunau DIY Studio on the 5th floor. This cosmetics brand allows you to make your own beauty products, from handmade beauty soaps to your personally designed perfume, all with natural, eco-friendly ingredients.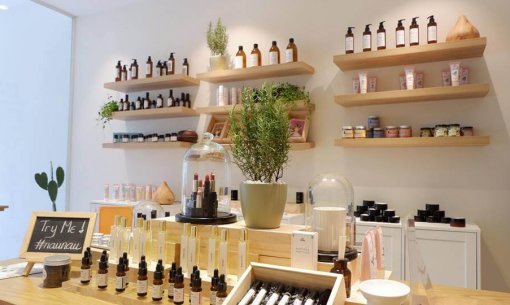 One thing for sure is that the business in Building No. 42 is competitive and frequently changing with more and more creative, unique stores pop up to the display, so the next time you visit it, prepare to discover some new and cool places.
The undefined future of Building No. 42 
Despite many compliments, the building has some drawbacks. Since apartment owners renovated it individually, the building lacks systematic management and organization, which makes common services, such as parking and using the elevator, quite low quality. The common areas are not taken care of, which leads to complaints as "dirty and messy". The run-down construction of this 60-year-old building brought a huge concern to both residents and customers about its safety. Moreover, turning apartments into business is actually illegal and a notice of eviction has been made to shut down the business here, though the government hasn't taken any strong action yet.
While the future of Building No. 42 Nguyen Hue Walking Street is unclear, business still prospers with new stores opening every month or so. Rumour has it that the building will soon be demolished, but until that day, No. 42 stays as the coolest address on Nguyen Hue Street and one of the best places to visit in Ho Chi Minh City. Check it out as soon as you can, before this unique place becomes the past. 
"Happiness is … a perfect handbag" – That can be true for many women, despite age, professional and style. Every season, designers around the world amaze shopaholics with thousands of new items, but at the same time, they break our hearts with shocking price tags. If you don't want to break the bank purchasing those fancy bags, the counterfeit market in Vietnam is happily offering you the same things at a fraction of the cost. Let's start an exciting, yet thrilling journey to explore the counterfeit market for handbags in Vietnam!
Can You Buy Fake Designer Bags in Vietnam? The answer is Yes! All over Vietnam, you can find counterfeit bags to buy. Just like with anything you are buying, you should do some research to help you get the best bag for your buck!
Some tips before you go shopping for Designer Bags in Vietnam
Bargaining is your best friend: the counterfeit market for handbags in Vietnam is supplied mainly from China and some rural villages in Vietnam where the items can be bought at an unbelievable price, even as low as $1.5 – $2 per item. So even when you think the price is already low, don't hesitate to bargain. Usually, you should start at 50% of the offered price. Also remember that, for convenience, Vietnamese people usually omit the "thousand" in the price, so if they say "300" or "300k", it really means "300.000 VND" (~$15).  
You get what you pay for: don't expect too much when it comes to the quality as most items are poorly made with low-key materials, despite their fancy looks. It is easy to judge the quality from small details, such as the smoothness of zippers, the feel of the texture on the surface, messy seams and stitches, and even hilarious spelling mistakes on the logo. However, it doesn't mean that all the knockoff handbags you find are rubbish. They may not reach the meticulous level of originals, but they still serve all basic functions of a handbag and with good care, they can last for a reasonable period of time.  
Prepare for not-so-friendly sellers: since you'll have to make a haggling battle with the shop owners, chances are they can be quite rude and pushy, especially in the North. To avoid an unpleasant experience, only pick up things or ask the price if you really want to buy. Otherwise, just have a look and walk along. Touching or taking photos of goods without buying can irritate shop owners. 
Bring a local friend with you: it is a stereotype for shop owners in Vietnam to believe that tourists are all rich. Bringing a local friend with you not only helps with bargaining but also prevents shop owners from inflating their price since there's usually no public price tag.
Kill 'em with kindness: bargaining sounds harsh and difficult, but in fact, things can go pretty well if you keep a positive attitude. Shop owners can sometimes be grumpy because of many struggles in their daily lives. So just start with a smile and don't be surprised at how sweet they can be. Even if you can't make a deal, saying "thank you" before you walk away does no harm.
Now that you are equipped with basic knowledge, let's get shopping!
The Best Cities for Fake Designer Bags
First of all, let's have a look at where should you go shopping for handbags during your stay in Vietnam. In general, Vietnam is a paradise for counterfeit goods because of various factors: the great supply from China, huge demand from low-income local customers and the lack of a strict anti-counterfeiting policy from the government. It's easy to spot knockoff handbags everywhere in Vietnam, from local markets, small shopping malls to handbag shops.. However, there are only two centres where you should go shopping: Hanoi and Ho Chi Minh City –  the main commercial and economic centres of Vietnam. These cities are also the place where suppliers gather products before distributing them throughout the country. You can find a whole universe of knockoff handbags in any style and at any price. 
In each city, counterfeit goods are sold either in traditional markets or in-house stores. While sellers in traditional markets win customers by offering the best price and various products, the majority of goods belongs to the low end of the quality scale. On the other hand, in-house stores are more pricey than markets, but they are favoured by bag lovers who wish to purchase unique, good quality duplicates from high-end brands at a fraction of the original cost. In this article, you can find information about all the most well-known counterfeit markets, as well as a list of top in-house stores for knockoff handbags throughout Vietnam.
Where to Buy Fake Designer Bags in Hanoi?
Dong Xuan Market (Chợ Đồng Xuân)
It is said that there is nothing in Hanoi that cannot be found in Dong Xuan Market. Being the oldest wholesale market in Hanoi since the French colonial times, Dong Xuan Market is a must-see site for tourists. The market is located in the heart of the Old Quarter on a vast area of around 6.500 sqm with one stadium-like building and an open-air market. The handbags/ clothing section is on the second floor in the main building with hundreds of small kiosks. Most handbags sold in Dong Xuan Market are made in China with low to medium price and quality with logos of famous brands like Gucci, Louis Vuitton, Chanel, Prada etc. The average price for a handbag in this market is 150.000 – 200.000 VND or $7.5 – $10, however, shop owners usually start the deal at 400.000 – 500.000 VND or $20 – $25. Despite the variety of styles, most shops don't have unique items and are quite repetitive. Also keep in mind that some shops may refuse to retail because they are wholesale suppliers.  
The intersection of Dong Xuan, Hang Khoai and Cau Dong streets.
8 A.M – 6 P.M.
Weekend Night Market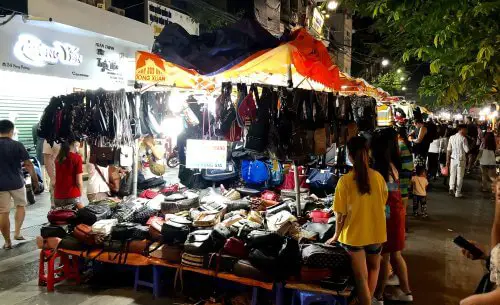 Since 2016, to promote the city's tourism and entertainment activities, the Hanoi government opens a weekend night market in the centre of the Old Quarter. The market is open only 3 nights per week, from Friday – Sunday. This 1 km – long market serves mostly tourists with street food, souvenirs, clothing, and accessories. Handbag stores are scattered throughout the market. In general, the quality and styles of these stores are similar to those in Dong Xuan Market, but with a better price and easier negotiation. Whether you are casually looking or eagerly shopping, always pay attention to your wallet as pick-pockets are notorious here. 
From the beginning of Hang Dao Street to the end of Dong Xuan Street|
6 P.M – 11 P.M (advice: shop owners have to install their stores every night when the market opens so you should wait until 7 – 8 P.M to start shopping.)
Cho Nha Xanh Market (Chợ Nhà Xanh)
If you ask any college student in Hanoi where to go for a shopping spree on a budget, most will recommend you to Cho Nha Xanh. Surrounded by many campuses, this market's main customers are high-schoolers, college students, or fresh graduate employees who are loyal fans of fashion with a tight budget.  Therefore, you can find various handbag stores with lower price than any other place in Hanoi. Many shops in the market publicly show the price tags, which greatly helps customers in making a purchase decision. Note that in this case, there is no point to bargain. A disadvantage of the market is its limited space, which makes the atmosphere stuffy and noisy. When shopping here, you should take your time to have a look at many stores, because the price can vary greatly. 
Phan Van Truong Street, Cau Giay District.
6 A.M – 8 P.M.
Locating Fake Designer Bags in Ho Chi Minh City?
Ben Thanh Market (Chợ Bến Thành)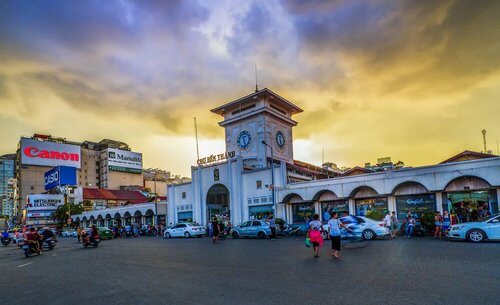 If Hanoi has Dong Xuan Market then Ho Chi Minh City has Ben Thanh Market. Located in the city centre, the market occupies a huge area of 13.000 sqm. Like Dong Xuan, this is the commercial hub of the city where you can find almost anything. Head into the southern gate of the market where you can find a whole world of handbags, wallets, clothes and shoes from any global brands that you can think of.  Latest styles from Chanel, Gucci, Louis Vuitton, Prada, etc. can be found stacked piles upon piles in these stalls with the average price from 200.000 – 300.000 VND. While most shops offer average-quality replicas, a few shops can offer you super fake handbags with prices up to $50 – $150, depending on how close their quality is compared to the originals. 
Le Loi Street, Ben Thanh ward, District 1.
7 A.M – 7 P.M. 
Note: after the market is closed, shoppers can still continue to wander around the Ben Thanh Night market until 10 P.M. The night market consists of stalls clustered around the east and west sides of Ben Thanh market and Le Thanh Ton avenue. There are less variety of offer  than the day market, but it is still a good place to swing by for a walk after dinner or before you head to a night out.
Binh Tay Market (Chợ Lớn)
Unlike the touristy Ben Thanh Market, Binh Tay market serves mostly wholesalers with affordable prices and diverse goods. The majority of items sold in Binh Tay are  distributed throughout Southwest provinces. In general, the shop owners here are not as pushy as in Ben Thanh. Chinese – speaking tourists also find this market enjoyable as many sellers speak Chinese fluently. The unique oriental architectural style of the market, along with the China Town neighbourhood, gives Binh Tay a cinematic vibe. Overall, Binh Tay market is worth visiting both as a shopping paradise and a historical building. However, since the market is much smaller than Ben Thanh, be prepared to feel sweaty and uncomfortable making your way through narrow stalls. Tourists should also not be disappointed or surprised if many shops refuse to sell small quantities for retail. 
57A Thap Muoi Street, Ward 2, District 6. 
6 A.M – 7 P.M. 
Saigon Square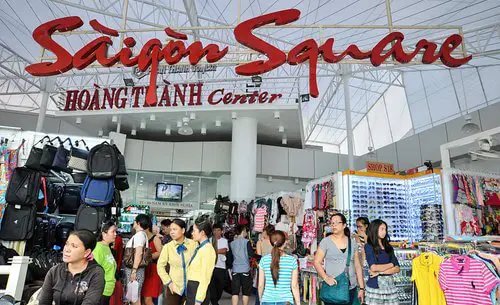 "If you haven't gone shopping in Saigon Square, you haven't gone shopping in Saigon" – that's why this shopping mall is always bustling with locals and foreigners every day. Saigon Square brings you a unique shopping experience: a combination of a shopping mall with the hustling atmosphere of a traditional market. Many people describe Saigon Square as "a luxurious market" because of its modern facility, air-conditioned and clean in-house stalls, a wide range of goods with comparably lower price than the nearby Ben Thanh market. The mall also opens later at night than normal markets, which gives tourists more time to explore. When it comes to counterfeit goods, Saigon Square offers you various unique items that may not be found in other places. The level of "fakeness" in Saigon Square's handbags ranges widely from crappy replicas to perfect duplicates that even a fashionista would find it hard to tell the difference. If you are a huge fan of designer handbags, this place can be a paradise for you. One thing that tourists usually complain is the narrow walkways between stalls, due to the limited size of the mall, which can make you uncomfortable during the crowded time. Though Saigon Square was built to be a shopping small, it's still a market with crazy inflated price  so don't forget to play the haggling game to find the best deal.  
81 Nam Ky Khoi Nghia, Ben Nghe ward, District 1.
9 A.M – 9 P.M
Looking for a more pleasant shopping experience?
Despite the amazing price, chances are you may feel disappointed and tired while shopping in the counterfeit markets mentioned above, due to the stuffy atmosphere, sometimes terrible customer service or repetitive styles. The good news is you can still stay in air-conditioned rooms, being served by friendly staff and don't have to play the hustle game to find lovely bags at a good price. Below are reputable handbags shops that offer items from world-renowned brands like Charles & Keith, Chanel, Gucci, Michael Kors, etc. for only 30% – 50% of the original price. Shop owners claim that these bags are authentic overstocked or discounted items that come from outsourcing factories in Vietnam, which explain their too-good-to-be-true price. However, this explanation is still debatable, and many people believe that these handbags are simply super fake or perfect replicas imported from China, Thailand, or Cambodia. Whatever the reason is, shopaholics with medium to high – income in Vietnam prefer these places to find good-quality handbags at a reasonable price. Some stores below have many branches in big cities in Vietnam or support online shopping, which helps make your shopping experience more convenient. 
Kinda Shop
With helpful customer service and up-to-date items, Kinda Shop is the go-to place for ladies in Hanoi when it comes to bags and accessories. You can find copies of famous Chanel, YSL, or Charles & Keith bags with prices from 300.000 – 800.000 VND ($15 – $40), which is only 1/3 – ¼ compared to the original price. You should browse the Facebook fan page for items and prices before coming to the store, as the location is a little bit hard to find.
No. 16, 296/108, Alley 296 Minh Khai Street, Hai Ba Trung District, Hanoi.
https://www.facebook.com/vituxa/
Veobags
Veobags focuses on designer handbags with competitive price, which is relatively lower than the average. The store's fan page has reached over 1 million followers, making it one of the most well-known shops for designer handbags in Hanoi. Two branches of the stores are located in the city centre, which makes it easy for tourists to swing by. Each store is beautifully decorated to bring you a luxurious feeling as if you are shopping in an original branded store. The price starts as low as 220.000 VND($10) for items from Zara, Charles & Keith to 600.000 VND($30) for brands like Gucci or LV. 
42 Hang Voi Street, Hoan Kiem District (Old Quarter) or No.4, Alley 370, Le Duan Street, Hanoi.
https://www.facebook.com/veobags/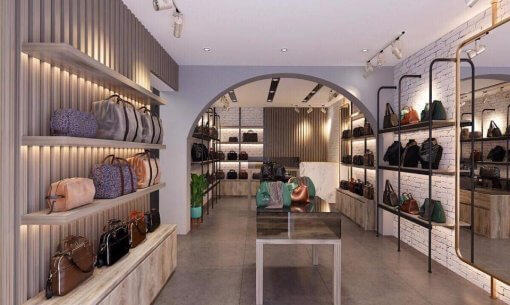 Hà Túi
Opened since 2010, Ha Tui now has many branches throughout the country with 3 stores in Hanoi and 1 store in Ho Chi Minh City. Customers praise Ha Tui for responsive customer service, diverse items and frequent sale events. The average price usually ranges from 300.000 VND to 500.000 VND($15 -$25) for a classic Chanel or Dior replica.  
In Hanoi:
No. 24 Khuc Thua Du Street, Cau Giay District.
No. 23 To Vinh Dien Street, Thanh Xuan District.
No. 49 Ton Duc Thang, Dong Da District.
In Ho Chi Minh City:
283/31, Cach Mang Thang 8 Street, Ward 12, District 10. 
https://www.facebook.com/HaTuisince2010/
Atoobee by Zara1987
Here is where you can find every accessory you need, from handbags, purses, backpacks to watches or belts. Unlike many shops only focus on female customers, menswear and male accessories are also major products offered at Atoobee. Knockoff handbags in this store are usually from well-known brands like Charles & Keith, Gucci, Mont Blanc and Louis Vuitton. Atoobee claims to bring you authentic branded items with ⅓ the original price. For example, you can find a Louis Vuitton Reverse Pochette Metis bag at only 5.900.000 VND ($256) whereas the original costs you $1800, or a Charles & Keith handbag that costs only $25 – $30. The quality of handbags is worth the price and most customers leave the store with satisfied feedback. 
No. 219 Nguyen Thuong Hien Street, Ward 6, Binh Thanh District, Ho Chi Minh City.
Atoobee.vn
Chip.vn
Chip.vn has been a go-to destination for bags lovers in Ho Chi Minh City since 2010. Beside handbags as the main product, Chip.vn is also famous for backpacks, suitcases and accessories with various styles, suitable for a wide range of customers, from students to office ladies. The store offers good shipping and returns policy. Handbags at Chip.vn usually cost from 300.000 to 500.000 VND ($15 – $25).
400/1 Le Van Sy Street, Ward 14, District 3, Ho Chi Minh City.
Chip.vn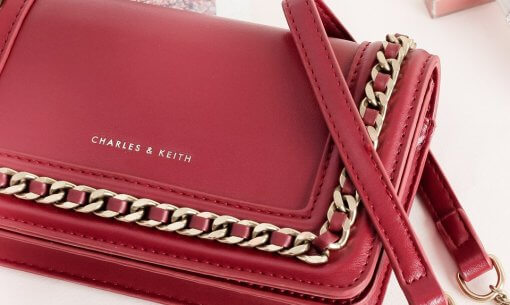 Whatever your need is, we hope you can find a suitable place from our recommendation list. Enjoy your shopping and don't forget to share this article with any shopaholic who is coming to Vietnam.
Ho Chi Minh City is Vietnam at its most dizzying and chaotic. This big city is known for its traffic, which can be overwhelming for newcomers to the city. You may want to escape from the chaos for a while. Coffee shops can be found in all the little cracks and crevices throughout the city. I'll help you locate a perfect coffee oasis, with my help you will be able to find the perfect spot for working, relaxing, or for just trying out some good coffee.
My List of Top 19 Coffee Shops in District 1
Phuc Long
325 Lý Tự Trọng, Phường Bến Thành, Quận 1, Hồ Chí Minh
At the top of the game is one of the most successful brands in Vietnam – Phuc Long express tea and coffee shop. This place serves various types of coffee and dried-canned tea leaves from Lam Dong Province. You can also bring home some of them as a souvenir. You should choose Oolong milk tea adding an egg plan cake and Lychee tea because they are signature drinks in this place. It's gonna make your day. The space is wide and clean with a wooden decoration theme. Having big thick wooden tables are suitable for working and new friends meet up. A tip for you boys, Vietnamese girls love going out on dates here. The food and beverages at Phuc Long costs around 30.000đ – 50.000 VND.
Đen Đá
96 Hàm Nghi, Bến Nghé, Quận 1, Hồ Chí Minh
In a modest and discreet space along a big Boulevard, Đen Đá draws the attention of many young adults. The reason for all the attention is that Đen Đá is open 24 hours a day. You will engage Vietnamese culture with a traditional coffee while sitting on our small stools along the sidewalk. Space is suitable for a group of friends or even your hot date. Each of the food and beverages cost around 15.000đ – 28.000 VND.
With a good environment, a small menu, and quality service, this spot checks every necessary box for a small coffee shop.
Maison marou
167-169, Calmette, Phường Nguyễn Thái Bình, Quận 1, Hồ Chí Minh
Award-winning chocolate production line – Maison Marou is gonna change your view about coffee shops in Vietnam. This coffee shop is self serve, so come up to the counter to pick from their delicious menu items. The menu ranges from hot tasty latte cups to other dishes made with Vietnamese World Famous Chocolate. The see-through kitchen allows the guest to have the sensation while seeing the chocolate processing chain. The seats surrounding the kitchen bar also can give you the best view. This cozy quiet place is perfect for working alone or a meetup for two. Visa payment is accepted here. The food and beverages cost around 100.000đ – 200.000 VND each.
Nest by AIA
Bitexco Financial Tower, Tầng 2, 02 Hải Triều, Bến Nghé, Quận 1, Hồ Chí Minh
Knowledge, celebrity, and fame are keywords to talk about this coffee shop. Nest by AIA is a half-decorated alike bookstore design with many staircase seats under bookcases and cozy light bulbs. The other half serves snacks and drinks on weekdays and lands special events like themed workshops or music sessions at the weekend.Vietnamese influencers and showbiz people always muster around here for shooting or even just for your entertainment (just kidding). David Beckham used to praise this place in his Instagram once when he had a business-traveled in Vietnam. This hotspot is a calm place, so no loud talks allow. The menu is usual with soft drinks and desserts. Those should cost you around 45.000đ – 100.000 VND each.
Thinker & Dreamer
Lầu 4, 42 Nguyễn Huệ, Bến Nghé, Quận 1, Hồ Chí Minh
Nestling snuggly at Nguyen Hue vintage apartment, this coffee shop is gonna bring you a bizarre feeling from walls full of moss to old-fashioned lift (which costs 5 VND per one round). Walking into the coffee shop area, it will grip your attention right away with the minimalisms design with white mainstream and wooden furniture. This trait completely conflicts with the French colonial building outside creating a sense of euphoria in the back of your mind. Food and desserts are served so you cannot bring any food from outside. There is a playful plot twist at this place occurred at the closing time. The coffee shop opening hours only is from 9 am to 4 pm. What happens? You ask. From 7 pm till late every day, this place becomes a bar named "The Loser" with red dim lights and sparkling cocktails. Grab the balcony seats to steal the walking street's best point of view. Young cool kids' club and dynamic people are gonna love coming here regardless of day and night. Each of the food and beverages cost around 50.000đ – 100.000 VND.
Nấp Saigon
3/5 Đường Nguyễn Văn Thủ, Đa Kao, Quận 1, Hồ Chí Minh
A whopping Liana tree intertwining the front door trellises will lure you in Nấp Saigon out of the sudden every time you have a chance to pass by. The see-through decor inside out with a motto:" Less is more" is the coffee shop theme. Many hot influencers inspired by a Hongkong trend would love to have pictures in this very modest place. You definitely can find a lot of lovable angles of this coffee shop from hashtag #napsaigon on Instagram. Egg coffee and Vietnamese French toast gonna be on your top list of Vietnamese favorite things. Each of the food and beverages cost around 40.000 – 65.000 VND. The single-story design makes this place kinda suit with dating but not loudly chat or large group's conversation.
Starbuck
39 Lê Duẩn, Bến Nghé, Quận 1, Hồ Chí Minh
Every high octane metropolis city always has Starbucks, and Ho Chi Minh City is definitely on the list. Taken place on the first floor of Mplaza so it is easy to find. Decoration and furniture make no difference with a standard Starbucks coffee shop. The drink menu is similar to your hometown plus the Banhmi for breakfast because you are in Vietnam. Order your favorite coffee cups, and it definitely can satisfy your taste as usual. The window view's seats are ideal since Starbuck covers an area at the corner of streets. There are nearby, few famous Middle East restaurants so highly recommended for inviting your Korean and Mexcian friends here FYI. Visa payment or Paypal validates too. Each of the foods and beverages cost around 40.000đ – 65.000 VND.
The Coffee Bean & Tea Leaf
1-3 Phan Chu Trinh, Phường Bến Thành, Quận 1, Hồ Chí Minh
Score one more excellent US coffee brand in Vietnam with The Coffee bean & tea leaf. Because of its good global reputation so I would rather take a brief introduction of this place. A wide range of food and beverage tastes as good as your hometown branch with the same price. This franchise coffee makes no difference with spacious space scattered around by big armchairs. Two-story design somehow makes the second seem a little less crowded than the first floor. Same with Starbucks, the one in Vietnam is located in a central area and so easy to be found. The food and beverages cost around 70.000đ – 110.000 VND each.
The Workshop
27 Ngô Đức Kế, Bến Nghé, Quận 1, Hồ Chí Minh
See more industrial coffee shop in Vietnam with the Workshop. Well-known by menu including good foods and beverages is the first thing to make this place hard to resist. The top favorite drink of all time goes to Latte. Make it double and you are good for a day. Wide wooden tables are scattered all around and ready for working hours. Special double height ceiling design helps to rank this place up at first place on every coffee recommendation article. People mostly look for a relaxing space to work and quick meetup at noon here so keep your eyes if bringing children along. Friendly staff, clean toilets, and soft instrumental background music are also nice things about this coffee shop. Each dish and beverage cost around 20.000 – 80.000 VND.
Cà phê Cô Ba Đồng Khởi
4-6 Đồng Khởi, Bến Nghé, Quận 1, Hồ Chí Minh
This is a brand newcomer of Saigon coffee shop located nearby Saigon river at the rooftop of one of biggest flat at Le Loi Boulevard. Every Saturday night weekly holds special acoustic music performances by Vietnam indie artists attracting aplenty music lovers at D1. Should reserve your seat before coming for having a good view of the stage and city surrounding. Highlighted by tropical design with short coconuts and wooden swings surround the bar shall give you a joyful mid-summer vibe. This place serves dinner dishes and tropical drinks because of the theme background. Ideal for dating and meeting friends at night time. Each of the foods and beverages cost around 45.000đ – 60.000 VND.
Trung Nguyen Legend
219 Lý Tự Trọng, Phường Bến Nghe, Quận 1, Hồ Chí Minh
Next stop, we will take a look into the Vietnamese go-global famous coffee brand named Trung Nguyen Legend. This early-stage coffee brand always reigns a special place in every Saigon coffee lover' hearts. Lucky for you that its original coffee shop takes place at Ly Tu Trong street nearby Ben Thanh Market at D1. You can easily make a quick street tour by walking from the famous market to the red-light district. Legend coffee (either black or white) can blow your taste whenever having a chance to stop by. Smokers allow taking cigarettes on the first floor in the air-conditioned room. An open space for all served purposes so that you can work, meetup or dating. It also has raw coffee beans on selling if any chance you want to bring home as a gift. Each drink and coffee beans package cost around 20.000 – 55.000 VND.
Highland Coffee
135A Trần Quang Khải, Tân Định, Quận 1, Hồ Chí Minh
Another sweet Vietnamese coffee shop for you to visit at the corner of De Tham and Pham Ngu Lao nearby Bui Vien entrance. It would catch your eyes at first sight. It can surprise even budget travelers for high-quality penny-pinching coffees (about 9 VND), especially the no-sugar black coffee. Highly recommended Banh mi and desserts will please your tummy, too. All-day welcoming with 24/7 service and no extra charge are special just for you. Wide space and plenty of benches suits with meeting friends and resting in break time hours. Each of the food and beverages cost around 9.000 – 65.000 VND. You don't want to miss out knowing this place I promise.
The Vintage Emporium Cafe
95 Nguyễn Văn Thủ, Đa Kao, Quận 1, Hồ Chí Minh
Beautiful French-colonial space reverberates via flowered enameled tiles and the medieval royal furniture makes a great impression when you come across this place. Classified as a vintage cafe, but it reveals way more than that. Brunch and coffee under service from 07:45 am till 06:00 pm that very rare in Vietnam usual coffee shop; but this place totally nails it. Breakfast serves aside luxurious pool is gonna sink you into Zen. Salads and Moroccan poached eggs taste delicious as a signature. The drink menu is fine with juices and coffee shots. Foreigners friendly neighbor has your visa card payment accepted. There is a lot of Vietnamese showbiz people taking photoshoot or may for your entertainment (just kidding). Each of the food and beverages cost around 50.000đ – 150.000 VND.
Vietcetera Cafe
77-79 Lý Tự Trọng, Phường Bến Thành, Quận 1, Hồ Chí Minh
Continue to come with Vietcetera cafe – an emerging Vietnamese coffee brand. Differ from others, this place serves bold Italian dishes and fine cups of latte. Attract curious comers by nostalgic style with surreal paintings and traditional benches. Two-story designer divides it into two sections as a downstairs coffee shop and upstairs souvenir store. Customers can grasp some good stuff while tasting some good cappuccino or latte cups in this chilling space. A book and city window view seats perfect for a good afternoon in this intense city. Each of the food and beverages cost around 15.000đ – 30.000 VND.
Heritage ChinaTown
10 Pasteur, Phường Nguyễn Thái Bình, Quận 1, Hồ Chí Minh
Ready to get obsessed right away with red lighting system glitter 80s China spirit in Heritage China Town. This cool spot serves famous Hongkong vendor dishes and alcoholic drinks for your chilling time with friends but strictly not for kids. Dimsum and chicken legs boiled with soy sauce always score as the most favorite dish of all time. Beers and mojitos all kind nails it. Small place 2 split spaces: outside with short stool seats and inside with vintage saloon color by cultural identity. Just so you know that many young models and actors outtake photoshoot here in the morning and noon. People allow to vape and smoke here during 24 hours store's opening. Each of the food and beverages cost around 20.000 – 50.000 VND.
Cộng Cafe
26 Lý Tự Trọng, Bến Nghé, Quận 1, Hồ Chí Minh
Cong Café is a coffee shop that brings the national spirit the most in Vietnam. Imprint Vietnamese communist tendency on every piece of this coffee shop from the decoration to drink menu. Coconut coffee is a special drink of all kinds. Banh mi pate also is a must-try dish whenever you ever visit here. Each of the food and beverages cost around 30.000 – 100.000 VND. Vietnamese benches sparkle with vintage red flower fabric scattered all around with vintage red flower fabric can really dazzle any eyes. The two-story designer coffee shop can fit people in, so be comfortable bringing along your friends and kids. Standing out from others, this place to be an interesting experience when in Vietnam and you don't want to miss out diving into this.
EON51
Level 50/51/52, Bitexco Financial Tower, 2 Hải Triều, Hồ Chí Minh
Let's have a plan bender go with a luxury chilling spot on Floor 52th of Bitexco Financial Tower at EON51. This famous coffee bar lures in a lot of tourists to see the whole Saigon city sightseeing. Enjoy beholding one-of-a-kind helicopter landing yard in the shape of a round dome in Vietnam. Everyone should probably come around sunset contemplate vanilla twilight to grip the best relaxing time. Excellent coffees and other beverages by its spacious bar counter. Grasp this place in your itinerary for alone time or a romantic date. Just so you know good things come with a price so it should cost you around 200.000 – 880.000 VND for each.
Snob Coffee
147A Đường Trần Hưng Đạo, Phường Cầu Ông Lãnh, Quận 1, Hồ Chí Minh
Differ from the name as a noun – Snob Coffee, this place is super friendly with 24 hours opening time. The first floor equips four iMac PCs serving everyone for playing games and searching for information. That is the reason this place becomes a hot gathering spot with gamers and geeks. Smoking area at the balcony parts from air-conditioned rooms for vaping or smoking talks. Nighttime shelter people and daytime full of working-class makes a common daily scene here. Fine drinks and desserts under your service served by a young and well-trained staff team. Each of the food and beverages cost around 50.000 – 100.000 VND. If you are wandering at night near the Bus Station and not knowing where to wait till morning, this is gonna be the place you don't wanna miss out.
The Chai Coffee
76 Nguyễn Đình Chiểu, Quận 1, TP. HCM
Afro style with a horn of stag and tan carpets breathe the European forest into this extraordinary coffee shop. Smokers can enjoy a cup of coffee or fine mojito here on the little chilling balcony. This place opens every day and night in 24 hours. Sometimes the owner brings a guitar and sings some songs with their band. It surely can make you wanna sing along. Many lovebirds are here for a date so it should not be talking too loud or bringing children alongside. Sidewalks with short stools on the outside placing along the peaceful Nguyen Dinh Chieu street surely are the best seats here. Each of the food and beverages cost around 25.000 – 60.000 VND.
Besides food and travel recommendation, I hope this list of 19 cafes in District 1 Saigon can help you avoid having to breathe in traffic fumes can be helpful for your journey. People probably shouldn't hesitate to come to these places. If you want to learn more about Ho Chi Minh City Things to Do you can learn alot here.
Bui Vien is the most crowded walking street in Saigon and is also called the Red Light District. This street features all kinds of entertainment. There are Vietnamese pubs that have pavement sitting where they serve beer and food. There are also many hot dance clubs and bars.
Is a street like Bui Vien safe? Unfortunately no, it is not always safe because the street is a very crowded place and can be dangerous especially if you're a tourist. Although this area may look attractive, it is a haven for prostitution, pickpockets, drug dealers and other elicit activities. This area can be safe if you are a smart and follow our tips below.
Top 10 Tips to Stay Safe in Bui Vien Nightlife
Don't flash your jewelry, cash, or expensive camera while walking in Bui Vien. There are several local people who are just waiting to target foreign tourists. Some of your belongings are probably worth at least two month's wages for some of the local people living here. Be aware and don't tempt thieves to rob you  of your possessions and cash.
If you cannot trust leaving your valuables  in your hotel room, wear a money belt under your clothes to keep your property and cash safe. Don't carry a handbag or backpack. If you have to carry your backpack with you, make sure you wear it in front of your body. Wear a neck wallet around your neck and under your shirt to carry your Vietnamese cash and any credit and ID cards. Never leave a bag unattended in a public place.
Be aware of pickpockets while walking in crowds. Put your camera away and don't keep your hands in  your pockets or on your bags if that is where you have your valuables stowed. Store your handbag and camera case in your backpack and keep it zipped up and in front of your body.
Make sure everything is secure if you take a ride in a cyclo or on a Xe om (Vietnam motorcycle ride). There are many vagabonds and thieves around the area who are looking for travelers to scam. Choose a safer cab in Vietnam by using Grab that has tracking tools to help locate your rented cab anytime by phone. You can download this app from the Appstore both on ios and Android systems.
Small children wanting a hug may be adept pickpockets. Stay at arm's length even if these children look cute and harmless.This is an old trick.  Touchy-feely hands on the street are looking for your valuables.
You may want to get high with friends in this joyful place. Drug dealers are only too willing to offer whatever you are looking for to have some cheap thrills at a great price. Remember to check which drugs are legal before buying anything on the street. Bui Vien has a street watch for keeping order and they can arrest anyone, even foreigners, who  break the rules, especially for drug issues. Although, truth be told, smoking a little marijuana on Bui Vien is overlooked most of the time.
Don't let your curiosity get the better of you. If anyone starts becoming aggressive, you'd better get out of there because things escalate quickly in Bui Vien when it involves drunken people and perverts. If you are in a bar or pub, be pleasant to the staff and they will cover your back if things get wild.
Watch your drinking, especially when you are in a dance club or bar. There are a lot of incidents where people have been doped and kidnapped for human trafficking and the organ trade. Unscrupulous individuals are just waiting to take advantage of naive tourists who are inebriated. Don't let a moment of dropping your guard to end up being a lifetime of regret.
Prostitution is common and you are more than likely to be set up in a sting. If you party hard, only bring the cash you need to have a good time and leave the rest safe in your hotel or a secure location.
Do not walk in deserted alleys. If you are a wanderlust, colorful signs nestled in small alleys would definitely lure you in. Be careful with your belongings because pickpockets and scammers are always waiting to prey on that kind of visitor. A particular circumstance to watch out for is a girl who gets overly familiar with drunk foreigners. She is just looking for a chance to fleece them of all their valuables and then disappear into the darkness.
Be careful with Bui Vien Street's Sellers and Beggars
Lots of street vendors sell useful personal items from maps and fans to razor blades and sunglasses. Some people find this annoying, but it is one of the unique experiences of Asia. Imagine sitting down to enjoy a coffee and have everything you might want to buy pass by your table . Buy something for yourself and don't forget to drive a hard bargain but still be polite even when you cannot make a deal. Yes, it can be annoying after the fifteenth time. But hey, these guys are only trying to make a living. Just give them a friendly smile and look away, they will understand. If it still bothers you, find a second story or a seat inside the bar or restaurant. They rarely come inside without an invitation.
There are also a fair number of beggars. Many of them are struggling to survive because of a disability or disease which might have led to them being homeless are very poor. It is your call to decide to spare a few cents or not. I suggest that you should because it can make a difference in their lives. Do it discreetly when there is only one individual around so as to avoid being noticed by others. Otherwise, it will attract more beggars' attention.
How to Report a Crime on Bui Vien Street
If you are a victim of a crime,  report the crime to the nearest police station. You will need a police report to make a claim on your insurance.
Police stations are available all over Ho Chi Minh City but the chances of someone speaking English vary. Try to ask for help from a trusted local if you encounter language difficulties. (Reward them to show your gratitude for their help when things are done.)
For backpackers and budget tourists, there is a police station right in Bui Vien across from the Amazon Bar at 66 Bui Vien,  Pham Ngu Lao Ward, District 1.
There is another police station at 24-26 Pasteur Street in District 1 near the Fideco Tower. They are open 07:30-11:30 and then 13:00-17:00.
Is Bui Vien safe enough? It can be if you follow my safety tips to have a safe vacation and avoid being a victim. The vast majority of people in Ho Chi Minh City are honest, hardworking, and incredibly happy to have you visit their city. Come and see for yourself.
Traveling to Ho Chi Minh City means you are going to immerse yourself in a vibrant and bustling lifestyle. This city is made of a variety of colors simply lying there in its daily life waiting to be discovered. No matter if you're a wanderer who loves to capture and save every single moment on the go or an extreme instaholic with a ton of followers, Ho Chi Minh City deserves a place in your Instagram feed. 
Although you'll find lots of photogenic sights around the city, the following are among the most Instagram-worthy spots that can't be missed once you're in Ho Chi Minh. 
Unique Instagrammable Cafes in Ho Chi Minh City
Nguyen Hue Café Apartment
Would you like to let everyone know that you're right in the heart of Ho Chi Minh City? Take a photo and check-in at No.42 Nguyen Hue Apartment right away! Standing proudly in one of the most festive and expensive streets in Ho Chi Minh City, what this iconic apartment holds inside is more than meets the eye.
Nguyen Hue Apartment was built in the 1960s and only high-ranking officials in Saigon were able to own a room here at that time. Over the years, more and more residents had left this place due to the poor maintenance. It's the privileged location that saves the apartment from abandonment. 
Nguyen Hue Apartment features over 30 businesses, including coffee shops, workshops, and local brand boutiques. Many of the shop owners here are artists and designers. Nguyen Hue Apartment has blossomed into a hot spot not only for cafe hoppers and shopaholics but also art lovers. You'll find plenty of inspiration in this apartment to make your followers jealous! From minimalism to impressionism, there will be a place that satisfies most any eathestic. All the shops face down Nguyen Hue Street and utilize their balcony space, giving you a perfect view of the crowded walking street. 
Because this is actually an old-school apartment that wasn't designed for commercial purposes, you may find it a bit puzzling when exploring the apartment for the first time. Here's a tip for you:
Research for a certain coffee shop or business before heading into the building. This will save a lot of time wondering and looking for your destination in this 9-floor maze. If you have no idea where to go, here are some of my favorite places to visit:
Thinker & Dreamer Cafe – 4th floor
Partea – English Tearoom – 4th floor
DOSH – Doughnuts and Shakes – 3rd floor
Orientea – 7th floor 
Where to find it: 42 Nguyen Hue Street, Ben Nghe Ward, District 1, HCMC
Opening hours: 7 a.m – 10:30 p.m
Price: 30,000VND – 150,000VND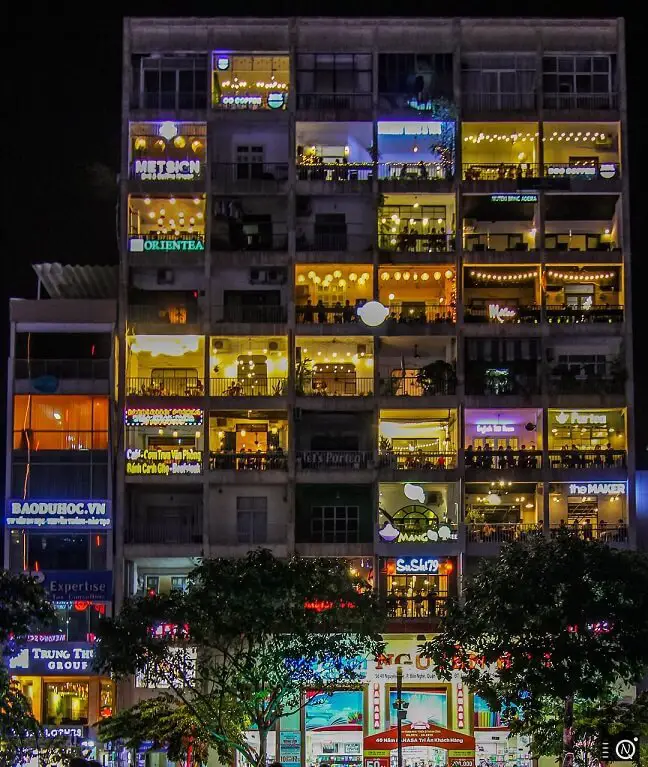 Ba Lu Café
Another destination in District 5 that will drive your followers crazy with envy is Ba Lu Café. Hiding itself in a busy local market, the coffee shop is a frequent destination of residents in the area and those who enjoy the Vietnam's traditional coffee culture.
This is an heirloom coffee shop owned by a Chinese family. Its former owner is Mr.Lu (he's the second child in his family, this is how the name "Ba Lu" was formed), a Chinese who left his homeland and settled down in Saigon in the 1940s. The over-70-year old business is now run by his daughter, Ms.Hoang with support from her brother.
Even if you've visited lots of coffee shops downtown, Ba Lu Café is a totally unique experience. This experience first comes from the way they roast coffee beans to make a cup of "đen đá" or "nâu đá". Every step is handmade with traditional roasting equipment that is no longer used widely. Come to the shop at night and you might get lucky enough to watch the roasting process right on the street. The shop also uses an old school filter when making their coffee, which results in a very special and different flavor from modern coffees.
Ba Lu Café is not just a place where you come to enjoy a cup of coffee. People keep coming to this coffee shop for over 70 years to share daily stories with each other and to take part in the memories of generations of Vietnamese-Chinese that stay alive with every drop of coffee served here. 
As a foreign visitor, it's best to have a native tour guide or a Vietnamese friend accompany you to this coffee shop. So that you can have an easier time talking with the owner and get to know more about this interesting coffee shop.
Where to find it: 193 Phung Hung, Ward 14, District 5, HCMC (inside Phung Hung Market)
Opening hours: 2 a.m – 5 p.m (YES, the café is open that early to serve the merchants at the market) 
Price: 12,000VND – 15,000VND
Best Photo Spots of Ho Chi Minh City Attractions
Ben Thanh Market
If you want to capture all shades of the bustling lifestyle of Saigon in just one photo, do it in Ben Thanh Market. Although the market is becoming touristy over the years, it's still worth a visit since you can have a ton of iconic photos here.
The market was built even before the French colony came to Vietnam. In 1912, it was rebuilt and relocated to the current location in order to serve higher commercial demands. Since then, Ben Thanh Market has survived through several major events in Vietnam's History, including the revolution against the French and later the American War. This market has been featured in many movies filmed in Saigon, and mentioned in every single Vietnam tourist guidebook for decades.   
Apart from being the single most notable Ho Chi Minh City icon, the market is an Instagram-worthy place thanks to its architecture. Ben Thanh Market inherits the typical French Architecture that you can find sprinkled all over Vietnam. Over 100 years, it hasn't gone out of style but has even matched well with the continuously changing pace of life in Saigon. Outside of Ben Thanh market, there are four main entrances called East, West, South and North. The South entrance, which is ornate with a facade clock a facade clock above the door, is one of the most recognized icons of the market. You may have seen it somewhere on Instagram before because it is depicted in several pictures from those who have traveled to Ho Chi Minh City.
Tips: Feel free to take photos inside the market, however, don't touch any goods unless you intend to buy them. Picking up things without buying them may get the sellers angry.
Ben Thanh Market is definitely an eye-catching background for your photos, but watch your back when posing here. Traffic in Ho Chi Minh City is crazy, and it's even worse at market areas like this one. Check out our articles about Shoe Shopping in Ho Chi Minh for safety and shopping tips. 
Where to find it: Le Loi Street, Ben Thanh Ward, District 1, HCMC.
Price: No entrance fee   
Opening Hours:
Ben Thanh Market : 6 a.m – 6 p.m
Ben Thanh Night Market: 6 p.m – 10 p.m
Tan Dinh Church
More than a religious destination, Tan Dinh Church attracts both Vietnamese and foreign visitors due to its charming pink color. This is why its so-called name "The Pink Church" is somehow more popular than its official name.
Tan Dinh Church is the second oldest cathedral in Saigon. You will be amazed at the architecture of Tan Dinh Church. This is a Roman-style cathedral with the combination of Gothic and Renaissance elements. The church was built in 1870 under the French colonization in Vietnam. This over-hundred-year-old church has been reconstructed many times since then. In the fourth construction in 1957, Tan Dinh Church was repainted into its current lovely color – pink. The whole building is covered in 3 shades of pink inside out, turning the solemn cathedral into a dreamy Cinderella Castle.  
I know it's a bit disappointing but tourists are not allowed to visit inside the church. The good news is, the best photos of Tan Dinh Church are usually taken from the roadside. The best time to visit the church and get some photos here is in the early morning (except Sundays) when the surrounding streets are vacant. For those who are not professional photographers, shooting vertical panorama with your smartphone is a good idea to get the full stunning view of the whole church.
Where to find it: 289 Hai Ba Trung, District 3, Ho Chi Minh City
Open hours: Daily 5 a.m – 5 p.m 
Price: No entrance fee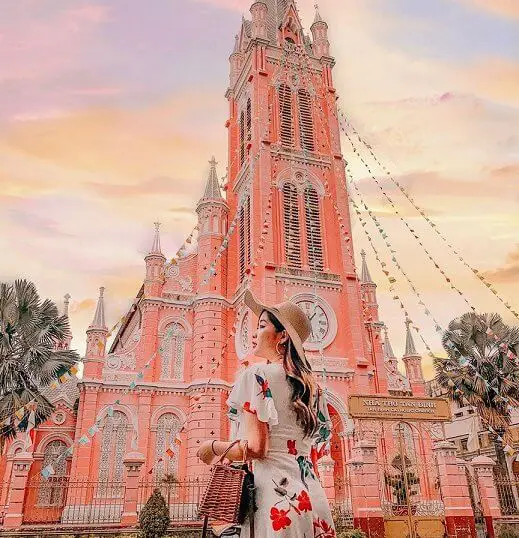 Thien Hau Temple
Welcome to the biggest ChinaTown in Vietnam – District 5. Your next destination, Thien Hau Temple or Ba Thien Hau Temple, is an iconic and Instagram-worthy destination that can't be missed. Built in the 19th century, the temple represents important religious traditions which have been valued by the Chinese community living in the South of Vietnam for over 200 years.
Thien Hau Temple is a Taoist temple dedicated to Mazu Goddess, the "Lady of the Sea" in Taoism. The temple is miscalled in Vietnamese as "Thien Hau Pagoda" because "pagoda" is labeled for any religious places except for churches in Vietnam. Thien Hau Temple, in fact, has nothing to do with Buddhism. The temple displays the famous ancient Chinese architecture with the traditional curvy roof, well-carved pillars, and sculpted holy animals. Having survived for over 2 centuries, the temple and its interior decorations are still in good condition.
There are 2 things that shouldn't go unnoticed once you visit Thien Hau Temple: worshiping and photo shooting. Take your time and zen your soul in the deeply sacred atmosphere of the temple. Don't forget to pray for health and good fortune as this temple is very famous for its spiritual power. Then it's time to capture your best moments here. Every single corner of the temple is photogenic. If you want to have some fantastic ancient mood photos, don't hesitate to wear Ao Dai – the Vietnamese traditional costume. It matches perfectly with the background here.
You're going to visit a solemn destination, right? So please mind your clothes before dashing to the temple: dress smart and appropriately. Long clothes like trousers and shirts are always the safe choice. Anything that is too revealing is not recommended in order to keep this place respectful.
Where to find it: 710 Nguyen Trai Street, Ward 11, District 5, Ho Chi Minh City, Vietnam
Opening hours: 8 a.m – 4:30 p.m
Landmark 81
This is the latest Instagrammable hotspot in Ho Chi Minh City.
Landmark 81 was completed in the mid-2018 and is now the tallest skyscraper in Vietnam. This 81-floor skyscraper offers a lot of high-end services, including shopping, entertainment, long and short term apartments. On important holidays or events in Vietnam, the building is also used as a giant led screen for celebrating purposes.         
Inside the building there are tons of shops to explore but the Landmark Skyview is the must visit destination here. The views are located on the 79th, 80th and 81st floor. They are the highest spots to observe the whole of Saigon with an awesome view along the river. Each of the 3 floors is a different experience. The 79th floor is a coffee lounge called MIWAKU. The 81th floor is MIWAKU Premium. Its highlight is a Japanese restaurant, where you can enjoy a fine dinner high up in the sky. And the highest floor – 81st floor offers a full-view telescope. There is also a service called SkyTouch, which allows true thrill seekers to step outside the building from an altitude of nearly 400 meters.
Due to its outstanding height, Landmark 81 is recognizable from almost every corner of the city. Yet the best place for you to capture the whole building is from Saigon Bridge or Thu Thiem Bridge.
Did you know that there's an amazing park inspired from the famous Central Park in New York City right in the residential of Landmark 81? The park that first served the Vinhomes residents exclusively is now open for all visitors. From the main entrance of the building, you'll see a huge red bridge leading to the park. This is the easiest way for you to visit the park after exploring the fabulous Landmark 81.
Where to find it: Vinhomes Central Park, 208 Nguyen Huu Canh, Ward 22, Binh Thanh District, HCMC
Opening hours: 8 a.m – 10 p.m
Landmark Skyview ticket price: 810,000VND/adult – 450,000VND/child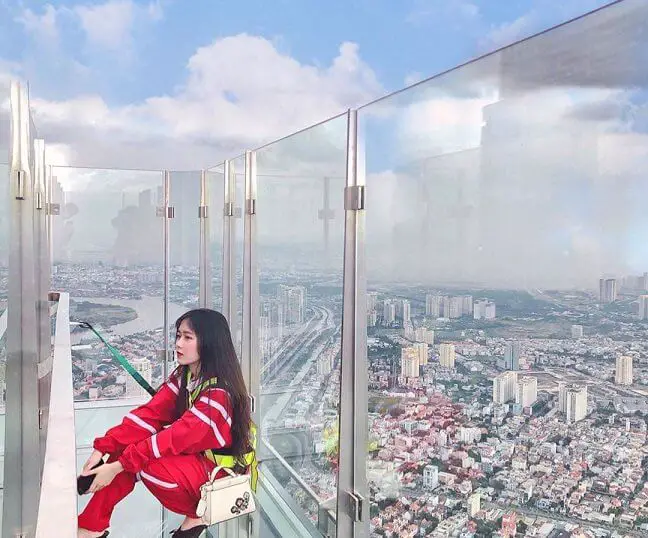 Abandoned Places in Ho Chi Minh City
Nguyen Thien Thuat Apartment
Another aged apartment cracks our top ten list, guess what's waiting for you here? While this apartment is far from being abandoned, if you are looking for that old empty feeling instagram spot for a great photo, there are tons of opportunities in this location. While Nguyen Hue Apartment embraces a dynamic and young vitality of Ho Chi Minh City, Nguyen Thien Thuat Apartment is where you can breathe in the old Saigon of the last century.
The apartment was originally aimed to provide contemporary accommodation for residents who suffered from the fire loss in 1968, and no one expected it to last for such a long time. After the Vietnam War, the apartment was governmentalized and rented out to residents. While some people have decided to move on, a lot of residents still live here. Many of them are doing quite well though with local business here, and they also probably love the location.
It's best to visit Nguyen Thien Thuat Apartment in the late evening. This is when people coming home after a long working day, light up their homes, or gather around the playground for some small talk with their neighbors. In the warm light that spreads from home to home, don't forget to capture this lazy but cozy pace of life right in the middle of bustling Saigon.
One of the best things about this old apartment is that you're free to enter the building. And Nguyen Thien Thuat Apartment is no exception. At block G of the apartment, there is a small temple that you would love to visit. Unlike other temples, this one is located on the 3rd floor, which also allows you to have a full view of the apartment complex.
Where to find it: Nguyen Thien Thuat Street, Ward 1, District 3, HCMC
Opening hours: Always open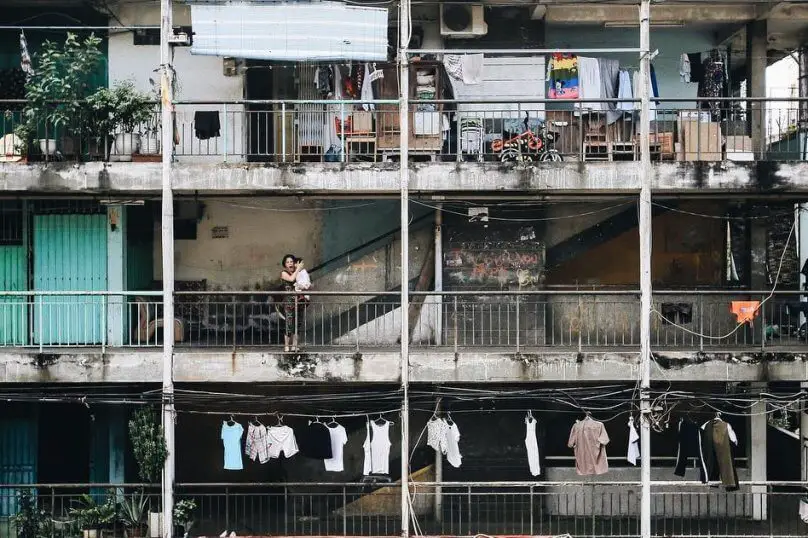 More Instagram Worthy Places around Ho Chi Minh City
Bui Vien Street
It's time for a night out on the most touristy and controversial street in Saigon! You may love the overfilled atmosphere of Bui Vien, while some can't stand such a flood of people. But still, no trip in Saigon is completed without a visit to Bui Vien Street. This is where every photo taken is extremely energetic and full of nightlife.
Started as a small alley that foreigners can easily find a hostel room, Bui Vien has turned out to be a famous (and infamous) party destination, where there's more to do than just drinking. Walking through this short street, you can capture every typical scene of this city. It is filled with pubs, bars, massage services, restaurants, hostels, and street food. All these things are squeezed in a crowded space and seasoned with high pitch EDM, making the whole street insanely chaotic and thrilling.
The typical Instagrammable shot on Bui Vien will show the large crowd of people on the streets with the Bitexco looming large in the background. Don't miss the perfect Bui Vien plastic chair instagram moment: A small stool right on the sidewalk with a local beer and street food.
Important tips: ALWAYS take care of your things! There is no better place for a pickpocket than this street. Put your valuable things at the hotel, keep your stuff on your front and use a neck strap for your phone or camera and you'll be fine.
Where to find it: Bui Vien Street, Pham Ngu Lao Ward, District 1, HCMC
Opening hours: Always open – but the street actually wakes up at night.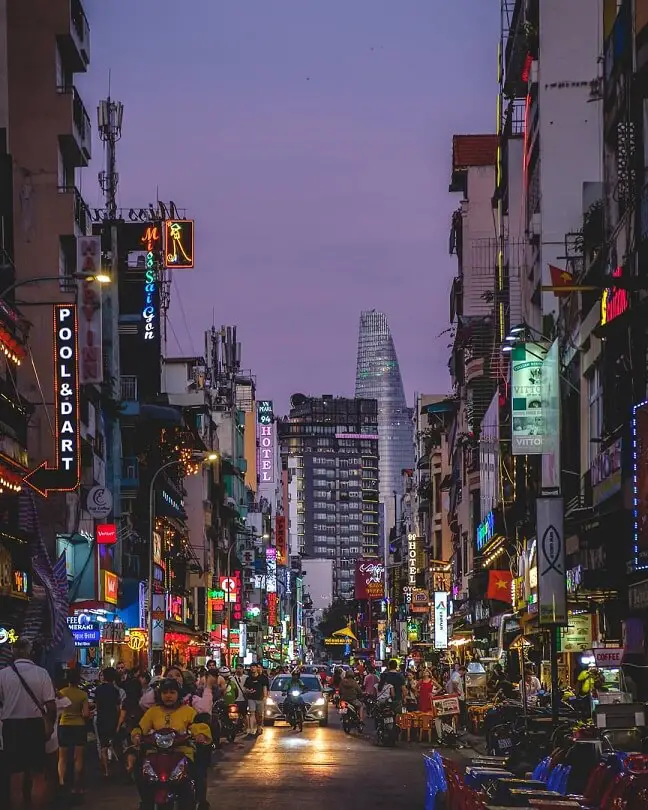 Cu Chi Tunnels
Getting off the central city around 50 kilometers, you're heading to the most iconic historical destination in the South – Cu Chi Tunnels.
Let's take a quick glance at the history of this destination back in 1948. The tunnels in Cu Chi are parts of a tunnel system stretching from the South Vietnamese capital to the Cambodian border. In Cu Chi, the total length of the tunnel is around 250 kilometers. Can you imagine that whole area of underground honeycomb was completely man-made? There were trapdoors, constructed living areas, storage facilities, weapon factories, field hospitals, command centres and kitchens all underground in the network of tunnels. This is where Vietnamese soldiers lived and survived the fiercest carpet-boombings during the war.
Your trip to Cu Chi Tunnels will be an eye-opening journey, which gives you the chance to peek into the past of Vietnam during the war-time. The deeper you dig into the tunnels, the more you unearth about how "real" the war was, and what the soldiers had suffered in those darkest days. Along with these tunnels, historical exhibits are also displayed here such as tanks, guns, military aircraft, and punji sticks – which are a type of booby trapped stake.
The tunnels have a lot of activities for visitors to experience the real atmosphere of days long gone. One of the most recommended reasons to visit Cu Chi Tunnels is to try crawling in the tunnels, experiencing how terrible it would be as a soldier during those times. There is also the opportunity to fire a gun. Wouldn't it be cool to capture and share the moment you are letting the bullets fly from an AK-47?
Tips: Although exploring the tunnels seems to be an interesting experience, it's not advisable for visitors with breathing problems because the tunnels are extremely narrow. Photos from the internet may be hard for you to know the tunnels' actual size. Large people can fit into the tunnels but some may be too large. So consider it before jumping into these tunnels. 
If the history of Vietnam excites you, then spend more time visiting the nearby Cu Chi War History Museum. You can find many old and valuable photographs and large chunks of rusting military hardware here. For an, check out our article here!             
Where to find it: Provincial road 15, Phu My Hung Ward, Cu Chi District, Ho Chi Minh City
Opening hours: 7:00 AM – 6:00 PM
Price: Entrance fee: 80,000 VND
Minimum Price to shoot 10 Bullets: 600,000 VND
Floating Market – Can Tho, Mekong Delta
How about taking your Instagram followers a bit further to the South and explore the unique experience in the Mekong Delta – floating market? Although the floating market is quite popular in the South, Can Tho stands out as the capital of this kind of market. You can opt to visit one of the two biggest floating markets in Can Tho, Cai Rang and Phong Dien. Cai Rang Floating Market is also the oldest and located in the Mekong Delta.
With the absence of the road traffic system over 100 years ago, floating markets were initially formed to serve the demand of trading activities. It made good use of the river systems in the Mekong Delta. Now since the traffic system has been developed, the floating market today serves mainly as a tradition rather than the original purposes it was created for.
For all first-time visitors, I'm sure that you're going to marvel at the merchants' boating skills. On their medium-size boats, which are also their floating houses, they can run a very fine business. Fresh farm products, fish, flowers, fruits, foods and drinks are all available at any floating market just like a normal market.
The best time to capture the busy atmosphere of a floating market is in the morning. As the Southern residents have the habit of starting a day very early, you should plan to visit the market before 7 A.M. The temperature is also more comfortable at that time.
If you're interested in floating market and Can Tho, don't miss out our article about the
Where to find it:  Cai Rang District, Can Tho Province
Tip: The floating market as lost a bit of it's business over the years, so it isn't the destination it once was. We recommend checking out the Mekong Delta with a tour company who will show you more than just the market so you can have a trip that was well worth the journey. Read more about how to in our article.
Opening hours: 3 a.m – 9 a.m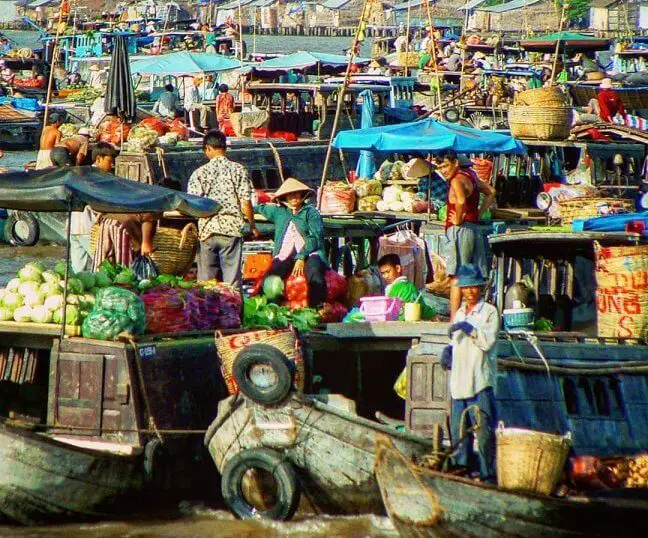 What are some fun activities to do in Vietnam?
As a local who has lived in Ho Chi Minh City for more than 20 years, I have to admit that that Saigon can be a bit dirty sometimes. Like most developing cities in the world household litter and air pollution are problematic. In fact, a majority of the problems and complaints by residents in Vietnam could be solved by not littering.
Is Ho Chi Minh City Dirty? No, Saigon is kept pretty clean despite its population and the amount of littering that happens daily. Tourist attractions and the center of the city are kept extremely clean compared to more local areas of the city. The city government has been trying their best to improve the hygiene and sanitation of the whole city in recent years. The efforts include placing public trash bins at the intersections and hiring sweepers to clean the streets have been paying off.
Although littering, air pollution, and flood are the main factors making the city dirty, it is not as bad as you would think. District 1 where people are better educated is generally cleaner than District 12 for example, but market areas near the bus station at September 23 Park, which is also in District 1, is dirty. Pollution is a global problem that all major cities around the world have to deal with on a daily basis. Don't expect Ho Chi Minh City to be as clean as Singapore, but it is comparable to Bangkok. This city isn't dirty enough to avoid visiting like some places in the world that have a reputation for this.
District 1, 3, and the center of the city are kept clean and nice
Littering is banned at popular places and tourist attractions in the city. If you are visiting Museums, pagodas, and cathedrals around the city you can expect nice clean areas. There is some littering that is annoying around areas like the Opera House and Nguyen Hue walking street because of young vietnamese who aren't cleaning up after their small get togethers. The city does a great job of getting these places cleaned up during the night though.
Bui Vien Street and Pham Ngu Lao Street are generally clean. The streets are crowded by heavy traffic during rush hour, which is around 5pm – 6.30pm. Also when there is a music event going on in the Park, the street will be so loud at night. It is great for partying but you should beware of the inevitable trash, littering, dust, smoke, and graffiti that comes hand in hand with partying and backpacker areas around the world.
Sanitation in the city is nice. Public toilets such as the ones on September 23rd Park near the backpacker area are kept clean. When using them, it is best to bring toilet paper yourself in case they are out and there isn't a bum gun. You should also prepare some small money like 5000 VND for the donation box in front of most public toilets. This donation rule works for other public toilets in Ho Chi Minh City too.
Littering
Ho Chi Minh City has a beautiful skyline sitting right along the Saigon river that is very charming.  The patchwork of different color houses sitting like a quilt spread out for kilometers in every direction is also breathtaking. When you get a closer look on the streets though, trash and dirt can be found in small alleys, sidewalks, canals, and parks. This sort of litter can come with the territory in certain areas of the city. The city averages a whopping 8,700 tons of household garbage everyday which can create some sanitation problems in smaller unnoticed or maintained areas.
Littering in Ho Chi Minh City, all over Vietnam for that matter, is an unfortunate problem that is very common. The government is doing a great job of educating the youth of Vietnam to be more aware of our environment but the older generation can still be seen littering with no remorse. There have been recent movement in the past few years to educate the older generation to take care about the environment which seems to be gaining some traction.
There will be a difference between someone throwing their plastic single use cup in a plastic bag into the river, when compared to the trash you see sitting under the trees when you walk along the sidewalks. The trash under the trees is actually the neighborhood spot for placing household garbage. Everynight Ho Chi Minh City sanitation workers, clean up every street collecting this trash. So placing it under the tree, electric pole, or lamp post is just a collection point for the city sanitation crew. This shouldn't be confused with careless littering.
Recycling isn't implement in Vietnam like other countries around the world. Even though people tried to separate waste into different trash bins, staff from environmental companies still mix them together before sending them to the city's dump sites.
Trash in markets and vendors
Most people go shopping at markets rather than supermarkets in Ho Chi Minh City because they can find fresh ingredients with cheaper prices. However, the hygiene is not guaranteed as the waste and garbage can be found all over local markets. Most vendors do not throw rubbish into bins. They just simply throw their rubbish into the gutters or directly to the ground under their stalls. The trash includes plastic bags, food scraps, rotten veggie, cigarette butts, and tissues. Only when the sellers need to close their stall they sweep the floor, collect trash, put them in big plastic bags and throw them at a collection point at the rear of the market.
These vendors aren't as dirty as it sounds, personally I feel most vendors are doing their best to keep things sanitary, but at the end of the day it is what it is. These markets are unique tourist attractions in Ho Chi Minh City because people can enjoy local food from people peddling their wares. 
Despite the fact that selling on sidewalks are banned by the government, local people still do these small businesses illegally to make a living. Sometimes you will witness vendor owners running away from police, or when you are enjoying your meal the vendor will make a quick dash down the street and you are left alone and confused.
Flooding in the city
This may be a blessing to any traveller who wants a great and unique local experience in the city, but it's always painful for us locals. Flooding in the city during the rainy season is a nightmare to every citizen. It is annoying not just because of trash floating on the street, but it's also an inconvenience afterwards. When the water level is above your knees, travelling around the city becomes harder than ever. The car and motorbike engines stopping in the middle of the street leads to prolonged traffic jams. Some people have to push their motorbikes by hands, while others trip and fall after riding on flooded potholes they can't see. 
Even if you are not living in the flooded area, you may deal with difficulties as well. Traffic jams usually occur in the whole city when there is flooding anywhere in the downtown area.
The main reason for flooding is uncontrollable littering by us locals. The drains are choked up with garbage, river runoff is slowed down because of household trash, giving rainwater no way to escape from the city. Therefore, if you visit the city during the rainy season which is from May to November, you should really bring a raincoat, waterproof accessories and flip flops to prevent you from getting wet
Optimism of people even in such situations may surprise you and make you want to visit the city anyway. Some visitors and citizens found this entertaining. When it rains, fish in canals swim to the streets and people try to catch them. Some travelers really enjoy this that they even go kayaking in the middle of the city.
Air pollution
Most cities in the world presumably face this problem. It is no doubt that the overpopulated city like Ho Chi Minh is in the same situation. Heavy traffic, smoke, dust, and air pollution is a part of citizen's daily life. In sunny season from December to April the air pollution is even worse in the sunlight.
Trucks carrying cattle or fish sauce is another cause of air pollution, but you can only see them in the suburb areas of Ho Chi Minh City like District 12. 
The mentioned factors are the reason why you should wear face masks and sunglasses when walking down the street in Ho Chi Minh City. They don't just keep you from sneezing but also protect you from respiratory diseases and other kinds of sickness. 
We hope this article answers your question about the cleanliness and safety of Ho Chi Minh City. This is my home, and it is surprisingly clean even though there are many sanitation issues that our city faces with such a large population. I feel that most travellers visiting Ho Chi Minh City will feel the same.