Ho Chi Minh City, also known as Saigon
As the largest city in Vietnam, with nearly 13 million people, it is filled with a great variety of people, attractions, and things to do. The real secret to Saigon isn't like visiting other cities around the world that show off their culture and art before you even step off the plane.
Ho Chi Minh City will make you work to uncover its secrets. Hidden in the smiles of students at local parks, the cunning sales skills of a local vendor, or the first slurp of a bowl of Pho. It's all here for you to explore and taste in your own way.
In this article, We will give you information about things to do, attractions, where to stay, tours, street food, nightlife, shopping, weather, history, and more. Click on the section links to dig further into each topic to help plan your trip. Let's jump in and answer some common questions about Ho Chi Minh City, Vietnam.
Is Ho Chi Minh City Worth Visiting?
Your trip to Vietnam guarantees to give you an exciting time with various destinations to see, as this beautiful country stretches from North to South with plentiful landscapes and renowned natural heritages.
While designing your itinerary, you might ask, Is Ho Chi Minh City worth visiting? Known as the economic powerhouse of Vietnam, it frequently gets overlooked as nothing more than a staging point for your trip through Vietnam. Let's dive into this article to find the ultimate reasons why you should visit our city and what you should do to make the most of your time in Ho Chi Minh City.
The Two Sides of HCMC
This city isn't as openly split as other cities. Rich and poor, fancy and functional is all mashed and mixed together.  Ho Chi Minh City is evolving with boutique shops, craft breweries, and small restaurants with talented cooks popping up all over the place. While these are affordable for the middle class and above, the majority of the city is for the working class. Shops packed with cheap shopping, noodle shops selling $2 dollar bowls of soup, and open spaces free to use for local students looking for cheap thrills. All of these things intermingle within the city, found in alleyways in local districts or on tree-lined boulevards in the main districts in the center of the city.
Choose your own adventure with your own kind of budget, spend the morning sightseeing with some local food. Take the night by the horns by dressing up and visiting a rooftop bar.
Is Ho Chi Minh City Budget-Friendly?
Ho Chi Minh City and Vietnam, in general, is an affordable destination for most travelers. The total budget varies greatly depending on your requirements, but the best thing is you'll find a suitable option, thanks to the variety of services and hospitality in the city. As a rising star in the South East Asian tourism industry, Ho Chi Minh City has boomed with options for accommodation, transportation, restaurants, and tours. The majority of these services fall into a 2-5 star range in quality depending on their price.
For example, for a solo traveler, a good hostel costs you only $4.5 – $9 per night, the service comes with clean, air-conditioned rooms, Wi-Fi and can even include breakfast. Travelers who love to stay in luxury accommodations are satisfied by many reputable hotels with price from $20 – $200 per night, restaurants all over the city, and a ton of quality tours in the city and nearby destinations.
Enjoy your stay in Ho Chi Minh City without worrying that you'll break your bank account with just a little budget research before your trip. Below, we have put together sections to and articles to help you plan your trip to Ho Chi Minh City to help plan your budget.
How to get around Ho Chi Minh City?
Transportation is easy in various ways, from taxis, motorbike taxis, to car or motorbike rental, all come at a reasonable price. It is good to note that the blooming industry of transportation mobile apps such as Grab and Goviet, offers tourists with better, safer, and cheaper options.
We recommend that you download the mobile app GRAB before coming to Vietnam. This will be the best way to order a car or motorbike to get around Ho Chi Minh City. If you don't have a data plan for a short visit, then you can still get a Taxi cab anywhere in Saigon with Mai-Linh or Vinasun.
Saigon's History and Modern Day Ho Chi Minh City
Ho Chi Minh City started many years ago as a small Khmer fishing village known as Prey Nokor. In the 1620s, the Khmer King took a Vietnamese bride and this started the movement of Vietnamese into what is Southern Vietnam today. By 1640, Chinese from the Ming dynasty began to settle in the area under the protection of the Vietnamese King. During this prosperous time, two cities began to develop, Ben Nghe (Saigon) and an area called Tai Ngon (Cho Lon), which was the major trading center for the entire city and home to the Chinese living in Southern Vietnam. 
In 1867, the French took over 6 provinces in Southern Vietnam which began 100 years of French rule in Cochinchina. Saigon was then referred to as the "the Pearl of the Far East", which pops up in a lot of travel articles. This nickname comes from the fact that in the 18th century, the French transformed the city with infrastructure and architecture that still exists today. Saigon became the capital of Cochinchina it was an excellent location for international commerce in the South China Sea, so the French colonial government transformed it into a commercial hub. The city center became an organized metropolis with well-paved boulevards, glamorous restaurants, and hotels, classic villas that were full of rich locals and Westerners, sometimes the foreign community even contributed up to 10% of the city population.
At the end of the Vietnam – France war in 1954, the South was occupied by Vietnamese capitalists who refused to conform to President Ho Chi Minh's communist government in the North. The conflict between capitalism vs communism would give birth to another government in the South, which divided the country into two. This led to the infamous Vietnam War that lasted for 20 years. In 1975, the South Vietnamese government surrendered after the Vietcong army took over Saigon in an event known as "The Fall of Saigon". Vietnam became united once again and Saigon was renamed Ho Chi Minh City in July 1976.
Today much of the great history of this city is intact for travelers to explore and learn the interesting mash of Khmer, Vietnamese, Chinese, and French cultures. 
Ho Chi Minh City Population?
Ho Chi Minh City is the most important hub of Southern Vietnam for education and business. Vietnamese from all over Vietnam come flocking into Ho Chi Minh City in pursuit of a better life every year. The current population of Ho Chi Minh City sits around 13 million people in an area about 2,000 square Kilometers.
Ho Chi Minh City's Districts
Over 40 years after the war, the city changed dramatically. After many expansions, Ho Chi Minh City now spans on a vast area of 2000 square km with 19 urban districts and 5 rural districts.
This wonderful city is divided into 24 districts all packed with tree-lined streets, busy roads, and local homes. 12 of those districts will have numbers and the others have Vietnamese names such as Ben Thanh, Cu Chi, and Binh Chanh. Travelers should only concern themselves with the following districts: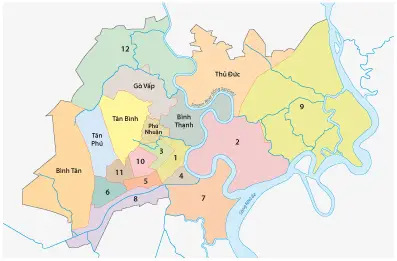 District 1
District 3
District 4
District 2
District 7
Ben Thanh District
District 10
District 5
The above areas, especially Districts 1 & 3, will be the main districts that most travelers will spend time in while they visit Ho Chi Minh City.
Ho Chi Minh City Weather
The weather in Ho Chi Minh City is considerably fine for travelers. Located in the South of Vietnam, Ho Chi Minh City has a tropical climate. Most days are sunny, high humidity, and sudden rains during the wet season. The average temperature is 28oC, while the lowest is 22oC in January and up to 40oC in April.
Southern Vietnam experiences a wet season and a dry season. During the wet season, you can expect a bit of rain that usually comes around 4:30 – 6:30 pm every day. These storms are typically very quick and helpful in cooling down the city. While the storms can be strong and intense, they are typically short in duration. There are around 10-15 days through the whole rainy season that will have rains that last for 6 hours or more, these days are rare but important for the agriculture of Southern Vietnam, especially in the Mekong.
HCMC Avg Temp
All Year (Jan - Dec)

27-30℃
81-86℉
HCMC Rain fall(mm)
[wp_charts title="linechart3″ type="line" align="aligncenter" scaleFontSize = "24" margin="5px 20px" width="80%" datasets="100,100,100,100,200,250,300,300,300,250,100,100″ labels="January,February,March,April,May,June,July,August,September,October,November,December" scaleoverride="true" scalesteps="9″ scalestepwidth="40″ scalestartvalue="0″]
Is Ho Chi Minh City Safe for traveling?
The city is generally safe for tourists, however, like any other touristy place, always be careful with your belongings. Violence, such as gun shootings and personal attacks, is not a norm in Vietnam thanks to the country's strict policy, but pickpockets, purse snatching, and other petty crimes are still notorious in this commercial center. Overall, don't walk around with valuables,  keep them in your safe or at home. Fancy necklaces and bracelets aren't necessary when traveling and catch a lot of attention in poor neighborhoods all over the world. With that being said, Ho Chi Minh City is a very safe place to travel and the people are caring.
If you'll be in Ho Chi Minh City for a layover be sure to check out this article about the best things to do in Ho Chi Minh City with limited time! Just because you only have a few hours doesn't mean you can't take advantage of Vietnam's biggest city.
For Saigon sightseeing, there is a long list of interesting places that are open to the public for free such as traditional markets, antiquated architectures, walking streets and parks. Even in places that require an entrance ticket like the War Remnants Museum, Cu Chi Tunnels, or Independence Palace, the ticket price costs you just as little as $2-$4 per person.
Now comes to the most important activity in most travelers' holiday: sightseeing. It's hard to give a full review of all the places to see in just one article, so we'll give you recommendations for most worth-visiting places. Feel free to do more research to find other places if you love exploring. Depends on your interest, you can spend a half to a full day to wander around the city and get a pretty good overview of it.
To learn more about history, opt to the War Remnants Museum and the Independence Palace. War Remnants Museum is located at 28 Vo Van Tan Street, District 3. The museum focuses on two modern wars in Vietnam with the French colonialists in the 50s and with the U.S in the 70s, covers a wide range of subjects include artillery collections, historical photographs and display of anti-war artwork. The museum exhibits gruesome evidence of war crimes, especially the effect of Agent Orange, which conveys a strong message about the sufferings of both sides involved in the war. 
On the other hand, the Independence Palace is famously known as a symbol of reunification and peace. During the war, this mansion served as home and office for presidents of the South government. In the summer of 1975, Vietcong army tanks crashed the palace's gate and Northern soldiers waved their flags proudly on top of the building, putting an end to the 20-year war. The palace preserves a classic 60s design with plenty of historical relics. The location is at 135 Nam Ky Khoi Nghia Street, District 1.
Within walking distance from the Independence Palace is a small area of many French architectures, including the Saigon Opera House, the Central Post Office, Notre Dame Basilica Cathedral and the City Hall. All buildings were constructed by famous French architects in an attempt of the French colonial government to create a mini Paris in Southeast Asia. With good care from the government, these vintage buildings make time stand still by their beauty and give downtown Saigon a European vibe.  This corner is suitable for people who love taking photos because it looks Instagrammable at any angle.
Another area that attracts a huge amount of tourists is Chinatown in District 5, which is referred to as Cho Lon. The area is full of smokey temples, bustling streets with hanging signs in Chinese and Vietnamese, busy restaurants, shops, and the hustle and bustle of daily trading.
Some iconic sites to pay a visit here include Thien Hau Temple and Hao Sy Phuong Alley. Thien Hau Temple is a beautiful, tranquil escape from the busy life where you can enjoy the traditional artistic design in the wonderful smell of burning incense and the whispers of prayers. 
Hao Sy Phuong Alley also provides a peaceful getaway to observe the simple daily life of ordinary Saigon residents. This alley has been home for generations after generations for over 100 years. The classic French colonial architecture built by the Chinese remains unchanged, which creates a nostalgic atmosphere and brings fame to this small alleyway.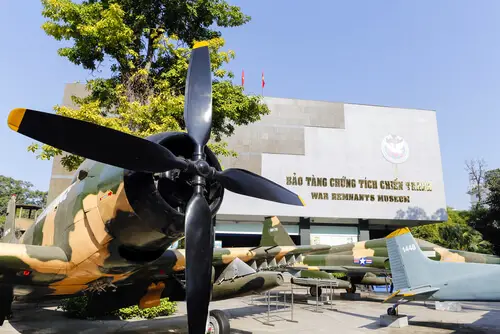 Saigon is filled with museums, landmarks, and day trips that will keep you busy during your trip. District 1 has the famous Ben Thanh Market where you can shop for coffee, lanterns, clothes, and much more. There are also beautiful remnants of the French Colonial times scattered throughout the city like Opera House, The Central Post Office, and the Notre Dame Cathedral Basilica right in the heart of Ho Chi Minh City.
Day trips like the Floating Market in the Mekong Delta are only a few hours away. You can also explore the life of the Viet Cong during the war with a visit to the Cu Chi Tunnels.
In District 3, you can spend time visiting and learning about the Vietnam War at the War Remnants Museum with a free guided tour offered with every entrance ticket.
Besides your typical day of sightseeing, tons of recreation and entertainment activities are all over Ho Chi Minh City. If you want to amaze at the sprawl of Ho Chi Minh City, have a break at one of the rooftop bars in the Bitexco Tower. Enjoy the AO show which is filled with Vietnamese culture. Of course, you can always hop on the back of a motorbike with Back of the Bike Tours many options for exploring this city from Food Tours to City Tours. Check out our Things to Do for 41 of the very best activities in Ho Chi Minh City to keep you busy on your trip. 
If you have time in Ho Chi Minh City and want to take some tours for food, sightseeing, or half-day trips in the South, we have great recommendations for you. It's your perfect chance to explore the beauty of nature, history, and culture of Southern Vietnam during your time in Southern Vietnam. 
The destinations and activities to do are suitable for a wide range of customers, from solo travelers to families and tour groups. You can buy a tour from a reputable tourist company, or do some research and plan your own itinerary. Transportation to these destinations is easy, both by public service or booking a private company a service by yourself. Below are popular tours and destinations from Ho Chi Minh City that visitors enjoy the most.
Ben Tre – a slice of the Mekong Delta
Only 2 hours driving to the South of Ho Chi Minh City, you'll enter a new world of endless rice fields and immense rivers in the Mekong Delta – the biological treasure trove and the granary of Vietnam. For only a day, spend your time to explore Ben Tre to have a glimpse of this vast delta. Across the river from My Tho City, Ben Tre is a great getaway from urban scenery into plain rural villages, beautiful orchards, and cottage factories.
This small town is called "Coconut Capital" due to a huge amount of coconut trees growing all around the place. People make their living by planting coconuts and making creative handmade products from it. A typical tour provides you with a boat trip to paddle between 4 small islands in the town, then join a horse cart ride to explore bee farms and coconut factories. Stop at a scenic orchard to enjoy fresh fruit while folk singers perform traditional Vietnamese music for you. What can be a better way to experience the daily life of the Southern people?
Cu Chi Tunnels from Ho Chi Minh City
If you're not claustrophobic, then try crawling underground in the same tunnel system that Vietcong army used during the Vietnam War. Cu Chi tunnel is a creative military base that includes a complex network of connecting underground passages, bunkers, living quarters and even hospitals. This underground city was a key location for the Vietcong Army to plan sudden attacks, communication, and supply routes. There are two sections in this tunnel system open for tourists: Ben Thanh and Ben Duoc. We recommend the Ben Duoc entrance. Only 70km from Ho Chi Minh City center, Ben Duoc offers explorers a more authentic feeling with fewer visitors than the Ben Thanh entrance.
Ho Chi Minh Motorbike Tours
We are tourism experts at Back of the Bike Tours but even more than that, we are the number one authority on Motorbike Tours in Ho Chi Minh City. We have been taking customers around on our tours since 2011, to experience the sights, sounds, and smells of Ho Chi Minh City with our Sightseeing and Street Food Motorbike Tours. 
On the back of a motorbike, Travelers get the chance to experience Ho Chi Minh City using the #1 transportation method in Saigon. The whole city was built around the use of a motorbike to get around, so it's the best way to get a real local feel.  The true secret to why Motorbike tours are the best tour experience in the city comes down to local expert who is driving the motorbike, that's why people love this intimate experience because they get the chance to learn from a real local. 

Ho Chi Minh City covers a lot of area and can be confusing to understand when booking your accommodation. Most visitors will want to stay in centrally located areas if they are visiting for a sightseeing vacation rather than business. The city has become flooded with lots of Air BnB accommodations as well for those who want to avoid paying the prices of hotels. Whether you are looking for something local, mid-range, or upscale there are accommodation options for everyone in HCMC. 
At night is where Saigon, becomes really interesting. From sundown to midnight, the city becomes so lively with streets full of young people, Cocktail bars, Karaoke clubs, Rooftop Lounges and corners full of music and entertainment activities. The most crowded places at night are in District 1 at Nguyen Hue Walking Street and Bui Vien Beer Street. 
On Nguyen Hue Walking Street, there are shining restaurants and street food stalls all over. Young people sit freely on the pavement and in the middle of the street to eat street food, play games, sing and chit chat happily. A must-see address on this street is the Coffee Apartment at no. 42 – a complex of uniquely designed cafés, restaurants and fashion boutiques. You can also walk to the nearby Ben Thanh Market and have a quick look at the night market. 
Foreigners hang out more at the Bui Vien Beer Street, which explains its nickname by locals "Backpacker Street". Even though the street is quite short, it is full of interesting bars, pubs, and beer restaurants with a party atmosphere. At night, many shops place chairs and tables outside on the street so customers can enjoy their drinks while people watching.
If you want to dress up for a long night of drinks and dancing, Ho Chi Minh City as you covered with upscale bars with fancy cocktails, hidden speakeasies, rooftop clubs, and so much more. Read on in our Nightlife section to find the best activities in the city to make your night a blast.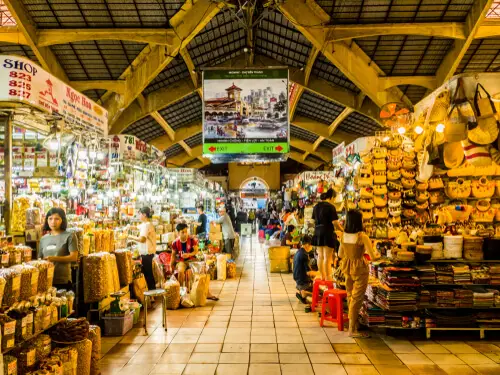 Large open-air markets are all over Ho Chi Minh City for the Shopaholics to dive into for some fierce bartering with local merchants. You can also find big-name brands in high rise malls along with local boutique shops selling high-quality accessories and clothes. 
Even if you're not an enthusiastic shopper, it's good to know somewhere to buy home some souvenirs. To get a local haggling experience, run to traditional markets like Ben Thanh or Binh Tay. These markets sell you literally anything you can think of, from food, clothes to household appliances. Prepare to be overwhelmed in a bustling atmosphere with goods stacked in piles upon piles and noisy sellers try to lure you into their stores. Shopping in a traditional market requires a little bit of patience to squeeze through the tiny walkway between stalls, to haggle eagerly with shop owners and to sweat considerably. However, the experience is eye-opening and intense. 
If you're looking for something more unique and special then the piles of typical souvenirs at local markets, dig into our resources in our Shopping section to find some boutique shops offering homemade quilts, handbags, wallets, dresses, and much more. With the right amount of research, Ho Chi Minh City can be a paradise for quality merchandise at a great price.
Modern shopping malls in Ho Chi Minh City are worth-visiting, too if it's even just to cool off from the heat of the city. Reputable shopping malls that locals frequently come to are Takashimaya, Saigon Centre, and Saigon Square. They will have food courts and game centers that might be a relief for busy parents who are looking for an entertainment center for the family to have some fun!
Exploring Vietnamese Street Food
We offer the very best Food Tours in Ho Chi Minh City on our Motorbike and Walking Tours, so be sure to check out the link above to find out more about what we do. We are going to provide some information about some easy to find food for you to chow down as you make your way through eating Saigon.
It's hard to pass by any corner in Ho Chi Minh City without seeing something tasty to try. When trying out Vietnamese food on your own, it might be difficult to know where to go and what to have. If Ho Chi Minh City is your first destination in Vietnam, introduce yourself to the nation's cuisine with the four famous dishes: Pho, Banh Mi, Banh Xeo, and Com Tam.
Pho or Vietnamese noodle soup is undeniably the best representative for Vietnamese cuisine. The perfect introduction to Vietnamese cuisine with its combination of the beef bone broth, rice noodles, tasty beef, and the distinct flavor of various traditional spices captivates the heart of thousands of food lovers around the world. 
You can find pho anywhere, from street vendors to the finest restaurants, and people here devour the dish at any time in the day, from morning until late at night. There're plenty of good pho restaurants around Ho Chi Minh City, each of them wins customers' hearts with their secret pho flavor, so it is arguable to call any restaurant the best place for pho. From our experience, we strongly recommend Pho Le at 413 Nguyen Trai Street, Ward 7, District 5. Other notable pho restaurants include Pho Hoa Pasteur in District 3 and Pho Hung with many branches around the city.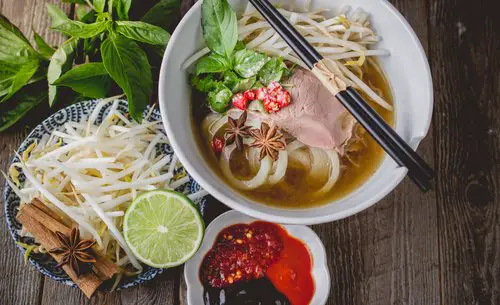 Banh Mi or Vietnamese Baguette is the reason why many Western fast-food chains ceased in Vietnam's food industry. The baguette was first introduced to Vietnam by the French colonialists, and Vietnamese people make it so much better by adding savory ingredients, various vegetables, and condiments into the sandwich. A typical banh mi includes a baguette with thin crust and airy light texture, split lengthwise and filled with pork sausages, fresh cilantro, thin slices of cucumber, pickled carrots and white radishes, along with condiments such as pate, chili, and mayonnaise. The taste of banh mi varies by inventive fillings, from pork sausage, fried egg, grilled chicken to meatballs, fish patty or even ice cream. In many banh mi stores, you can decide which fillings you want to add and create your own banh mi.
Just like pho, Vietnamese people are deeply in love with banh mi, so you'll easily spot a banh mi stall anywhere, at any time. The most popular name for banh mi in Ho Chi Minh City belongs to Banh Mi Huynh Hoa at 26 Le Thi Rieng Street, Ben Thanh Ward, District 1. Besides being used as a sandwich, plain banh mi is also served as a staple food in many delicious dishes, such as bo kho (Vietnamese beef stew) and banh mi op la (baguette with sunny side up eggs and other savories on a small pan).
For those who want to try specialties of Southern cuisine, definitely try Banh Xeo and Com Tam. Banh Xeo is rice flour pancake filled with minced pork, shrimp, bean sprouts and green onion, usually served with vegetables like Thai basil, lettuce, mint. The crispy outer layer of Banh Xeo, covered in the sweet and sour dipping sauce, will enlighten your taste buds immediately. 
While Banh Xeo is a savory snack, Com Tam is a good option for a meal. The main ingredient in Com Tam is cooked rice with fractured rice grained, hence the name literally means "broken rice". Normally, Com Tam consists of rice, grilled pork, shredded pork skin, and fried egg along with pickled vegetables. Restaurants can add or change the savory ingredients to create different versions of Com Tam. The flavor is not complete without sweet nuoc mam (fish sauce) that also has different flavors between regions. Check out Banh Xeo 46A Dinh Cong Trang Street and Quan Com Tam Nguyen Van Cu at 74 Nguyen Van Cu to have a taste of these delicious dishes.
Local Drinks in Saigon
In the morning, most of us want some coffee or tea to jump-start our day. Vietnam is home to some of the best Robusta coffee beans in the world. Ca Phe Sua Da means "iced milk coffee", commonly served with condensed milk on the bottom and black coffee on top. Stir it to make the bitterness of coffee blends with the sweetness of milk and then pour over ice, and now are really living the good life! Young locals enjoy this drink so much, especially in street vendors where they can purchase a small cup of Ca Phe Sua Da, then sit on the pavement with friends and enjoy watching the street while sipping their coffee. You can find coffee everywhere in Saigon but check out Trung Nguyen Coffee branches all over the city for a decent cup of coffee with locals.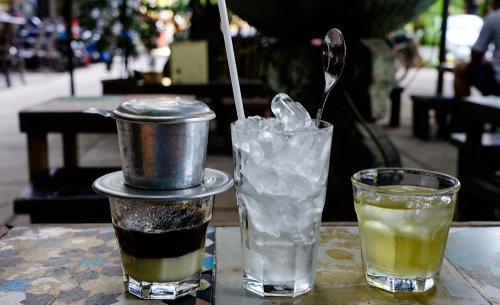 For older people, bia or beer is a must after a long working day. Just follow the locals and you'll find a good beer restaurant. Vietnam has various local brands for a beer with an unbelievably cheap price. A good thing to note down is most restaurants in Vietnam serve beer with ice, so just do as the Romans do. 333, Bia Saigon Red, or Bia Saigon Green are the most popular beers in the city and are simple lagers. Grab a beer at most any street vendor, restaurant, or local food shop in Ho Chi Minh City.
In case you don't know where to start your culinary journey here, we provide many food tour options that can give you a good experience of Vietnamese cuisine at ease.
Day Trips from Ho Chi Minh City, Vietnam
Can Gio mangrove forest
Listed as a UNESCO biosphere reserve, Can Gio is the greenest place to see nearby Ho Chi Minh City.  After 2.5 hours traveling, what you'll see is a vast area of mangroves, wetlands and salt marshes. Inside "the lungs of Ho Chi Minh City" is a diverse world of flora and fauna with many precious tropical species. Highlights to see in Can Gio forest include climbing up the Tang Bong tower to gain an overview of the area, visiting the Monkey Island and sailing into the crocodile lagoons. Travelers can also explore Rung Sac Guerilla Base or try tasty seafood in the area to have more fun experience.
Vung Tau beach
This beach getaway has long been favored by Saigon citizens since the French colonial period. Although the ocean scenery of Vung Tau has nothing more significant than other famous beach towns in Vietnam, the closest distance to Ho Chi Minh City makes its ideal for a day trip. The city lies 100km southeast of Saigon center with a long list of landmarks, including the Jesus Christ Statue, various French-style villas, and resorts, well-known Buddhist temples. Thanks to the speedy growth of the tourism industry here, the services are becoming better at a good price. However, do not forget to check your bill and negotiate with sellers before opening your wallet as the vendors can be tricky with tourists.
We hope our information about Ho Chi Minh City has been helpful. This article isn't exhaustive but should help direct you to our sections where we dig deeper into each area of Saigon to help you plan the best vacation possible.