Ho Chi Minh City Tours: The Best Options of 2023
Ho Chi Minh City is steeped in rich history and has a vibrant culture. One of the best ways for a traveler to get in touch with the real Ho Chi Minh City is through its people by using a guided tour.
As an expert in food tourism with 10 years of experience operating Back of the Bike Tours here in Ho Chi Minh City, I am not short on opinions on which Ho Chi Minh City tours I think are the best.
And, to be honest, do you even need a tour of Ho Chi Minh City? Many of the city's main sites and tourist attractions are easily accessible on your own via walking.
While there are plenty of things to do in ho chi minh city that you can explore on your own without a tour or a guide, I do believe there are great reasons for spending a bit of cash to explore the city on a guided tour.
In this article, I'm going to walk you through what I believe are some tours you should really take a look at. And I'm also going to give you my personal opinion on which tourist traps you need to avoid! By the end, you should have a good idea of what options you have to choose from.
Best Ho Chi Minh City Tours
🛵 Motorbike Food Tour with Back of the Bike Tours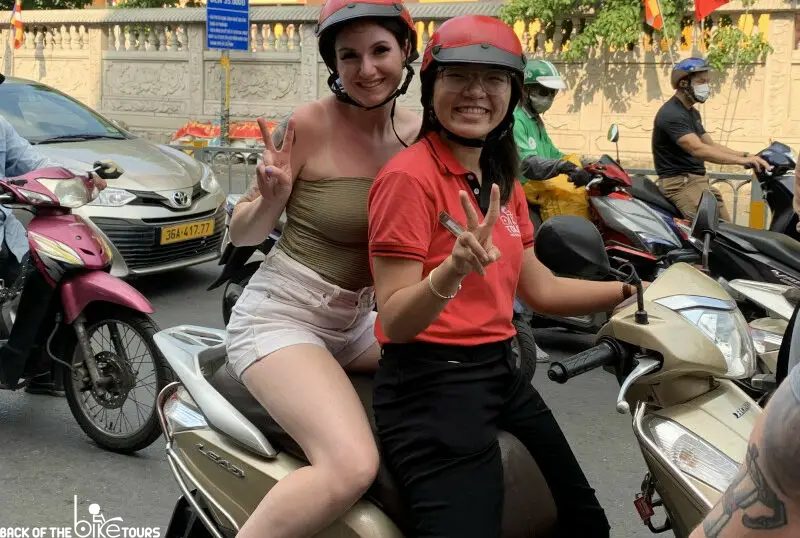 Of course, my tour is going to be the top pick to make this list of Best Ho Chi Minh City Tours! I'm extremely proud of what we do and how we do it. If you want to experience what Vietnamese culture is all about, jump onto one of our food tours. I do put an extreme focus on what we eat and the ambiance of each tour. But, if you read our glowing reviews, you'll quickly find out that spending time with my extremely incredible Vietnamese staff is what really makes our tour an experience you can't miss.
I've gone to the Cu Chi Tunnels multiple times but the trip I've taken on a speedboat was by far the best experience. There is a hotel pick up and drop off, and once on the boat they provide refreshments and snacks, the guide was top-notch, and the cruise along the river is just plain enjoyable. I just don't think you can beat being on a speedboat over being in a bus for sure, but even a jeep. As you see below I still recommend a jeep tour, which I've done before but the speedboat from ho chi minh to cu chi tunnels is my top recommendation if you are going.
If you can't tell by now, I am a sucker for open-air style tours so that's what I'm initially attracted to and the ones that I book for myself. A few years ago when my friend came to stay with me here in Saigon I booked a Private Ho Chi Minh City Tour by Jeep and a Private Jeep Tour to the Cu Chi Tunnels. I wanted the chance to experience these tours myself as they are a bit of competition in tourism but also my friend was a bit shy about being on the motorbike. I've already mentioned above that I prefer the speedboat tour to the Cu Chi Tunnels, but if it's not possible the jeep tour is a good option. I feel comfortable recommending it over any bus tour.
If you want to beat the heat then an air-conditioned car is the way to go. The locations you'll visit on most Ho Chi Minh City tours will be similar the hard part is to find a tour company that provides high-quality and professional guides. If you want to book a private Ho Chi Minh city tour by car then I would recommend looking at that tour in the link. It is operated by one of the old team members of Back of the Bike Tours. I feel confident he is providing a really nice tour experience.
Ho Chi Minh City Tour Experiences You Need to Avoid!
As an insider, I'll tell you to be very careful booking super inexpensive tours. One of the best ways to vet out these experiences is to check their lowest reviews and see if anyone mentions a forced review by the company. Or not forced exactly, but something along the lines of, "If you want the wifi password to the bus, please write a review for 5 stars on Trip Advisor". There is a whole lot of that going on.

You'll get what you pay for with many of these trips. So I personally avoid any bus tour going to the cu chi or the Mekong Delta. It's just not worth it for me. I would prefer not to go at all then to waste hours on a bus. Especially when there are so many cool things to do in ho chi minh city!