Ho Chi Minh City Food Guide (2023 Update)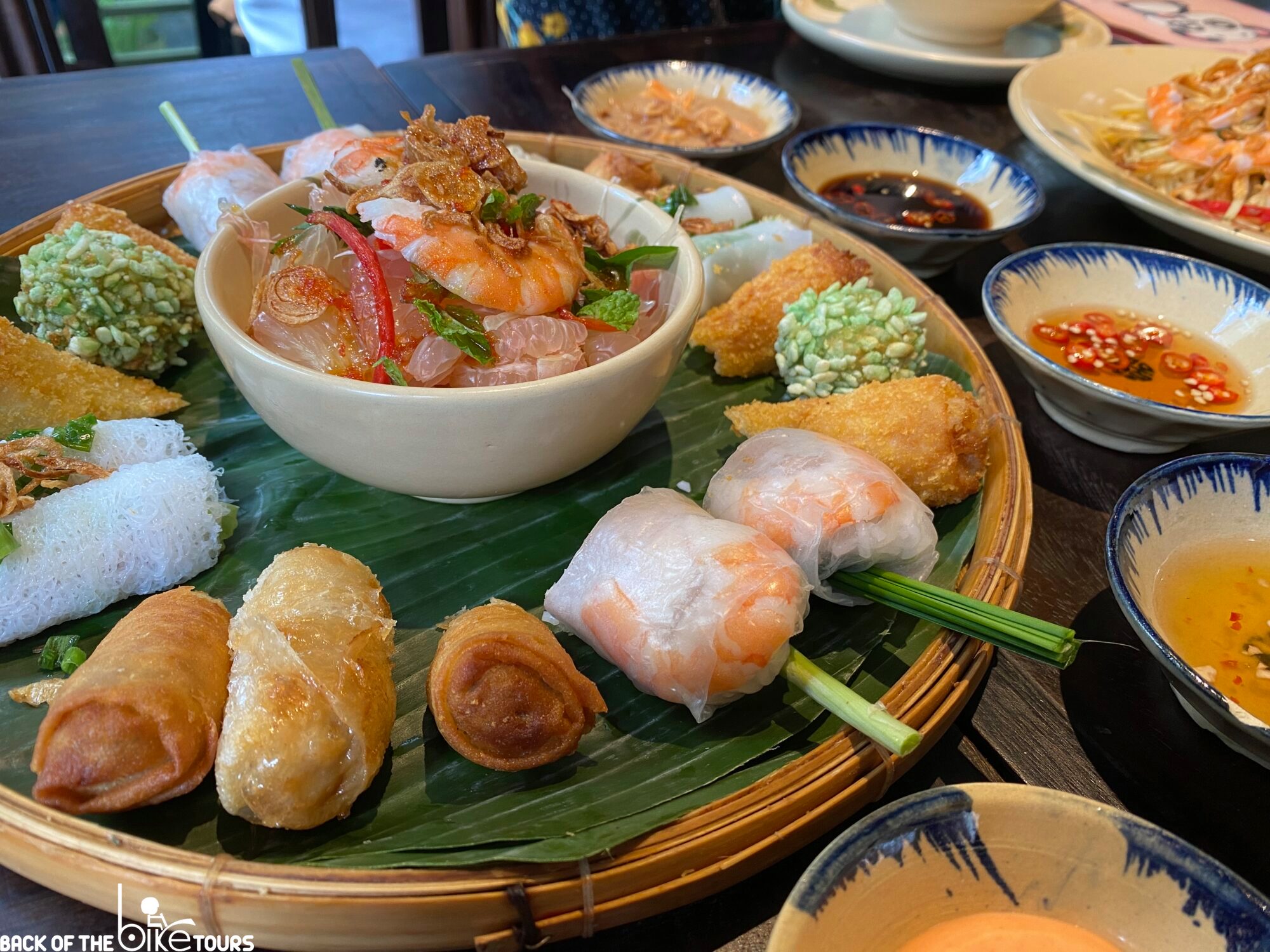 I love Ho Chi Minh City's food scene. It's vibrant and filled with a ton of options to choose from.
I created this Ho Chi Minh City Food Guide through my extensive experience as a food tour owner, eating everything and anything Ho Chi Minh City has to offer as I did my best to craft an awesome tour experience for my customers. Now, I'm sharing that information here in this guide!
I'll recommend street food, local restaurants, Vietnamese restaurants, and International restaurants. I update this guide throughout the year as things change, you know restaurants and vendors can change ownership or close so I do my best to keep this Ho Chi Minh City Food Guide as up to date as possible!
👉Don't have time to read our entire Ho Chi Minh City Food Guide?! Here are my quick picks for must-eat food!
It's one of the oldest in Ho Chi Minh and serves a huge pork chop over broken rice. Delicious!
Great restaurant with two locations in D1. The food here is very well done home-style Vietnamese Food.
This is one of my favorite dishes in Vietnam. It's not to be missed while you are in Ho Chi Minh!
This Popular eatery creates the biggest banh mi I've ever had. One Banh Mi might be enough for 2!
Culinary Jewels: Discovering Street Food and Small Restaurants in Vietnam
In the first part of our Ho Chi Minh City Food Guide, I'll cover some of the classic foods in Ho Chi Minh City and where you can get them. I chose some restaurants or vendors over others for convenience in some cases. But If I recommend it in this food guide, then I have tried it, and I believe it's good.
Food safety is also something I considered for this food guide. As a food tour professional, I know that no one wants to risk getting sick on their vacation. All of the restaurants in this article have a great reputation and serve clean food. I can't guarantee you that nothing will ever happen, of course, but I've done the best I can here.
🍜Ho Chi Minh City's Pho Trail: A Journey Through Flavor and Food Culture
Without a doubt, Pho is the pinnacle of Vietnamese cuisine! This noodle soup offers a balanced meal in a bowl. It's cheap, quick, and found on every corner, making it Vietnam's national sweetheart. I don't feel it's the best soup in Vietnam for me, but it is still the ambassador of Vietnamese cuisine, and you should eat a bowl while you are in Vietnam.
A typical bowl of pho has fresh flat rice noodles, beef, and aromatic broth. The name pho refers to the noodles and not the broth. In the South, the broth is sweeter and served with a giant plate of herbs like basil and mint. If you feel the sweetness isn't up your alley, try the Northern version.
While most bowls of Pho, in general, are pretty great, only a few places stand out for me to recommend in our Saigon Food Guide for those seeking a great bowl.
Pho Le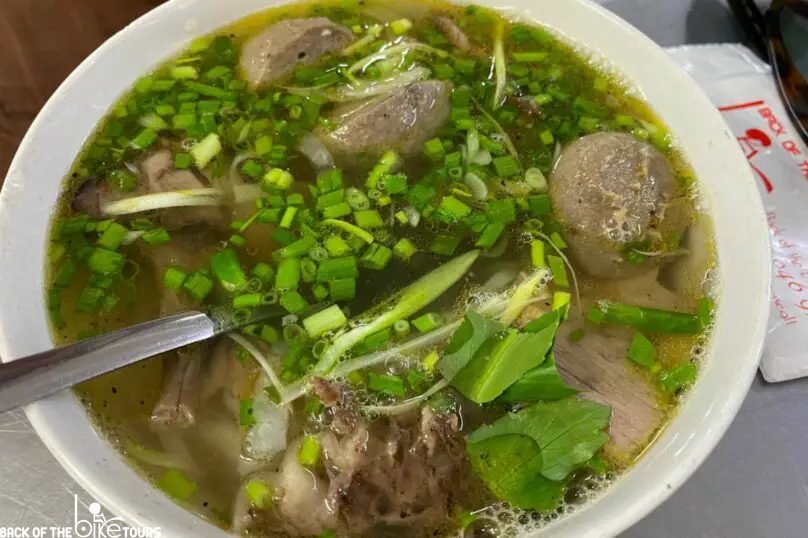 📍Location: 415 Nguyen Trai Street, District 5
⏰Open: 6 AM – 12 AM
💸Price: ~ 70.000 VND (~$3-4) per serving
💡 Tips: Mix hoisin and chili sauce in a separate bowl for an enhanced meat flavor and dip the beef in the sauce, preventing the soup from being overly garnished.
Dating back to 1970, this family-run restaurant has weathered decades without closing its doors. Open from 5 a.m. to 1 a.m., it's a favorite among Saigon residents throughout the entire day. If customers ask us for Pho during a private tour, we take them to this location.
Pho Le has perfected the Southern Vietnamese Pho flavor. The broth is sweeter and bolder, with sweetness from beef bones, spices, and rock sugar. The layer of Beef fat glistening on the top of the broth gives the soup a distinct look and flavor.
Meat lovers will enjoy Pho Le's generosity. While pricier, the larger meat portions make it worthwhile. I recommend ordering these three items in your Pho.
Tái (Thinly Sliced Raw Beef. It will cook in your hot broth)
Gầu (Beef Brisket)
Viên (Beef Meatball)
You can choose between a big bowl and a small bowl; I would go for the big one if you are hungry, but if you plan on eating again soon, the small one will suffice.
Back of The Bike Tours' guides are big fans of Pho Le. Check out our video to learn more about this wonderful restaurant.
Pho Tau Bay
📍Location: 433 – 435 Ly Thai To Street, District 10
⏰Open: 4 AM – 12 PM
💸Price: ~ 70.000 VND (~$3-4) per serving
💡 Tips: If you like a light pho broth in Northern style, go to the "yellow" restaurant. If you prefer a sweet taste with many herbs, check out the "red" one. The recommended pho in both menus is "to xe lua", which means "rail-way serving". It has the biggest portion and contains all types of beef.
Another family-run business, Pho Tau Bay, was one of the first pho stalls opened by Northern Vietnamese immigrants in Saigon. From 1954 until now, the restaurant has been divided into 2 branches that lie right next to each other on the street of Ly Thai To, District 10. Both call themselves Pho Tau Bay; the owners are brothers, but the pho flavor differs which should excite foodies who want to give the flavor of the south and north a try.
While the "red" restaurant – as the staff uniform is red – has modified its flavor to suit Southern customers, the "yellow" restaurant is keen on keeping the Northern cooking style. The broth is sweeter in "red" Pho Tau Bay, with a hint of well-simmered oxtails, star anise, and cardamom. The veggie condiments include bean sprouts – a favorite veggie of Southern customers but disliked by Northern pho lovers.
In "Yellow" Pho Tau Bay, the noodles are thicker and chewier. Their lighter broth has this cozy smell of roasted ginger, which reminds eaters of the chilly atmosphere in the North. Nevertheless, both restaurants win people over with high-quality beef. While the flank cuts are soft, the brisket is crunchy and chewy. Even though Pho Tau Bay doesn't have beef meatballs like Pho Le, they provide a wide range of beef cuts.
Pho Hoa Pasteur
The street of Pasteur used to be the home for many excellent pho stalls before 1975. Only a few remain after the test of time, and Pho Hoa is the winner. It's also one of the best-known pho restaurants for foreigners.
The restaurant serves pho in the typical Southern style, a sweet broth with many herbs. The meat toppings combine Southern and Northern options: traditional beef slices, meatballs, minced beef, and poached eggs. The central location and spacious settings, are other advantages of Pho Hoa, compared to other Pho restaurants above.
Locations: 260C Pasteur Street, District 3
Price: ~70.000(~$3-4) per serving, up to 95.000VND for the biggest option.
Tips: Besides beef pho, Pho Hoa also has chicken pho, which is worth trying.
🦀Bun Rieu: Experiencing Crab Noodle Soup
Bun rieu originates from the North but is a perfect dish for Southern weather. The dish comprises thick rice vermicelli in sweet and sour tomato soup, with fried tofu, crab paste, and various meat toppings.
The highlight of bun rieu is the crab paste made from finely mashed freshwater paddy crabs. The soup is originally not cooked from a bone broth but rather using smashed crabs. I would hesitate to say that's how most Bun Rieu's are made today.
Unlike the aromatic pho broth, bun rieu soup is always light, mildly sour, and sometimes sweet. As seafood is considered "cold" in Vietnamese culinary philosophy, bun rieu is a wonderful remedy to ease the summer heat. It is a unique soup, extremely Vietnamese, and worth trying if you are into your more traditional Vietnamese flavors. I'll dive into it more below to see if it's something you should try while visiting.
Bun Rieu Ganh Ben Thanh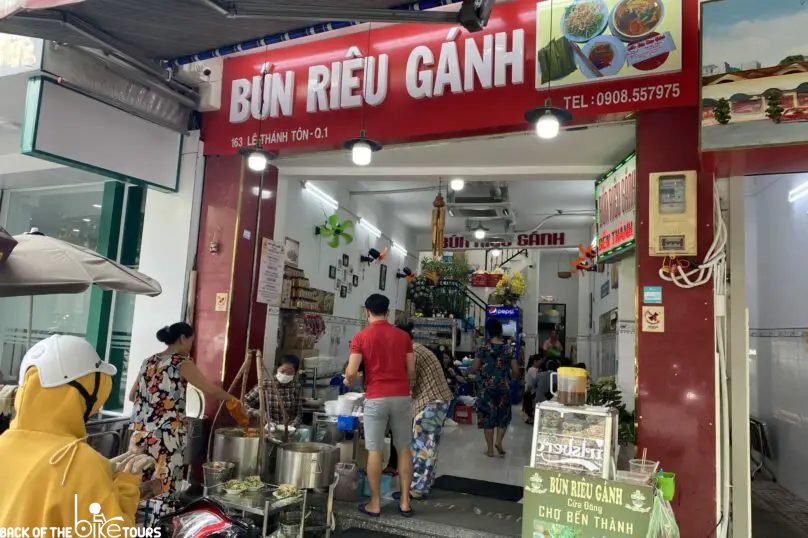 📍Location: 163 Le Thanh Ton, D1
⏰Open: 6:30 AM – 6:30 PM
💸Price: 60.000 VND (~$2.50) per serving
💡 Tips: They also have Goi Cuon(Fresh Spring Rolls) and Goi Kho Bo (Papaya and Beef Liver Salad) if you want to try it. The seating is small and tight, but they have more tables in the back tucked away in the alley.
In the heart of downtown Ho Chi Minh, near the Ben Thanh Market, this small restaurant serves a very good bowl of Bun Rieu. I have to admit, Bun Rieu is one of my least favorite soups and not something I seek out. That said, it doesn't matter what I like or don't like. This dish is a really good version and worth trying for those interested.
The soup itself has a nice light flavor with a good balance on the tongue and enough depth of flavor to make it interesting. This is my complaint about Bun Rieu and why I don't love it. But, again, this version is quite good.
The soup will contain Rice Noodles, Crab/Pork "Cake" or Sausage, Tomato, Tofu, and Blood Cake. The broth is traditionally made with pork bones, tomatoes, fermented shrimp paste, salt, and sugar. It's a rather simple broth, so I was impressed with the bowl here at Bun Rieu Ganh. They made this broth quite satisfying to someone who prefers a bit more of a strong flavor from my soup broth.
The plate on the side is for dipping your Soup's main ingredients. You could also directly add some dipping sauce to your bowl. I would wait until you try it. The plate consists of Mam Tom(fermented shrimp paste), Tamarind Sauce, and Chili. If you are unfamiliar with Mam Tom, let's dip in it first.. and see how you like it before adding it directly into your bowl. The other plate is a mix of veggies(Banana flower, morning glory) and herbs that you should add to the bowl.
Try the Best Food Tour in Ho Chi Minh City🔥🔥🔥
🛵✨ Dive into the heart of Vietnamese cuisine with Back of the Bike Tours! Our passionate guides will help you explore hidden gems and savor authentic flavors, ensuring an unforgettable gastronomic journey. Experience the rich culture and make lasting memories. Taste the real Vietnam with us – book your food tour now! 🍜🇻🇳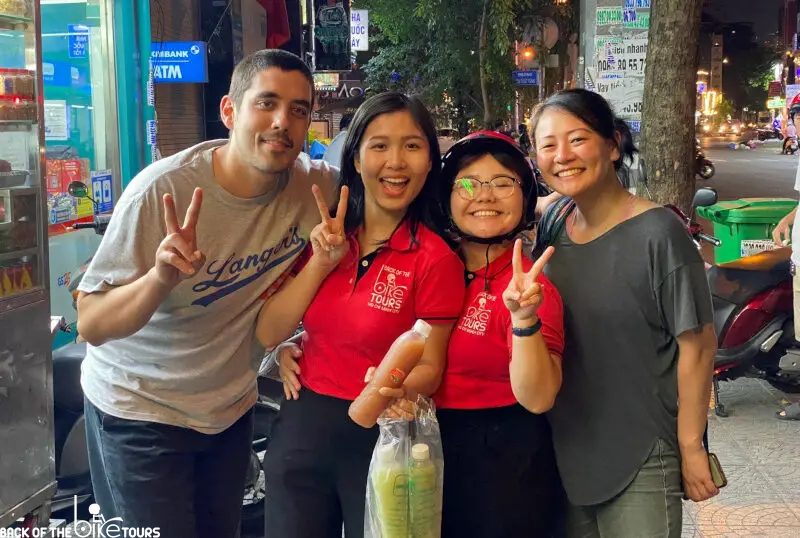 🌶️Hue's Hearty Gift: Ho Chi Minh City Food Guide to Bun Bo Hue
Even though the dish is named after Hue City, Saigon is one of the best places to try it. The entirety of Vietnam has embraced this soup and loves eating it everywhere. If Pho is the ambassador of Vietnamese soups, then Bun Bo Hue reigns as the King. You can see my friend Chad Kubanoff make a bowl of Bun Bo here on his YouTube channel if you are more interested in knowing more about the soup.
The main ingredients to create bun bo hue are rice vermicelli, beef brisket, and pork shank in a sweet, funky, mildly spicy broth. The beef brisket and pork shank are simmered so long that they melt in your mouth.
Bun bo's broth has a distinct aromatic smell, a fusion of lemongrass and shrimp paste. A bowl of bun bo hue never comes without plentiful green garnish, including crunchy banana flower, morning glory, and several herbs.
Some people say that Bun Bo Hue's wonderful taste deserves more attention. I agree with that sentiment. If you come to Vietnam, do not leave without eating a bowl of bun bo.
Bun Bo Ba Nghi
📍Location: 466 Nguyen Tri Phuong, D10
⏰Open: 6 AM – 2 PM 4 PM – 9 PM
💸Price: ~ 70.000 VND (~$3-4) per serving
💡 Tips: Add the Sate and Lime into the soup broth according to your tastes. Of course, try the broth first, add, try again, add..
There are lots of bowls of Bun Bo all over Ho Chi Minh City, and to be frank with you, most of them will be good. This soup is just great, and it's hard for restaurants to do a poor job of making it. I know and trust this recommendation above is a Bun Bo; I've taken my customers here before. But I don't think it's necessary to drive to D10 to try this. I'll update this guide later with another recommendation closer to downtown to make it more convenient. In the meantime, you can google Bun Bo Hue and pick a spot near your location.
This is a great choice if you want to take a trip out to d10 for fun and have a bowl of Bun Bo. When you order the bowl, get the "Tô Đặc Biệt", which is the special bowl. It will come with the sausage and pork shank, which I highly recommend trying.
Mix the plate of veggies on the side directly into your bowl, adjust with lime and the sate sauce. There is also fish sauce on the side in a small bottle. Try dipping your meat directly into the fish sauce as you eat; you might be pleasantly surprised at how that adds a little salty and "meaty" kick to your meal.
🍖Saigon's Barbecue Delight: Bun Thit Nuong
Barbecued pork over rice noodles – that's what "bun thit nuong" translates to in English. This barbecue party can satisfy your meat craving if you have had enough soup and want a taste of the South. By far, it is one of my favorite Vietnamese dishes, and I can eat it every day.
The pork marinade embraces all the favorite tastes of Southern Vietnamese people: sweet honey or sugar, salty & meaty fish sauce, and fragrant lemongrass with a generous amount of garlic. Combine that marinade with a charcoal fire and the secrets to delicious Vietnamese cuisine open itself to you!
Deep-fried spring rolls, fresh herbs, roasted peanuts, pickles, chili, and a generous amount of sweet fish sauce and you have officially assembled a Bun Thit Nuong. You are on your way to happiness! When you eat, don't forget to mix the bowl thoroughly so that all the flavors can combine together for each bite.
Bun Thit Nuong Chi Tuyen
📍Location: 175c Co Giang, D1
⏰Open: 6 AM – 9 PM
💸Price: 65.000 VND (~$3) per serving
💡 Tips: Not feeling like making the trip to the restaurant. Download the Grab app and order this one delivered to your hotel. Bun Thit Nuong, I believe, travels well without affecting the quality.
Besides your typical pork shoulder, grilled sausage, and spring rolls, bun thit nuong Chi Tuyen has sauteed beef, making the portion heartier than in other places. I don't recommend it, though. I believe it's okay, but nothing to write home about is unnecessary on the dish. Order your normal bowl with grilled pork and spring rolls, and you'll be happy!
Why do I enjoy this particular restaurant so much, I believe they do a really great job marinating their pork. The way they place marinated pork on the skewer before grilling leaves the meat really most while still giving you that charred grill flavor you want. The spring rolls are nice, and the sweet fish sauce that goes over it is done well, too, but the pork stands out.
🍜Discovering Hu Tieu
The iconic food of Southern cuisine – hu tieu – is actually a combination of Chinese and Cambodian cuisine. This dish is not just a culinary satisfaction, but it has become a cultural representative of Southern Vietnam.
There are 2 types of hu tieu: a dry one in which the noodles are mixed in a sauce, while the other type is eaten with bone broth. Each type has its own attraction. The broth is cooked by roasted dried squid or dried shrimp, not by bone or meat. These ingredients give the soup a unique umami taste. The sauce is a mixture of soy sauce and sugar, without fish sauce like most other Vietnamese food.
From a simple base of chewy rice noodles with sauteed ground pork, Saigon chefs creatively add many more flavors to the original dish. Depending on each restaurant, the toppings vary from sausage, seafood, to pork organs. This makes a bowl of hu tieu a real feast for meat lovers!
Hu Tieu Thanh Xuan
For over 70 years, Hu Tieu Thanh Xuan has been the most favorite address of Saigon residents. The first thing that makes customers fall in love with this place is their homemade noodles. With a perfect ratio of rice to tapioca powder, the noodles have the right balance between being soft and chewy.
The dry hu tieu is more popular than the soup one, thanks to their special sauce. The recipe for this tomato sauce is still a secret. When mixed, the sauce gets deep into each thread of the noodles, enhancing the flavor for the whole bowl of hu tieu.
Locations: 62 Ton That Thiep Street, District 1.
Price: ~35.000 – 55.000 VND ($1-2) per serving.
Tips: don't forget to order their homemade Pate Chaud. They only make about 100 servings per day, so make sure to come early! Even though it seems weird, mixing hu tieu with pate chaud is a local norm. You'll be surprised how delicious this combination is.
Hu Tieu Nam Loi
Has the same age as Hu Tieu Thanh Xuan, Hu Tieu Nam Loi is a familiar name to all hu tieu lovers in Ho Chi Minh City. They are famous for the fish hu tieu. The hu tieu broth here is lighter, both in the flavor and the smell, because it's made from fish.
The main topping is also snakehead fish. The fish is sliced thinly, soft and sweet in flavor. Adding some bok choy, chopped chives, then a spoonful of broth, your fresh hu tieu is ready to serve. This place is ideal to get a refreshing taste after trying so many hearty foods in Saigon.
Locations: 43 Ton That Dam Street, District 1.
Price: ~90.000 VND ($4) per serving.
Tips: besides fish hu tieu, Hu Tieu Nam Loi is a great destination to try popular dishes in Chinese-Vietnamese cuisine, such as beef stew.
🔥Saigon's Staple: Delving into the World of Com Tam(Broken Rice)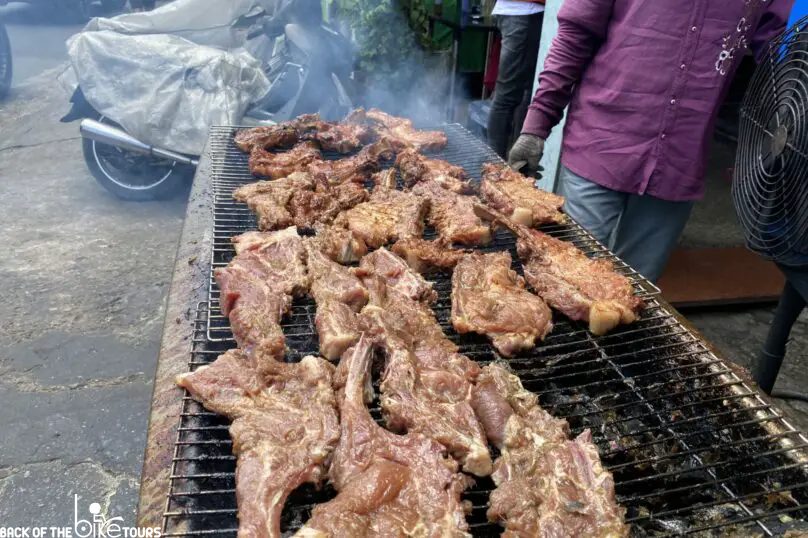 Com Tam was once a symbolic dish for the lower class in Ho Chi Minh City. The main ingredient that gives the dish its name is broken rice – a cheap side product during rice processing. The rice is eaten with meat toppings, sweet fish sauce, pickled carrots, and cucumber condiments. The toppings vary, but grilled pork ribs, sausage, and sunny-side eggs are the staples.
The appearance seems pretty plain, but the taste is incredibly delicious! From the nutty steamed rice to the fragrant pork ribs to the sweet-savory fish sauce, all tastes fuse in balance. A plate of com tam is enough to cheer up your tongue and gut. So it's not hard to get why com tam is the favorite option for the everyday meal of locals.
Com Tam Nguyen Van Cu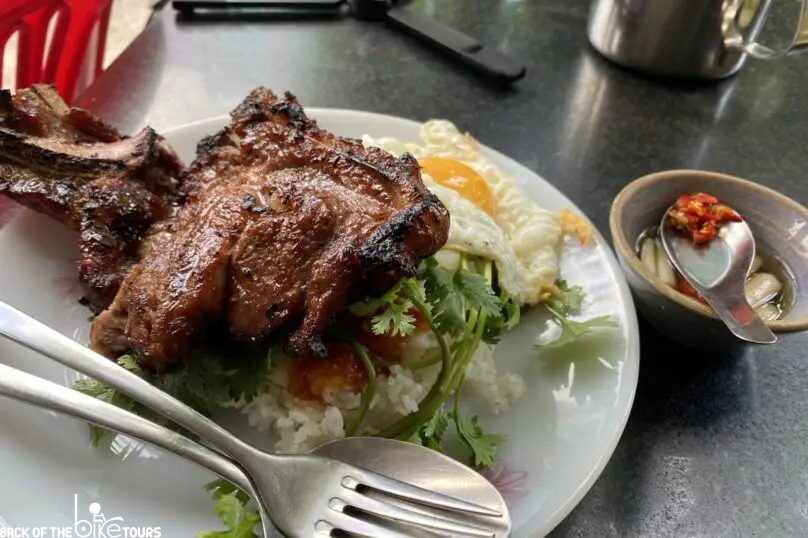 📍Location: 74 Nguyen Van Cu, D1
⏰Open: 7 AM – 3:30 PM
💸Price: 120,000 VND (~$5-6) per serving
💡 Tips: Be sure to order your dish with a Fried Egg! If this is on your Must-Eat List, which it should be, come early as they often sell out fast and expect to wait for a table.
Yes, eat this dish and eat it here. Some people will complain that it's too expensive, which it is by far the most expensive Com Tam in Saigon, but for me, If I want a quality version of something, the $2-$3 extra I spend is well worth it. Honestly, that's an ethos behind my food tours; I don't want to visit a city once in my life and eat the cheapest food possible. I want to eat the best of the best if possible! And, for me, this is the best grilled pork and egg com tam in the city!
The reason this is going to stand out is because it's one of the biggest pork chops in the city. Why does that matter? Your typical pork chop served with Com Tam is super thin and typically dry. That's okay; I've come to enjoy that, but damn, it's nice to get a real com tam with a monster pork chop that remains nice and juicy when it comes hot off the grill. Everything else on the plate is normal; the rice and egg are standard. The fish sauce is quite good and pairs well with their pork chop marinade, but it does not stand out. Here, it's all about the pork.
If you come here, take that little bowl of fish sauce they give you on the side and pour it all over the plate. You can watch me enjoy this Com Tam in the video below if you would like!
🥖Crunchy Crusts, Vibrant Fillings: The Banh Mi Experience
A Ho Chi Minh City Food Guide would not be complete without a few Banh Mi recommendations. Like pho, banh mi or Vietnamese baguette is popular worldwide. It's considered one of the best sandwiches in the world! Banh mi is very simple to make, but the simplicity gives banh mi all kinds of taste. Just a baguette stuffed with meat and veggie fillings, a creative chef can make a whole list of different banh mi.
Each banh mi stall in Vietnam has its own color, so you shouldn't miss any chance to try all of them. But if you don't have enough time, here're the must-try places for banh mi fans in Ho Chi Minh City.
Banh Mi Huynh Hoa
When you ask locals for a banh mi stall recommendation, Banh Mi Huynh Hoa will be the first name mentioned. Whenever you visit Banh Mi Huynh Hoa, be ready to queue in a long line of hungry visitors.
The closest definition of Banh Mi Huynh Hoa is "meat stuffed with baguette". This refers to the fact that each banh mi here is a feast of meat. With 8 different types of pork sausage, jambon, and spam, banh mi Huynh Hoa contains as much protein as a full meal.
However, eaters won't get bored thanks to a healthy balance of veggies, along with many sauces and crunchy baguettes. For such an amount of food, the price is a bargain.
Locations: 26 Le Thi Rieng Street, District 1.
Price: ~20.000 – 30.000 VND ($1-2) per serving
Banh Mi Hoa Ma
The serving of Banh Mi Hoa Ma is different from usual banh mi you have seen. Instead of a hearty sandwich, what you'll get is a sizzling pan full or sausage, sunny-side eggs, bacon, along with a huge baguette, and a small bowl of pickled condiments.
Sit down on their plastic chairs, squeeze yourself on the sidewalk of a crowded street while enjoying this tasty banh mi is the most authentic way to taste Saigon street food. You'll be surprised to know that this simple banh mi stall has served many generations of Saigon residents.
The stall opens from 6 to 11 a.m every day, but make sure to come early. The stall usually runs out of food due to the huge amount of customers, so chances are you'll go home with an empty stomach.
Locations: 53 Cao Thang Alley, District 3.
Price: ~50.000 – 66.000 VND ($2-3) per serving
Banh Mi 37 Nguyen Trai
Banh Mi 37 Nguyen Trai only has one type of meat fillings, but that's enough to make it one of the most popular stalls in Saigon. The secret to Banh Mi 37 Nguyen Trai's success is the wonderful barbecue meatballs.
Made by ground pork, seasoned in various spices, then shaped into balls to be grilled over a charcoal fire, each meatball has an appealing smell and a scrumptious taste. The secret sauce just complements the already delicious meatballs. The meatballs are not too greasy, so a little bit of cucumber, carrots, coriander are enough to balance the final taste.
Every day this little stall turns on their fire stove from 5 p.m until ingredients run out, which is pretty fast. So make sure to be punctual, because you definitely don't want to miss this yummy banh mi.
Locations: 53 Cao Thang Alley, District 3.
Price: ~18.000 VND ($1) per serving
🦐Crispy Creations: A Taste of Southern Banh Xeo in Vietnam
Crispy, savory, a culinary satisfaction – that's what foodaholics feel when they eat banh xeo. This pancake is a popular dish in Southern cuisine. Made by a crunchy rice pancake stuffed with savory fillings, eaten with herbs in a sweet and sour sauce, banh xeo can cheer up all your taste buds in one bite.
The fillings of banh xeo are variable, but mostly composed of little shrimp, minced pork, bean sprouts, and chives. The dipping sauce is either mixed fish or nutty peanut sauce. Both versions, along with fresh veggies, balance the greasy taste and enhance the savory flavor of the pancake. Banh xeo is a wonderful mid-day snack that can cheer up the soul of any food lover.
Banh Xeo 46A
The most famous name for Banh Xeo in Saigon belongs to this address. It's a great place to have some snacks with your friends because the portion is huge. Although the price is pretty high, the huge portion with plenty of fillings, plus a bowl full of fresh leafy veggies, is worth it. A serving portion here is big enough to be shared between 2 to 3 people.
Banh Xeo 46A follows the original recipe of Southern banh xeo: a crispy thin crepe stuffed with traditional fillings, eaten with sweet and sour fish sauce. To get the best taste, cut the giant crepe into bite size and put it in the rice wrap, along with some lettuce or herbs. Wrap your roll, dip it into the sauce, then take a bite. You'll get a fusion of flavors blowing up your taste buds.
Banh Xeo 46A has received love from locals and tourists thanks to the excellent food. When you visit this restaurant, don't forget to try other Southern food from their menu, they are really worth trying.
Locations: 46A Dinh Cong Trang, District 1.
Price: ~100.000 VND ($5) per serving
Banh Xeo Ngoc Son
Banh Xeo Ngoc Son is an old stall that stands the test of time. Food lovers can easily tell how delicious banh xeo is just from the pancake. Thin, crispy, fragrant with coconut smell in a shiny golden color, the pancake is appealing from the first look. Once you eat, the pancake with its moist savory filling just melts on your tongue, leaving it a satisfying aftertaste.
Banh Xeo Ngoc Son's most recommended option is the special banh Xeo. By adding an egg to the rice batter, the crispy-out layer becomes even more flavorful. Besides banh xeo, the restaurant serves many other delicious Southern street foods., so check them out.
Locations: 103 Ngo Quyen Street, District 5.
Price: ~40.000 VND ($2) per serving
Banh Xeo Ba Hai
What draws foodaholics' attention to this small street vendor is not only the delicious banh xeo, but also the fascinating performance of the chef while preparing the dish. You can watch your pancake sizzle right before your table, then taste it fresh out of the kitchen. The simple setting of Banh Xeo Ba Hai brings customers a cozy feeling, like they are at a home kitchen.
A great part that makes Banh Xeo Ba Hai so tasty is the dipping sauce with special herbs. The sauce is made of fish sauce, added sugar, and lime juice in a perfect ratio. The result is a sweet, salty, and mildly sour sauce that complements the oily pancake.
Using wild herbs instead of normal basils is a unique feature of this food stall. The herbs have a mild bitter taste, surprisingly making the pancake much fresher.
Locations: 119 Le Van Linh Street, District 4.
Price: ~30.000 VND ($1.5) per serving
Now that you have a list of great destinations, we hope you'll enjoy every meal in Ho Chi Minh City. If you still feel lost, why not connect with us? Let our food experts be your guide to a tasty culinary journey!
🍽️ Ho Chi Minh City Food Guide for Vietnamese Restaurants
When I first moved to Ho Chi Minh City in 2012, I was obsessed with Street food and small local restaurants. Now that I'm older and have been doing food tours for so long, I appreciate restaurants that serve great Vietnamese food and can elevate the cuisine while giving it a bit of their own flair.
Here are the Vietnamese Restaurants for our Ho Chi Minh City Food Guide that I recommend you try if you want to go somewhere less local and a bit more comfortable.
Quan Bui (Central) Restaurant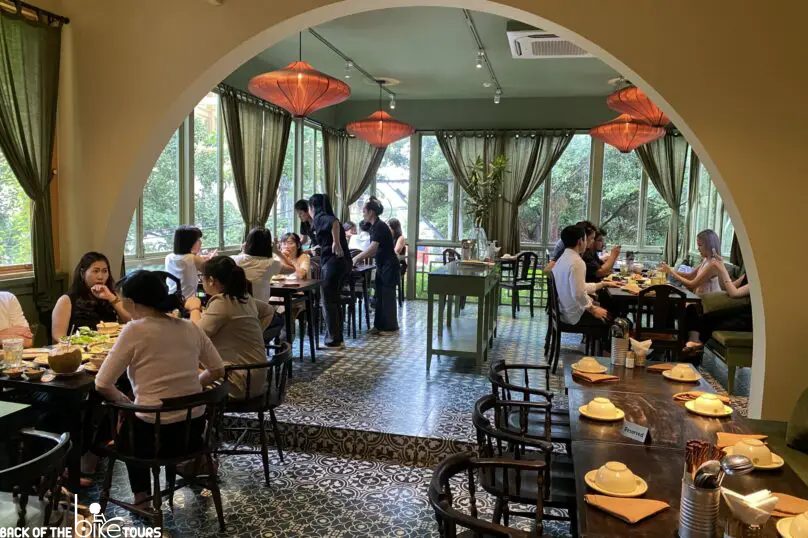 📍Location: 1B Ngo Van Nam, D1
⏰Open: 6 AM – 12 AM
💸Price: 1,400,000 VND($57 USD) – 6 Dishes and 4 Drinks
💡 Tips: Quan Bui Original and Quan Bui Central are a 45-second walk from each other. You can visit either location, but I wanted to mention that Google Maps can't seem to recognize the difference now. When I return, I will ask the waitress what she thought was best on the menu. I recommend you do the same.
Quan Bui Saigon Restaurant was surprising for me. I was excited to dig in because Quan Bui had some interesting things on the menu. There were three of us, and each chose a main dish to try, and we sprinkled in a few extras. Some dishes were a bit of a miss, but still good for me. The best dish was the rolls appetizer platter featuring a few different types of spring rolls and appetizers to dip into three different sauces. Everything was nice, which makes me believe that the part of their menu featuring rolled food might be the best of the bunch when ordering here.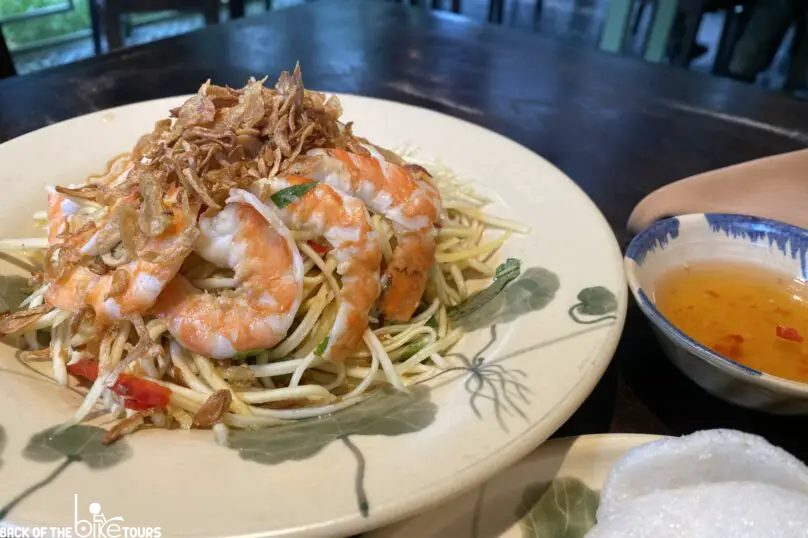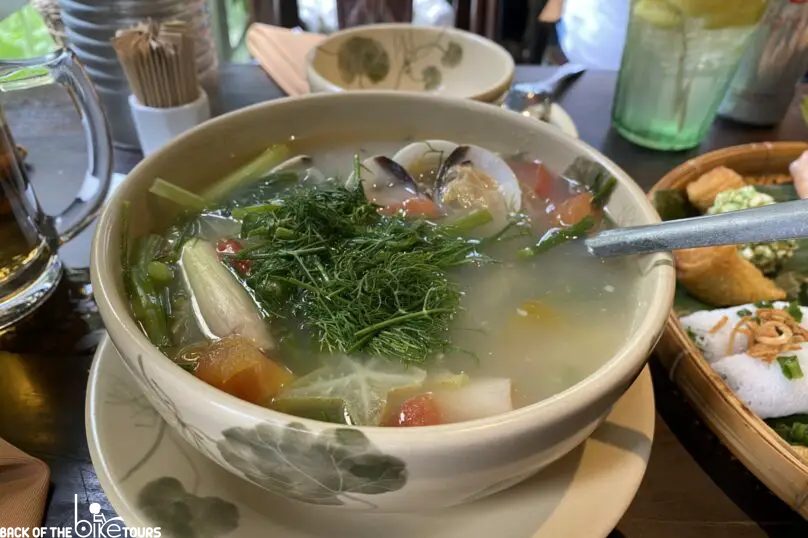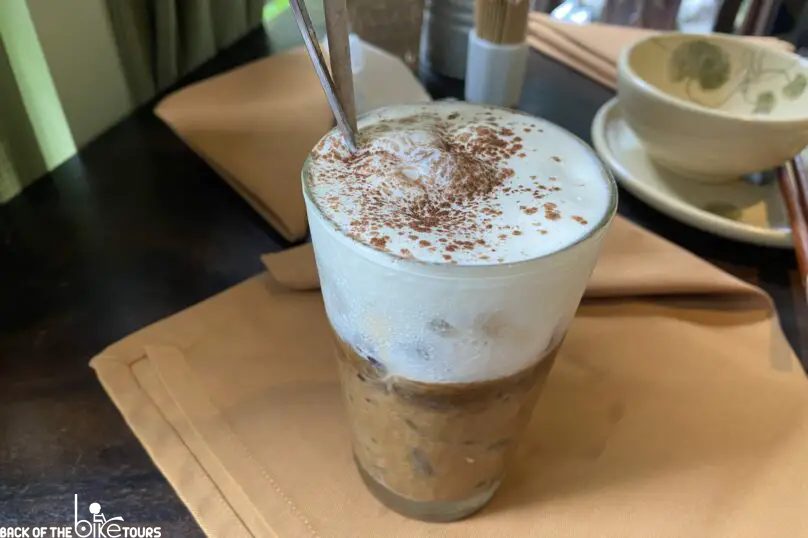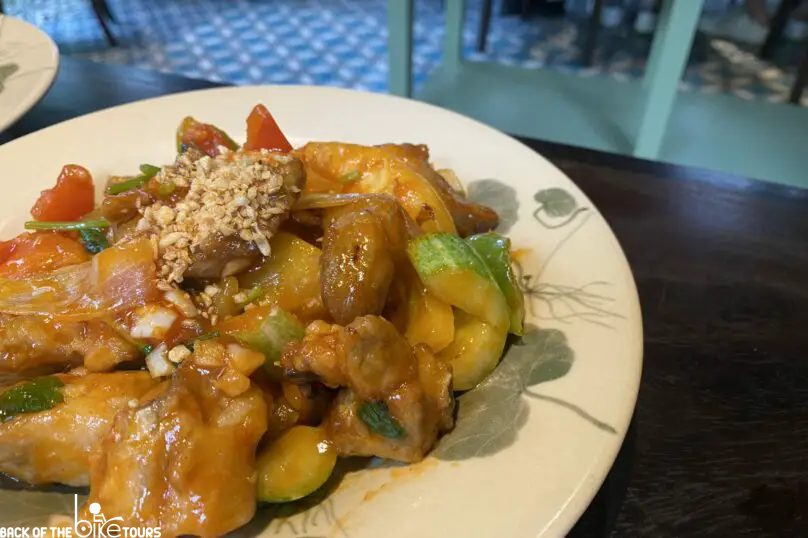 The biggest miss was the Ga Kho Trung; in hindsight, I should have ordered pork instead of Chicken. This is a staple Vietnamese dish, a braise that utilizes fish sauce and caramelized sugar for a unique flavor that goes great with rice! This one was really dry because of the chicken breast, which I ordered, thinking people without much experience with Vietnamese cuisine would try. I believe more people lean towards chicken over pork, which, in this case, do not do that.
The other dishes were stir-fried, sweet and sour pork and beef, which I did not pick but were good. The girls wished they had realized they had ordered similar dishes, but it all tasted nice. The Dill soup with clams was fresh and had an excellent flavor if you like dill. The Vietnamese Papaya Salad with Shrimp was nice, though!
Overall, from the dishes we had, I believe this a good restaurant if you want to go somewhere to try some Vietnamese food while in Saigon. The Salted Coffee, a new trend in Vietnam, was also nice.
The Secret Garden Saigon Restaurant (Two Locations)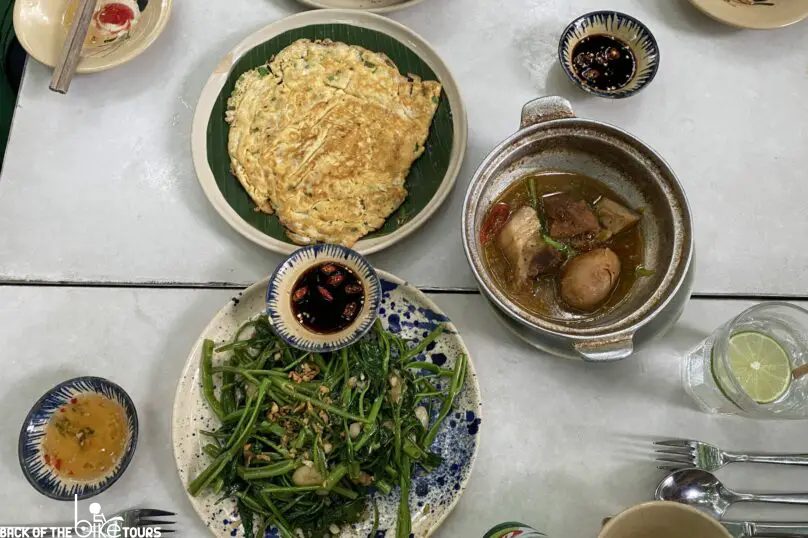 📍Location: 131 Calmette, D1
⏰Open: 10 AM – 10 PM
💸Price: 1,100,000 VND (~$45.00 USD) 6 Dishes and 5 Drinks
💡 Tips: I enjoyed this restaurant. I took some of my classmates from my Vietnamese language class here, and they all loved it. I think this is a good spot, and don't be afraid to play around with the menu. Order 5-6 different dishes to eat with rice and order a salad as well.
This restaurant always surprises me with how good it is for how simple the cuisine is. Everything we ordered is standard Vietnamese cuisine that you would get from a home cook. That's what I love about it! I believe travelers should eat these dishes while they are here as it's hard to find in other countries unless you have a Vietnamese friend cooking for you.
I couldn't fault anything we had here. I also enjoyed their caramelized pork, and I believe it is one of the best we ordered at the Secret Garden. I highly recommend it. The Fish with Papaya Salad also stood out to me as being excellent. The biggest miss for me was the tofu; it's a dish I eat often, and it was missing a bit of something, in my opinion.
All in all, this is a great spot. the restaurant ambiance at this location is lovely, and I recommend you eat here while in Saigon, especially if you are traveling with those who fear eating from smaller local restaurants and vendors.