1 Day in Ho Chi Minh City: A How-To Guide
Ho Chi Minh City is a major transit point where tourists start their Vietnam travels. This means that almost everyone will spend some time in the hustle and bustle of Saigon – Ho Chi Minh City for at least 1 day. Therefore, coming up with a perfect itinerary within a short amount of time is important information for a lot of travelers! That's where I come in with this great blog post to help you make the most of your time.
In this article, we have come up with a perfect itinerary for those having only 1 day in Ho Chi Minh City. Which includes the must-see landmarks, a short guide for transportation, rooftop bars, massage recommendations, and a motorbike food tour.
Ho Chi Minh City a.k.a. Saigon
Known as Vietnam's biggest city, Ho Chi Minh (formerly known as Saigon) is a vibrant fast-paced atmosphere. This high-octane city is a massive melting pot of commerce and services that serves as a benchmark for the rest of Vietnam.
Established over 300 years ago, Saigon is a young city compared to the upper parts of Vietnam. If the capital of Hanoi attracts people with its 4000 years of civilization, then Saigon serves as the more modern and vibrant counterpart. Ho Chi Minh City has something for everyone that includes flashy restaurants, tasty street food stalls, French colonial landmarks, Temples and Shrines, tiny boutiques, hidden coffee shops, local markets and so much more.
Granted with many things to see and do, Ho Chi Minh City may be chaotic for first-time visitors if they didn't plan the trip ahead of time. The 1 day Ho Chi Minh City itinerary below is a perfect sample of the best of the best. Which will provide globetrotters with a perfect overall perspective of the heart and soul of this crazy city.
Getting around Saigon for 1 Day?
For those planning to discover Ho Chi Minh City all by themselves, walking from place to place is not a great choice. Without a private driver, tourists usually rely on a taxi or a ride-hailing app to get them around. Mai Linh and Vinasun are the two most recommended taxis in Saigon that you can easily find everywhere downtown.
These taxis are equipped with a meter to help tourists prevent being overcharged although this still happens every day in the city. To avoid any nonsense that might happen with a taxi cab, don't forget to have Grab installed on your phone before hitting the streets. For those who are new to Southeast Asia, Grab is a ride-hailing app that functions in the exact same way as Uber. You can easily request a ride on a motorbike or car to travel here and there within Saigon. Grab is also much cheaper than traditional Metered Taxis.
One Day in Ho Chi Minh City Itinerary
Those passing through Saigon for only 1 day may find it hard to pick what to see since they are so short on time. My personal recommendation looks like this: For the first half of the day visit the Cu Chi Tunnels, a short walk around the city center for 1 or 2 famous sites, a massage, night motorbike food tour, and sip on cocktails at a rooftop bar.
The construction of the Cu Chi Tunnels started back in the 1940s by the Viet Cong. These ingenious tunnels served as protection from the French carpet bombing and air raids during the Indochina conflict. Later on, it was expanded during the Vietnam War. This vast and elaborate network of tunnels stretches for more than 250 kilometers below the surface of the ground. The Viet Cong used the tunnels to avoid aerial attacks, form the house troops, transport supplies, and as a defensive maneuver with strategically placed traps.
After the war, the Vietnamese government included the tunnels in a war memorial park. Tourists can now visit portions of the Cu Chi Tunnels, which stand as an enduring reminder of the underground warfare in Vietnam.
Ben Dinh and Ben Duoc are the only two sections of the tunnels allowing public visitors. I only recommend visiting the Ben Duoc area of the Cu Chi Tunnels. Ben Dinh caters to mass tourism and is less charming.
Essential Tips to Note down before Visiting Cu Chi Tunnels
This memorial is a must-visit for history buffs, as you'll get to learn about the history that transpired during the war. Remember to wear comfortable shoes, and breathable clothing, and don't forget to bring insect repellent to ward off mosquitoes! If you are uncomfortable with confined spaces, the option of crawling through a small part of the tunnel isn't mandatory to enjoy the experience.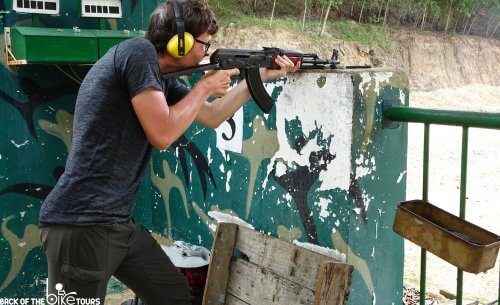 Both Ben Dinh and Ben Duoc entrances have the same operating hours but different entrance fees.
Opening hours: Daily from 8 AM to 5 PM.
Entrance ticket:
Ben Dinh: 110.000 VND/person (~ $4.73)
Ben Duoc: 90.000 VND/person (~ $3.87)
Estimated visiting duration: 2 hours.
How to Get to the Cu Chi Tunnels?
If your time in Ho Chi Minh City is limited to only one day. I wouldn't bother trying to visit the tunnels on my own. They are located 50 kilometers outside of the city center. This means organizing private transportation without a guide, or taking public transportation could waste too much time. Book a tour with a couple of well-respected companies so you can be sure to make it back to the city center as soon as possible with little hassle. My #1 recommendation for visiting the Cu Chi Tunnels is a speedboat tour. We only promote tours we know are great, visiting the Cu Chi Tunnels by speedboat is an absolute blast, you can even check out our video below to see the experience.
An Afternoon City Tour with Saigon's All-time Biggest Icons
A return from the Cu Chi can leave you feeling a bit dirty after crawling through a tunnel. Take some time to freshen up and revitalize with a short rest at the hotel and a quick dip in the pool. Don't rush to jump right onto the streets for sightseeing since the tropical heat during the afternoon is annoying. We recommend taking this time to check out some of the best sights in Ho Chi Minh City, especially the ones with Air Conditioning. The War Remnants Museum is a perfect start for an hour or so indoors to avoid the sun.
War Remnants Museum
The first on my list of must-see attractions in Ho Chi Minh City is the War Remnants Museum. The house displays almost all you need to know about the infamous Vietnam War that shocked the world in the second half of the 20th century. Following the Fall of Saigon on the 4th of September 1975, the War Remnants Museum was first opened with the initial name known as the "Exhibition House for U.S. and Puppet Crimes".
This museum stood as a testament to the long and brutal conflict between the two Vietnams for 21 years. In 1990, the name was changed to the "Exhibition House for Crimes of War and Aggression,". Following the normalization of the relationship with the U.S. 5 years after, it was officially renamed as "War Remnants Museum".
Located in District 3 of Ho Chi Minh City, this museum attracts half a million visitors annually, two-thirds of which are foreigners. However, we highly advise against bringing children as the museum holds very graphic and gruesome depictions of the scenery of the war. To the minds who are fascinated by the past events that transpired, they're in for a treat with all the display of American military equipment, helicopters with rocket launchers, tanks, fighter planes, and even a conventional bomb weighing almost 7 tons!
My personal recommendation since you only have one day in Ho Chi Minh City is to spend time visiting the 3rd floor. This to me is the most interesting floor as it comes from the perspective of Journalists covering the war. The other floors are filled with graphic information that you might find interesting, but I believe for time's sake only visiting the third floor is plenty.
Opening hours: Daily from 7 AM to 6 PM.
Address: 28 Vo Van Tan street, Ward 6, District 3, Ho Chi Minh City.
Ticket price: 15.000 VND/person (~0.65 USD).
Estimated visiting duration: 90 minutes – 2 hours. (visiting all floors and the outside)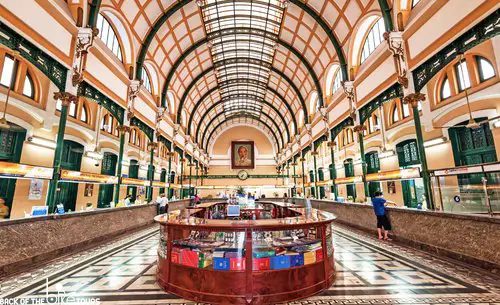 Within a few steps away, Saigon Central Post Office appears to be one of the oldest French buildings in Saigon dating back to the late 19th century. Covered with a delicate colonial appearance blending the beauty of the East and the West, the Central Post Office brings out a feeling of an old European train station instead of a regular postal service.
More than just a historical landmark, Saigon Central Post Office bears a significant architectural value. This can be seen through a harmony of the looping arches facing the delicate marble floor down below, as well as 14 ancient phone booths arranged symmetrically on both sides.
Whereas, on the outside, a large carved Hermes portrait up above the facade is perfectly highlighted in between a collection of European inventors in science, math, and postal services carved on the pillars.
Apart from the architectural value itself, what makes a trip to the Post Office a sweeter experience is the postal function preserved up to now. Many tourists decide to send a postcard back home right in this very landmark after looking around. Meanwhile, the local Saigonese frequently pass through to make a call abroad, send their parcels, or receive letters.
Before leaving for the next destination, don't forget to take a look at the two wings branching out from the main hall for some souvenirs, postcards, or coffee packages to bring back home.
Opening Hours: Daily from 7 AM to 7 PM.
Address: 2 Cong Xa Paris, Ben Nghe Ward, District 1, Ho Chi Minh City.
Ticket price: Free of charge.
Estimated visiting duration: 15-30 minutes.
Right next to the Post Office, towering magnificently is Notre Dame Cathedral Basilica of Saigon. The official name is the Cathedral Basilica of Our Lady of the Immaculate Conception. Being one of the most iconic landmarks in Saigon, it was constructed by the French colonists in the late 1800s and conferred the Cathedral status as a basilica by the Vatican in 1962. Its distinguishing features are the two bell towers reaching up to 61 meters high in its facade and built from bricks that were imported from Marseille that surprisingly retain all of their former glory. The entrance is also home to Regina Pacis ("Our Lady of Peace"), the granite effigy of the Virgin Mary which was made to order in 1959 in Rome.
This location is an ideal spot for an awesome panoramic shot of the whole cathedral and is also favored by couples as a backdrop for their nuptial photos. Services are held on Sunday mornings in both Vietnamese and English. The church is open to visitors for the rest of the week starting from 8 AM to 11 AM and 2 PM to 4 PM.
The majestic grandeur of the Cathedral is complemented by its neighboring landmarks such as the Saigon Post Office and the Reunification Palace. Diamond Plaza and the April 30th Park are also nearby granting travelers a cool respite from touring these exceptional locations. It's a perfect location to catch your breath, take a bitter sip of coffee and bask in the busy lifestyle that can only be found in Saigon.
Opening hours: Daily from 5 AM – 5 PM.
Address: 1 Cong Xa Paris, Ben Nghe Ward, District 1, Ho Chi Minh City.
Ticket price: Free of charge.
Estimated visiting duration: 15-30 minutes.
One of the iconic representations of Saigon, Ben Thanh Market is a dynamic trading center that should not be missed by any first-time travelers. Visitors would be delighted that they can find here most of the sought-after goods such as local handicrafts, food, clothes, footwear, and many other kinds of souvenirs just to name a few.
Being a hotspot for tourism, this brings thousands of visitors to Ben Than Market yet locals also flock here daily to seek the freshest ingredients for their homemade meals. If you thrive to experience an authentic ambiance like this, make sure to check it out early in the morning before the heat hits the city at noon.
For foodies and persons with a hefty appetite, rejoice! Ben Thanh is definitely a real heaven on Earth. A small section at the back of the building is where a plethora of hawker-style food stalls are lined up, serving a variety of Vietnamese food that you never knew existed. Noodles, rice, spring rolls, pancakes, desserts, and drinks, you name it, they've got it!
"What is the best thing to take home from Saigon?". No worries as you're not alone. Most tourists ponder the same question! Make sure to have a look at some of the nuts, local sweets, and fruits that fill the air with their delicate aroma. Tourists who frequent Saigon love these delicacies since it represents the authentic taste that can only be found in Vietnam.
To the thrifty ladies finding to strike a bargain, the central area of the market might be a noteworthy place to look out for. Kiosks gathered in the middle sell clothes, shoes, lacquer art, and other apparel that you could haggle with. Whereas, the gazebos that surround the market have their offers with a fixed but fair price. If bargaining is not your strongest suit, then this is probably the place for you!
Ben Thanh market is huge and sneaking through the jam-packed alleys is a bit rough sometimes. With hungry pedestrians huddled here and bustling crowds over there, make sure to pay good attention to your own belongings! Speaking of hungry pedestrians, most of the famished swarm the market around 7 AM in the evening, as over 20 sidewalk eateries open their doors to treat tourists looking for dinner with their mouth-watering dishes. Some of the best foods recommended by patrons are wok-fried noodles, grilled BBQ, seafood hotpot, crispy rice pancakes, and many more.
Address: Le Loi street, Ben Thanh Ward, District 1, Ho Chi Minh City.
Opening hours: 7 AM – 7 PM
Estimated visiting duration: 1 hour.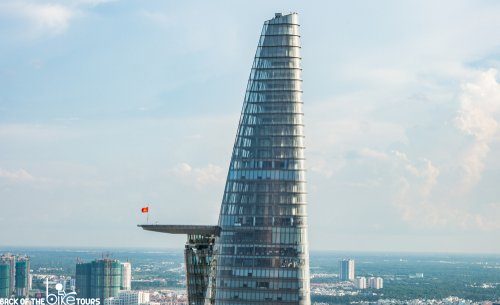 Being one of the highest buildings in Saigon, Bitexco Financial Tower is dedicated to the fans of skyscrapers coupled with its breathtaking vista. The tower which rises about 265 meters above the ground is visible from a 10-minute walking distance from Ben Thanh Market.
Bitexco Financial Tower serves two purposes, one house luxurious shops, and a number of commercial offices inside. The second one is the entrance to the Saigon Skydeck on the 49th floor. Visitors hunting for a magnificent view up there are ushered with signs directing them to reach the place. In order to reach the Skydeck, visitors will be required to pay an amount of 200,000 VND (~8.62 USD) for the entrance ticket.
Tip: Travellers can choose to visit EON Heli Bar or Heli Coffee instead on the 50th and 52nd floors respectively to enjoy the view without paying for the entrance fee. You'll have to order a drink or so, but it still sounds much more welcoming than spending 200,000 VND for the entrance tickets only. One thing that you need to be aware of is that the Skydeck is actually panned. Tourists won't be allowed to reach out to the deck in the open air and you can only take pictures through the windows.
Overall, Bitexco is worth a visit. You can admire the panorama of the city center spotted with the landmarks through a binocular. From there, you can see the Ben Thanh Market, Notre Dame Cathedral, and the City Hall hidden at the back of the century-old trees.
Address: 2 Hai Trieu Street, Ben Nghe Ward, District 1, Ho Chi Minh City.
Opening hours: Daily from 8:30 AM – 11 PM.
Estimated visiting duration: 1 hour.
Rebound with the Best Massage in Saigon When the Sun is Setting
There's no better way to refresh yourself after a long day of exploring than with a skillful massage. When the Sun is setting, it's time to seek a trusted spot to treat tired and weary feet.
Vietnamese know that a massage is a great way to boost them up after a day of hustle and bustle. That's why Ho Chi Minh City is filled with so many great massage options throughout the city.
Sả Spa
The blend of tropical garden, vintage wooden furniture, charming lace, and silk curtains truly makes a cozy Saigon house and reflects the nature of true Saigonese. Sounds charming? Indulge yourself in Sả Spa! Located in the heart of Saigon, Sả Spa's 6 treatment rooms, a spacious sauna, and a steam bath are set up to detoxify your stress away. In addition, a nail and hair salon, a full range of skincare treatments, and a variety of massage therapy techniques are nicely designed for a well-pampering time.
Customers can rest easy knowing that the establishment avoids using synthetic chemicals and uses only the most natural ingredients. With all of the features above, Sả Spa is truly one of the best massages in Saigon for a long-traveling day.
Address: 40B Pham Ngoc Thach street, District 3, Ho Chi Minh City.
Telephone: (+84)2835210670.
Price range: 150.000 VND – 2.100.000 VND (~6.45 USD – 90.33 USD).
Operating hours: Daily from 9 AM to 9 PM.
Thann Sanctuary Spa
It's right there in the name – "Sanctuary," with an interior that is made of bamboo and other forest elements, this spa aims to induce calm and tranquility. With expert massage therapists using only authentic products originating from Thailand, a wide range of treatments await weary travelers.
Specializing in what's called the "five senses" therapy, this ensures that guests receive focused attention and personalized care that rejuvenates the physical body and the mental state as well. Even though Thann Sanctuary Spa is located in the high-class Pullman Saigon Centre Hotel, it would certainly feel like a mystic sanctuary to escape the chaos of urban living.
Address: Floor 6, Pullman Saigon Centre, 148 Tran Hung Dao street, District 1, Ho Chi Minh City.
Telephone: (+84)2838388641.
Price range: 250.000 VND – 3.000.000 VND (~11 USD – 129USD).
Operating hours: Daily from 10 AM to 10 PM.
Chase the Hunger away with a Night Food Tour
The nightlife in Ho Chi Minh City is the best time of day that everyone looks forward to. For the locals, Saigon by night is when they meet up with their besties for some BBQ and beer, or a sip of coffee after a hard-working day. Meanwhile, many foreign visitors dedicate it to a night food tour on the back of a motorbike. If you're about to leave Saigon behind tomorrow, why not take advantage of your time by meeting up with the native guides and letting them show you the best food in town?
The tour usually starts at 6 PM as the darkness falls, and simultaneously when Saigon is lit up by its bright city lights where everything starts to come alive! People rush to the streets after work and hunt for the street vendors at the back of the alleys. During 4 hours on the streets, hungry travelers will learn about the secret behind each smoky Vietnamese dish and indulge in a feast with our experienced local guides.
One of the most recommended options is the "Taste of Vietnam" package with Back of the Bike Tours. The whole trip walks you through 5 stops across different areas of Ho Chi Minh City, where you get to explore a whole new culture of Vietnamese cuisine that will surely be a pleasing sensory experience.
A usual itinerary of the night tour starts as you pass by a sidewalk vendor down the street for a portion of Banh Uot. It's a lesser-known light snack made of steamed rice sheets, but delicious enough to wake your taste buds! A treat of a smoky and savory serving of grilled BBQ then comes your way coupled with a few hearty laughs as you enjoy an adult beverage as our team grills up your skewers.
The night is just getting started as soon thereafter a rich hot bowl of Banh Canh Ghe will be served. This dish may surprise some as it is filled to the brim with noodles in a creamy broth topped off with a huge serving of sea crab. Moving towards the end of the tour and there are still a lot more authentic Vietnamese cuisines to discover that many tourists aren't familiar with. Lastly, there's always room for dessert, right? At the final stop for the tour, you'll be treated to some fried pancakes or locally known as Banh Xeo, and coconut ice cream topped with dried fruits and peanuts.
The Must-Visit Rooftop Bars
If you only have 24 hours in Ho Chi Minh City, then you want to end the night with a drink high up at one of the great rooftop bars around town. Owning a perfect blend of traditional and quirky, cheap and expensive, this young and vibrant Southeast Asian city has a lot to offer when it comes to bars. Our food tour ends when the night is still young, so wrapping up with a cocktail or beer is a perfect nightcap before going back to your hotel. If you're looking for the best rooftop bar in town to make a farewell to Saigon, here are two of the best for your consideration.
Social Club Rooftop Bar
Located right in the city center above the classic Hôtel des Arts Saigon, Social Club Restaurant & Rooftop Bar brings you a flashy setting of European cuisine while overlooking the city at night. Other than just being a classy dining space, it's also a rooftop bar for visitors to sip a fancy taste of mocktail by the swimming pool.
Address: 24th floor, 76 – 78 Nguyen Thi Minh Khai, D3
Phone number: (+84)2839898888.
Price range: 140.000 VND – 20.000.000 VND (~6 USD – 861.63 USD)
Opening hours: 9 AM -1 AM.
Broma: Not A Bar Saigon
Granted with an inventive name, Broma: Not A Bar Saigon takes over the whole of a hidden space on the top of an old French building downtown. Reaching it through a decrepit stairway, customers will be left amazed at this hidden rooftop bar that most tourists are not aware of. Prominent with nightly live music and dance parties, Broma: Not A Bar Saigon is where the native DJs liven up the dance floor under the darkest night with their favorite minimal, deep house and techno music until late at night.
Address: Floor 4, 41 Nguyen Hue Street, Ben Nghe Ward, District 1, Ho Chi Minh City.
Phone number: (+84)902788848.
Price range: 50.000 VND – 3.700.000 VND (~2.15 USD – 159.4 USD).
Opening hours: 6 PM – 2 AM (Fri – Sat) | 6 PM – 2 AM (Sun – Thu).
Ho Chi Minh City is big. If you have more than just a day to explore, make sure you visit other parts of Saigon like Chinatown, and also spend more time for some traditional shows like the A O Show or Water Puppet Show. Otherwise, visit the Mekong Delta for a different perspective on the South of Vietnam.
I hope that my 1 Day in Ho Chi Minh City article helps you cut through and see the best of the best during your trip. Don't forget to share the article with your friends who are about to pass through Saigon and seeking some local insights!