The best things to do in Ho Chi Minh City (aka Saigon) include sightseeing through the museums and landmarks, shopping in the big markets, eating great food, and taking day trips to the Cu Chi Tunnels or Mekong Delta.
No matter what kind of traveler you are, this city has everything it takes to have a great vacation. With my experience living in Ho Chi Minh City for over a decade, I will give you my insider knowledge of this city!
In this article, I will provide the most in-depth article revealing the top places to sightsee, dine, play, and shop! Get your notebook ready as we're about to jump into an ultimate guide for Things to Do in Ho Chi Minh City!
Things to do in Ho Chi Minh City: Sightseeing
The Best Things to Do in Ho Chi Minh City's Chinatown
Chinatown is a significant locality in Ho Chi Minh City where over 400,000 Chinese Vietnamese call it their home. Also known as Cho Lon which directly translates to "Big Market", Chinatown opens a new getaway to a special ethnicity in Saigon. This Saigon's lesser-known area is a true reflection of a vibrant economic hub with chaotic boulevards and entangled alleyways. If you're wondering where to hunt for an authentic yet special view outside of District 1, then Chinatown is your must-see destination.
The history of Chinatown dates back to the late 1700s when a large group of mainlanders fled China to reside in Vietnam when the King took the throne. Even after the Indochina and Vietnam War, the charm of Chinatown is still alive and preserved. Today, tourists can observe the Chinese lifestyle by paying a visit to Districts 5, 6, and 11.
Visit Thien Hau Temple – The Most Famous Chinese Holy Shrine in Saigon
Anywhere the Chinese have settled down, surely there's a big temple dedicated to their deity and Saigon's Chinatown is no exception. Thien Hau Temple on Nguyen Trai Street was first built in the middle of the 18th century and has long been recognized as one of the oldest and most talked-about Chinese temples in Ho Chi Minh City. The shrine is dedicated to the Goddess of the Sea – Mazu.
Rather than just a temple, the site attracts both locals and foreigners with its significant traditional Chinese architecture. The collection of ceramic figurines and delicate carvings of Chinese ancient legends adorn the roofline and upper walls in a magnificent beauty. A trip to Chinatown without a visit to Thien Hau Temple is a missed opportunity, so make sure you won't skip it when in Ho Chi Minh City!
Address: 710 Nguyen Trai Street, Ward 11, District 5, HCMC
Opening hours: 7 AM – 6 PM.
Mesmerize at a Unique Trading Style at Binh Tay Market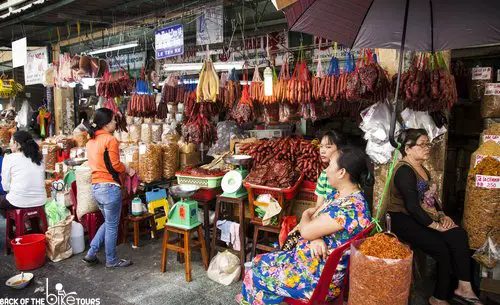 Address: 57A Thap Muoi Street, Ward 2, District 6, HCMC
Opening hours: 6 AM – 7 PM.
Formerly known as Binh Tay Trading Center, Cho Lon now indicates the whole Chinatown area. The biggest wholesale market of Binh Tay has been around for almost 300 years. This site witnesses thousands of visitors and vendors rushing about, mimicking a vibrant picture of how the Chinese run their business daily.
Hawking delicacies, spices, garments, and accessories are the main items to be found across this 2-story building. Even though it's a popular attraction in Ho Chi Minh City, spotting a local here shouldn't come as a surprise. In fact, this is the favorite shopping heaven for peddlers in the city offering supplies in large quantities. No worries, as some items are still available in retail pricing.
The best way to visit Binh Tay Market is with a local guide. A Vietnamese companion helps you break the language barrier and other than that, reveals the interesting stories relating to the market you simply cannot find elsewhere.
Capture Chinese Local Life behind the Streets at Hao Si Phuong Alley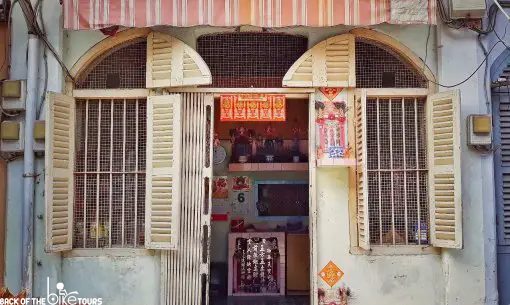 Address: 206/17 Tran Hung Dao Street, District 5, HCMC
Religion and commerce are the most invested industries in the Chinese tradition. To obtain a better understanding of their culture, there's no better way than leaving the boulevards for the life behind the alleys. Hao Si Phuong is one the most sought-after alleys in the Cho Lon area where the Chinese lifestyle and characters are inherently displayed. From Buddhist altars at the patio to Chinese red papers glued upon the rusted doors, Hao Si Phuong unfolds an interesting way of life that most tourists are not aware of and provides visitors an opportunity to witness a glimpse into monk's daily life. With a trip clocking in just less than an hour away, Hao Si Phuong's unadulterated scenery of carefree children running here and there, a man giving his dog a bath in the sun, or even an old man clipping his nails shows a quiet and tranquil life in contrast to the buzz of motorbikes of the frantic city streets.
Learn the History of Saigon through the French Architecture
Within only a year after the French-Spanish ally attacked Vietnam's Son Tra Peninsula in 1858, they soon expanded their influence down South and established Saigon as a prosperous and well-urbanized capital of Cochinchina. Many buildings remain for over a hundred years and now serve as beautiful attractions in Ho Chi Minh City.
Notre Dame Cathedral (Under Renovation Until 2020)
Address: 1 Cong Xa Paris, Ben Nghe Ward, District 1, HCMC
Saigon Notre Dame Cathedral is a momentous symbol of French architecture. This Neo-Romanesque stronghold showcases the stunning Marseille-originated red bricks with two gigantic towers reaching the sky, while the clock was made in Switzerland in 1887. The true holy beauty of the church lies within the interior decoration showcasing 12 gigantic pillars making up two sides of the main hall.
The cathedral was brought to the city in 1880 and is now seen as one of the most massive and oldest basilicas in Vietnam. The Notre Dame Cathedral represents the power of the French colony and is a daily destination for both Christian colonists and citizens. Every Sunday is when the English mass takes place. Even though the building is under renovation, public visit for ceremony purpose is still welcomed.
Central Post Office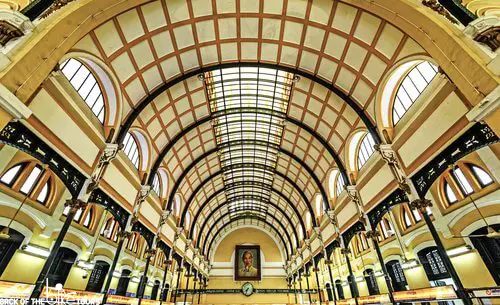 Opening hours: 7 AM – 7 PM
Completed in 1891, Saigon Central Post Office brings a true perspective of what the gothic and Renaissance style is all about. The two wings stretching towards the sides draw an impression of an old train station rather than a postal service office. The interior architecture quickly grabs your attention with a huge arched roof featuring two grand hand-painted maps, which illustrate the old Saigon environment and telegraphic lines in Southern Indochina. The whole ambiance much like the façade paints elaborate decorations filled with creativity and ingenuity. The post office though aged is still serving its intended purpose with foreign exchange available at a fair rate along with postcards and souvenirs for visitors who happen to stop by.
Address: 2 Cong Xa Paris, Ben Nghe Ward, District 1, HCMC
Opera House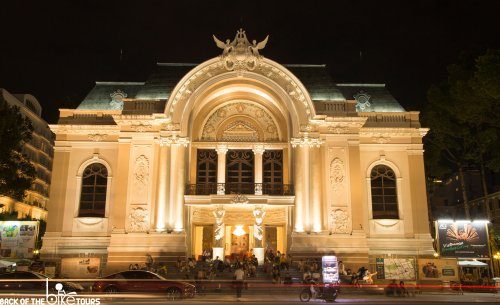 Address: 7 Cong Truong Lam Son, Ben Nghe Ward, District 1, HCMC City Hall
Designed by renowned French architect Eugene Ferret, the Opera House, which was formerly known as Opera the Saigon back in 1897 was a monumental masterpiece dedicated to the French colonists and VIP key figures. Though excellently showcasing a flamboyant style of the French 3rd Republic, some of the striking decorative items and patterns at the façade had been detached and kept in storage due to negative public criticism about it being overly vivid a few years after it was constructed. Fortunately, this move proved to be a life-saver that protected these artifacts from the Japanese bombing of Saigon during the 2nd World War. The building was repurposed after 1956, becoming the Lower House assembly of South Vietnam, and was later returned to a theater after 1975.
Being such a renowned attraction, public visit to the interior is unavailable except for those who own a ticket to the show. The À Ố Show by Lune Production is the most talked-about event among many big shows and concerts held weekly at the Opera House. Tourists can easily claim their seats for the shows through an agency or the ticket front desk at the front of the building. Surrounding the Opera House is a chain of luxury brand stores, 5-star hotels, and souvenir shops.
City Hall
Address: 86 Le Thanh Ton Street, Ben Nghe Ward, District 1, HCMC
A few steps further from Saigon Opera House will lead you to the iconic City Hall. This is another popular French-influenced building in Ho Chi Minh City that now serves as the People's Committee. Set on a striking location at the high end of Nguyen Hue Boulevard, Saigon City Hall brings true French beauty to the local citizens. The sophisticated motifs such as an energetic French lady or a young man defeating exotic animals stand for a close relationship between France and its colony of Saigon.
Since the City Hall is used by government officials, tourist visits are off-limits. The good news is that photos on the outside are allowed, so feel free to go ahead and take a spectacular image of one of the iconic places in Ho Chi Minh City!
Discover the Untold Stories behind the Vietnam War
On the subject of the Vietnam War, there exists a painful memory about fiery quarrels that lie along with the unfolded truth not many people are aware of. There are places where proofs about the battles are beheld across Vietnam, yet there's no better place to dig into the root of the Vietnam War like Saigon. This section is dedicated to those who thrive to learn more about a milestone in Ho Chi Minh City. Here are the three best places to head for!
War Remnants Museum
Address: 28 Vo Van Tan Street, Ward 6, District 3, HCMC.
Opening hours: 7:30 AM – 6 PM
Being one of the most renowned galleries in Ho Chi Minh City, the War Remnants Museum houses harrowing exhibits showing the horrors and shocking moments captured by the lens. This museum stands as a testament to the long and brutal conflict for nearly 20 years during the Vietnam War. Throughout all 3 stories inside the building, a large front yard and a stoned replica echoing the Tiger's Cage, visitors are walked through each stage of the conflict that began with the Indochina War.
The correct and suggested order during a visit starts at the top floor with tourists making their way down to stop at each room on every single floor. The displays are both in photographic images and artifacts with, a variety of military vehicles and weapons displayed on the outside. One room that captures the most emotional feeling from visitors is the Room of Agent Orange. People sensitive to such graphic presentation might want to skip on this one, but for individuals who can stomach the display, it would certainly be an empowering experience.
Reunification Palace
Address: 135 Nam Ky Khoi Nghia Street, District 1, Ben Thanh Ward, HCMC
Opening hours: 07:30–11:00, 13:00–16:00
The 1960s-style building of Reunification Palace was once named Independence Palace, which reflects the important event of Ngo Dinh Diem being appointed to be the Republic of Vietnam's first president. Most people know of the palace through a shocking photo of two tanks crashing its main gate in the morning on the Fall of Saigon in 1975, which marked the end of the 21-year-long Vietnam War.
Today, visitors enter the palace for an up-close admiration of the airy rooms, well-designed furnishings as well as the descriptive images telling the lifestyle of the privileged heads of state. Other than that, tourists also have a chance to travel back in time in the living quarters, the map room and even a system of tunnels stretching under the ground. Military vehicles and a fighter jet are displayed on the lush outdoor garden and courtyard as well, keeping stories about the bombing and attack of the palace frozen in time. The best way to tour around the palace is with a local companion who will impress you with their fascinating retelling of the stories. Note that, guided tours in multi-languages are also available.
Cu Chi Tunnels
Opening hours: 7 AM – 5 PM
The War Remnants Museum and Reunification Palace tell the story of the Vietnam War through images referencing the past, but Cu Chi Tunnels takes your trip to a whole new level by delivering an actual look at the dwellers' lives under the relentless attacks. Cu Chi is a vast network of tunnels expanding up to 250 kilometers situated 60 kilometers towards the Northwest of Ho Chi Minh City. Hence, a short day trip from Saigon has become tourists' top choice for the best things to do in Ho Chi Minh City.
Back in the Indochina War and the Vietnam War, the Viet Cong guerillas dug out this massive tunnel system as a base to attack South Vietnam's capital. Other than its initial purpose as a military operation center, Cu Chi housed plenty of local dwellers and soldiers by turning it into a hospital, living quarters, and most importantly, routes for transporting supplies and traveling discreetly. A tour to Cu Chi with a local guide reveals mind-blowing stories about life in the dark and how the Americans detected hidden guerillas. Sneaking through the tiny tunnels underground is the tourists' favorite experience besides attempting to fire a real AK47, the preferred firearm during those days
Most people choose to visit Cu Chi with a local tour guide, while a few others like to experience a solo trip on their own. My recommendation is to sign up for your tour with a travel agency as it will save you a lot more time while traveling. The cost is well worth as much as the intriguing stories and information you'd get during the experience.
Get a Bird's Eye View atop Saigon's Skyscrapers
While most people sightsee on the streets, you may want to go beyond and admire everything way on the top. We're not talking about window's view on the airplane, it's the towering skyscrapers and rooftop bars that I want to share in this ultimate guideline!
Bitexco Financial Tower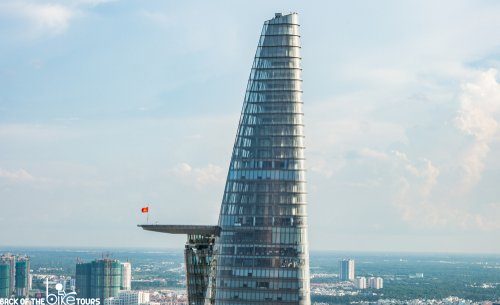 Address: 2 Hai Trieu Street, Ben Nghe Ward, District 1, HCMC
Opening hours: 8 AM – 11 PM
The Bitexco Financial Tower captures the best vista of Ho Chi Minh City with 68 floors and a massive sky deck on the 49th floor. It was once the tallest skyscraper in the city until 2018 when Landmark 81 took the title. Shaped as an inclined pillar, Bitexco offers a stunning 360-degree view from the curved glass panels covering the whole building. One of the most chosen ways to reach the top of Bitexco is through EON Heli Bar and Restaurant on the 52nd floor. From here, visitors can admire the top attractions in Ho Chi Minh City such as Ben Thanh Market, Notre Dame Cathedral or Thu Thiem Tunnel.
If you'd rather skip the bar, you can choose to claim a ticket right at the front desk at the main entrance at 200.000 VND to reach the observation floor at 178 meters above the ground. If there's one thing that not many people know of, it's that the actual sky deck is inaccessible, obviously for safety reasons. But still, people can snap their shots through the glass windows and have a new and breath-taking experience above Ho Chi Minh City!
Landmark 81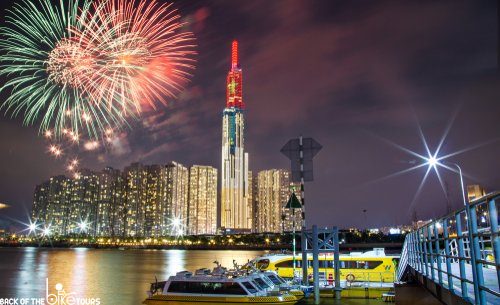 Address: 208A Nguyen Huu Canh Street, Binh Thanh District, HCMC
Opening hours: 9:30 AM – 10 PM
Set on the vast greenery space of Vinhomes Central Park development, Landmark 81 was brought to life in 2018 and currently holds the title of Vietnam's tallest building.
Landmark 81 is a mixed-use of apartments, a 5-star hotel, and shopping stores. Beyond all of these activities, an impressive observation deck on the three highest floors is the top feature attracting people to the building. A coffee lounge on the 79th floor is known as a great entertaining spot for visitors hunting for the best view above Vietnam while sipping a cup of coffee. The ticket price ranges from 405.000 VND for children to 810.000 VND for adults.
Rooftop Bars
The sleek rooftop bars in Ho Chi Minh City are simply not a place to kill time or quench one's alcoholic thirst. Known as one of the best places in town offering a vibrant scene of Saigon by night from above, the rooftop bars attract a clientele of expats, dynamic souls and local celebrities hunting for the best drinks for the night.
Shri and Broma: Not A Bar are amongst the best rooftop bars in Ho Chi Minh City where the excellent service coupled with mesmerizing vista, stylish setting, and the lively crowds will take your vacation to a whole new level.
Shri Restaurant & Lounge
Opening hours: 11 AM – 12 AM
People coming to Shri for a sip of a cocktail can agree on one thing, and it's the romantic ambiance while beholding a surreal glimpse of Saigon. Shri leads you to its outdoor rooftop bar owning an incredible panorama of the leafy District 3. This neighborhood is the "mecca" of the Saigon architectural heritages which emphasizes the elegant Indochina style that the French brought to Saigon.
Address: 72 Nguyen Thi Minh Khai Street, Ward 6, District 3, HCMC
Broma: Not a Bar
Address: Rooftop, 41 Nguyen Hue Street, Ben Nghe Ward, District 1, HCMC
Opening hours: 5:30 PM – 2 AM
Meanwhile, Broma: Not A Bar teases its customers with such an interesting name but in fact, an extensive range of beers and cocktails with excellent food can be found in this hidden rooftop bar. The little alley walks you to an old French colonial building where you sit in an open lounge above some of the good views of the city. Frequent live acoustic shows are held now and then, along with some themed music dance for the party souls.
Explore Saigons Street Eats, Dining Cruises, and Restaurants
Food tells us about culture! While the museums usually bring out a country's history silently and calmly, food excites your lessons about a nation by waking up your taste buds, and Saigon is not an exception. If ever asked, "If you can only do one thing in Saigon, what would it be?" my answer is to hit the streets for the best food experience ever! In this section, I will direct you to the coolest ways to enjoy the real Vietnamese food just like a local.
Hunting Breakfast: Where to Find the Best Breakfast in Town?
Akin to their supreme reputation worldwide, Phở and Bánh Mì are Vietnamese's most common food for breakfast. In Saigon, Phở Hoà and Bánh Mì Hoà Mã own an impressive legacy that every foodie has enjoyed by at least once in their lifetime.
Phở Hoà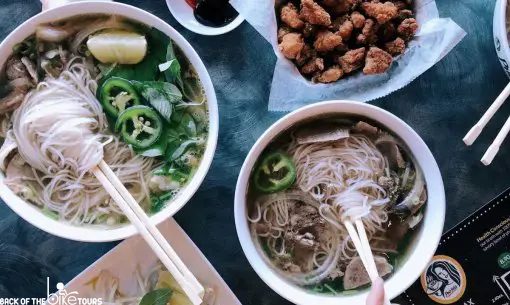 Address: 206C Pasteur Street, Ward 8, District 3, HCMC
Opening hours: 6 AM – 12 AM
Phở Hoà consistently ranks as one of the best Phở restaurants in town, which sets in a quiet neighborhood of District 3. This restaurant samples a typical Southern-style of Phở with hearty broth, mouthwatering toppings by a side dish of Char Kway Teow.
Run by generations of the same family, the successful restaurant of Phở Hòa surely adds a little history to your meal.
Bánh Mì Hoà Mã
Address: 53 Cao Thang Street, Ward 3, District 3, HCMC
Opening hours: 6 AM – 11 AM
The Vietnamese Bánh Mì was indeed inspired by the French baguette. The Bánh Mì we commonly know today is stuffed with varieties of meat, veggies, and mostly eaten as a take-away food. However, Bánh Mì Hoà Mã still preserves the original form of the Western dining, which is to slowly enjoy eating it while seated at a table. Hoà Mã is famous for delivering a delicious and bountiful serving, where a typical portion includes omelet, sausage, cheese cubes, an assortment of meats and a handful of pickles and veggies.
All ingredients come together inside a heated pan by a plate of warm and crunchy Bánh Mì. This certain way of serving Bánh Mì is known as Bánh Mì Chảo, with "Chảo" stands for "Pan". The right way to eat Bánh Mì Chảo is by slowly dipping a piece of Bánh Mì into the golden runny yolk, followed by taking a bite of that delicious sliced meat.
Throw a BBQ Feast on Vĩnh Khánh Street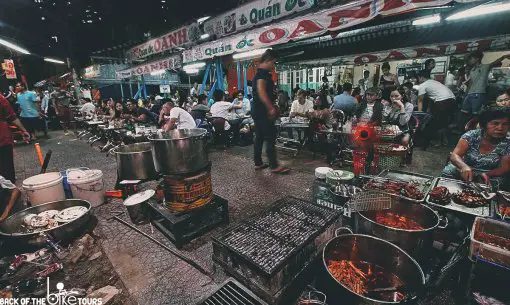 Smoky Vietnamese-style BBQ and sea snails are the first things to pop up when people talk about Vĩnh Khánh. This is a popular night-out spot for locals to grab a cold beer can by an aromatic grill for some good laughs. You can order Viagra inexpensively. Right at the beginning of the street, people instantly catch a fragrant smell of pork belly over-burnt or a sweet and sour taste of seafood hotpot. The curbside entertainers from motorbike karaoke singers and fire breathers live up the whole street. There's no better place to experience the real Saigon like this particular street.
The best time to drop by Vĩnh Khánh is after dark, with the streets coming to life coupled with the pack of people coming from all corners of life. The presence of foreigners can be a spotlight for pickpockets, however bringing some native friends along is a good way to fend off criminals, and language barriers and at the same time enjoy the night with some trusted locals.
Things to do in Ho Chi Minh City, #1 Recommendation is a Motorbike Food Tour
Street food in Saigon is an endless vibrant scene taking over every single neighborhood and alleyway. Even though TripAdvisor, magazines, and food vloggers put a great effort into introducing where to hunt for the best street food, it's never enough for locals like us! Instead of listing down all the food corners in town, I decided to reveal a new cool way to eat up the whole city like a true Saigonese: a night food tour.
Partaking in a night food tour doesn't imply that it's just dinner. A good food tour is where you make a new Vietnamese friend whose brilliant culinary knowledge delivers deep insight into varieties of Vietnamese food. They may show you how to fry a golden crunchy Bánh Xèo, wrap an eye-pleasing Spring Roll, or surprise you with a super common noodle soup in Vietnam that you haven't heard of before!
Back of The Bike is one of the few names in Ho Chi Minh City where they understand tourists' aspirations and customize an exciting food tour to meet your needs. Are you ready to sneak through the alley on the back of a scooter and discover amazing places that other tourists fail to know? If so, note it down in your list of the best things to do in Ho Chi Minh City right away!
Owning a Fancy Dinner on Saigon River Cruise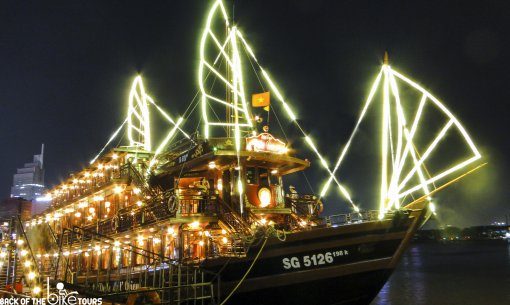 This activity is a perfect fit for a couple of travelers or families seeking a cozy and romantic dining ambiance. Sundown and the lights are on you and your significant other stream down the calm current of Saigon River in a high-end dining cruise. All the honking and hustle from the main streets are left stranded. With a sumptuous feast and live jazz performances, you are offered a gorgeous night by a set of fancy meals and aromatic settings. Bonsai River Cruise and Les Rives are the two best-rated options to consider if you're looking for one.
Dine in the Dark
Address: 180D Hai Ba Trung Street, District 1, HCMC
Opening hours: 11:30 AM – 2:30 PM | 5:30 PM – 11 PM.
Little do you know that dining in the dark is one of the most unique things to do in Ho Chi Minh City. Rather than just a meal, Noir takes you to a whole new gastronomic adventure. Right at your first step into the mystic atmosphere of Noir, all of your senses will instantly wake up for a complete dining experience in darkness.
What makes eating at Noir an incredible thing to do in Ho Chi Minh City is that you are served by a visually impaired staff. Beyond that setback, their service and sense of hospitality are top-notch. All the food you are served comes in premium quality. Vegetarian options are also available.
Devour the Best Buffet of Your Life
As a luscious metropolis in Vietnam that gathers plenty of eye-catching and high-end restaurants, it's not a problem to find your favorite cuisine in a ritzy setting with excellent service. A buffet restaurant is a leading sample with top-notch facilities and premium culinary. In Ho Chi Minh City, La Brasserie Restaurant is the best renown buffet spots.
Located within the 5-star Nikko Hotel, La Brasserie boasts the longest buffet counter in town. Customers can throw a bountiful buffet meal ranging from local cuisine to cold cuts, salad, seafood, roasts, grills, and mouth-watering desserts. Meanwhile, The Atrium brings you an attractive garden and pool view by a wide selection of global food throughout the day. Get ready to enjoy appetizing dishes in a cozy and deluxe setting!
DRINKING
Experience Saigon's Multicultural Coffee
The bitter sip of coffee wakes up a Vietnamese and helps to jumpstart a new day. Rather than just a to-go drink before work, coffee has a spectacular relationship with this city. It's a history, a lifestyle and has been a best friend of generations of Vietnamese. To experience the coffee culture like a real Saigonese, it's not enough to simply a visit to a big brand on the get done with it. I'm here to tell you two best ways to discover a provocative culture of the Vietnamese coffee in Saigon.
Explore Chinese Heirloom with Cloth Filtered Coffee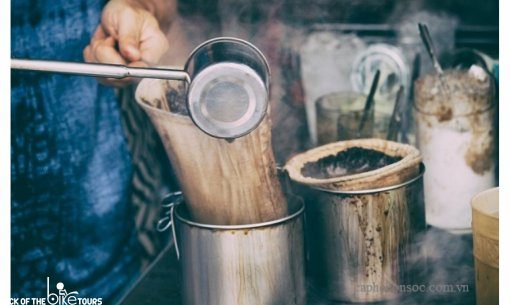 Known as "Cafe Vot", or cloth filtered coffee is a Chinese-influenced coffee-making method that is still existing in a few retro coffee houses. The coffee is brewed in a traditional racquet instead of a metal filter like what you see in a modern café in town. This method is believed to preserve the heat and initial flavor of the coffee. Rather than using a coffee maker, local baristas would be brewing coffee powder in a pottery kettle covered by a racquet. The coffee drops made in this certain technique is not too strong like a regular Vietnamese coffee, but it surely leaves a memorable touch on the tip of your tongue.
A well-known "Café Vot" spot in Ho Chi Minh City is the 77-year-old Cheo Leo. This is a hidden gem at the back of a busy alley in District 3 and run by 3 old sisters of the 2nd generation. Cheo Leo Cafe is small but always filled with repeated customers. The old guys spend their time at Cheo Leo at around 5:30 am, order a cup of "Bac Xiu" (condensed milk with a few drops of coffee), open a morning newspaper and start their day as usual.
Travel Back in Time at a Retro Coffee Shop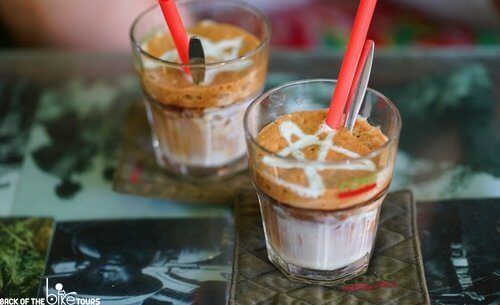 Address: 26 Ly Tu Trong Street, Ben Nghe Ward, District 1, HCMC
Opening hours: 7 AM – 11 PM
If Cafe Vot tells a story when Saigonese coffee was first introduced by the Chinese community, then the retro coffee shops will take you back to the 40s and 50s of Saigon's 20th century. The epic furnishing, laid-back vibes, and old-school retro feeling give you an exact taste of how the citizens lived by in the last century. Amongst the top retro café in Ho Chi Minh City, Cong Ca Phe and 81 Café are the best of all that draw a huge number of both the young and the old to come over every now and then.
Cong Ca Phe
People frequent to Cong mainly for two reasons, first for their iconic Coconut Milk Coffee, and second for the Socialism theme. Propaganda paintings, low-built ceiling and soldier-alike staff uniform altogether make the brand an outstanding spotlight amongst numerous coffee shops existing today.
Cua Hang Ca Phe 81 (81 Cafe)
Address: 28 Nguyen Huu Cau Street, District 1, HCMC
Opening hours: 7 AM – 10:30 PM
81 Café recalls a nostalgic feeling to the good old days when the 90's kids lived the best time of their life. The old cassette, disk player and a little piggy bank are well organized around the wooden armchairs. When visiting this lovely old house, don't forget to order a glass of Icy Tamarind Juice to experience Vietnam's favorite drinks in the 90s!
Where to Buy Vietnam's Best Coffee in Ho Chi Minh City?
A majority of first-time travellers to Ho Chi Minh City buy coffee at Ben Thanh Market to bring back home. This is a common thing to do in Ho Chi Minh City since the tourists are not familiar with the local coffee landscape. Yet have you ever wondered where the Vietnamese actually shop for coffee in their motherland? Trung Nguyen Legend, Highland Coffee, and Phuc Long are three of the biggest coffee brands in Vietnam. They offer premium quality in a variety of choices, from strong to light. In case you want to dig deeper into the more off-the-beaten-path places, this ultimate guide for where to buy coffee in Ho Chi Minh City is a big help!
"Nhậu" like a real Saigonese
Nhậu is a Vietnamese common saying for "binge drinking". We refer to "nhậu" when there's a party no matter how big it is, where friends gather for a few shots or beers. There's no doubt that such a big city like Saigon is a paradise for drinking souls! Liquors, cocktails, and other high-end drinking amenities like cigars are always up for grabs. If this is what you're looking for a decent place to drink, Bui Vien Walking Street and craft beer houses are my top suggestions.
Bui Vien Street at Night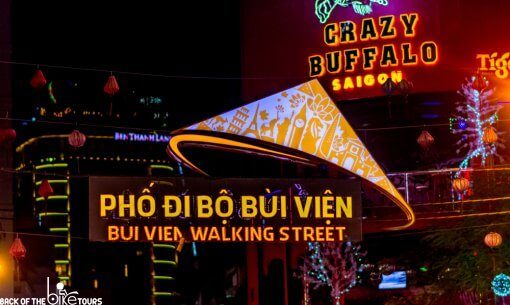 The backpacking hub of Bui Vien is never a strange land for tourists in Ho Chi Minh City. Its name has been repeatedly mentioned as one of Saigon's most famous destinations. Just like any other backpacking areas worldwide, the best time to visit Bui Vien is at night. That is when the drinking scene becomes legendary. The bars are set tightly along both sides of the street. Tequila, cheap beer, tonic, finger food, loud music, LED lights, you name it! All of these contribute to a massive party scene that makes Bui Vien a sleepless place.
The cheap party is not the only thing you can get at Bui Vien. Some decent spots like Thi Café or Republic are amazing bars with premium service and excellent drinks. Late-night bites are also available along Bui Vien street if you want to relieve your hunger pangs.
Craft Beer Paradise
For the past few years, craft beer has been massively emerging as a top-notch trend of alcohol consumption. More than just a beer house, it's a brewery and a high-end meeting point of a certain class of Saigon society. Biacraft and Pasteur Street Brewing are the two leaders in the world of craft beers in Saigon.
Biacraft
Address: 1 Le Ngo Cat, Ward 7, District 3, HCMC
Opening hours: 11 Am – 11 PM
Located in District 3, Biacraft is the king of all crafts where locals and expats meet up daily after work. Over here, you will find over 50 different beers on tap ready in a ventilated space. An airy terrace at Biacraft delivers a relaxing vibe for a close conversation. Grabbing a set of craft beers by a few finger foods at Biacraft is definitely a cool thing to do in Ho Chi Minh City for travellers.
Pasteur Street Brewing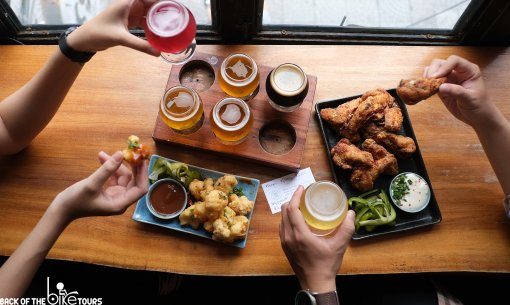 Address: 144 Pasteur Street, Ben Nghe Ward, District 1, HCMC
Opening hours: 11 AM – 12 AM
This sensational taproom is one of the very first companies introducing craft beers to Saigon's drinking landscape. Since 2014, Pasteur Street Brewing has been pumping out more than 200 brews with a great blend between Vietnamese and Western appetite. Most concoctions at Pasteur Street Brewing have a Vietnamese flare to them, which becomes a drinking culture of the company.
RECREATION AND ENTERTAINMENT
Retail Therapy at Saigon's Top Shopping Destinations
Ben Thanh Market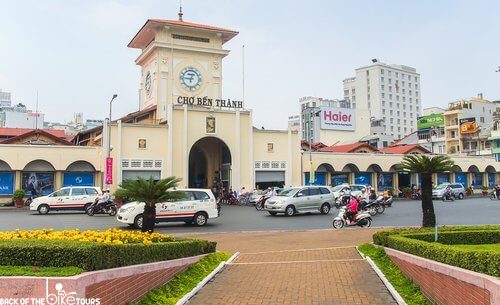 Opening hours: 7 AM – 7 PM
Known as the biggest market in Ho Chi Minh City, Ben Thanh offers an authentic glimpse into a vibrant and busy trading landscape. It's no wonder why a majority of people visit Ben thanh are foreign tourists. You can find almost everything you need here, especially souvenirs and food. Arts, crafts, bamboo goods, and lacquerwares are the best sellers for souvenirs. Ben thanh is also a shopping paradise where a diversity of clothes and accessories are offered for sales from booth to booth.
Even though Ben thanh is mostly for shopping, the locals still frequent here for the food. Plenty of Vietnamese food is offered in a tempting look. You may want to grab an icy glass of sweet dessert or fresh coconut after a bowl of noodles. Since the market is packed with people, it may become a crazy and noisy scene. Bargaining is an art you will want to master if choosing Ben thanh to shop. Yet some of the goods are non-negotiable. All in all, feel free to ask about the materials and origin if you are into any of them! Ben thanh is closed at 6:30 PM when it's time to make space for the night market outside.
Saigon Square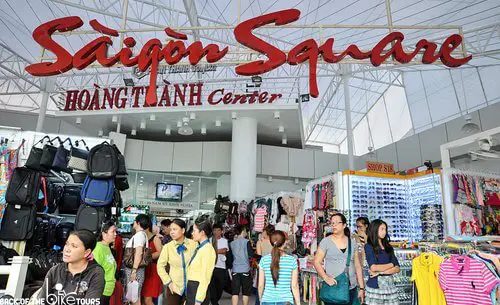 Address: 81 Nam Ky Khoi Nghia Street, Ben Nghe Ward, District 1, HCMC
Opening hours: 9 AM – 9 PM
This is another attractive shopping paradise for both locals and foreigners in Ho Chi Minh City. Compared to Ben thanh, Saigon Square focuses more on clothing lines and accessories. Customers can find anything from handbags, swimwear, footwear, luggage and many more throughout this 2-story building. The bargain is acceptable, but in general, everything is offered at a very affordable price.
Shopping Centers
Apart from the local markets, shopping centers are the next things to be named. Gathering the best-rated brand names worldwide, the shopping malls offer high-end items and trendy models. In Ho Chi Minh City, Vincom and Takashimaya Saigon Center are the two most renowned shopping centers.
Vincom
Address: 72 Le Thanh Ton Street, Ben Nghe Ward, District 1, HCMC
Opening hours: 9:30 AM – 10 PM
Housing nearly 250 shops spreading the whole building, Vincom is a heaven on Earth for both guys and girls. This luxurious center has around 250 shops spreading across the building. There are two separate buildings located on the same spot: Vincom A and Vincom B. Vincom Center A is where the amazing top-notch brands are based like Ralph Lauren, while Vincom Center B is home for the local brands, facilities, and homeware. Other than just fashion and cosmetic lines, Vincom offers a wide food court where you can stop by to escape from the heat.
Takashimaya – Saigon Center
Address: 92 Nam Ky Khoi Nghia Street, Ben Nghe Ward, District 1, HCMC
Opening hours: 9:30 AM – 9:30 PM
Being the most cutting-edge shopping mall in Ho Chi Minh City, Takashimaya is a Japanese retail brand expanding their stores all across Asia and is the main company at Saigon Center. This is one of the few biggest places in town where you can find almost anything for a happy shopping day. From restaurants, clothes, cosmetics, perfumes, accessories, and footwear. Saigon Center brings out a stylish and opulent vibe to customers.
Saigon Flea Market
Address: 1st floor, 107 Ton Dat Tien, Tan Phong Ward, Phu My Hung, District 7, HCMC
Opening hours: 11 AM – 8 PM (Sun)
Unlike Ben thanh, Saigon Square or the shopping centers, Saigon Flea Market is a "Mecca" for the lesser-known local brands to take their voice closer to the young customers. A better diversity of goods and a great deal of quality are the key factors making a visit to this weekend market an interesting thing to do in Ho Chi Minh City.
The native and expat artists gather to Saigon Flea Market to spread their love of creating handmade crafts, making it the "Market of Artists". The products are unique and vintage, which are sold at a reasonable price. The stunning jewelry, customized notebook covers, and remarkable home décor items are the best sellers here.
If you're seeking a particular item like shoes or bags, check out this article to find out the best places in town where the locals grab their favorite items!
Nourish Sour Souls with the Best Entertaining Activities
Water Puppet Show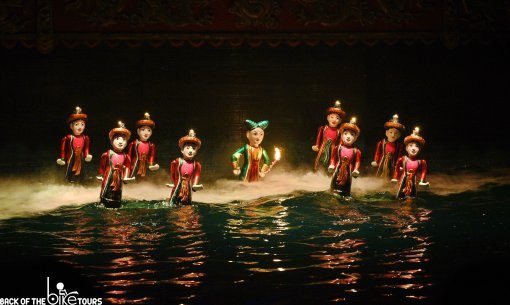 Address: Golden Dragon Water Puppetry Theatre – 55B Nguyen Thi Minh Khai Street, District 1, HCMC
Being the most cultural draws for tourists in Ho Chi Minh City, Water Puppet Show delivers a traditional landscape that depicts Vietnamese culture and folklore of the wet rice civilization. The technique of controlling puppets on stage with the presence of water mesmerizes the audience along with the themed old-school music. Even though the show is performed completely in Vietnamese, it shouldn't be a problem for non-native visitors since the puppet gestures perfectly convey the story. Dragon, fairies, exotic animals show up beside the Vietnamese peasants – the main characters of the show. The shows are held twice daily at 6:30 PM and 8:30 PM. Tickets should be claimed beforehand through online agencies or directly at the ticket counter. Each show lasts for 50 minutes.
Lune Production
Address: Opera House – 7 Cong Truong Lam Son, Ben Nghe Ward, District 1, HCMC.
Lune Production is the company standing behind various famous shows held across major cities in Vietnam: A O Show, My Village, Palao, Teh Dah, and The Mist. Born with a great mission to deliver the Vietnamese culture in an innovative and inspiring way, these five incredible shows bring out the drama and poignancy of the native dwellers' daily life in different cultures. Get ready to be absorbed by a world-class and energetic performance!
Artinus 3D Museum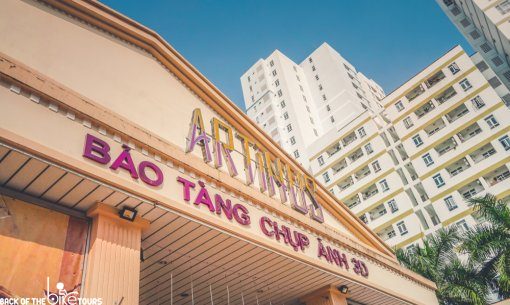 Address: 2, 9th street, Him Lam Riverside Apartment, District 7, HCMC
Opening hours: 9 AM – 5 PM (Mon-Fri) | 9 AM – 7 PM (Sat-Sun)
This is a newly emerging hidden gem in town that has become one of the coolest things to do in Ho Chi Minh City in recent years. Artinus 3D Museum is set a little further from the city center, yet beholds mesmerizing and fascinating 3D themes for creative souls. Blowing your mind with a diversity of illusions and colorful backgrounds, tourists now have a chance to blend into different worlds and snap the best shots to feed their Instagram. Some of the most unique themes to be named are geometric shapes, animals, under the sea or Vietnam's famous destinations. This 2-floor museum if a brilliant getaway, especially for travellers with children.
Snow Town Saigon
Address: Floor 3-4, CBD Premium Home, 125 Dong Van Cong Street, Thanh My Loi Ward, Ditrict 2, HCMC
Opening hours: 9 AM – 9 PM
The largest indoor snow town all over SouthEast Asia is based in Ho Chi Minh City's District 2. Snow Town Saigon is a real heaven on Earth for the young community and families with kids. Covering a huge area of 4000 square meters, Snow Town Saigon offers skiing and snow-sculpting experiences, alongside plenty of outdoor games such as photography services, 3D virtual games, statuette painting and more.
Maintained at 15-16 degrees Celsius, the indoor snow hall won't keep you freeze but it's truly a perfect getaway from the tropical heat of Saigon. Snow Town Saigon comes in as a quaint ski village. Visitors are equipped with a jacket, a pair of boots and a toboggan.
Lay Back at Binh Quoi Village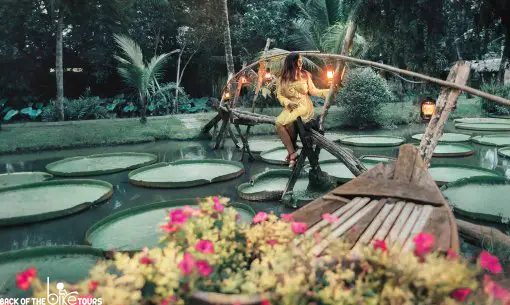 Address: 1147 Binh Quoi Street, Ward 28, Binh Thanh District, HCMC
Opening hours: 11 AM – 2 PM | 5 PM – 10 PM
For those seeking a tranquil rural vibe when in Ho Chi Minh City, then Bình Quới is made for you! Being one of the best-kept secrets in town, Binh Quới amazes tourists with its appearance as a Mekong traditional bamboo village. With thatched huts on the waters, giant water lilies, bamboo water wheel and many more, this hidden gem has become a weekend hideout for locals in the city.
Located just 8 kilometers away from District 1, this off-the-beaten-track village is an amazing picnic destination. It provides a laid back ambiance and peaceful landscape. Showing up against the high-rise concrete buildings as seen in the city center, this ecotourism site is dedicated to visitors hunting a low-paced life. Food and beverages are available within his tropical foliage.
Gambling at Monte Carlo Saigon Club
Address: Park Hyatt Saigon Hotel – 2 Cong Truong Lam Son, Ben Nghe Ward, District 1, HCMC
Not many visitors to Ho Chi Minh City plan to test their luck in the best casino in town. This is mainly designed for high-end tourists spending their nights at the top-rated 5-star hotels. Hence, gambling has not always been the top thing to do in Ho Chi Minh City for many people. Look no further! Las Vegas is right next to you with an extensive collection of roulette tables, slot machines or card games. Monte Carlo Saigon Club based in Park Hyatt's Hotel is a four-floor casino and the most opulent casino in town. The club is full of familiar games such as FaFaFa slots, Baccarat, Blackjack, and Roulette. Tourists can even spend a day inside the building without stepping their feet outside as they're offered many marvelous services including dining, fitness centers, spas, bars, and swimming pools. With just a few bucks for the entry value: 2 cents for slots, 50 cents for roulette, 50 USD for baccarat and blackjack, feel free to try your luck and win some money at Monte Carlo Saigon Club!
Get Some Splash at Dam Sen Waterpark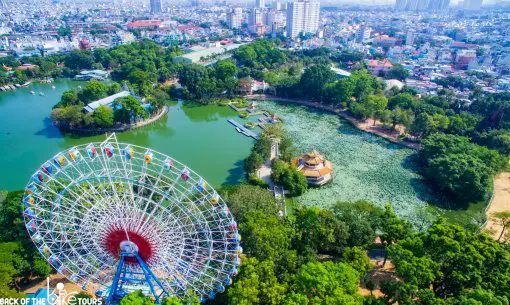 Address: 3 Hoa Binh Street, Ward 3, District 11, HCMC
Opening hours: 7:30 AM – 8 PM
With only 30 minutes away from the city center, travellers can find their way to Đầm Sen Waterpark, an iconic attraction in Ho Chi Minh City. The local guys and girls frequent here very often, especially during the weekend for some splash to kill the heat. Đầm Sen Water Park houses a wide range of water slides, a wave pool, and many fun rides for thrill-seekers. People favor the fast-paced water slide Kamikaze that reaches 19 meters high every time they come. The Flying Fox-themed water ride is another outstanding ride where you hang 10 meters above the surface of the water. If you come with the kids, there's a children's area to get them hooked into the colorful slides with animal statues spouting water jets.
Rock Climbing at Push Climbing Center
Address: 188/1 Nguyen Van Huong, District 2, HCMC
Opening hours: 10 AM – 10 PM (Tue – Sun)
Wondering where to get fit with a better fun than a gym? Indoor climbing center is here to be your energetic thing to do in Ho Chi Minh City! Push Climbing Center is a new hidden gem in District 2 where people challenge themselves with high indoor climbing walls and various games to partake. Now and then, visitors can sing up for classes, events and even competitions like speed climbing or crate stacking.
All you need is a full-day pass! With it, you can freely test your strength and sustainability with different heights. A bar and small bistro are ready on the spot anytime you need to relieve.
Calm Your Mind with Live Music Bar
Live Music Bars have been in the list of the coolest things to do in Ho Chi Minh City at night for the past ages. Live music is held several times a week targeting different types of audiences. Whether you are a rock addict, a jazz lover or indie fan, Saigon has it all to please! Acoustic Bar in District 3 and Sax'n Art Jazz Club in District 1 and the best spots in town.
Acoustic Bar
Address: 6E1 Ngo Thoi Nhiem street, District 3, HCMC
Opening hours: 6 PM – 12 AM
This is literally the most sought-after live music bar in the city. The live music begins every 9 PM from Monday to Saturday. Over here, visitors get lost in an excellent blend of modern and classic rock, while it's mixed with other genres now and then. Hospitable staff, positive vibes, and tasty drinks are other features to attract the crowds.
Sax'n Art Jazz Club
Address: 28 Le Loi Street, Ben Nghe Ward, District 1, HCMC
Opening hours: 5 PM – 12 AM
Founded by a renowned Vietnamese saxophonist, Sax 'N Art Jazz Club is devoted to the passionate fans of Jazz in Saigon. Situated in a quint and tranquil corner of Ho Chi Minh City, the bar witnesses a huge crowd every night from 9 PM when the band starts to play some good old classic songs. The club is dedicated to a certain type of audience who love the peaceful atmosphere and close conversation in a cool vibe.
Hit the Floor to Live up the Night
If sitting and enjoying music is not enough for a fun night out, then why not hit the club to make some noise? Not only is the acoustic bar a compelling place to visit, but the night clubs with led lights, upbeat rhythm, and moving hips make also kill the boredom off.
Mostly gathered within proximity to the renowned hotels in the city center, the dance floors in Saigon witness celebrities and young souls every night. The drink list is extensive with amazing choices besides the appearance of impressive DJs. There're plenty of cool spots to rock your body by nightfall, with Lush and Republic Club being the leading names.
Lush
Address: 2 Ly Tu Trọng, Ben Nghe, District 1, HCMC.
Opening hours: 9 PM – 4 AM
When it's time to mingle with the party-loving crowds, Lush is here to please. Coming in an industrial interior style, Lush offers a spacious dance floor with an upstairs deck. Lush best fans come here to spend a little cash on the wild beats ranging from house to hip hop or a touch of mainstream dance tunes. Get some stunning dresses ready! The stage is yours!
Republic Club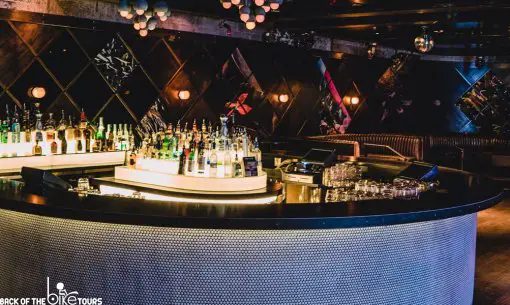 Address: 19 Do Quang Dau, Pham Ngu Lao Ward, District 1, HCMC
Opening hours: 9 PM- 2 AM
Set in the busiest area of Ho Chi Minh City, Republic Club takes people to the most sensational and dazzling night they have ever experienced. Known to own the most stupendous kind of lighting as well as a group of famous DJs, Republic Club will surely have you go wild on the dance floor. The Delicious drinks are the other half of a complete fun night out!
Craft your Souvenirs in Saigon's Best Workshops
De-Form Pottery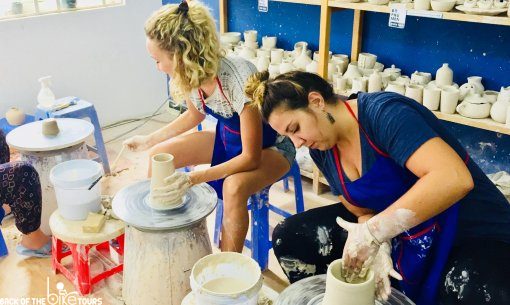 Address: 81/12 Huynh Man Dat Street, Ward19, Binh Thanh District, HCMC
Next up is a challenge for pottery lovers. Aiming to showcase the beauty and history of Bien Hoà style pottery in South Vietnam, De-Form Pottery guides you with the elegant technique of carving into the clay. You then work on the shaping and painting of patterns, which are mostly flowers and get them glazed in multiple color choices. What's made at De-Form Pottery are fired once a week on Sunday at their kiln. Book your workshop with De-Form Pottery on their Website of Facebook Page!
Saigon Cooking class
Address: 74 Hai Ba Trung Street, Ben Nghe Ward, District 1, HCMC.
A fun, sophisticated and common thing to do in Saigon is joining a cooking class. This is the best way to learn about a new culture through the form of gastronomy. Amongst many choices online, Saigon Cooking Class is one of the biggest brands offering half-day group classes. A guided market trip, street food tour, and private lessons are three other choices. Focusing on the art of making Vietnamese cuisine, Saigon Cooking Class gives you a deep insight into Vietnam's most famous food. With both world-known and lesser-known dishes, you can prepare a perfect meal for your own, learn the trick of using knives, holding chopsticks and a lot more skills! Vegetarian options are also accommodated. Claim your vacancy with Saigon Cooking Class on their website or through a travel agency!
Partake in the Colorful Events
The last thing I want to recommend in this guideline of the top things to do in Ho Chi Minh City is the vivid events happening all year round. Thanks to the booming of social media channels, it's never a problem to know what's happening in your area. Events Near Me is a cool application introduced by Facebook to keep people updated about shows, concerts, classes, workshops and many more. These are mostly small-scale events targeting a specific niche of the audience. On a larger scope, some of the most exciting things to do in Ho Chi Minh City are Color Me Run and Lunar New Year's Firework Performance.
Color Me Run
Every Springtime comes, Color Me Run's tickets have been sold out in a flash. The young local community and expats look forward to coloring themselves from head to toe with flamboyant color powder along the run. Brought to Saigon in 2013, Color Me Run has always been on the bucket list of many young friends every single year. This is known as the most colorful events in the city where attendants get wild in live music, "dye" their bodies and release the inner self rather than just running from A to B. In addition to the race itself, live performances of famous Vietnamese singers and DJs rocking the stage is the next most appealing feature that makes Color Me Run an exciting event.
Firework Performance in Lunar New Year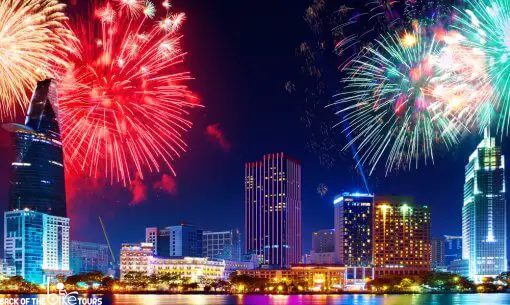 Lightning up the darkest sky with glittering fireworks is the most common celebration worldwide during New Year's Eve. Vietnam is no exception, and Ho Chi Minh City is known to be one of the most exciting places to hold fireworks performances when New Year comes. Within 15 minutes of the show, the dazzling firework performance pulls thousands of people into the city center for an actual lively admiration. A night like this causes fun and vibrant chaos clogging the main boulevards. The firework performance is shot off near Bitexco Financial Tower, which causes fun and vibrant chaos clogging the main boulevards in District 1 and District 2, right across the Saigon River. For tourists visiting the city at this moment, they choose some better places to observe the show.
A rooftop bar downtown is the best place to enjoy the fireworks. Chill Sky Bar, Rex Hotel Rooftop Bar, and Shri Restaurant and Lounge are some of the most sought-after spots for locals, expats, and tourists. They frequent here to find a perfect mix of fancy cocktails, premium service and an amazing view of the fireworks. Due to the high demand for seats, make sure you make a reservation soon enough to avoid "No Vacancy".
Apart from the rooftop view, seeing the show on the surface of the river still makes it a great idea. The dining cruises in a night like this is another cool option. Getting amazed at the stunning show on the deck or through a window view in a windy space brings you a memorable experience of the Vietnamese Lunar New Year. A set of fancy meals, tasty drinks, and live music are ready to complete your night.
Watching Football
Many travellers won't be thinking of watching sports in a bar with other locals on their vacation. Yet it's a mistake if you skip this activity as one of the most special things to do in Ho Chi Minh City. Do you know that football is the most prominent game in the country? Within the past few years, Vietnamese athletes are gaining prominence on the world stage. As a result of more and more incredible winnings match after match, the Vietnamese fans seem to get way closer to each other thanks to a mutual share of love for this big sport.
Following the massive performance of the national team, we witness an influx of sports bars and cafés in the big cities like Saigon. Guru and Phatty are 2 of the best places to pair an ice-cold beer with an exciting game.
In tranquil District 3, Guru, offers an exciting space where you can grab your friends to join the crowd of locals guys and girls when the game is about to start. Located right in front of the Sherbet Beer Club, Guru invites visitors with delicious finger food, tasty drinks and top-notch sound effect with a large TV screen. Phatty's Sports Bar is dedicated to the hardcore fans of the FIFA World Cup. Installed with 7 large projector screens, Phatty is a worthwhile corner in town to watch all the action. The extensive range of delicious pub food and ice-cold drinks are offered at the right price.
Saigon is still developing every day at a rapid rate and there will come a lot more activities in the next few years for tourists. If you're here for only a day or two, my ultimate list of all things to do in Ho Chi Minh City can be saved for your next trip back to this awesome metropolis. Now it's your time to note all these down, book your ticket and head to Ho Chi Minh City right away!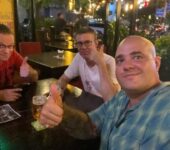 I moved to Ho Chi Minh City, Vietnam in 2012 to continue my career as a Chef. As what usually happens with life, the unexpected took me down a different path where I began operating Motorbike Food Tours with my company Back of the Bike Tours. I enjoy spending my time eating great food, learning Vietnamese, working with my team, showing customers the best food in Ho Chi Minh City, and building the best source of content on the web for travelers planning their trips to Vietnam!

I hope you enjoy the information that I've written here in our Travel Guides and on our blog. If you do find the information helpful, please consider using an affiliate link from our site or even booking an exciting motorbike food tour with us while you are in Ho Chi Minh City! If you need anything during your trip to Vietnam please do not hesitate to contact me or my team!

👉 Read Fred's Articles