Phu My Port Ultimate Guide: Phu My Cruise Docking, Visa Policy, Day Tours to Vung Tau, Saigon, and Mekong
Traveling by cruise to Vietnam has become increasingly popular over the last few years. Amongst all of the major cruise ports across Vietnam, Phu My is one of the biggest ones based in the South. The Phu My Port is situated along the coastline of Vung Tau, which is 2 hours away from the biggest Vietnamese metropolis, Ho Chi Minh City.
Even though tourists usually have only one day to explore before coming back to the ship, it doesn't mean the options for things to do for cruise passengers from Phu My are limited.
There are three cities nearby to visit: Vung Tau, Ho Chi Minh City – Saigon, and the Mekong Delta. Each of these destinations have multiple attractions and authentic cuisine to fill your stomach.
Everything you'll need is listed in the article below, including the best tours one can take in the mentioned cities, visa policy, as well as an introduction to the Phu My Port.
What to know about the Phu My Port?
Phu My is a major cruise port in the South of Vietnam located at the Thi Vai river basin in Ba Ria – Vung Tau Province. The port plays a crucial role as a gateway for ships and cruises in the South China Sea to distribute their cargo and transfer passengers to other parts of Vietnam.
Phu My is a great access for cruise passengers to travel around the surrounding cities, such as Ho Chi Minh City and the Mekong Delta.
Vung Tau, the coastal city where Phu Phy Port is based, is 95 kilometers away from Ho Chi Minh City towards the South East. This vibrant city is fenced with ocean on all three sides. It's a popular destination for local beach lovers from the South of Vietnam with multiple beach activities, mouthwatering seafood, and a pleasant landscape to enjoy.
Later in this article, we will explain how to conquer Vung Tau within a day like a real local with my own self-planned itinerary.
Vietnam Visa for Phu My Cruise Passengers
Cruise passengers in Phu My, or any other ports in the country can apply for a loose-leaf visa when entering a seaport in Vietnam. The procedures for arrival and departure are easy and simple. Upon Arrival, the cruise will provide an application from to fill in before arriving to Vietnam. Once docked, submit the form along with your passport and pay an application fee which ranges from $25 USD to $80 USD depending on the cruise line you're traveling with.
*Please note that applying for a visa may vary depending on the passport holder, as some specific nationalities are eligible for a visa exemption in Vietnam. Check out our article about Vietnam Visas to see the full list of exemptions.*
Once your trip in Vietnam is over, present the necessary papers such as passport and visa documents to the border service officers to get the confirmation issued during departure. Please take note that this procedure is meant to end your trip inside Vietnam and the visa is then officially deemed as invalid.
Most of the first time tourists travelling to Vietnam may be wondering if a visa on arrival is applied to the passengers onboard the cruise. The answer is NO!
Why is that? Here is the difference between visa on arrival and a loose-leaf visa for foreign travelers in Vietnam.
First, the visa on arrival is not applicable for cruise entry. It is strictly applicable only for tourists arriving to Vietnam by airplane.
Second, the loose-leaf visa works for any means of transportation including cruise entry. This means loose-leaf visa applications are entertained at port terminals and it can definitely be used to stop over at multiple ports in Vietnam.
Kindly coordinate with the cruise operator regarding the visa information as most of the operators have the visa arrangement for their passengers all-included in the package. If you arrive at different ports in Vietnam, then you will need a single entry visa for your cruise itineraries.
The loose-leaf visa is issued separately from your passport, unlike the visa on arrival which will be stamped directly on the passport at an airport in Vietnam. Hence, remember to prepare a copy of your passport and a passport-sized portrait photo to bring along.
Phu My Dock Location
As mentioned earlier, Phu My is a large commercial port and there's almost nothing nearby for tourists to see and do. Most of the cruise ships will dock at the container terminal piers at the port. Those waiting for a tour they signed up for are required to meet the guide outside of the port. Some agencies have access to come into the port to meet their guests, but not all so be prepared to leave the port.
A shuttle service is available upon your request to transfer you to Ba Ria – Vung Tau Province within 16 kilometers away from Phu My Port. Otherwise, a transfer to Ho Chi Minh City is available at 7 AM with a 3 PM pick up for a trip back to the Port.
If a flexible and laid-back trip alone is preferred, then choose a cab instead. They are right outside of the port entrance gate where one can easily request a trip to downtown Saigon or Vung Tau.
Ho Chi Minh City and Mekong Delta tours are an additional options besides Vung Tau. In Saigon, travellers can jump onto a city tour to explore the sights, book a motorbike tour with a company like Back of the Bike tours to experience as much of the city and food as possible, or even take a tour to the Cu Chi Tunnels. We will dig deeper into each alternative in the following parts to help you come up with the best fit.
Day Tours for Phu My Cruise Passengers
Amongst the three cities, Vung Tau is the closest followed by Saigon. Since Ho Chi Minh City is the most interesting alternative, most passengers will sign up for a city tour, food tour, or Cu Chi tour after taking a transport service from Phu My.
Mekong Delta on the other hand in not recommended for a single day tour since you'll need to come back to the cruise in enough time. Most travel agencies will offer their cruise passengers a day trip to My Tho since this is one of the most convenient destinations for a day trip from Phu My Port.
Vung Tau tour from Phu My Port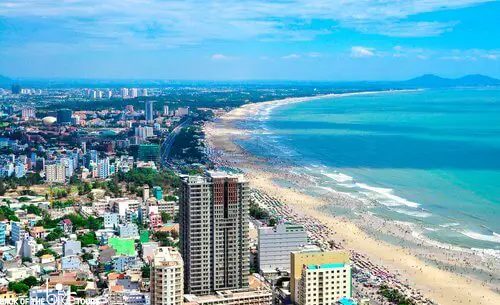 Let's talk about Vung Tau first! Being both a close and accessible destination from Phu My Port, might make it more attractive than the Mekong Delta or Ho Chi Minh City. Vung Tau is a small city. Therefore, a 7-hour day trip is a good duration for those visiting this city for the first time.
An ideal Vung Tau itinerary should start with the outdoor attractions in the morning, and a hideout indoor like a museum tour during the afternoon to avoid the heat. I recommend grabbing a nice lunch in a restaurant followed by a visit to the beach before heading back to the cruise ship.
I came up with the best itinerary for first-time visitors to Vung Tau below. Prepare for some insights of the best sightseeing spots of Vung Tau and its iconic delicacies!
Breakfast
After getting off the cruise in the morning, surely stomachs must be growling, let's find some tasty food to gain energy. Since Vung Tau is a coastal city, having a seafood noodle soup is an awesome way to get the day started.
Thanh Bun Thai is on my top list every time I travel to Vung Tau. A bowl of sour vermicelli noodle soup here is filled with shrimps and beef, along with fresh herbs served on the side. A perfect energy booster in the morning and will surely wake up your taste buds for an adventurous day.
Thanh Bun Thai
Address: 141 Truong Cong Dinh street, Vung Tau.
Price: 30.000 VND (~1.28 USD).
Opening hours: 9 AM – 9 PM.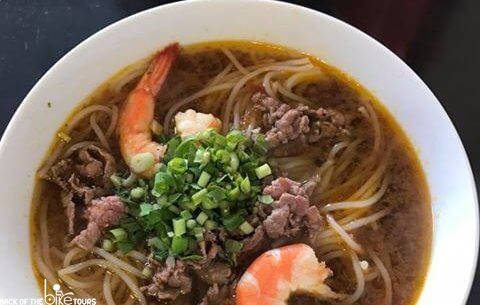 Apart from my recommendation above, check out these two eateries below for other tasty seafood noodles:
Bun hai san Cu Ky – Cu Ky seafood noodle soup
Address: 4 Le Hong Phong street, Thang Tam ward, Vung Tau.
Price: 40.000 VND (~1.71 USD).
Opening hours: 7AM – 9 PM.
Banh canh ghe Ngoc Lam – Ngoc Lam sea crab tapioca noodle soup
Address: 73 La Lai street, Vung Tau.
Price range: 30.000 VND – 100.000 VND (~1.28 USD – 4.27 USD).
Opening hours: 8:30 AM – 10 PM.
Sights in Vung Tau
Now that you're full of energy, let's start exploring Vung Tau! Down below I recommended four must-see spots in Vung Tau that surely make your trip a lot more memorable.
Light House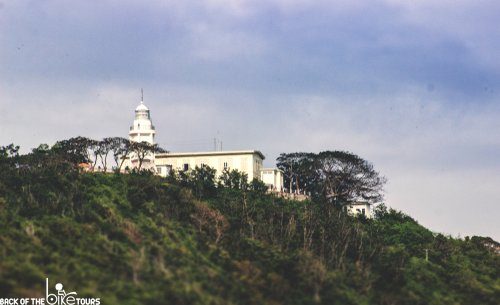 Located on the highest peak of Nui Ho – Small Mountain, the Lighthouse offers a staggering 360° vantage point of Vung Tau. This beautiful monument dates all the way to the time of Frencch Colonization in Vietnam. The lighthouse features elegant french architecture that can be found all over Vietnam. On the inside, tourists are welcome to ascend the tight staircase leading to an outdoor balcony to feel the salty breeze from the coast below. Once atop you can take some gorgeous photos of Vung Tau as it spreads out next to the ocean.
Recommended duration: 30 – 45 minutes for a good lay-back.
Christ of Vung Tau
Being situated on the same mountain, the Christ of Vung Tau is the next stop after the Lighthouse. This attraction may look familiar to some, as they might have seen it in the movies, it's akin to the Christ the Redeemer statue. To reach the base of the statue, brave souls needs to conquer a thousand steps along a five hundred meter pavement, once there it's another a hundred and twenty more to get on the top.
Recommended duration: 1-1.5 hours depending on your speed and physical condition.
Museum of Worldwide Arms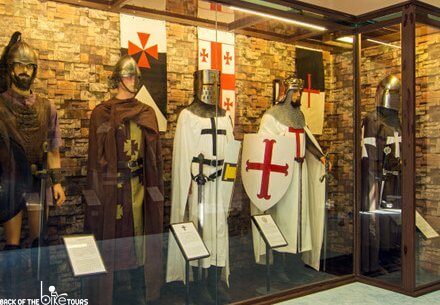 Next stop later in the morning would be at the Robert Taylor Museum of Worldwide Arms. This is personally my favorite destination in the city as it's very informative and vivid in the way they display the items. The museum was founded by a British arms collector. Here you can learn more about the famous militaries worldwide and battles around the world through different eras. The museum houses a huge collection of weapons of all kinds in both replicas and actual items.
Lunch
Feeling parched after visiting the three sites above? Then head over to Co Ba Vung Tau restaurant for a bountiful portion of Vietnamese Pancake – Banh Xeo stuffed with shrimp, pork and veggies inside.
The whole afternoon should be saved for a long walk on the beach. Bai Sau (Back Beach) is the most popular beach side in the city. There are many eateries along the coastline selling seafood and other authentic Vung Tau street eats such as Banh Bot Loc, and tapioca dumplings. In case there's still some time to spare before heading back to the cruise, stroll along down the avenue for a drink at a local coffee shop.
Recommended duration: 2 hours.
Hailing a cab to travel in between the city attractions couldn't be easier since they are all close by. Here are some taxi brands in Vung Tau with their phone numbers:
Mai Linh: (+84)254.3.56.56.56
Vinasun: (+84)254.38.27.27.27
Phu My Port to Ho Chi Minh City
There are many agencies that offer an all-inclusive phu my and ho chi minh cruise packages that include pick-up and drop-off services in Phu My. In case you are looking for a trusted transport service between Phu My and Saigon, our recommendation is Satsco. Simply go to their website and book a rental car directly on the Web. A 4-seater car and 7-seater car is around 119.7 USD, while a 16-seater car costs 192.3 USD.
A limousine is also available upon request. A 7-seater Limousine is offered at 179.5 USD including Wi-Fi connection, hygiene amenities as well as available sockets to charge electronic devices, if needed. These prices are set for 8 hours including a private driver.
One thing to remember is that you need to book the rental service a good amount of time beforehand, at least three days before your arrival to avoid disappointment.
Getting around Ho Chi Minh City
Wandering around in Saigon on your own? Take note of these two most trusted taxi companies in the city:
Vinasun Taxi: (+84) 2838 27 27 27
Mai Linh Taxi: (+84) 2838 38 38 38
There are scams everywhere in touristy places around the world including transportation rip-off. Vinasun (in white) and Mai Linh (in green) are locals' best recommendations for foreigners seeking a good taxi brand in Saigon. They set a taxi-meter to make sure the amount you pay is correspondent with the distance travelled. Check out our blog about catching a taxi cab in Ho Chi Minh City for more in-depth information.
Ho Chi Minh City Tours from Phu My Port
An 8-hour trip in Saigon is the best option for cruise passengers in Phu My to have a brief and interesting insight of the Vietnam's busiest metropolis.. Saigon is a dynamic, vibrant and young city in Southern Vietnam. The city was born over 300 years ago and seen as a hub for various cultures, cuisines, and nationalities worldwide. It is also a transit point where tourists travelling by air stop over for one or two days. After, they move on to discovering the neighboring regions.
An ideal one-day itinerary that most travel agencies offer is a pick-up at around 8 AM at Phu My Port for a 2-hour drive to Saigon's downtown for an exploration of famous city attractions.
Typical Ho Chi Minh City Tour Itinerary
First in the morning, you will start with the Independence Palace (Reunification Palace), Saigon Notre Cathedral, Saigon Central Post Office, Municipal Theater (Saigon Opera House), and the City Hall. From there the guide may show you the surrounding area such as the Nguyen Hue Walking street and Saigon River before heading to a local restaurant for an authentic Vietnamese lunch.
Most Sites in Ho Chi Minh City are famous for their vivid and elegant colonial architecture featuring a remarkable French style. The buildings were mostly constructed by the French during the early 20th century and hold in themselves interesting stories that mark a significant milestone in the history of Vietnam.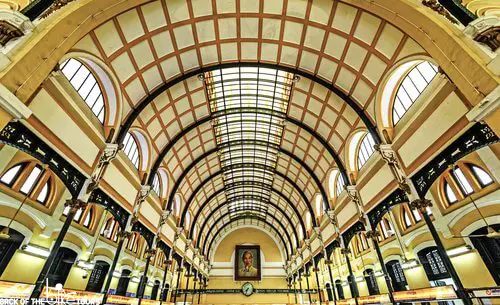 Later in the afternoon, you may have a short trip around the War Remnants Museum and Ben Thanh Market. The War Remnants Museum houses shocking evidence and information about the infamous Vietnam War through a huge collection of photos and artifacts. The Ben Thanh Market is one of the largest markets in the city, which was built in the early 20th century and attracts a large number of visitors and locals to shop each day. Here you can pick some souvenirs, such as little postcards, magnets, lacquer-wares, fake brand and custom made shoes, clothes, and accessories. Since Ben Thanh is a touristy site, bargaining is a must-have tip if you don't want to be ripped off.
Depending on which Ho Chi Minh city cruise tour operator you're booking with, you may be introduced to the Chinatown market in the afternoon instead of Ben Thanh Market. Saigon Chinatown, or Cho Lon in Vietnamese, was once a separate land where the Chinese immigrants fleeing mainland China in the 17th century settled down and urbanized. The town is a huge region covering multiple districts. This is where you get to admire the flamboyant and authentic Chinese architecture through the ancient temples, pagodas and their trading culture.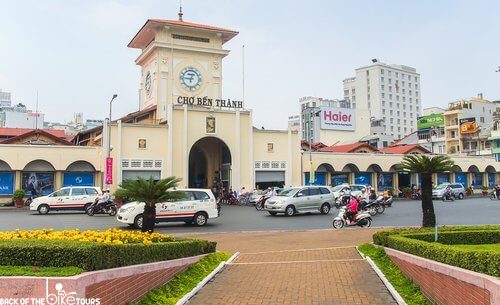 The tour ends at around 5 PM, when the guide will transfer you back to your Phu My cruise port from Ho Chi Minh City on a 2-hour return trip.
Phu My Cruise Port Excursions and Day Tours Recommendations
Some highly recommended agencies that offer Phu My Port pick-up and drop-off services with a Saigon city tour you can consider are VM Travel, Smile Tours Vietnam, My Way Travel and Viet Excursion.
The price for a tour like this vary frequently amongst different agencies. A group tour is obviously cheaper than a private tour. You may pay around 50 to under 100 USD per person for a joined tour with other passengers. While a private tour can go up to 240 USD per person.
You even have more options to choose from if you want to have the tour within Saigon only. You can come up with a lot of recommendations when searching for "Saigon City tour" on Google. The thing is that most of the tours start at a fixed time early in the morning, which is around 8 AM for a Full-day tour. When you disembark at Phu My Port, it takes 2 hours to arrive in Saigon, which means you will need to start later than usual.
At Back of the Bike Tours, we offer flexible time and duration customized for cruise passengers with our private Heartbeat of Ho Chi Minh City tour package. You can freely reach us out to request for a private tour, let us know your arrival and departure beforehand and we will take care of the rest.
We feature motorbike tours mainly including food tours and city tour. Our guests will get to join in a more off-the-beaten-path sightseeing tour and amazing hidden gems through the eyes of a young local Vietnamese. Exploring this colorful city at the back of a scooter to sneak through the hectic and busy streets will surely make your trip in Saigon outstanding and memorable.
Though we mainly aim at featuring scooter tours, we have cars available upon request. All you need to do is to drop us a message with your specific needs and we will adjust a flexible tour just for you!
My next recommendation is Saigon Hotpot. They are famous for non-profit student tours in Saigon, and that you only need to give a certain amount of donation at the end. For these kinds of tour, the itinerary is more flexible and you'll get to see a more local side of the city from a young Saigonese's perspective.
Food tour in Ho Chi Minh City from Phu My Port
Ho Chi Minh City offers travellers plenty of high-end restaurants and street vendors.
Vietnamese food will always be the best delicacy to deliver local authenticity while in Vietnam. Without a doubt, the best way to enjoy Vietnamese food is hitting the streets with the locals on a food tour. This way allows travellers to eat like a real Saigonese by discovering the hidden gems that only the natives know.
Cu Chi Tunnels tour from Phu My Port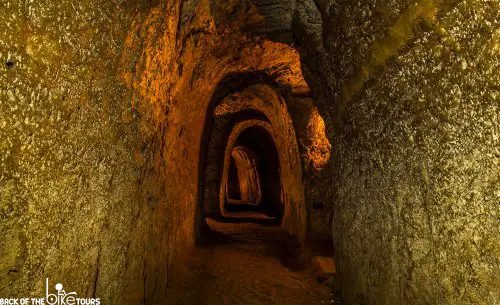 You can choose to visit Cu Chi Tunnel by yourself or have it combined with the City tour in Ho Chi Minh City. If Saigon and Cu Chi are combined in one day, it's going to be a long day-trip, which may last up to 10 or 12 hours as there's a lot to see and do. Just like other day tours from Phu My, the guide will see you at Phu My Port at around 7 AM or 8 AM and head for Cu Chi on a 3-hour drive.
Cu Chi is an impressive labyrinth of war tunnels stretching for 250 kilometers. It is 70 kilometers away from Ho Chi Minh City towards the Northwest and used by the Viet Cong fighters as a shelter during the Vietnam War. The tunnels also housed the native dwellers to keep them safe from the bombing. At the end of the trip, you may have a chance to challenge yourself with a shooting session and try on the legendary AK47.
Along the way to the Cu Chi Tunnels, you will pass by the rubber plantation to learn more about the techniques of planting rubber trees, and the interesting history of the rubber plantation in Vietnam.
The Cu Chi Tunnel tour from Phu My Port starts at around 140 USD per passenger and it lasts for a whole day. Smile Tour Service, Origin Vietnam and Vietnam Travel Group are three big operators that allow you to explore Cu Chi to the fullest.
Mekong Delta tour from Phu My Port
The Mekong Delta is the furthest destination to visit for Phu My cruise passengers. That is why the guide will need to pick you up as early as 7 AM for a 3-hour ride to My Tho Province. This is a local Mekong town and it is located close to Ho Chi Minh City. My Tho is nearly 125 kilometers away from Phu My. This makes it a good option for a one-day trip to the Mekong Delta from Phu My Port. For other famous cities in the Mekong Delta like Can Tho, they are all far from Saigon and you may need at least 2 days to visit those places.
My Tho is an iconic locality in the wetlands of the Mekong Delta. The city was formed by an immense network of rivers and canals. This is where you'll get a chance to sail along on a wooden boat or sampan to visit the honey bee farm, the shady tropical orchards, and handicraft villages to observe the day in the life of a native laborer.
Each operator has their own itinerary and interesting attractions to introduce. Some may take you to a coconut candy factory to see the whole process of producing a tasty sweet coconut candy from the coconut meat. While some may show you how to make the rice paper from starch.
For lunch time, you'll be introduced to the mouthwatering authentic Mekong culinary treats. One of which is the tempting deep-fried Elephant-ear fish, which is rolled inside a rice sheet along with vermicelli noodles and fresh herbs.
On the way in between Saigon and My Tho, be mesmerized by the idyllic scenery of the endless rice fields on both sides of the road. Located in between these rice fields are exotic fruits trees, such as the dragon fruit or coconut. The trip to the Mekong Delta lasts for a good full day before a transfer back to Phu My Port at around 4:30 PM to 5 PM.
The Mekong Delta tour from Phu My may cost 90 USD for a joint tour and over 100 USD per passenger for a private tour. Smile Tour Service, Origin Vietnam and Vietnam Travel Group are once again the three highly praised operators that can give you a great time exploring the Mekong Delta.
Amongst those five options, which one do you like most? Are you a free soul who likes to get all done by yourself or would you prefer to have it arranged by a local operator? Most people will choose a free and relaxing Saigon city tour to make the most of their time without rushing between places. Yet if you think the other choices are better, then don't hesitate to go for it and contact the best agencies above for the best price! Don't forget to share this article with your friends and families if they are about to disembark at Phu My Port!