People say Ho Chi Minh City (aka Saigon) is a true shopping paradise! Why is that? The biggest metropolis in Vietnam is filled with world-class local manufacturers standing beside local renowned brands in every single industry you can think of. From clothes, accessories, handicrafts, arts, food and beverage, scents and perfumes, Ho Chi Minh City has it all! An endless range of choices like this undoubtedly turns shopping into tourists' favorite things to do. Yet there's one thing I know many of you have faced but no proper solution can set your mind at ease: an ultimate shopping guide. This article gathers the best spots in town where I shop for arts, clothes, coffee, and much more!
What to Expect When Planning a Shopping Trip in HCMC?
Shopping is exciting! I know! Yet before jumping into my guide below, make sure you get your pen and paper ready for some crucial tips for a smooth shopping spree!
Bargaining
It happens everywhere in the tourist areas worldwide. If you've mastered the bargaining skill, skip this part! Otherwise, come closer and hear my secret! We locals normally start at 50% of the offered price and slowly workaround until both sides reach a happy agreement. Sometimes the sellers don't give you a nod, walk away and try at another store. However, some stores are strict and no bargaining is acceptable. In this case, chances are they have a sign stating "KHÔNG TRẢ GIÁ" (for "No bargain").
Cash or cards?
Most of the stores in Vietnam only accept cash in VND except for those in tourist areas, high-end outlets, or shopping malls. My advice is to get some cash ready in your wallet before hitting the streets if you don't have a certain shop in mind and choose to just wander around. Any banks in Ho Chi Minh City are available for money exchange, yet paperwork and documents are needed. I don't go to the bank since it takes time. The licensed gold stores are where we locals frequent to when needed. Ha Tam Gold Store on Nguyen An Ninh Street and Eximbank Money Exchange Counter 59 on Dong Khoi Street are my top choices whenever I need to change some bucks. They offer a better rate and convenient to stop by.
Language Barrier
Many shopkeepers don't have a good command of English if they don't work in tourist areas or luxury brands. Hence, having a native companion during the shopping trip is always advisable. Otherwise, why not pick up some handy Vietnamese words and try them out with the sellers? They love it and you may make some friends as well.
Sizes
Most of the clothing here is in Asian sizes which are limited from XXS to M in the western standard. Yet it doesn't mean finding large sizes is impossible. It's hard to shop for plus sizes in the local boutiques where Vietnamese are repeated customers. The Russian Market I'll mention later in the article is the best spot for those looking for all types of clothing made in big sizes. Otherwise, Saigon Square, Ben Thanh Market, and stores in the touristy areas are nice recommendations to offer plus size clothes. If looking for a souvenir t-shirt, these are easily located in the center of the city.
Shopping in Ho Chi Minh City, What to Buy?
If you are a newcomer to Saigon, this question probably pops up first in your mind, "What should I buy while visiting Ho Chi Minh City". Saigon is Vietnam's biggest commercial hub, which means there's nothing you cannot find when visiting this lively city. In this section, I'll be covering 3 varieties of goods including clothes and accessories; food and beverage; homewares, and decorations.
Clothes and Accessories
Silks
Some people advise that Saigon is not the best place to buy silk and they should save it for Hoi An where the best fabric traders are located. Well, it's true! Yet what happens if you only have time for Ho Chi Minh City? That's why I'm here to show you the best places to hunt for silk!
Ho Chi Minh City has a huge variety of silk in good quality to export to high-demand countries like Japan, Korea, and Europe. A decent meter of silk can be a gift for family or turned into a gorgeous Ao Dai.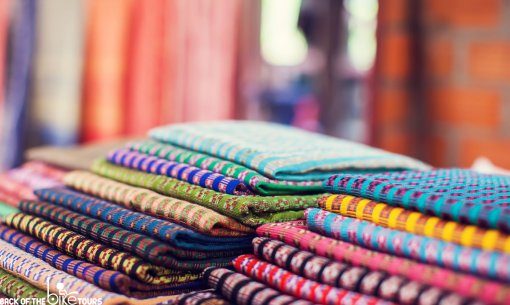 Some people advise that Saigon is not the best place to buy silk and they should save it for Hoi An where the best fabric traders are located. Well, it's true! Yet what happens if you only have time for Ho Chi Minh City? That's why I'm here to show you the best places to hunt for silk!
Ho Chi Minh City has a huge variety of silk in good quality to export to high-demand countries like Japan, Korea, and Europe. A decent meter of silk can be a gift for family or turned into a gorgeous Ao Dai.
Where to Find the Best Silk in Ho Chi Minh City?
Contrary to common belief, Ben Thanh Market is not the right place to look for authentic silk. Tourists end up bringing fake silk home at an outrageous price. Some stores do offer the real thing but not everyone knows where to find the right shop without getting frauds. The best way is to just stay away from the Ben Thanh Market and head for my 2 recommended shops below.
Toan Thinh is a professional manufacturer in the silk industry. Renowned designers and local tailors confide that Toan Thinh is their favorite supplier. Toan Thinh Silk is even exported to Japan, Denmark, France, and many other countries around the globe. Customers can find a wide variety of silks, all are set at a fixed price.
Address: 25 Cach Mang Thang Tam Street, Ben Thanh Ward, District 1, HCMC.
Another leading Vietnamese textile producer is Thai Tuan. Their products have been exported to the international market for over 23 years. Both locals and foreigners pick Thai Tuan as their favorite brand. In Vietnam, Thai Tuan Silk is every girl's best friend for the tailoring of Ao Dai, a famed Vietnamese traditional costume with a charming and graceful look.
Address: 453/77c Le Van Sy Street, Ward 12, District 3, HCMC.
Clothes
When the surge of international brands rapidly spring up around the world, citizens in Ho Chi Minh City still have an ardent love for boutique fashion. Even though trendy clothing is still a craze in the Vietnamese community, many others choose not to follow the trend and stay loyal to their tastes. For those who want to check out their favorite international brands, Ho Chi Minh City is still a decent place to consider. Shopping malls and outlet malls like Saigon Square and Vincom have become a norm for first-time visitors to locate global brands because they're unfamiliar with the local shopping landscape. That's why I'm here to disclose some hidden gems that not many travel guides have revealed before.
Where are the Best Fashion Boutiques in Ho Chi Minh City?
Mayhem is dedicated to the fans of vintage and thrift clothing in Ho Chi Minh City. Hidden in an occult alley, Mayhem walks you to a whole new world of fashion from decades past. A large assortment of stock here is mostly imported from Japan. From bow ties, boots, shoes, bags, glasses, scarves, you name it!
Address: 136/10 Le Thanh Ton, Ben Thanh, HCMC.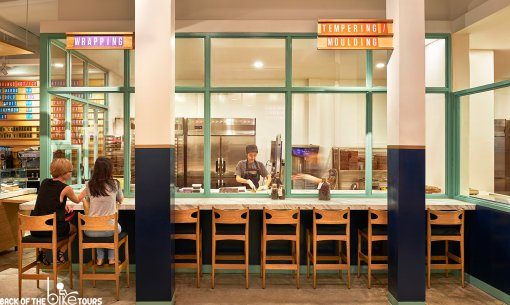 The unisex collection of contemporary fashion is the pride of L'usine. Appearing as a combination of an art gallery and restaurant, L'usine attracts customers with a distinctive appetite for fashion. The stocks are both made in Vietnam and abroad. Get a Cheap Monday T-shirt, a Boaime retro lace dress or handmade lacquerware by Indochine to be the coolest souvenir for friends!
Address: 19 Le Thanh Ton Street, Ben Nghe Ward, District 1, HCMC.
Apart from the two above, I have more on my list. Any Shopaholic reading my article can check out Ginkgo, an amazing brand for high-quality t-shirts with unique designs inspired by Vietnam's vibrant culture. For those who don't have a specific option in mind, feel free to hit the streets of Nguyen Trai or Nguyen Dinh Chieu (which I mention later in the article) and scroll through the stores.
Shoes
Don't fantasize about Ben Thanh Market since you won't be finding high-quality shoes or factory rejects here with a bargain. On the contrary, many of you end up bringing fakes home that are likely to be broken in the next few months. Don't waste your money on it! I'm here to save your wallet by showing my top spots to buy shoes in Ho Chi Minh City. (P/s: I'm a shoe fanatic!)
Where are the Best Shoe Shops in Ho Chi Minh City?
We, locals, are much likely to hit the streets of Nguyen Dinh Chieu or Luu Van Lang and stop by a certain store we find interesting. These streets are extremely well-known for a great variety of shoes at a reasonable price. Most of them are made in Vietnam for either the domestic market or export. There's no doubt that the quality never disappoints shoe fanatics like me. For those who are seeking a specific kind of footwear for work or sports, here are my 4 favorite spots.
Stylish footwear is updated weekly at Juno, most of which are heels and stilettos. Other than that, flip flops and sandals are other frequent arrivals. Office ladies are repeat customers at Juno.
Address: 269D Nguyen Trai Street, District 1, HCMC.
Shoe size: 34 – 39.
Price range: 5 to 34 USD.
This iconic brand is a new definition of "Made in Vietnam" bespoke shoes. In order to customize the right shoes for each customer, ManGii designers have mastered the study of Orthopedics and aesthetics. Customers are advised to visit the shop in person to get the right measurement and consultant.
Address: 196 Le Thanh Ton Street, Ben Thanh Ward, District 1, HCMC.
Shoe size: Customized.
Price range: 116 – 215 USD.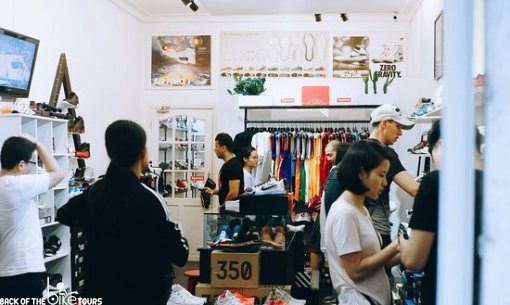 No sports players in Saigon haven't heard of G-Lab. The store is devoted to the community of basketball players. A nice variety of basketball shoes from plenty of brands are available such as Nike, Jordans, or Adidas.
Address: 135/58 Tran Hung Dao Street, Cau Ong Lanh Ward, District 1, HCMC.
Shoe size: 35.5 – 47.
Price range: 25.7 – 730 USD.
This is the only place in the whole city where you can find large shoe sizes for both women and men. While the other stores in Saigon only offer Asian size ranges, the Russian Market is that one place to sell shoes from 45 to 49.
Since shoes are a big portion of the city's shopping landscape, there's another article dedicated to the world of shoes with a complete guide to the shoe-hunting journey in Saigon. Apart from shoes, clothes of all kinds are available in the Russian Market for those in need!
Address: 328 Vo Van Kiet Street, Co Giang Ward, District 1, HCMC.
Bags
Akin to shoes, buying bags in Ho Chi Minh City is not a big deal since there are plenty of authentic bag stores in town. Once again, the touristy markets like the Ben Thanh Market is not an ideal destination for the best deals. Tourists may prefer Saigon Square, shopping malls, or some of the weekend markets mentioned below for the best designs and prices.
Where to shop for Bag Lovers in Ho Chi Minh City?
With a funky and colorful vibe in all of their designs, Valérie Cordier is a big brand in the handbag fanatic community. Valérie Cordier does such a good job in praising the love for Vietnamese designs and craftsmanship. Cordier graduated from ESMOD, a famous international fashion design and business school in France. She has been based in Vietnam for ages. Within the past few years, Cordier has passionately explored the Vietnamese culture and worked with the local ethnic tribes to enhance her creativity. Hence, customers will be amazed at the brilliance of repurposing and recycling different materials through her collections. Purses, wallets, and backpackers are other outstanding items that customers usually look for at Valérie Cordier's boutique.
Address: 39/3 Street 59, Thao Dien, District 2, HCMC.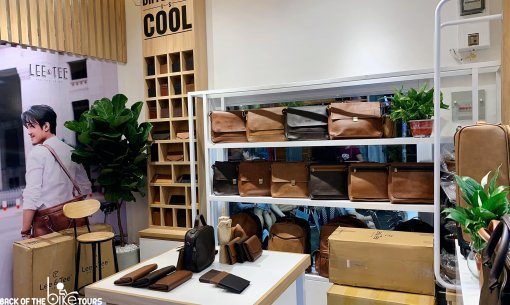 The reason why Lee and Tee is praised by the local Vietnamese is its charisma and cutting-edge design featuring premium synthetic leather. Using real leather in the making of fashion is going against human ethics, but that doesn't mean we must give up the love for the shining, cold, hard fabric. Understanding this state of affairs, Lee and Tee founded a leading manufacturing company to produce fashionable and high-quality synthetic bags, purses, and wallets. Some of the best products can be listed as a doctor's bag, laptop bag, bowler bag, clutch, saddlebag and a whole lot more.
Address: 17B Tu Xuong Street, Ward 7, District 3, HCMC.
Counterfeit Fashion Market
Fakes have become a big segment of fashion products in Ho Chi Minh City, which turns the city into an infamous hub for counterfeits. That's why many tourists spend a great deal of their time hunting for the top international brands at just a fraction of the cost. No matter if its clothes, shoes, bags or watches, you can shop for an entire wardrobe here. Even though the quality is debatable, it's hard to resist the urge to shop once you see piles upon piles of shiny, perfectly replicated goodies.
Counterfeits are complicated! Crappy products are offered side by side with besides perfect replicas which even a demanding shopaholic would not be able to spot the difference between the two. Customers will find a wide range of forgery levels and it depends on how much they are willing to pay. First-rate replicas are usually a good deal. The price also fluctuates depending on the quality and suppliers. Looking for replicas in Ho Chi Minh City is not an obstacle since there are so many dealers willing to offer what they got. The thing is that buyers need to know exactly where to go in search of a specific item they want. For a first-timer to Saigon, my advice is to start off at a local market. One of the best markets to consider is Ben Thanh Market!
Scents and Perfumes
Finding authentic perfumes is not a big deal since there are many expats, foreigners, and affluent Vietnamese residing in Ho Chi Minh City. The market is diverse with the appearance of both international products and top-notch Vietnamese brands. Heading to the nearest shopping mall is the most convenient way to find scents and perfumes. Clarins, L'Occitane, Lancôme, Yves Rocher, and many other big names all gather in one place.
Where are the Best Perfume Shops in Ho Chi Minh City?
This little hidden gem is set in the tranquil District 2 where the hustle and bustle scenery from District 1 is left stranded. WOO, a black-and-gold-themed store is a home to the Dutch signature fragrances. Hand-made and sustainable packaging brings out the grand beauty of their unique scents like the spicy Treasure, zesty Lime, citrus-and-musk Radiance or floral Tranquillity. In addition to perfumes, the aromatic wax cube is another prominent product from WOO. It can be melted in an oil burner or put in fabric bags and placed in suitcases.
Address: WOO, 32 Tran Ngoc Dien, D2, Ho Chi Minh, Vietnam
Food and Beverage
Coffee
Visitors of Vietnam will undoubtedly rave about the cà phê sữa đá or iced coffee with milk that they couldn't stop drinking while in Vietnam. It's sweet, robust, and chocolatey. You'd want to consume it as fast as possible but it should be savored leisurely. A cà phê sữa đá is traditionally brewed at your table in a phin (read: filter), where the coffee slowly drips into a generous serving of condensed milk. When the French introduced coffee to Vietnam in the 1850s, it was difficult to get fresh milk so condensed milk was used because it lasted longer and didn't need to be refrigerated. The condensed milk is insanely delicious and the sweetness complements the coffee beans in Vietnam.
Have you ever seen Vietnamese coffee for sale at your supermarket? Probably not, and yet Vietnam is the number two producer of coffee in the world. So where are all those beans going? The majority of them are used for instant coffee, and 97% of Vietnamese coffee is made from Robusta beans, this is because it's easier to grow and more resistant to disease. The rising popularity of Arabica beans will not make traditional Vietnamese style coffee go away, instead, it means higher quality coffee from Vietnam which ultimately will help the country to be recognized as a true coffee powerhouse.
Where to Buy the Best Coffee in Ho Chi Minh City?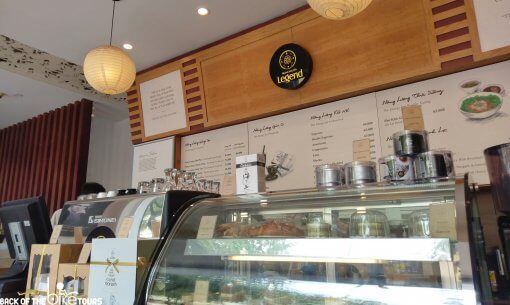 The good old classic Trung Nguyen Coffee is widely available with over 20 shops across the city. Visitors can easily drop by for a drink and grab their favorite coffee ground before leaving. Both instant coffee, ground coffee, and beans are offered in plenty of blends. Trung Nguyen Legend No.8 is their proudest blend for those loving a powerful brew.
Address: 80 Dong Khoi Street, Ben Nghe Ward, District 1, HCMC.
Founded by a renowned Vietnamese barista, Phap Vo, who aims to bring an innovative taste in the traditional Vietnamese culture. Other than just a coffee shop, Saigon Coffee Roastery is advanced in the industry of roasted coffee which delivers an authentic and passionate bitterness to the community of Saigonese coffee lovers.
The coffee here is a perfect blend between the green coffee beans from Dalat and the world's famous manufacturers such as Kenya, Ethiopia, El Salvador and so on.
Address: 151 Dong Khoi Street, Ben Nghe Ward, District 1, HCMC
Tea
The Vietnamese have long been planting and using tea for 2000 years. Today, Vietnam is known as one of the leading tea exporters in the world. Even though the history of Vietnamese tea has not been well recorded compared to Chinese or Japanese, the tea-drinking culture still occupies an essential role in the Vietnamese daily life. Those tourists wanting to experience the Vietnamese cultural quintessence in a better and deeper way should consider grabbing a bag of Vietnamese tea back home. Here are the two best shops to bring you the best tea in Vietnam.
Where to Find the Best Tea in Ho Chi Minh City?
The company is a leading brand in the industry of sourcing and delivering excellent hand-picked Vietnamese tea. No matter if you are a tea lover or not, Hatvalat has many options to choose from, especially its delightful sample tea sets that you can bring home as an authentic Vietnamese souvenir.
Address: 2B1 Chu Manh Trinh, Ben Nghe Ward, District 1, HCMC.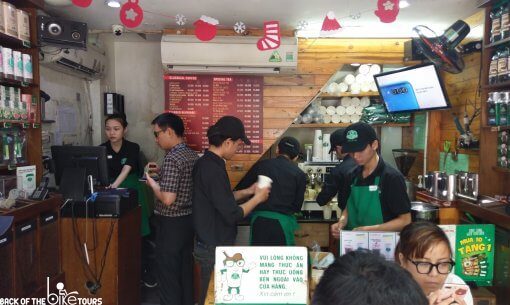 This is literally one of my favorite tea brands ever! They have half a century devoted to the production of Vietnam's highest quality of tea leaves and coffee beans. Phuc Long has plenty of tea bag choices ready-made in packages as well as their significant Thai Nguyen Tea. Customers can always drop by one of their tea shops in Ho Chi Minh City, order a couple of drinks before scanning through their products displayed on the shelves.
Address: 122 Le Loi Street, District 1, HCMC.
Chocolate
The chocolate industry is rising in Vietnam. Cocoa farms in Vietnam provide beans at very high quality. With the nutrient-rich soil and perfect climate, the Mekong Delta and Central Highland of Vietnam produce the best cocoa beans. As a result, the Vietnamese chocolate has a unique taste. This is surely a perfect gift for your friends and family.
Where are the Best Chocolate Stores in Ho Chi Minh City?
You will come across several chocolate brands in Vietnam, however, Alluvia Chocolatier and Marou Chocolate are doing a great job at maintaining their products' quality. Plus, their packaging is great.
Two ambitious Frenchmen, Samuel Maruta and Vincent Mourou left their previous lives in pursuit of tapping into the potential of cacao in Vietnam. Almost a decade after its inception, Marou Faiseurs de Chocolat is now a booming business with two storefronts, one being a flagship store where chefs take a liberated approach in experimenting with ingredients to come up with new and unique chocolate blends, and another smaller branch doubling as a café and patisserie. Working closely with farmers, the founders insist on the great importance of locally sourcing top-quality cocoa beans; That and the duo's passion for sharing their love of chocolate has made Maison Marou a globally recognized brand and ultimately transformed Vietnam as a producer of artisan chocolate sweets.
Address: 167-169, Calmette Street, District 1, HCMC.
Alluvium rich soils in the Mekong Delta are the humble beginnings of this chocolate brand. This creates cocoa beans that inherently have a unique nutty flavor and high butter content. Xuan Ron, a native in Chợ Gạo pioneered a cacao plantation in 2005, and a generation later, he and his daughter exports their "bean-to-bar" chocolate products, branding it proudly as a Mekong brand. With father and daughter working hand-in-hand, they have elevated Vietnam's agriculture by supporting farmers across the country, not only because of their cacao beans but also on the other locally sourced ingredients that goes into the product. From chocolate bars to pure cacao nibs, Alluvia Chocolatier offers a wide selection of cacao products that's a great way to share a taste of Vietnam with everyone back home.
Address: 110 Le Loi Street, Ben Thanh Ward, District 1, HCMC.
One last top-rated name in the Vietnamese chocolate industry I won't forget to mention is Kimmy's Chocolate. The company has over 20 kinds of cacao-based products like cashew, cocoa nibs, or pure cocoa powder and a wide array of chocolate bars. The best sellers at Kimmy's Chocolate are milk chocolate, dark chocolate, red pepper, and cashews. Every single product is hand-crafted using traditional European and American processing techniques which take at least 21 days to create the final products.
What makes Kimmy's Chocolate an outstanding name in this industry is the inspiring story behind a Vietnamese-Indian man who nourished his love for the native Vietnamese cocoa beans. I highly recommend travelers to join Kimmy's Chocolate factory trip in Tien Giang, Mekong Delta. This will provide insight into the process of chocolate manufacture during which the visitors have a chance to enjoy their various products. At the end of the trip, tourists can sample a cup of hot cocoa and buy some products as gifts for families. One of their stores is based at 132 Trieu Quang Phuc Street, Ward 11, District 5, Ho Chi Minh City. If you want to try the sample before making a purchase, feel free to come over here and have a look!
Homewares and Decorations
Lacquerwares
The resin harvested from the Rhus tree is processed into lacquer that is then used on a wooden base usually but not limited to tableware, vases, tea boxes, and jewelry. The making of lacquerware is so meticulous that artists spend a sizable amount of time painting and drying followed by polishing. This whole process is repeated up to fifteen times, producing lacquerware sought after by collectors for its beauty and durability. Due to lacquer being very thin when applied, several coats are required to achieve an even finish. Yet they almost add no weight to the finished piece making lacquerware a welcome addition to the list of gift items for light travelers.
Where to buy lacquerwares in HCMC?
Some notable names to note down when it comes to buying outstanding lacquerwares include Hanoi, Phuong Nam, and Minh Phuong Lacquer. Expect to pay from $1 to $10 for a single item, and higher for artworks. Some arts may reach up to hundreds of dollars for exclusive masterpieces in touristy areas. In addition, the Vietnamese market offers tourists a limitless choice of exotic handicrafts. These handmade products are a common way for social businesses to support the minor ethnic communities, as well as disabled people, while promoting the diverse culture of Vietnam. What's better is all handicrafts are made from eco-friendly materials, as the techniques are passed down from ancient Vietnamese who learned to utilize the most of natural resources. It sounds so tempting when you can go shopping while doing something good at the same time.
Address:
Hanoia: 15 Dong Du Street, Ben Nghe Ward, District 1, HCMC
Minh Phuong Lacquer: 40 Phung Khac Khoan Street, Dakao Ward, District 1, HCMC
Phuong Nam: 26A Tu Xuong Street, Ward 7, District 3, HCMC
Paintings
If a picture is worth a thousand words, then a painting is the silence of thought and the music of sight; And it is a sight to behold indeed, as many paintings sold in Vietnam are filled with rich colors depicting an orchestra of the artistic mind. Not to be befuddled by the ever-bustling city, locals smear their canvas mostly on the streets and buyers could witness the work and attention to detail that goes into each piece. Most, if not all hand-painted pieces are unique, as every painting reveals a different story during its inception so it would be wise to purchase without a second thought if something catches your eye, cause it may not be available for long!
Where to Buy Arts and Instruments in Ho Chi Minh City?
Tran Phu – Nguyen Thien Thuat street is an artistic area in the heart of Saigon which is full of artwork and musical instruments. On Tran Phu Street, tourists are overwhelmed with a huge density of art galleries. Most of them are pop art of talented local artists, while others sell good quality replicas and reproduction of famous artworks. Prices are affordable and the artworks are worth consideration.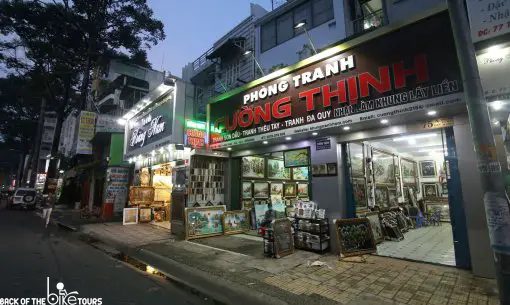 Take a turn in Cong Hoa roundabout into Nguyen Thien Thuat street. Any musician or music player in Saigon will find this a paradise for stringed musical instruments. Over 30 stores here offer you a wide range of choices for guitar, violin and other instruments at high quality and affordable prices, either homemade by shop owners or imported from Europe.
Handicraft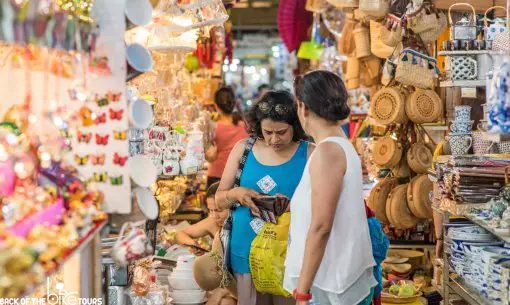 Most of the woven handicrafts are commonly made from materials such as bamboo, rattan, and sedge. It's eye-pleasing to see a stunning ensemble of outfits with a matching turban or a sedge handbag adorned with ethnic cultural symbols. Traditional Vietnamese toys for children are also worth considering seeing how much effort is poured into it by talented artisans. "Tò he" which means "toy figurine" is nothing more than a mixture of pre-boiled edible glutinous rice powder, food coloring, and a whole lot of patience and creativity from the craftsman. Creating these toy figurines is considered a traditional art that started out as taking inspiration from the shape of animals or characters from folk stories, but nowadays more recent characters are taken from international media such as Doraemon or Pikachu can be found.
Where are top-rated handicraft shops in Ho Chi Minh City?
Owned by an enthusiastic and highly charismatic half-French, half-Vietnamese, Audrey Tran transforms her brilliance into unique souvenirs for sale. From colorful propaganda art that highlights the Vietnamese victory during the wartime to postmodern cliche memes that read "Keep Calm and Eat Phở", these are just some of the prominent and popular items that you'll find in print on coffee mugs, coasters, t-shirts, and more!
Address: 43 Ton That Thiep, District 1, HCMC.
Mekong Creations is a non-profit organization concentrating on the manufacture of artistic hand-crafted products. Their proudest sellers include paper maché, water hyacinth products, rag rugs, silk, and bamboo-made gifts. These are distinctive decorative items to renovate a corner of your house. Beyond decorating purpose, Mekong Creation is a meaningful organization praising useful social impact. Their products are locally made by a skillful staff of female villagers in Vietnam and Cambodia. This means the support from tourists will leave a great effect on generating employment and income for local women.
Address: 68 Le Loi Street, Ben Thanh Ward, District 1, HCMC.
Ceramics
It surprises me that not many tourists recall pottery when looking for what to buy in Ho Chi Minh City! Why not? Vietnamese pottery has gained its reputation worldwide for centuries. The delicate potteries are made by combining traditional and modern elements. The patterns imprinted reflect an interesting multicultural environment in Vietnam.
Not only can customers find classic Vietnamese symbols such as lotus, dragonflies, bamboo but they are also amazed at the mind-blowing design, colors, materials and crafting techniques. Some perfect ideas for a ceramic souvenir is a set of teapots and cups, or a flower vase and bowl to spruce up your dining table.
Where to Find Intricate Ceramics in Ho Chi Minh City?
A vision of a contemporary style on materials such as ceramic, wood, glass and bamboo crafts stem from five exceptionally creative individuals and thus the homeware hotspot of Sadec District was born. What started out as a small-scale project back in 2014 is now a full-blown business that spans across three shops in the metro, all thanks to the popularity of the Vietnamese and Southeast Asian inspired items that they're selling. A handful of limited edition products are commissioned from less-known designers while an array of teapots, trays, bowls, linen bags, and other trinkets are masterfully crafted by none other than Tu Phuong Thao famously known as being the Art Director of both Sadec District and Elle Decoration Vietnam.
Address: Sadec District, 91 Mac Thi Buoi, District 1, HCMC.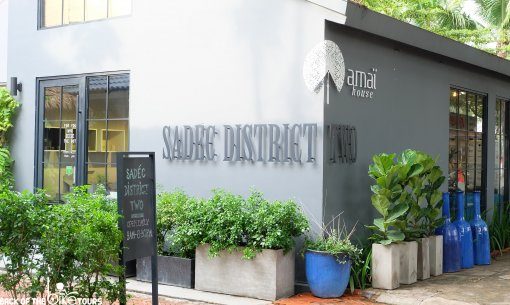 Amaï has certainly made its presence known with such an exceptional name conveying a pleasant state of amazement. The word "Amaï" is translated to "Wow!" and often used in the land of Antwerp, Belgium – the hometown of the two talented founding designers named Ina Stas and Ingrid Ploem. Amaï Ceramics' principle of colors is based on a Pastel Pantone, a color profile that ensures the consistency of colors and beautifully complements each piece in its wide spectrum of ceramics. Though it may seem fragile, their products are sturdy enough to handle a clink or two thanks to the high quality of kaolin clay that is used for each piece. What makes Amaï ceramics special is that even though the mismatched shapes may look imperfect or unnatural, its shining glaze makes a perfect compensation. Be careful as you might be inspired to replace your entire tableware set with these beautiful pieces. With such a vivid inspiration and a disciplined theme of "East meets West" in their line of clay products, wouldn't you say "Amaï"?
Address: 63 Xuan Thuy Street, District 2, HCMC.
Which Places to Frequent for An Ultimate Shopping Spree?
Alright! Now I've given you some cool ideas for what to buy in Ho Chi Minh City and where to find them. In case you haven't finalized what to bring in the flight back home, then this section is a complete guide for all the famous and off-the-grid spots for an ultimate shopping spree! This section is a complete guide disclosing all the famous and off-the-beaten-track destinations to visit for an ultimate shopping spree!
Big and Popular
Markets
Even though shopping malls are popping up like mushrooms after the rain and gradually competing against traditional markets, many locals still prefer these good old classic markets to shop for their favorite items. One of the many advantages of the traditional markets is competitive price followed by convenient locations. They mostly assemble around the busy residential area and filled with various kinds of products including food and drinks. We native dwellers can easily haggle with our fellow merchant and latest designs are always updated. Here are four of the most popular traditional markets you cannot miss when in Ho Chi Minh City.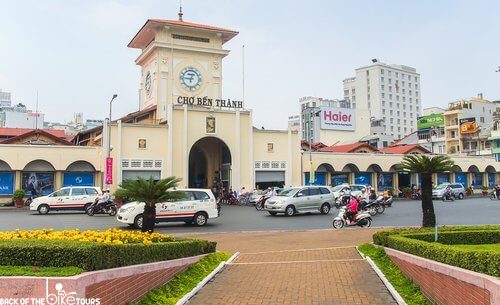 The reason why Ben Thanh Market always pops up first when travelers google "where to go shopping in Ho Chi Minh City" is because of its fame, size, history, and location. Located right in the heart of District 1, the stadium-like market has stood strong for a century providing goods of all kinds at any price range. Therefore, it's not exaggerating to say that you can find almost anything here, from clothes, food, accessories, household goods, electric appliances and more.
On one hand, Ben Thanh is an interesting shopping attraction because of its history, the lively vibe of haggling and a mesmerizing mixture of goodies. On the other hand, tourists don't have to count on Ben Thanh for the best deals. There are plenty of smaller boutiques and lesser-known shops mentioned above that catch my interest, and the price is even better. In case you're short on time, then the Ben Thanh Market is still worthwhile, but be aware of being overcharged!
If visitors mainly look for clothes or accessories, then they're advised to check out Saigon Square with just a few steps across the street.
Fame is also the downside of Ben Thanh Market. Since most visitors are tourists, haggling for the right price sometimes puts people off. Also, be mindful of your belongings since snatchers and pickpockets usually lurk around the crowded place.
If you can't stand the heat of the day, check out Ben Thanh at night for its night market after 6:30 pm. Fewer goodies are offered, but it's still an exciting corner in town to frequent, especially the yummy late-night bites, smoky BBQ and hotpot.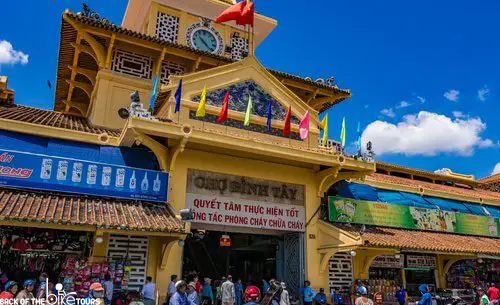 The market of Binh Tay is so remarkable as a great supplier of many sellers in the city. That market dates back to the early 20th century with an interesting history of a wealthy Chinese tycoon. Given another common name known as "Cho Lon" (or Big Market), Binh Tay is the largest wholesale market offering a vibrant trading culture in a lively atmosphere. An opulent Chinese culture is what travelers can witness when visiting Binh Tay. A fascinating assortment of handicrafts, lacquerware, textiles, and fresh products are widely displayed in various styles and designs. There's also a food court at the back of the market where you can enjoy tasty treats in the middle of the day. A smoky bowl of rice noodle or an icy glass of smoothies chases all the stress away. One thing to be noted is that most of the goodies here are not available for retails, while a little fraction of them is. Feel free to let the vendor know if you're interested and ask if you can buy one or two!
Soai Kinh Lam Fabric Market
Another lesser-known attraction located within the Chinatown is Soai Kinh Lam Fabric Market. This is the capital for fabric and textiles in Saigon. Local tailors and designers frequent here weekly to purchase high-quality or unique patterned textiles at a good price. Located on the base floor of an old building, the market is not so big which means visitors only need less than 30 minutes to take a quick look.
Soai Kinh Lam is specialized in fabrics, which means customers can find almost anything from the basics like silk, cotton or wool, to modern textiles for festivals and luxurious costumes.
An Dong is a highlight of Chinatown and is known as a famous craft market delivering bulk items for local stores. The goodies here are sold in both retail and wholesales. The four-story building is a large trading hub of food, apparel, textiles, woodworks, lacquerwares, trinkets provided by skilled local artisans. The only thing to note down while shopping here is the jewelry and gemstones stores, as the quality is not a hundred percent guaranteed. Generally speaking, An Dong brings a unique look in contrast with other mainstream touristy markets.
Shopping Malls
The undeniable advantage of shopping malls is that they allow us to have a combination of shopping, relaxation, and entertainment at the same time. For upper and middle-class shoppers, Vincom Center and Takashimaya are 2 iconic luxury shopping malls in Ho Chi Minh City they never miss.
Gathering more than 250 stores featuring top-notch international names and high-class local brands, Vincom occupies two buildings including Vincom Center A and B. The shopping mall is home for upmarket brands in apparel, electronics, cosmetics, and home décor, along with a large food court and a family-friendly entertainment area.
Address: Dong Khoi Street, District 1, HCMC.
Takashimaya is the first Japanese department store in Vietnam which offers European high-end brands in fashion, cosmetics, and accessories. Christian Dior, L'occitane, or Bobbi Brown are such huge names that visitors are familiar with. A wide range of beverage shops standing beside an amazing food court makes it a formidable opponent to Vincom Center.
Address: 92 Nam Ky Khoi Nghia Street, District 1, HCMC.
Off-the-beaten-path
Shopping Streets
A whole street selling the same product doesn't make much sense, but it's, in fact, a common business mindset in Vietnam and China. Why is that? It saves our time in choosing the right items we like without wasting hours wandering across districts. Hence, it would be a big mistake if the shopaholic skips the coolest shopping streets in town when visiting Ho Chi Minh City. Here are my top four recommendations!
The street of Nguyen Dinh Chieu is dedicated to clothes and shoe fanatics! Indeed, it's much better than any traditional markets or shopping malls when it comes to diversity in designs and prices. Setting along the street comes hundreds of stores and boutiques from both domestic and international brands, with the best stores assembling around Ban Co Market. During special occasions, Nguyen Dinh Chieu Street comes to life with thousands of people flocking the street to pick their favorite items.
Address: Ban Co Market – 664 Nguyen Dinh Chieu Street, Ward 3, District 3, HCMC.
Nguyen Trai is not a stranger to local salarymen and young ladies in Ho Chi Minh City when it comes to fashion shopping. The street is home to countless fancy boutiques, big brands in fashion and clothing retailers. Most of them are made in Vietnam but there's also a big array of fake Chinese imports. More than just clothes, Nguyen Trai takes you to a mesmerizing scene with handbags, accessories, shoes, and jewelry. One thing to keep in mind is that plus size clothing won't be available here.
Tourists visiting the Ben Thanh Market shouldn't skip the shoe street of Luu Van Lang, which is situated right beside the market itself. The whole street is where dozens of Vietnamese brands gather to offer plenty of different footwear types. Sandals, sneakers, pumps, and shoes are the best sellers here. The price is affordable. A pair of sandals may cost from 8 to 10 USD and higher for sneakers or heels.
Unlike the three destinations above, Hai Ba Trung gathers high-class local designers and international brands making it an ideal spot for famous fashionistas who are willing to spend a little more cash. The items here are mostly exclusively designed. Some iconic names like Nem and Triumph, Hoang Phuc, The Blues, Charles & Keith, and Moc Mien are set next to one another turning Hai Ba Trung into a lively and vibrant shopping landscape by nightfall. The best stores on Hai Ba Trung gather along the area of Le Van Tam Park, including Saigon Square 2. Save your time by giving Saigon Square 2 a visit without having to travel all the way to the flagship branch.
Old Apartment Buildings
These hidden gems are not only an exotic shopping treat but also unique aesthetic shoots for your Instagram. Imagine walking into dozens of hidden shops nesting inside the old apartments built in the 50s, is there a more exciting shopping experience than this? The price is guaranteed better than shopping mall offers and the quality is just irresistible. An old apartment like this is home to various newly emerging Vietnamese designers who bring their voice and taste closer to the young community in Saigon through the exclusive collections. A majority of the goodies here are clothes, while some other shops also offer footwear and accessories.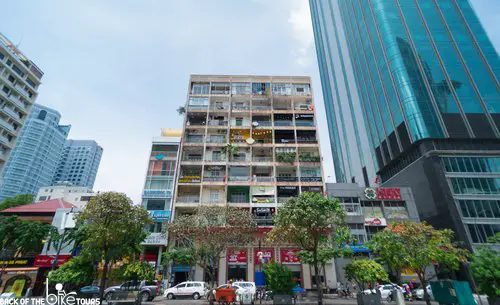 Some notable apartments that travelers cannot forget are No. 42 Apartment on Nguyen Hue Street, No. 14 Apartment on Ton That Dam Street, and No. 26 Apartment on Ly Tu Trong Street. These buildings are all situated within the center of District 1, which makes it way easier for tourists to swing by at any time.
Saigon Flea Market
Local and expat artisans converge at the Saigon Flea Market or more commonly known as the "Market of Artists", where they express their passion towards creating and selling intricate handicrafts and vintage clothes to the community. Apart from shopping, make sure to check out Boomerang Bistro Saigon. This is a highlight in the center of the market where visitors can take a break from the heat with mouthwatering cuisine. Not forgetting to mention the strategic location, this market is just beside Crescent Lake, adding more to the appeal and charm that this place already has.
Address: 1st floor, Boomerang Restaurant, 107 Ton Dat Tien, Tan Phu Ward, District 7, HCMC.
Website: Saigon Flea Market
Hello Weekend Market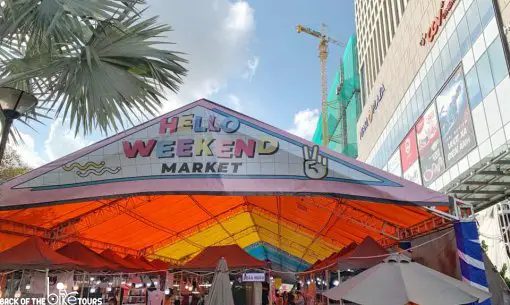 Aspiring entrepreneurs have to find different avenues to vend their merchandise. While most of them turn to online platforms, nothing beats a physical retail experience and that's what you'll find here at Hello Weekend Market. Vendors peddle their products with the aim of attracting new potential customers. Though most of the brands being sold are not commonly known amongst the public, you may also find products that are popular and patronized by the locals here too such as Dottie and Soda Pop brands. If you think that's all of it that's available here, then hold up! Pre-loved items are also quite rampant in these parts, much like the thrift shops that are present in several western countries.
Address: The location is frequently changing, so follow their Facebook page for more information.
Facebook: Hello Weekend Market
Pham Van Hai Market
Boasting more than a thousand stalls, the bustling and crowded market in Pham Van Hai is definitely the place to put your bargaining skills to the test. This market covers a huge area that offers a wide array of food, clothing, shoes, accessories, and ornaments making this a prime shopping destination favored by women at any given time of the day. Most of the items sold here are either domestically made or imported from neighboring countries, which by the way has redeeming quality and reasonable prices. But don't easily give in on the fronted price, make sure to strike a bargain!
Address: Pham Van Hai Street, Ward 3, Tan Binh District, HCMC.
Dan Sinh War Surplus Market (Yersin)
Even though Yersin is set right in the city center, not many people are aware of its existence since they are drawn to the bigger Ben Thanh Market. This makes Yersin an awesome off-the-beaten-path local market holding an interesting insight behind. The Yersin market is not touristy since visitors won't be finding any ordinary goodies like clothes or food. The market is the locals' favorite spot for construction materials and plumbing hardware. Tourists may not need an industrial item on their vacation, but American war surplus items can be something cool they want to own.
The section selling war surplus is located on the left of the entrance where an impressive exhibition of war memories and self-claimed authentic war antiques is displayed. These include personal belongings and military equipment that came from both the American and Vietnamese sides from the infamous Vietnam War. It can be a soldier uniform, gas masks, boots, binoculars, grenades, mines, helmets, flashlights, tents, or dog tags. Guess what the best seller is! The good old classic Zippo lighter. Some of the owners may even surprise you with their interesting wartime stories. Other than that, they are also friendlier and chattier than those in the touristy markets.
Even though shop owners claim the authenticity of their goods with confidence, the question of their origin still needs to be asked. The items offered here are mainly replicas. It's so suspicious to find a huge amount of war antiques after 40 years. In this case, my advice is to go ahead and pick one as a cool souvenir, yet think carefully before paying a fortune for a huge collection!
Address: 104 Yersin Street, Nguyen Thai Binh Ward, District 1, HCMC.
Shopping is not always an easy task, especially in another country. Understanding that struggle, this article is provided for a shopaholic to save their time and money! Make sure to bookmark this article and share it with the besties if you're about to discover the mesmerizing shopping landscape in Ho Chi Minh City!