Sometimes you need a quick trip to visit somewhere new and exciting to experience their culture, food, and famous landmarks. While I personally believe that Ho Chi Minh City is worth a few days at least to dive into the real nitty gritty of the city, we don't always have the luxury of time during our travels. If you find yourself with just a little bit of time in Saigon, on a layover or just a day trip, let me help you select your itinerary.
What Do with 12 Hours in Ho Chi Minh City?
If you're on a 12-hour layover at Tan Son Nhat Airport waiting for the connecting flight. You want to make use of this chance to discover Saigon but don't know how to make it happen. Let this be your ultimate guide to a 12-hour stop-over in Ho Chi Minh City. 
Airport Services in Tan Son Nhat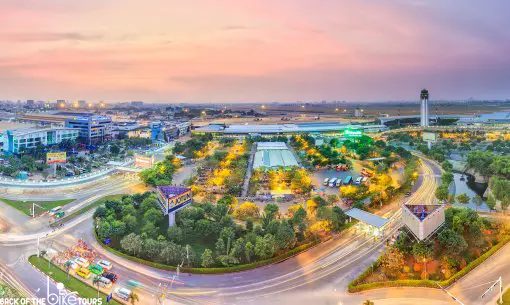 For those who want to stay in and enjoy airport services instead of seeing the city, here are my suggestions:
Enjoy the comfort of an Airport Lounge
        On paper, the VIP lounges are strictly for Business Class passengers. In reality, regardless of what class you are flying, you can enter the lounges by paying at the door. Amenities include TV; Internet access; a wide range of food and beverage options, including a buffet; newspapers; and, depending on the lounge, showers. If you get tired after a long flight and would kill for a place to rest, here are some lounge options and their respective fees.
Lotus Lounge 1 – Location: Domestic Terminal, 1st Floor.
Fee: 350,000 VND ($15) per 3 hours.
Lotus Lounge 2 – Location: Domestic Terminal, opposite Gate 14. 
Fee: 350,000 VND ($15) per 3 hours.
Lotus Lounge 3 – Location: International Terminal, 3rd Floor. 
Fee: 700,000 VND ($30) per 3 hours (includes showers). 
Get some R&R: Pay a visit to the Sleep Zones in the 2nd Floor hallway, which offer sleeping boxes, each with a bed, pillows, drinks, towels, a lamp, and power outlets (fee: $7 an hour) or get a massage at the Sen Viet spa located in the domestic terminal to get some pampering before boarding your next flight. 
Eat at food and drink counters: The Vietnamese restaurants at the airport, such as Pho and Banh Mi , are worth trying if you don't plane on leaving the airport. If you're suffering from jet lag, try a coffee at the iconic Vietnamese chain Trung Nguyen to taste the difference between authentic Vietnamese coffee and your home country's variety. 
Family services: If you're flying with children, there is a play area located in the International Terminal that offers play houses, games, and other interesting activities to have a great time with the family. 
How to Get a Visa into Vietnam
For those who like to experience the city.
In order to leave the airport, you have to get a Visa. There are three ways to obtain a Vietnam visa:
Visit a Vietnam embassy and consulate in your home country.

Fill out an online application form and obtaining an e-visa.

Get a Visa on Arrival, issued by an agency right at the airport, which I consider the most comfortable, fastest, easiest, and cheapest method.
Here is my guide to getting a Visa on Arrival at the Tan Son Nhat Airport. 
After getting off your plane, find the Vietnam Visa on Arrival counter on the left side of the immigration hall. At the counter, submit your passport, the print-out of your visa approval letter, a completed Vietnam Entry and Exit form, and two copies of your 4x6cm passport photo for processing. 
When your name is called, pay the officer your stamping fee, which is around $25 for a 30-day, single entry tourist visa. The Immigration Office only accepts cash, so make sure to have money exchanged beforehand.  There are currency exchanges between the boarding gates and the Immigration Office.

The officer will return your passport with a Vietnam visa stamp. Double check it before leaving to verify that all of the information is correct. 

Go to the Immigration Counter to get an immigration stamp.
Head to the baggage claim on the first floor. For those who want to have bags stored so that they can explore the city baggage-free, there are counters for a temporary bag check on the left and the right of the airport exit. It costs 27,500 VND ($1.40) per bag per hour up to 10 hours and 275.000 VND ($14) per bag for 10 to 24 hours. 
The whole process usually takes between 15 and 30 minutes. If you wish, ask for the Airport Speed Up service, which will expedite the stamping process.
Lastly, remember to keep track of the time. Passengers are required to arrive at least 3 hours prior to the departure time, so be sure to give yourself plenty of time. 
Things to Do during a 12-hour layover in HCMC          
Notre Dame Cathedral
Located in the center of Saigon, Notre Dame Cathedral shouldn't be missed when setting foot in Vietnam. The cathedral attracts a whole host of both tourists and locals every day. People come here for wedding photos and to attend mass. Do you know why this attraction is so captivating to Saigoneers and tourists alike? Let's take a quick look at its history. 
The cathedral was built from 1863 to 1880 when Saigon was under French control and Catholicism became popular among the local population. Inheriting the neo-Romanesque architecture from its namesake, Notre Dame Cathedral is comprised of two big bell towers, built with materials imported from Marseilles, France. The 4-meter statue in front of the Cathedral of Our Lady of Peace is a reference to the cathedral's name, which means "Our Lady" in French.  
The cathedral is temporarily closed for renovations until June 2020, only open to the public for masses, but you can admire it from the outside and take a picture with this so-called icon of Saigon. In addition to the cathedral itself, observe the flow of life surrounding the church by visiting the public park packed with green trees next door. Take some peaceful air into your lungs while taking some Vietnamese coffee from nearby vendors into your stomach. 
Independence Palace
Your next destination should be Independence Palace. The name says it all. The place is a Vietnamese symbol of independence and is well-known for its long-established history and imposing architecture.  
Construction of the Palace, originally called Norodom Palace, was started in 1873.. Later, it served as the home of Ngo Dinh Diem, the first president of what was then South Vietnam. After being bombed in early 1962, reconstruction began shortly thereafter and continued until the inauguration of Independence Palace in 1966.  
The beauty of various antique furniture, chandeliers, and special artifacts all over the palace will leave you in awe. Visiting the Independence Palace will give you the unique chance to see the living chambers and working office that the Southern president used in years long gone. Don't forget to see the old US UH-1 helicopter on the fourth floor and the two Russian T-54 Tanks that crashed the palace's gate to make way for Communist forces to capture the palace. 
Address: 135 Nam Ky Khoi Nghia, Ben Thanh Ward, District 1
Opening hours: 7.30 am – 4pm
Fee: 40,000 VND/person
Tips: Don't step on the grass or touch any artifacts on display. Large, bulky bags and dangerous objects are not allowed in.       
Saigon Central Post Office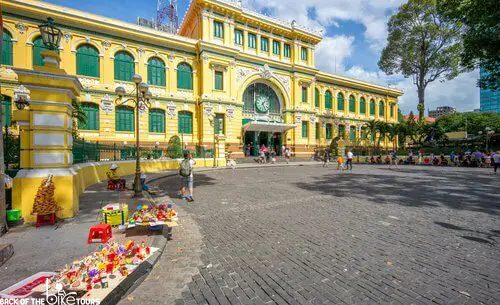 You may wonder why people would bother to visit a post office during their 12 hours in Saigon. Let me bring you close to the reasons why Saigon Central Post Office has been an all-time favorite attraction for tourists coming to the city. 
Built in the Indochina time period, Saigon Central Post Office inherits the architecture of the French who occupied Saigon. The building was first established in 1863,  rebuilt, and modernized by the architect Villedieu from 1886 to 1891. After all the modification and reconstruction, the building has not changed significantly over the past century. 
Heading to the Central Post Office, visitors not only can contemplate the impressive Europe-styled architecture but also immerse themselves into old Saigon. If you love letters and enjoy pouring your heart by hand writing, don't forget to come and see Mr. Duong Van Ngo, an old dedicated assistant at the Central Post Office. By helping people write letters in English and French, he brings them back to good old days when there were no electronic devices. You can pay 10,000 or 20,000 VND per letter as a keepsake or to send to relatives and friends. Among the hustle and bustle of a booming metropolis, this little bit of nostalgia is worth the visit. 
Address: 2 Cong Xa Paris Street, Ben Nghe Ward, District 1
Entrance Fee: Free
Hours: 7am – 7pm
Ben Thanh Market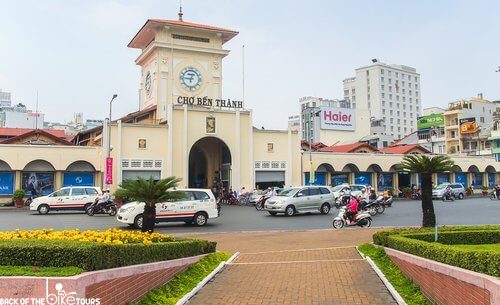 After touring Ho Chi Minh city, if you want to get some Vietnamese souvenirs and local handicrafts to bring back home as gifts for friends and family, Ben Thanh Market deserves a place on your destination list. 
The French-built market appeared in 1870 with the name Les Halles Centrales before being renamed Ben Thanh Market in 1912. In addition to the market's commercial purposes, it's  a witness to the city's ups and downs through history.  The perfect harmony of traditional and modern values of the market has and will continue to ensure its relevance for years to come. There are four main entrances, which are the South, the North, the East, the West, and 12 side entrances that allow everyone to get in easily. The market is open from 4 am late into the night. With around 3000 stalls, there are thousands of goods such as jewelry, electronics, handicrafts, pottery, food, drinks, and clothes. You'll be able to find almost anything in existence in this bustling marketplace, which is why Vietnamese citizens consider the market a vibrant soul of Saigon in particular and of Vietnam in general. At night, the market can win your heart with its flurry of activities and vendors with their stalls set up for selling. When the street lights are on, Ben Thanh night market wakes up lively and crowded. Visitors may find fewer different kinds of goods than they would during the day, but the exciting atmosphere and various enchanting aromatic street food that are only offered by the night market are enamoring.   
Here are some tips that you may need: 
Try to haggle because the listed price is always two or even three times higher than what is the vendors expect. 

Watch your belongings to avoid pickpockets. 
Address: Le Loi street, Ben Thanh Ward, District 1
Fee: No entrance fee
Hours: 4am – 6pm
              6pm – 10pm for the night market
War Remnants Museum
The war was put to an end long ago but the stories of it and the pains of people once going to the frontline never die down. The past is the past, but the remnants it left behind are still there as reminders of how Vietnamese soldiers tried to protect their country and of how the brutal war formed Vietnamese society. In the War Remnants Museum, you will encounter many pictures of the dead overlaid with others and can view a documentary on the long-lasting aftermath of Agent Orange. Everything is so real and shocking that can make visitors' hearts ache and even reduce some to tears. Visitors may experience a newfound gratitude for living in more peacefuls time and realize how significant peace is.
Outside the museum, tourists can see first-hand so many military vehicles, such as Huey and Chinook helicopters. There are also other artifacts, such as an A-1 Skyraider attack bomber, an M48 Patton tank, and a guillotine. A "tiger cage" where the French and South Vietnamese used to detain and torture political prisoners is located on the left side of the main hall. You can also step inside to discover more. Due to the disturbing feelings the museum may cause, caution is advised for children and the faint of heart. 
Address: 28 Vo Van Tan, Ward 6, District 3, HCMC
Fee: 15,000 VND for foreigners, 2,000 VND for Vietnamese
Hours: 7:30 am – 12:00 pm and 13:00 – 17:00
Cu Chi Tunnel
Waving goodbye to the accelerated pace of life in the center of the city, you are en route to the most famous historical site in the South which is Cu Chi tunnel. 
In case you haven't learned about it before, let's take a quick look at the history of the spot back in the late 1940s. Cu Chi tunnel is a man-made complex underground that is approximately 155 miles long and 33 feet below ground.. The tunnels were created for the sake of Vietnamese soldiers and locals' safety in war time. The complicated structure was home to many trenches, bunkers, bomb shelters with an amazing air ventilation system. Believe it or not, soldiers performed almost every daily activity in this tunnel, including eating, sleeping, and working, bullets whizzed overhead. Hospitals, schools, theaters, and a kitchen were also built in the exceptional tunnel to meet people's needs. The system came of the war and contributed enormously to the success of the war. 
If you want to immerse yourself in a place that is a far cry from the bustling atmosphere in the heart of the city, this unique tunnel is worth considering. It is an hour and a half hour drive from the airport. The place will give tourists an overall picture of the Vietnamese soldiers' living conditions back in 1948. The deeper you get into the tunnel, the more your heart goes out to soldiers fighting in the darkest times for their country's dependence.  
Coming to Cu Chi tunnel, tourists get to try numerous activities right in the authentic historical background such as shooting. You can pay 600,000 VND to shoot 10 bullets from an AK. Wouldn't it be cool to see yourself holding a real rifle with real bullets inside? 
Despite the good time tourists may have with Cu Chi tunnel experience, the visit is not for people with respiratory problems or claustrophobia. It's a very narrow tunnel, and the air is not nearly as fresh as it is outside.  
Landmark 81 (Landmark Skyview)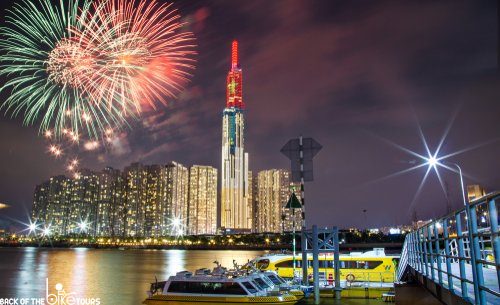 In 2018, Landmark 81, the 14th tallest building in the world, was brought to life. The tower symbolizes Vietnam's significance through thick and thin. It also established a precedent for the country going forward. The building is in the Vinhomes Central Park, next to the Saigon Bridge, which connects District 2 and Binh Thanh District. The skyscraper includes top-notch facilities including luxurious hotels, restaurants, elite clubs, shopping centers, and state-of-the-art condos and apartments.  The one feature visitors shouldn't skip is the chance to take in the view this bamboo clump-shaped tower offers. The viewing areas are on floors 79, 80, and 81. How would you like to enjoy a lip-smacking cocktail up in one of the highest lounges in the world while observing the whole of Saigon? The lounge, MIWAKU, is on 79th floor. You can spend quality time with friends, family, or your partner during your stopover in HCMC. The 80th floor is synonymous with its Japanese restaurant, which provides tons of scrumptious dishes. The 81st floor is show stopper, offering visitors a panoramic view through a telescope. If you're adventurous, you can also try SkyTouch, a service that allows you to experience the view from a thrilling observation deck surrounded by transparent glass.  
Address: 720A Dien Bien Phu street, Binh Thanh District
Fee: 810,000 VND/adult, 405,000 VND/child. 
Nguyen Hue Cafe Apartment
Built in the middle of 20th century on Nguyen Hue street (one of the oldest thoroughfares in Saigon), Nguyen Hue Apartment has been made over into a go-to spot for coffee lovers, tea addicts, foodies, and shopaholics to meet up with friends. The building is home to a combination of fashion boutiques, coffee shops, co-working spaces, and food stores, and the number of businesses continues to rise. Down from the street looking at it, visitors can see that the nine-story old-fashioned apartment front is covered with windows, each of which is for a business. At night, the apartment block sticks out of the surroundings thanks to various types of decorative lighting that makes the place a bright spot in both the city and minds of tourists.  
Years ago, rumors swarmed that the complex would be shut down, but it's still operating and thriving to this day. The long-established block is in poor condition, but its popularity and historical value may be why it's still open. 
Being visitors for the first time, people may get confused while exploring the place because the layout is not designed for commercial purpose. Make sure you choose the shops you want to go to right from the outset before you enter the block. Here are some destinations suggestions:
Partea – English-styled tea house – fourth Floor
Saigon Ơi coffee – good for winding down – fifth floor
Mêlee – Japanese-styled kitchen and beer – sixth floor
Boo Cafe – little balcony with a good view of the city – ninth floor. 
Bui Vien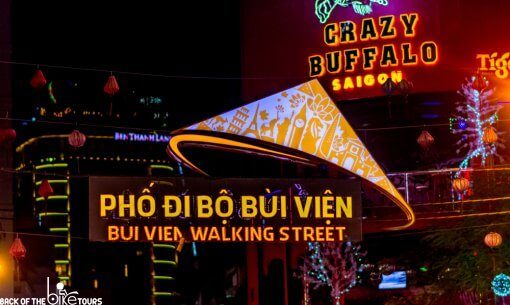 Bui Vien Street is a hotspot that elicits unforgettable impressions from people once visiting. The always-crowded place attracts not only native Saigoneers but backpackers and tourists. Bui Vien Street only comes alive at night, so if your 12-hour layover is during the day, you may want to skip Bui Vien. 
Coming to Bui Vien at night, tourists see many young people sitting on plastic chairs along the sides of the street, taking drags off cigarettes and exhaling smoke out of the sides of their mouths. The street is a like a concentrated version of the city as a whole with various restaurants, pubs, bars, clubs, massage services, hotels, street vendors with food and drinks, coffee shops, tattoo services, and transportation for tourists. Adding to the noisy atmosphere of the street are the overlapping beats of music from pubs and bars. Visitors can easily get carried away and unknowingly do some shuffling along with the loud music. This is where people with nine-to-five jobs gather at night to catch up with friends and grab a drink to let off some steam after a hard day at work. 
Because the street is always chaotic, it is infamous for its drawbacks. There are frequent cases of stealing there, so make sure to keep an eye on your belongings. Last but not least, try not to drink too much because the connecting flight is awaiting. 
Address: Bui Vien Street, Pham Ngu Lao Ward, District 1
Hours: Open all the time but the street comes to life from 7pm till early morning. 
Eat Some Tasty Vietnamese Food
Saigon is always an enthralling place for taste buds. The way ingredients get mixed together and how people eat food ingrains a special impression in tourists' mind. Below are some of my restaurant suggestions. This is not an exhaustive list, but I hope that it will give you a good start:  
Mekong kitchen: Nguyen Thai Binh, District 1

Pho Phu Vuong: 339 Le Van Sy Street, Tan Binh District

Bun Dau Mam Tom: 6 Hong Ha Street, Ward 2, Tan Binh District

Quang Noodles: 8 Ca Van Thinh Street, Tan Binh District

Banh Cuon: 122 Pham Van Hai Street, Tan Binh District

Goi Cuon: 40 Le Binh Street, Tan Binh District

Banh Beo:

136 Le Thanh Ton Street, District 1

Bun Bo Hue:

110A Nguyen Du, District 1

Banh Mi Huynh Hoa:

26 Le Thi Rieng Street, District 1

Com Tam:

17 Ut Tich, Ward 4, Tan Binh District 
Where to Stay on a Layover in Ho Chi Minh City
If you don't want to sleep at the airport, here are some hotel suggestions: 
Golden View Hotel – (4 minutes from the airport) 

Iris Hotel – (3 minutes from the airport)

Sunflowers Hotel – (4 minutes from the airport)

Park Royal Saigon – (5 minutes from the airport)
Motorbike Tour
If you get bored of getting in and out of taxis or don't want to be sandwiched between a crowd of people in a pedestrian traffic jam, you can find a motorbike rider who's willing to lend you a back seat and lead you around the city. Along the way, they can tell you a lot about the history, culture, hot spots of Saigon and what it's like to live in the city. Their familiarity with the streets lets them worm their way through alleys and take shortcuts that lead you to the destinations quicker. So what is the reason to say no to a fabulous experience like this? 
Book a tour with Back Of The Bike Tour to make some new English-speaking friends, sit around and drink a beer, and discover colorful Saigon. I guarantee that this would be a unique experience. What's more, with a food tour, tourists won't need to worry about what to eat before coming back to the airport. Saigon will treat them to an array of street food with complicated cuisines and delicacies.
We hope you enjoyed our 12 Hour Guide to staying in Ho Chi Minh City. Whether you are planning a short trip or looking for something to do during a layover this will be an excellent resource to help you explore our wonderful city!