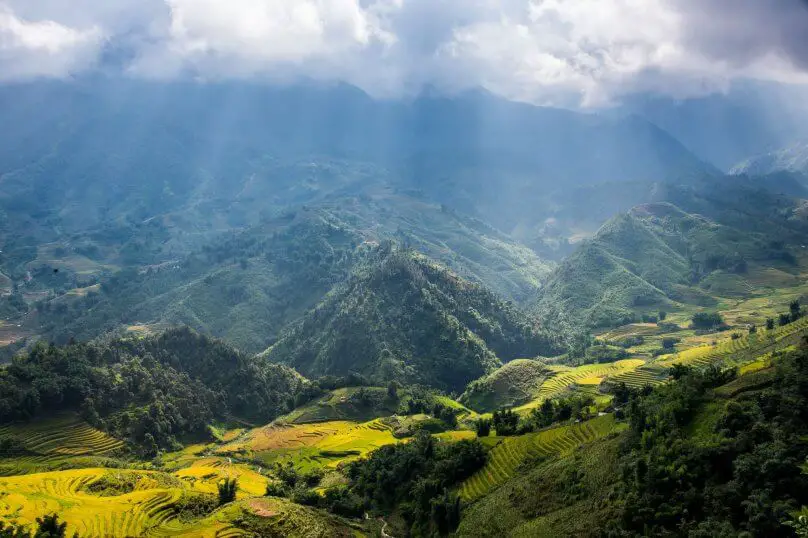 Even though Vietnam has a tropical climate, the long, stretchy shape gives the country a diverse weather pattern. While the typical scenario is hot and steamy days, the country also has gloomy and cold winter in the north. The top-north mountainous areas can even get frozen at certain times. Sudden rains are also a big factor that often brings visitors inconvenience. It is absolutely recommended that you do some research to choose a suitable time to visit Vietnam. Not only that it helps avoid the unpleasant weather, knowing the seasons in Vietnam allows you to see your dream destinations at their most beautiful times.
In this article, find out when is the best time to visit Vietnam, which beautiful places you should see and suitable activities to do, along with some tips to cope with the erratic weather patterns here.
What is the Weather like in Vietnam?
Vietnam's climate is classified as monsoon-influenced. The influence of the South China Sea, the stretchy shape from North to South, and the diverse geography make Vietnam climate varied greatly between regions. Basically, the weather patterns are grouped into 3 regions: the North, Central and the South. For each region, 2 factors that you should consider are the temperature and the amount of rain, as they will largely affect how convenient your trip is.
Northern Vietnam Weather
Northern Vietnam spans from the top-north border with China down to Hai Van Pass. This beautiful mountain serves as the natural barrier to prevent the cold from penetrating into the South. Famous destinations in North Vietnam include the exotic hills in Sapa, the classic metropolitan Hanoi, and the natural wonders in Halong Bay.
Temperature and Seasons
In this area, locals enjoy all 4 seasons in a year thanks to the monsoonal temperate climate. The average temperature in the hot summer is 25 to 30 °C, which happens between April to August. May to July is usually the hottest time in the year with regular heatwaves. These heatwaves sometimes raise the temperature to an alarming level. The combination of blistering heat and high humidity makes Vietnamese weather pretty unpleasant for outdoor activities. During this time, people in urban areas tend to visit coastal cities or highlands to get away from the heat, where the temperature remains much cooler.
As the temperature goes down from September toward the end of the year, the time between September to December is favourable for tourists. In this season, most days are sunny, dry weather, and chilly atmosphere. The weather usually chills down from December until next year's Spring. The temperature remains below 20 °C on most days. Towards the end of the year, mountainous areas like Sa Pa, Ha Giang, and Lao Cai may be covered in white snow due to the subzero condition. The snowy scene makes them a famous destination for locals' New Year holidays.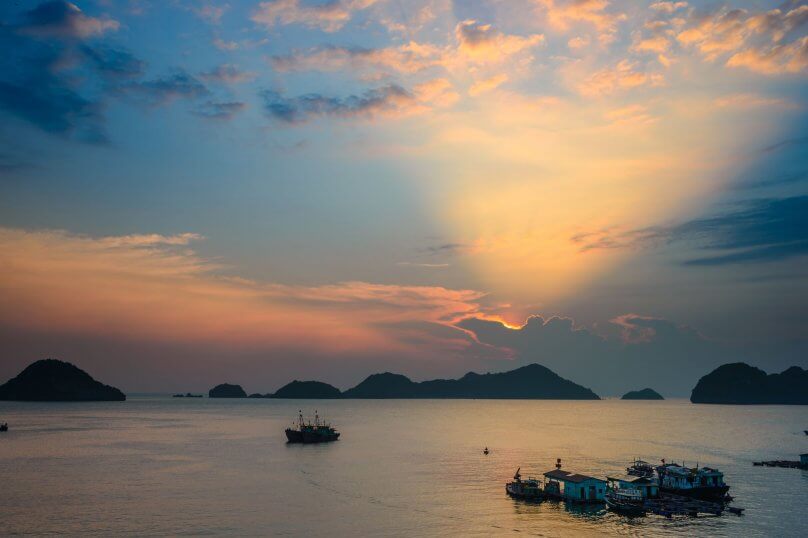 Rain Pattern
Because of monsoonal influence, the northern part of Vietnam receives more rainfall than the south. This is because, in the dry seasons, rain still comes but in the drizzling form that does not affect outdoor activities very much.
Generally speaking, most parts experience the rainy season from April until October, with the peak in July and August. The amount of rain increases quickly as summer approaches. During the peak, you can expect many rainy days in several long, heavy bursts. This is usually the time that Hanoi city centre is flooded, especially the Old Quarter District.
In a coastal region like Ha Long Bay, this season comes up later: it starts from August and won't leave until December, with a peak of around October. Heavy rains, gloomy sky with strong waves prevent many cruise trips or kayaking in Ha Long Bay. Around August, strong storms usually hit the sea, making it dangerous for any outdoor activities.
Best Time to Go to Ha Noi: Autumn (August to November)
All 4 seasons in Ha Noi have their own beauty, but any local would agree that Autumn is the most beautiful time to visit Ha Noi. From late August to the beginning of November, the city is embraced in honey-like sunlight, with the clear blue sky and cool breezes. The dry atmosphere eases the leftover heat from summer, making any outdoor activity pleasant. The best thing to do during this time is to explore the city on a walking tour or a motorbike trip.
What to See in Ha Noi's Autumn?
Don't forget to visit beautiful streets on Phan Dinh Phung, Kim Ma, West Lake, Sword Lake, and Ba Dinh District. The trees along these streets will be covered in the typical browny, yellowish hue of Autumn. Street vendors make the city more colourful with baskets full of flowers. On some streets, the milky white colour of blackboard tree flowers creates a romantic background for any beautiful Instagram shoot.
Mid-Autumn Festival is the most important event during this time. It's not exaggerating to say that in Autumn, every corner in Ha Noi becomes lovelier! The Autumn's chilly, relaxing vibe greatly matches the classic beauty of vintage French villas and ancient buildings in Ha Noi. On Hang Ma Street, all shops are decorated with bright colours, traditional paper decorations, and lanterns.
Must-try Food of Hanoi's Autumn
Ha Noi has some special dishes that only come around Autumn. You can find "cốm vòng" (green sticky rice) to pop up in almost all street food vendors during the time when Mid-Autumn festival approaches. This traditional snack contains the flavour of Vietnamese rice fields. It is best served with sweet ripe bananas.
Another dish that locals crave every time Autumn comes is "chả rươi". This exotic dish is made from sandworm – a special worm that can only be found in Autumn. The worms are carefully prepared to remove dirt, then mixed with egg, onions, and various spices. The mixture is fried into a crispy, browny, mouthwatering omelette. The dish is served hot with a tasty dipping sauce beside various fresh herbs. Many places will sell this dish, but the best ones are all located around the Old Quarter District. Most famous stores for "chả rươi" are no. 1 Hang Dieu, no. 25 Gia Ngu, and 244 Lo Duc.
Best Time to Go to Sa Pa – Ha Giang
Autumn (September – November) or Late Spring (March – May)
Thanks to the high altitude, the North West region of Vietnam has a continental temperate climate, which is quite familiar to tourists from Europe. September – November and March-May have the most stable weather in the year, with most days are sunny, cool, and dry. At night it can be a little bit chilly.
The Harvesting Season is the Most Visited Time in Sa Pa
If you want to see golden rice terraces, come here during the harvesting season from mid-September to early October. With the sweet yellow hue of ripe crops, under cosy sunlight, Sa Pa and Ha Giang shine like precious gemstones between mountain ranges. Enthusiast photographers should not miss the scene when ethnic tribes working on the golden rice hills in their colourful costumes. Note that this is the high tourism season in Sa Pa, so preparing your accommodation beforehand is highly recommended!
Enjoy the Festive Vibe of Spring with Parties and Colours
The late spring season from March to May is when thousands of flowers blossom on the hills in North-West Vietnam. All valleys are filled with pinkish cherry blossoms, milky pear flowers, and glorious cotton tree flowers. The whole area is turned into a colourful painting that is full of fragrance.
Adventurers should not miss the great feeling when trekking or driving along Ma Pi Leng Pass – one of the most challenging passes in North Vietnam. From the top of the pass, enjoy a spectacular view down to the vast green forest in Dong Van Natural Park. "Breathtaking" is not enough to describe what you'll see! Since Ha Giang is less touristy, you don't need to worry much about booking hotels in advance.
If you wish to see snow, you can travel 1-2 months earlier, around the end of the year. During this time, Sa Pa transforms into a fairytale village with many festivals from ethnic tribes to celebrate a New Year. Remember to join their "love market" where boys and girls come to play traditional games, flirt and date in a romantic setting. The best way to explore the local culture is by staying at a homestay, normally a traditional house-on-stilts, joining the locals in numerous interesting activities. Take note that during this time, prices usually go up at least 10 -20%, but the fun should be worth the price!
Best time to Go to Ha Long Bay: Winter to Spring (late October – April) or Summer Holidays
Winter is the Best Time for Foreigners
From late October to next year's April, the rainy season slowly goes away, giving Ha Long Bay the dry weather with a clear, sunny sky. This is such an ideal condition for a perfect cruise trip around the bay. The sea is also very smooth with gentle waves and cool breezes, so don't hesitate to try kayaking around beautiful islands scattering on the bay. The temperature remains around 20 – 30 °C – chilly but still good for swimming in the ocean. If you go to Co To Islands, try scuba diving to explore the colourful coral reef.
Enjoy your wonderful trip until April. Take note that there will be a short period during the traditional New Year's holiday of Vietnam, which comes around February, most services will stop.
If You Go for the Summer, Try to Go Earlier than the Crowd
Summertime is also a perfect time to relax on the beach and get away from the blistering heat of cities. To avoid local crowds, try to go here before May. After May, local students start their summer holidays, so many families will go here for their summer trip. This is the most crowded time of the year for Ha Long city. You probably don't want to feel crowded in every tourist destination while also having to pay extra cost for services, right? Also, try to finish your trip before August as many storms will hit the land frequently after this time.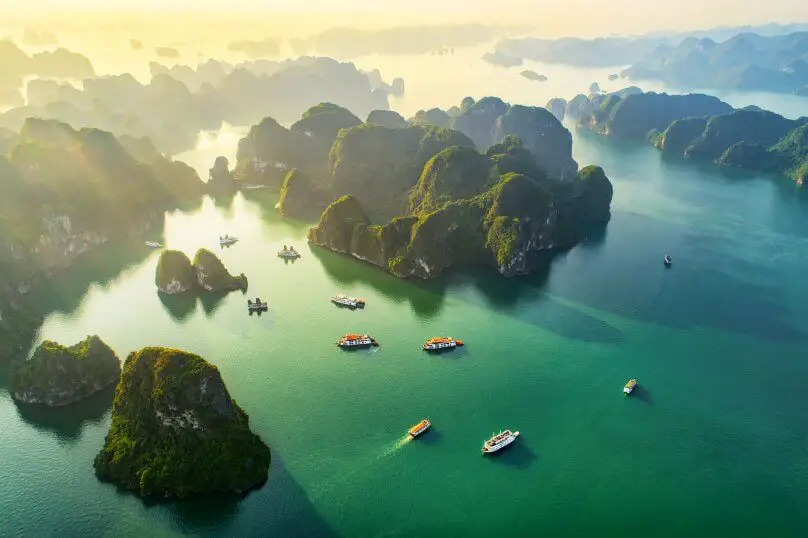 Central Vietnam Weather
Central Vietnam is the bridge that connects 2 poles of Vietnam. It possesses a long coastal line with many beautiful beaches, such as Da Nang and Nha Trang. The architecture is an interesting mixture between ancient Vietnamese – Chinese style and Hinduism influence from the lost Champa Kingdom. This mixture manifested into many famous destinations, such as the lovely old town in Hoi An, the religious complex of My Son Sanctuary, the Imperial Citadel in Hue, etc.
Nature offers this region the best natural wonders with Phong Nha – Ke Bang (named "the most beautiful caves in the North") and Son Doong – one of the biggest caves the world has ever seen. The coastal line gives this region many wonderful landscapes, yet it also makes the weather pretty unpredictable.
Temperature and Seasons
The distribution of seasons within a year in Central Vietnam is similar to the North. However, there's a big difference between the upper, northern part versus the lower, southern part.
The North Central part, including Hue and Phong Nha – Ke Bang, is warmer than North Vietnam with an average temperature around 24 to 25 °. Even the coldest days are still around 17 to 20 °C. The summer is hot and dry. But this dryness is brought by the heat blocks from Laos so it's pretty uncomfortable, if not terrible! The winter is cold and cloudy with drizzling rains formed by the monsoonal effect from the north.
From the South Central part, include Hoi An – Da Nang – Nha Trang and the Central Highlands, winter no longer comes. The climate is warm year-round, every day is between 25 to 27 °C. During the "winter" months it only goes 2 – 3 °C lower. If you go up to the Central Highlands (Tay Nguyen, Da Lat, Lam Dong, etc.), the temperature will get even chillier thanks to the high altitude. In January, you can expect it to go down to 0°C, though snowing is very rare.
Rain Pattern
This region, in general, has less rainfall than Northern Vietnam. The rainy season usually comes in August, reaches a peak at around September to October and goes away before the end of December. However, the Central Highlands are an exception, with an early rainy season from April, the peak around August and quickly disappears before November.
In Central Vietnam, you should worry about rainfall more than the heat. The rains are quite heavy with strong winds in coastal cities like Da Nang and Nha Trang. In small towns with old water system like Hoi An, getting flooded is very easy. After some heavy rains, Hoi An becomes a small Venice where you'll have to travel by boat.
It's important to note that around August is a dangerous time when storms from the Pacific Ocean attack the coastline of Vietnam. You would be surprised to learn that Vietnam is hit by at least 6 – 8 typhoons or tropical cyclones per year!
Best Time to Go to Hue – Festive Summer (April to July)
Like Ha Noi, Hue was once the capital city of Vietnam. If Ha Noi has modernized itself with skyscrapers, Hue still retains its ancient beauty with the Imperial Citadel. Being built by the last Vietnamese royal family, the Citadel in Hue is in much better condition than the one in Hanoi. Besides, the city has many other ancient architectures, like the complex royal mausoleums and numerous temples. The people in Hue has a traditional relaxed lifestyle, giving the city a nostalgic vibe. Visiting Hue is like a journey going back into the past.
At the beginning of Summer in April, Hue hosts an annual festival. This is the biggest cultural – tourism festival on the national level. The whole city is decorated gloriously. The Citadel opens various cultural activities that you won't be able to see any other time in the year. During this time, many international cultural events also take place in Hue, so it's definitely a good opportunity to enjoy a lot of fun.
Around April, the weather just got warmer after the wet season, not yet hot, while the atmosphere is dry. All are perfect conditions for an enjoyable trip. One thing you shouldn't miss is to have a boat trip on the iconic Perfume River during sunset while tasting delicious specialities of Hue.
If you go later in May to July, the city is less crowded since the festival has come to an end. This is a good time to explore the city at a slow pace. After visiting the city centre, let's go outside to spend a few lazy days on nearby beautiful beaches, such as Lang Co and Pha Tam Giang.
Best Time to Go to Phong Nha – Ke Bang: The Dry Season (April – August)
Marvellous limestone caves, pristine jungle, underground rivers – all these natural wonders make Phong Nha – Ke Bang National Park a heaven for adventurers. The destination earns its title as a UNESCO World Heritage site. The highlight is definitely Son Doong – one of the largest caves in the world. Like other challenging destinations, exploring Son Doong is only for experienced travellers who are physically and financially ready, because the experience is once-in-a-lifetime!
Even if you are not eligible to explore this cave, there're several fun things to do, including a bicycle trip through the lovely Bong Lai Valley, camping in other underground caves, trekking through the jungles above these underground caves, or kayaking along many small lakes across the park.
The best weather for all these outdoor activities is during the dry season between April to August. Even though this time falls into the hot Summer, the steamy jungle and the nearby ocean helps to reduce the heat. When you go camping in the underground caves, the temperature is always cooler than the outside, which remains balanced at around 20-21°C.
In the rainy season from September towards the end of the year, most tourism activities have to close because all the underground rivers rise up, blocking the entrance to caves.

Best Time to Go to Hoi An – Da Nang: End of The Dry Season (April to August)
Thanks to the proximity, Hoi An and Da Nang are usually clustered as one destination. If you travel by airplane, Hoi An is only 30 km away from Da Nang International Airport. There're several modes of transportation to go between the 2 towns, which include bus, taxi, or driving your own motorbike. The average time to reach Hoi An from Da Nang is about 1 hour depending on traffic.
The weather pattern in both towns are similar because they are located in the same region. The end of the dry season from April to early August is a good time to come, as the temperature is warm enough to swim in the ocean or visit small islands, the sky is bright clear for sightseeing and taking photos. However, this is also the high season for both cities, so you should expect to see all the places are packed with tourists! Book your accommodation, sightseeing tickets, transportation, etc. beforehand to avoid any inconvenience.
After August, the rainy season comes, making both cities gloomy. It is not to mention that typhoons are on their way to hit the coast soon!
Check the Lunar Calendar Before You Visit Hoi An!
Not only the ancient buildings remain, Hoi An still keeps many traditional activities. Every month on the 14th in Lunar Calendar, Hoi An residents celebrate the Lantern Festival. On these days, after the sun goes down, every house in the Old Town brightens up their front doors with beautiful lanterns. On the two sides of Hoai River, flower lanterns are lit up, making the river shining in the night like the flow of light. Meticulously decorated huge lanterns in the form of magical animals are let floating on the river.
On this day, tourists can buy lovely paper lanterns to release them on the river. Each lantern grants you a wish. This is an old but interesting local custom that many travellers enjoy while staying in Hoi An.

Best Time to Go to Central Highlands (Tay Nguyen, Da Lat): Flower Blossom Season (November to April)
The Central Highlands are the home to many ethnic minorities. So just like Sa Pa, this is a wonderful place to explore a diverse culture, try out exotic activities and live in harmony with nature.
Due to the high altitude, the temperature in the Highlands is more comfortable than other places, while the rainy season comes earlier. Therefore, while other cities are covered in daily rains, November to April is the dry season here. During this season, many kinds of flowers blossoming, weaving a colourful picture. The most beautiful times to visit the Highlands are December and February – March.
The Flower Season of December
In December, the whole region is lit up with honey-like sunlight, golden colours from marigold blossom fields, and the reddish hue of ripe coffee fruits. In Da Lat – a city named "Flower Valley" – December is the time for the Flower Festival, which is hosted every two years. Besides this time, Da Lat has the best climate amongst all towns in the Central Highlands, not to forget several beautiful French villas built since the 19th century.

The Festive Season of February – March
February is the harvesting season for coffee farms in the Central Highlands. This area is the centre of coffee production in Vietnam. The whole town is fragrant with the cosy smell of roasted coffee beans. If you are here, visit Buon Me Thuot to try out different tasty coffees at a very good price. This city also hosts the only Coffee Festival in Vietnam every year around March, so if you are a real coffee addict, don't forget to check it out.
Like other tribes, the first few months of the year is the festive season where people here celebrate a new beginning. During this time, each tribe has their own traditional festival where everyone gathers around to party, to play traditional games or join fun competitions. It's an eye-opening experience to join them and learn more about the diverse culture of Vietnam. Most famous festivals are "benya" and "Hơk h'mô rôông râu" of Gia Rai tribe, "x'trǎng" of Bana tribe, etc.
Southern Vietnam Weather
The weather in the last region of Vietnam is more stable. People come to the South at any time in a year to enjoy the lush scenario of Mekong Delta, to lie down on the sunny beaches around Phu Quoc Island, and to enjoy the energetic life in Ho Chi Minh City.
Temperature and Seasons
With an average temperature of 27 °C, expect a typical summer day any time you visit this place. South Vietnam has very little difference between the coldest and the hottest months. This region also receives the most sunshine hours in the nation, with approximately 2400 – 3000 hours per year.
There's a famous joke that South Vietnam only has 2 seasons: a hot season and a hotter one! This could be a little exaggerating, but the South indeed has 2 seasons: a wet one that happens from May to November, and a dry one in the rest of the year. The temperature doesn't change much, but in the wet season, the rains help to ease the heat effectively.
Rain Pattern
During the dry season from May to November, September has the highest amount of rainfall. Unlike the North's rains that come in long, heavy duration, the Southern rains come several times a day with short bursts. However, like Ha Noi, Ho Chi Minh City's central districts are likely to get flooded after heavy rain.
Best time to Go to Ho Chi Minh City – Dry Season (May to November)
The Dry Season is the Best Time to Enjoy Ho Chi Minh City
Ho Chi Minh City is an energetic metropolitan where the heroic history mixed with the modernization. Come to this city to explore a vibrant life with many forms of entertainment, while learning about the Vietnamese unique history at historical sites. The city also satisfies your taste buds with the whole universe of Vietnamese cuisine.
The dry season is the most suitable time for you to stroll around the streets and explore all beautiful sites around the city all day. The beginning and the end of this season would be better since the temperature is not too high to make you sweaty, but sunny enough to give you a perfect tan. You would want to avoid the time around lunch since it's the hottest, most sunny time in a day. During this time, locals don't usually step out of their shelter but rather enjoy a short nap. The nightlife would be the perfect time to explore fun places, such as walking streets, pubs, night cafes. This city is embraced in the sparkle lights and in the energy of people looking for fun.

The Wet Season is Not a Bad Option At All
Even though the city would see frequent rains, you can still enjoy Ho Chi Minh City in many other ways. During this time, thanks to the rain, the heat is blown away, refreshing the whole city's atmosphere. Rains come in short burst in most of the time, so you can take short breaks during the trip, watch the rain washing the city while enjoying a glass "cà phê sữa đá" (iced milk coffee), or window shopping in many luxurious malls around the city. After the rain, you can continue the trip with a clear sky with the beautiful rainbow above.
At the end of a year, the city is decorated with sparkling lights to celebrate many holidays like Christmas and the traditional New Year's Eve. The atmosphere is filled with a festive vibe, while many recreational activities are organized to have fun. However, don't stay over the traditional New Year in February as this time is the closing time for all business.
Best Time to Go to Mekong Delta – the Floating Season (September – November)
Mekong Delta attracts tourists with its pristine natural beauty and the local rustic culture. People come here to enjoy a simple, relaxed lifestyle in the countryside as a getaway from the noisy metropolitans.
The best things to do in Mekong Delta are getting on a small boat to explore the floating markets, biking through green paddy fields, sailing through the lush swamps or riding a horse cart on little islands. The dry, sunny weather from September to November would suit these outdoor activities the most. If you are in love with tropical fruits, come here from December to April. This is the harvesting season for many kinds of tasty fruits. Not only the taste is the freshest, but the price is amazing!
If you happen to come here during the rainy season, you should not worry much as in most cases, rains usually come in short bursts. Check the weather forecast before you go to make sure that it won't be a heavily rainy day. If you ride your own motorbike, don't try to go while it's raining because the winds in the countryside are much stronger than in the urban area. They can literarily blow you away!

Best time to Go to Phu Quoc – the Dry season (October – March) and Off-Season (Early April – Late October)
The High season of Phu Quoc Island is from October to March
During this season, Phu Quoc is a small paradise with white sand, blue ocean, gentle waves and sunny sky. The ocean is smooth, making cruise trips, swimming, scuba diving and kayaking fantastic. With all the ideal conditions, October to March is the highest season for Phu Quoc when everyone comes for a relaxing vacation. If you come here during this time, expect to see prices higher than the average while public spots are pretty crowded, though not too annoying. Booking your accommodation early is recommended in order to keep a good place with beautiful views of the beaches.

The Off-season is Worth Trying
The high season is indeed wonderful for all tourist activities, but it's not the best deal for people who travel on a budget, or those who simply hate the crowded places. If this sounds like you, we recommend another good timing to enjoy the beauty of Phu Quoc Island: the off-season in early April or late October.
From April to October is the storm season in Phu Quoc. Sometimes the typhoons can even disconnect the only route from Phu Quoc Island to the mainland. Therefore, tourist activities are all reduced or totally shut down in this season. However, if you can come here in early April or late October, the weather has not become extreme while the cost still remains low. You can still enjoy all the beautiful destinations on Phu Quoc Island and don't need to stress out to get a good place. However, do update the weather forecast daily!
Packing Tips for Vietnam Weather
Clothing
As you can see, the best time to visit most parts of Vietnam is the dry, hot season. Therefore, summer classics like T-shirts, shorts, and hats are must-brings. Clothes in lightweight materials such as cotton would be the best choice to keep you sweat-free after a long walk.
Once you are here, don't hesitate to try Vietnamese natural silk. This material brings you both comfort during a hot summer day while looking great. A conical hat made from bamboo leaves is another Vietnamese accessory that you should try. This light, water-proof hat can protect you from sunny days or sudden rains.
The cold season in Vietnam is considered just chilly for most foreigners, so a medium jacket or a sweater is enough to keep you cosy on the go. Depend on how good you are in cold weather, you can add more layers. If you plan to visit snowy areas, thicker coats and a good pair of boots will help you conquer the long roads in remote areas.
For motorbike enthusiast, the sunlight and the dirt on urban streets in Vietnam is not a joke. Local riders usually cover their body in long-sleeves clothes, many even wear face masks. This is to protect their health when riding for long hours under the sun, so you should copy them, too.

Essentials
Even in the dry season, rain can still interrupt your trip. To cope with the erratic weather here, an umbrella is a good essential to consider packing, but we suggest that a disposable raincoat would be much better. Why? These cheap raincoats are available in every convenience store in Vietnam. They take much less space in your luggage than an umbrella. Last but not least, under a Vietnamese rain, a raincoat covers you better than an umbrella would.

The high humidity of Vietnam gives mosquitos the perfect condition to flourish. Mosquito repellent is a must in your pocket everywhere you go. If you stay in a home-stay in a remote area, do ask the owner to provide a mosquito net. If you're concerned about malaria, take a look at our detailed article about this issue Do I need Malaria Pills in Vietnam?
Sunscreen is another should-have in your luggage. It helps your skin deal with long hours under sunlight in Vietnam. For Vietnamese people, applying sunscreen is not only a beauty practice. It's about protecting your skin for UV light, sunburn, and skin cancer. There're tons of brands for sunscreen in any cosmetics store in Vietnam at a good price. The only unpleasant thing about local brands is they usually add the whitening effect. If it doesn't sound good for you, don't forget to pack your favourite sunscreen from home.
That's all for the best timing to visit Vietnam! We hope you have found a perfect time and is ready to book your tickets to this beautiful country. In case you still have any question about travelling in Vietnam, check out other articles in our blog for more helpful information!