Vietnam Travel Tips: Your must-know guide to have a smooth trip to Vietnam
Vietnam is a new star in the go-to list of travellers around the world in recent years, mostly after Halong Bay made it to the list of New 7 Wonders of the World. The country has almost everything an explorer would love to see: the wonderful nature, the exotic culture, the delicious, mouth-watering cuisine and, not to forget, many budget-friendly services.
But like every tourist hot spot, Vietnam has its goods and bads. Once you decide to spend your holiday in Vietnam, don't be surprised to find yourself lost in a pool of mixed reviews in a wide spectrum, from crazily in love to disappointments. Wonder why travelling to Vietnam is such a controversial topic? Well, the reasons vary, but most come from 2 things: First, the cultural difference between most travellers and locals. And second, from the conflict between the rapid growth of the tourism industry versus the slow speed of adaptation in local businesses.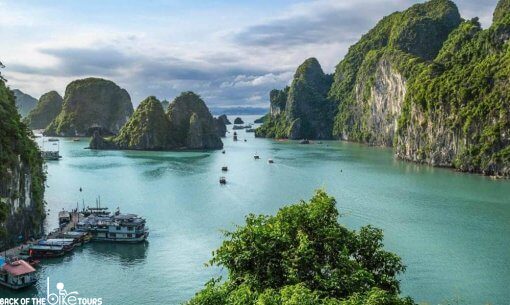 So, if you don't want to miss a wonderful travel experience just because of some drawbacks, which can be easily avoided with good preparation, then you have found the right place. This article is written to break down the most common tourist traps in Vietnam and to give you a handful of tips and tricks to have a joyful journey. Read on to find out what you need to do to have a fun and smooth trip to Vietnam!

What to prepare before you go?
Visa application to Vietnam: How and Where?
The most trivial question is the one that is usually ignored. If you don't want to be turned away right at the airport, do prepare your documents carefully. Although Vietnam is still communist, the country warmed up greatly to foreigners since the 90s. As the government is trying to promote the tourism industry, the visa application to Vietnam is now much smoother than compared to years ago.
Basically, if you're not a citizen of an ASEAN country, or if your country doesn't have a visa-exemption agreement with Vietnam, you would need to apply for a tourist visa in advance. Also, don't forget a passport which must be still valid 6 months upon arrival. The typical length of stay is 30 days or 90 days for one-time entry only.
There are 3 types of visa at the moment of writing: Visa on Arrival with the help of an agency, visa registered in your local Vietnamese Embassy, and E-visa. Laws change from time to time, so always check with your local Vietnamese Embassy and reputable agencies. Normally, you are required to do a bit of paperwork and a small amount of fee. I.e for US citizens is about US$20, then you're good to go.
Entering Vietnam: Air-landing or border-crossing?
The two most common ways to enter Vietnam territory: by airport or by border-crossing from neighbouring countries like China, Laos and Cambodia. Let's break it down below!
Air-landing
Most tourists choose to travel by air, especially Westerners. Vietnam is expanding its network of international airports, but the majority of flights land in 3 main airports: Noi Bai Airport in Hanoi – Northern Vietnam, Da Nang Airport in Da Nang – Central region, and Tan Son Nhat Airport in Ho Chi Minh City – Southern Vietnam. So depending on your itinerary, choose your arrival airport accordingly. All 3 airports are modernly renovated with good services and easy transportation to the city centre.
In Noi Bai Airport, either catch a taxi or hop on a public bus and travel about 30 km to get into the capital city of Vietnam. Expect to pay around 280.000 to 350.000 VND (US$12- 15) per taxi ride. For public transport, the price is incredibly cheap, from 9.000 VND (US$0.4) for regular buses number 07, 17, and 90, and only 30.000 VND (US$1.3) for the airport shuttle bus number 86. The bus station and routes can be found easily at the airport terminal. Google Map is also a good resource to rely on when dealing with buses in Vietnam.
Landing on Da Nang Airport takes much less time to get into the city centre, as the airport lies only 3 km away from Da Nang City. Taxis are available at the airport terminal with a rate of 60.000 – 100.000 VND per ride (US$2.6-4.3). Danang airport is also in a good distance to the famous Old town in Hoi An. Pay around US$20 for a ride, and you'll reach the beautiful Hoi An town in 45-55 minutes.
An exotic way for light travellers to commute from Danang airport to the city centre is to hop on a motorbike and feel the sea breezes while blending in the traffic. The most reliable way to take a motorbike taxis in Vietnam is using Grabbike – the winner over Uber in smart transportation in South East Asia. Avoid the traditional motorbike taxis lurking around the airport terminal as they tend to overprice tourists.
Tan Son Nhat Airport also lies very close to the downtown of Ho Chi Minh City, about 8 km. From there, options to commute to the city centre include taxis, motorbike taxis and public bus. For taxis, the rate is normally from 120.000 – 150.000 VND (US$5-6) to District 1 and it takes about 15-20 minutes, but be aware of rush hours as the traffic is gonna take you 30 minutes or more.
You can also take public buses number 152, 109, 119, 49 which all run from the airport terminal to the city centre in District 1. Good things to know: buses no 109 and 49 run overnight! Shuttle Bus 49 is designed exclusively for passengers from the airport, so it won't stop by regular bus stations, but at famous hotels in the city centre, the Notre Dame Cathedral and the Opera House. Check out these buses route down below!
Overall, taking taxis is still the most convenient way. However, taxis in Vietnam haunts tourists for the fear of scams. With apps like Grab, the situation is much better, not only in communication with drivers but it also saves you from overpaying. If such an option is not applicable for you, we recommend sticking with reputable taxi brands like Vinasun and Mailinh. Stay away from being ripped-off by checking out our detailed article "How to Call a taxi in Vietnam"
Border-crossing
Travelling by bus/train and crossing land borders through China, Laos or Cambodia into Vietnam is familiar to backpackers. This option works well if you are on a tour around Asian countries and have plenty of time to spend on transportation, along with a tight budget. At the moment, there are many border-crossing points open for foreign nationalities with a valid passport and visa:
From Laos: 5 border crossings in Bo Y, Cha Lo, Cau Treo, Lao Bao and Nam Can.
From Cambodia: 5 border crossings in Ha Tien, Moc Bai, Song Tien, Tinh Bien and Xa Mat.
From China: 3 border crossings in Huu Nghi, Lao Cai and Mong Cai.
Since border-crossing buses serve a large number of locals who transport goods for exchange and businesses, don't be surprised if your route is interrupted many times during the trip to pick up and drop off passengers. To reduce wasting your time during the trip, opt to the night bus/train option with soft beds.
In such buses, there are no built-in toilets but they will stop several times for you to have a break. And sadly, overnight buses typically don't provide blankets or pillows, so consider packing some for your own convenience. Keep valuable items in your sight or close to your body while on the bus, preferably in a locked backpack/suitcase, because as passengers hop on and hop off frequently, your pricey belongings may go with them.
Best time to travel to Vietnam (and when NOT to)
While Vietnam is a tropical country with an overall hot and humid weather, the stretchy shape from North to South makes Vietnam's climate varied greatly between regions and seasons in a year. Hence, the answer to this question is not so simple. The 2 factors you should consider when choosing the time for your trip are the rain pattern and the temperature.
In Northern Vietnam, nature gives people all 4 seasons a year: Spring, Summer, Autumn and Winter. From Spring to Summer (March to August), the weather goes from warm to blistering hot with high humidity. The heavy rains start to come in June and stay until late August. From September the temperature goes down towards the end of a year with little or no rain at all.
In Central and Southern Vietnam, as the geography approaches the equator, you can expect hot and sunny days throughout the year. The climate is divided into 2 seasons: the rainy one and a dry one. For those who want to go to the Central of Vietnam, be aware of the typhoon season from October to December, as heavy and sometimes dangerous storms hit the land frequently. In Southern Vietnam, the weather is more predictable with the same temperature all year round with a rainy season from May until November.
For a detailed explanation and suggestions for the best time to visit specific places in Vietnam, check out our useful article about Best Time to Go To Vietnam.
And for the question "when is the best time you should NOT visit Vietnam", the answer is simple: Tet holiday or the traditional New Year holiday in Vietnam, which usually happens around February. From the first 3 days of Tet, almost all shops, restaurants, entertainment places and services will shut down and many remains closed until 7-9 days later, while service fees in following days go up to 10 – 20% higher everywhere.

However, the period before Tet is a wonderful time to feel the festive vibe throughout the country, with plentiful cultural activities, big sales and most importantly, to feel the joy and excitement spreading around in the air.
How much money should I save for a trip to Vietnam? Plus tips to save some money while travelling
Again, the answer to this question is complicated, since it depends on your travelling style. The basic cost to consider include accommodation, eating and travelling activities, such as sightseeing, tickets and some shopping sprees. Of course, there is no limit for spending if you want to splurge, because you can find 5-star services in Vietnam with luxurious places to break your bank account. But rest assured if you're on a budget because Vietnam is a very friendly country when it comes to price. This South-East Asian country is no more expensive than its neighbour Thailand, and in some aspects, even cheaper.
To sum it up, a backpacker can spend up to US$40 and less per day comfortably. For those who have a more relaxing budget, prepare from US$60 – $100 per day and maybe up to US$200+ for a luxury experience.
The country is already cheap, but it still hurts to overpay, so learn these handy tips to avoid being ripped-off by opportunists lurking around all tourist sites in Vietnam.
Number 1: Always check if you can bargain for a lower price
The mindset of doing business in Asia is totally different from the rest of the world, and Vietnam is not excluded. Not having a fixed price in many places is the most annoying and traumatic thing that many tourists complain about, and this puts you into the fear of being scammed every time you buy something from locals.
Fear not, as the game of bargaining is not applied only for you, but it's the norm for people here. Vietnamese sellers make the price based on how much they think the customer can pay, so tourists are generally assumed to be richies and will be asked to pay more than locals.
But if you don't agree with it, it's fine! Give the seller a number you think you want to pay and join a tug-of-war game until both sides settle down with a happy agreement. Don't feel embarrassed for asking a lower price, or feel angry because you think you're being cheated.
So before you buy anything like souvenirs look if there is a price tag or a note of "no bargain" ("Khong mac ca" in Vietnamese). If not, feel free to negotiate with sellers, normally start with 50% of the initial offered price. If you still can't make the seller nod, say thank you and try another store because it's extremely likely that you'll find the same thing elsewhere. A short look around also gives you a good estimation of the true cost. Sometimes, walking away is a good psychological trick and having the seller call you back to the negotiation table is a good sign that you just won the haggling battle.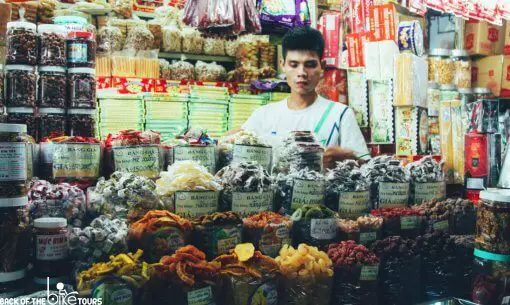 Always, I repeat, always keep it chill. Think of this as a fun way to experience the local way of doing business. Also, who doesn't love a friendly conversation? Being hostile only gives sellers a reason to overcharge you more.

Number 2: Follow the locals' trail when it comes to eating
This seems trivial, but practically it is hard to follow. Do you know that you can save a lot if you eat in a non-touristy place? Unless the place is so good that it's recommended everywhere, then it's not worth it to pay 80.000VND for a bowl of pho while you can get the same taste somewhere else for only 30.000VND.
Pic16
So when it comes to food, step out of the touristy area and explore street stalls and small restaurants outside. A good sign to keep an eye on is the crowd of locals flocking in and out of a shop, with a fixed price menu displayed clearly. Be prepared to sit on small plastic chairs, sharing your table with other people, or having the traffic flow right by you so close to the street. It's inconvenient and interesting at the same time!
Number 3: There are many things you can do for free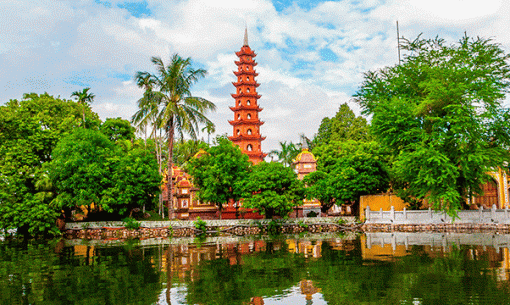 Do you know that almost all Buddhist temples and beautiful religious architecture in Vietnam welcomes the public for free? If no, then put them in your bucket list to visit while travelling.
If you're a social person who loves making new friends, try walking around famous walking streets in Hanoi and Ho Chi Minh City. Chances are you'll find many youngsters wandering around these places to find a friendly foreigner to practice English with. Offer them nothing more than a conversation, and they'll give you a deeper insight into the life of locals and maybe a good friendship in the future.
From the same idea, there are some student-run, volunteer organizations that offer absolutely free tours in Hanoi and Ho Chi Minh City. They may not be as professional as a trained tour guide, but many visitors praise their helpfulness and love the authentic, non-touristy experience while travelling with them. The best place to find such organizations is on TripAdvisor. Read the reviews carefully as some tourist agencies recently lure visitors by mimicking this type of volunteer activity but try to dupe customers into giving tips or buying souvenirs.
A brief packing guide
Though Vietnam still embraces traditional Asian values, Vietnam is no longer a conservative country, at least when it comes to dressing. Since the 20th century, the country has adopted Western fashion, so you won't look like an alien here. Feel free to pack your shorts and t-shirts to cope with the heat, preferably clothes in light and sweat-absorbent materials like cotton. Laundry services are available around touristy areas with very affordable prices.
Hats, sunglasses, and face masks are necessary to avoid heat shock and the polluted air in big cities. Bring sunscreen along with you to avoid skin burns.
A light raincoat is better than an umbrella to deal with heavy, sudden rains in Vietnam, but they are easily found in every corner here, so don't freak out if you forget to pack them at home. If you decide to ride a motorbike in Vietnam, check out local stores for a "sun coat" ("ao chong nang" in Vietnamese) which covers you from head to toe like a ninja. You'll thank me later for saving you from severe sunburn and heat shock in Vietnam if travelling great distances on a motorbike.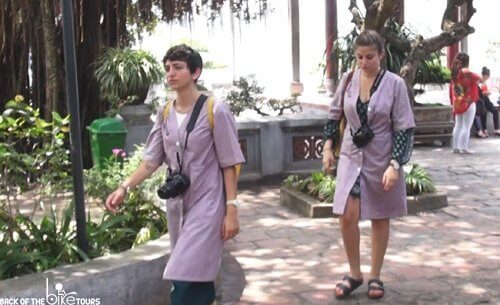 Save some space in your luggage for long-sleeve shirts and long pants/skirts, because you need to cover your shoulders and thighs when visiting temples or historical places, such as Ho Chi Minh Mausoleum in Hanoi. Also, don't wear revealing clothes in public, such as bikinis or going around top-naked. You'll likely to turn many locals' heads, but they are not admiring the look.
For ladies, spice up your outfit with accessories, but it's better to bring the fake, low-value ones with you as daring robbers are notorious in big cities.
If you bring your electronic devices, check if you need an adapter or current converter. Nowadays most accommodations in Vietnam can provide you with a multiple-plug outlet, though the voltage is 220V. Wifi is fast and free in many public spaces and restaurants, so no worries about keeping connected. While using your phone in public, try to pay attention around because robbers can snatch it away on their motorbike in a second.
Last but not least, since you're travelling to a tropical country, take mosquito spray in your pocket. Medications are easily purchased in local pharmacies, but pack a few in case of emergencies, such as food poisoning, sunburn, and headaches.
Now you're ready to go, let's check out the tips while you're on the go.
Tips for a smooth trip in Vietnam
Handle your money like a pro
The official currency of Vietnam is Vietnam dong with banknotes of 1.000, 2.000, 5.000, 10.000, 20.000, 50.000, 100.000, 200.000 and 500.000. Fortunately, there's no coin, but many zeros in the banknote confuse a lot of tourists into overpaying! Small notes from 1.000 to 5.000 are made of paper, while bigger notes are from polymer plastic.
Most tourists get a lot of confusion between similar colour banknotes like 20.000 vs 500.000, 50.000 vs 200.000, hence making the wrong payment. The easiest way to distinguish them is based on the size: bigger notes have a slightly bigger size. All banknotes have the image of President Ho Chi Minh in the front, but different illustrations of Vietnam's landmarks on the back.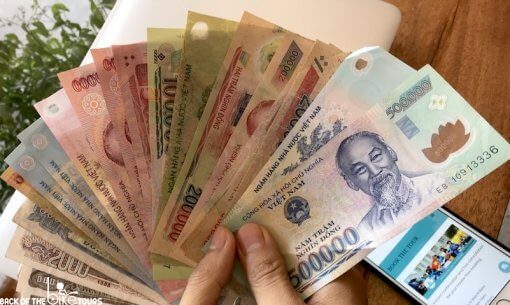 After all, counting all the zeros is tough for our eyes, and the colour and pattern may not come into handy while we're in a rush, so it's better to spend a few moments to arrange your notes in order, so to minimize the chance of picking the wrong one.

Check the standard rate of exchange before you go, although you won't get the same rate, it's good to have an estimation to find a good place. The up-to-date site to check for exchange rate from VND to USD and many other currencies is on Vietcombank's website.
Besides banks, gold and jewellery stores are an ideal place to exchange money with no paperwork required, sometimes even with a better rate. Check out a cluster of gold stores on Ha Trung Street – Old Quarter Hanoi and Nguyen An Ninh Street near Ben Thanh Market in Ho Chi Minh City. If you want to change a little bit of money for convenience, try your hotel's service, but be aware of an additional fee.
With an exchange rate of around 23.300 VND per US dollar, most tourists will step out an exchange store as a millionaire. It's safer to change the money little by little while you're on the go to reduce the opportunity for thieves and pickpockets. Actually, many shops, restaurants and taxis in tourist sites now accept credit cards, so you only need cash while eating and shopping in small stores, or going somewhere remote like the highland or mountainous areas.
If you run out of cash and need to have some quick cash, local ATMs are available in many corners in big cities, though the rate and fee may not be so fancy.
Moving around the country
Crossing the road is not a nightmare
Let's tackle the first means of transportation: walking. Walking around beautiful towns and slowly enjoy the scene is a wonderful experience if we don't have to cross the road! The non-stop flow of motorbikes and cars in Vietnam terrifies thousands of visitors. Those who make it to the other side of the road without the help of a traffic light get their names written into urban legend.
No worry, that's more or less an exaggeration! Though looking chaotic, the flow of traffic has its own pace. Vehicles don't run over 40 km/h in metropolitans, and drivers are all aware of pedestrians. The rule of thumb is to move at a slow but decisive speed. Don't step back or run suddenly, as drivers can't predict your move and coordinate to avoid hitting you.
If you're not confident, follow a local and learn how they communicate with drivers by eye-contact and hand signs. The experience of being surrounded by vehicles sliding right next to you is so thrilling, and it's so much fun when you reach the other side.
Off the beaten tracks with your motorbike
For adventurers, why not join the traffic in Vietnam with a motorbike? You can either catch a motorbike taxi (xe om in Vietnamese) or rent your own bike.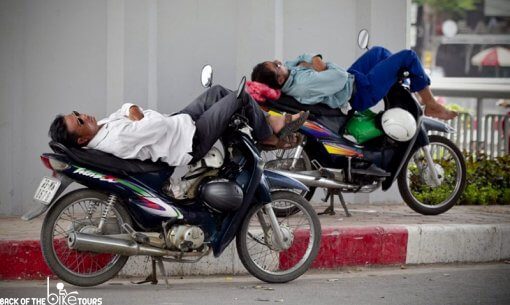 Just like calling a car taxi, motorbike taxis used to be infamous with scams. But the bad reputation is gone now with smart booking apps like Grab, Goviet and Bee, which are favoured by young locals. In remote areas, smart booking apps may not be available, so look for traditional xe om in intersections, near traffic signs or at the gate of major stations. Remember to deal with them clearly before hopping on their motorbike. Showing them the actual banknotes or a number is a good trick to avoid any confusion from their bad pronunciation.

Riding a motorbike by yourself is much more complicated, though it's worth the effort to have an exotic travelling experience. With your motorbike, it's much easier to wander around a city on your own or go off the beaten tracks throughout the country. This type of transportation is budget-friendly as the rental costs only US$5 minimum per day and a litre of gas fluctuates around US$1.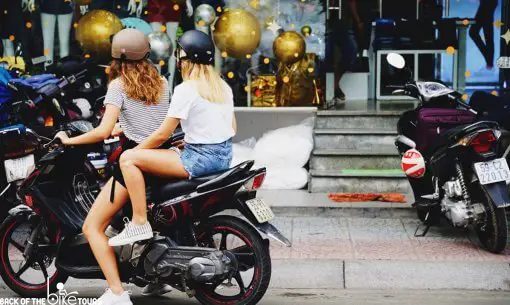 A common tip of locals is to look for Petrolimex gas stations to avoid being sold diluted fuel. This is the most common brand you'll see on the road as Petrolimex is a state-owned petroleum company. In Vietnam, all gas stations have employees to fill up your bikes. Remember to tell them to reset the clock to 0 because some sneaky staffs use this trick to overprice customers, even with locals.

The first thing to do before jumping on a bike is to check if you have an international driving permit (IDP) along with your country driving license. If you don't, then consider an electric scooter or motorbikes that are under 50cc. These two types are only good to go around your city, but they don't require any paperwork. Second is to learn the traffic laws about wearing proper helmets and limit speeds. And last but not least, prepare your insurance, not only for yourself but also for damages in case of collision.
Going through Vietnam by air
As the country stretches from North to South within a distance of nearly 2.000 km, an excellent network of flight connections is growing fast to fulfil the local demand. Currently, there are about 20 airports all over Vietnam and the most popular route costs about US$100 or even less if you book in advance. There are multiple airlines that offer domestic flights at a very cheap cost with frequent discount programs.
The dominant airline in Vietnam at the moment is still Vietnam Airlines – a state-owned brand with good service and high reputation. However, smaller airlines compete by offering a better price, though their frequent delays caused public outrages a few times, and limited luggage with narrow legroom are minus points. However, even the longest route from Hanoi to Phu Quoc Island is just as short as 2 hours, so these inconveniences can be negligible compared to the price.

The 2 most competitive airlines to Vietnam Airlines are VietJet Air and Jetstar, which perform both domestic and some international flights around Asia. All airlines have good websites to purchase tickets online. The typical time to find a good deal is 2-3 months before your holiday starts.
Eating safely in Vietnam
Vietnamese cuisine wins the heart of thousands of travellers by a perfect balance in taste. There's definitely no better way to try authentic Vietnamese food than a street food stall where food is cooked fresh daily.

However, the suspicious eating utensils, the uncovered kitchens with ingredients exposed to the flows of traffic outside and tales of food poisoning from unfortunate tourists are reasons why people hesitate to enjoy their food. So, how to enjoy your food with no worry? These are some tips to make sure that food poisoning won't ruin your trip.
Drinks
A rule of thumb in Vietnam is to avoid tap water because it's publicly known that the water quality is not good enough to drink. You need to boil or use a filter to make it drinkable, or simply buy bottled water which is available everywhere.
Know that even locals don't drink tap water, so any hotels, restaurants and street stalls won't serve you tap water.
The same thing applies to ice. Even though many people make drinking ice in Vietnam a huge concern, it probably won't cause much problem as rumour has it, drinkable ice is very easy to identify, and no smart shop owner will serve his customer dirty ice and trade his reputation for a few pennies. Read our detailed article about drinking ice in Vietnam to make sure you don't fall for the bad ice.
Street food
Although food hygiene can be suspicious, it's undeniable that Vietnamese people crave for street food more than fancy restaurants. But your sensitive stomach can't take the risk as well-adapted locals, so here are a few signs to identify if a street food stall is safe to try.
First is to see if their ingredients are covered in a glass cabinet as they're (mostly) protected from germs flying around in the street. Look if the oil is from clean bottles and their cooking utensils are not dirty.

Secondly, observe the turnover rate of customers. Typical dishes like pho and banh mi require ingredients to be prepared beforehand, so if there are not many customers, chances are your dish will be made of old ingredients that have been sitting out there for a whole day! The more customers flocking in and out of the place, the quicker ingredients get freshly restocked.
Various herbs and greens that come alongside Vietnamese food are one of the best things that foodies love about Vietnamese cuisine. But these yummy raw greens can be a potential source for bacteria if they're not washed properly. If you're unsure, ask your restaurant or street stalls to dip your veggies into boiling water. Some dishes like pho will have options for half-done meat, so if you don't trust your stomach, better go with the well-done.
Exotic food
Ever heard about chicken legs, snails, blood pudding and shrimp paste? Those are just some typical strange dishes you'll encounter while diving in Vietnamese cuisine. However, even locals are aware of the ingredients' origin, the cooking methods and severe food poisoning cases.
For well-cooked dishes, such as balut (boiled duck embryo), grilled chicken legs, boiled snails or fermented shrimp paste, they're generally safe to eat. In the case of shrimp paste, you can ask for sauteed paste as both the smell and taste are more pleasant than the fresh one.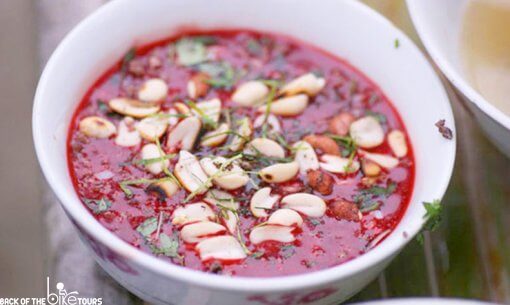 The real concern is for raw and half-done dishes, such as blood pudding or freshly fermented pork roll. The government warns residents to consume these dishes carefully, so if you don't trust the restaurant then better to avoid them. The taste is not really worth the risk either, so feel safe to cross them off your bucket list.

Snacks
Fresh fruits, tempting sugar-coated doughnuts and colourful jelly bean-topped desserts are all over the streets in Vietnam. For fruits, a piece of old-fashioned yet effective advice is to avoid those with edible skins. Farmers in Vietnam tend to use a lot of pesticides to cope with this tropical climate, so locals have to wash them very carefully before eating. If you're on the go and want to try some fresh fruits, better to go with something you can peel off the skin.

Snacks and sweets are usually sold in baskets by street vendor ladies. Just as street food, make sure they are well covered in cotton cloths or plastic. You don't know how much germs and dirt get onto them while being carried all around the town.
To have a stress-free food tour, check out our street food tours as we bring you to authentic, tasty places with guaranteed quality and food safety!
Cultural tips: Don't be an alien here
Generally, Vietnamese people are known to be friendly and hospitable. As a tourist, you'll be welcomed with smiles almost everywhere you go. They're also quite easy-going if you make a mistake, but it will open their hearts 100x times faster if you respect the culture and take a few minutes to learn about some general customs here.
Some cultural tips to open the local hearts
It's globally agreed that you get connected to someone much better if you speak to them in their mother tongue. Of course, it's unnecessary to ace the Vietnamese twisty grammar rules and pronunciation, but some simple phrases help any conversation much smoother, whether you're asking for directions or haggling for a good deal. These following short phrases are enough to bring a smile to a local's face when you start talking to them:
Hello – Xin chao: pronounced as "sin-chow", a little bit formal, but works well in all cases.
Thank you – Cam on: sounds like "Kam un", but with slow and separate sounds.
Sorry – Xin loi: spoken as "seen-loy"
Yes/No – Da/Khong: pronounced as "Ya" and "Comb". This is very good to use when you're talking to elders.
See you again – Hen gap lai: say it as "hen gap lie" instead of the typical "bye". This should put a surprising smile to a local's face.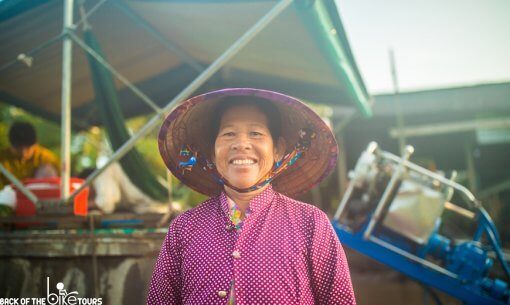 If you're eating with locals, don't feel annoyed if they try to put food in your bowl, especially if they're older than you, because that's how they show warm caring. Avoid pitching your chopsticks straight into your rice bowls because it is related to death and bad luck. Also, since food is typically shared among people, don't stir the food around as this is considered very rude. When you receive things from elders, take them with both hands as it shows respect.

So try to practice these simple tips when you're in Vietnam. You'll be surprised by the happy surprise of the locals once you show your good cultural acknowledgement.
Some political rules to stay away from trouble
Being open to the world doesn't mean Vietnam has forgotten its roots in communism. Although there are still flaws to be fixed, people here are generally satisfied with the current system and they hate to ruin the hard-earned peaceful situation now. So just enjoy your trip and stay away from political debates, especially in public places like cafes as walls have ears, too!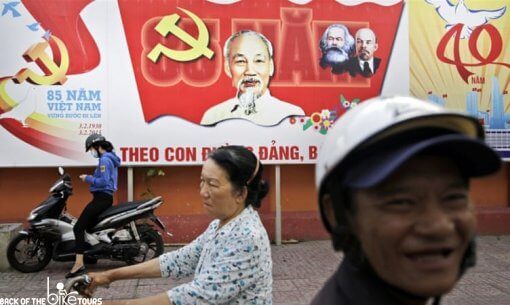 Religious activities are also a sensitive issue due to a not-very-happy conflict between the government and the church which partially fueled the Vietnam War. It's not to say that the government restricts religions, quite the contrary, they do promote the freedom of religion unless it's taken for a political purpose. So, be aware of your religious activity and again, stay away from places that fall into the grey region between religion and politics.

While on your trip, there are many military/political sites that you may swing by. Most of them do not allow photos with clear signs so check carefully if you don't want your precious camera to be taken away. Historical figures, like President Ho Chi Minh and General Vo Nguyen Giap, are considered national heroes and they live forever in the hearts of locals. So think carefully before you expose any sensitive opinion about them, or better, just enjoy the history with an open mind.
I hope you have a safe and smooth trip in Vietnam! Feel free to share this article with your friends and family so everyone can enjoy their time in this beautiful place.