Top 5 places for a Night Time Local Experience in Ho Chi Minh City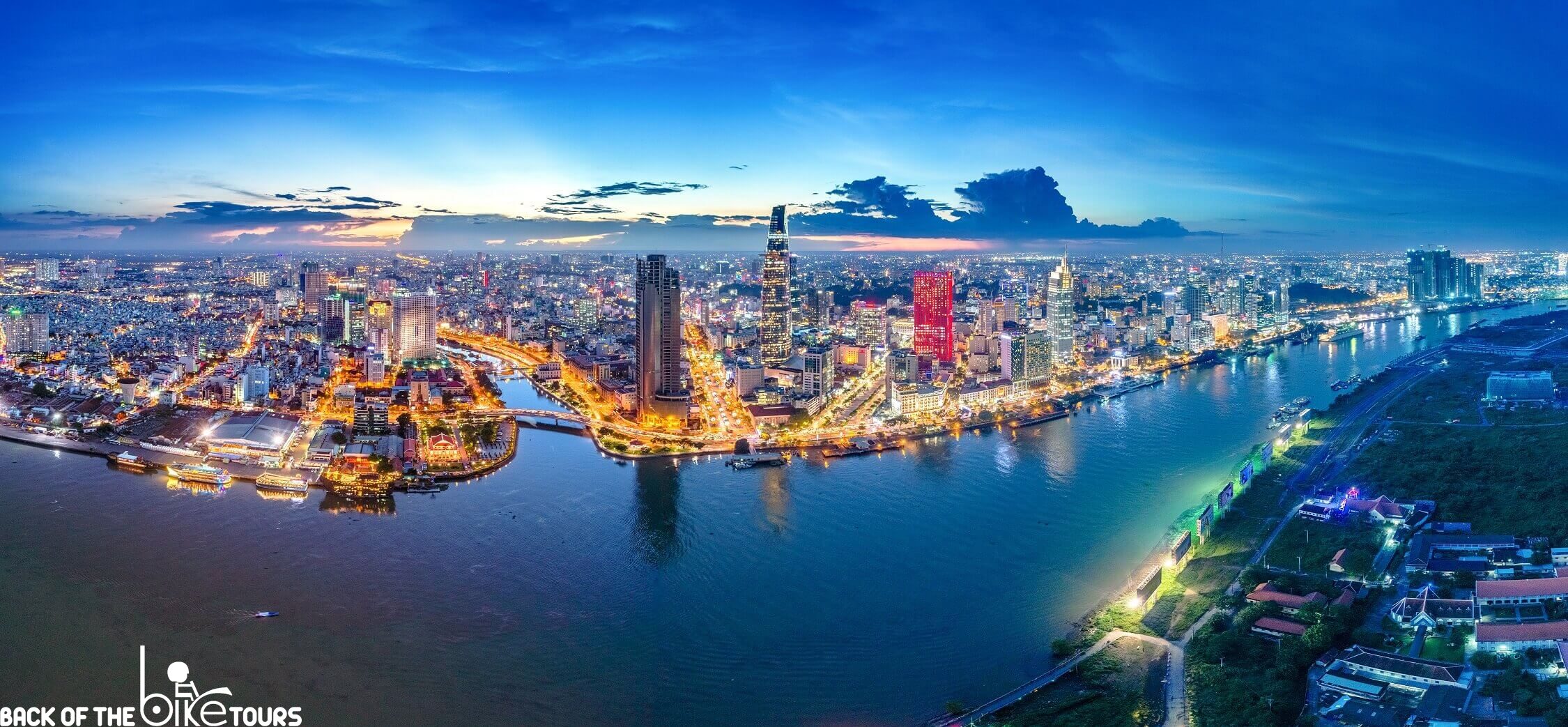 Saigon is absolutely wonderful at night. Between the energy, lights, traffic, and tons of people who are finding their way through the city after the sun goes down. Even though there are plenty of bars for you to wander in and out of making new friends and having drinks, the part of Saigon at night that is truly special can be found at the parks and outside the more accessible famous sightseeing destinations in Ho Chi Minh Ciy. What is so special about these places at night? It is the students of Saigon all sitting around each other with makeshift seating arrangements sharing food and drinks. They don't want to spend money to go to a coffee shop, movie, or hooka lounge. Why do that when you can sit down with your friends for free and share your stories over some wonderful street snacks for the cost of 30,000 VND.
If you are looking to experience this energy that I am speaking of you can easily go to the park across the street from the famous sightseeing monument, Notre Dame Cathedral. There you will find what the kids have dubbed "cà phê bệt" which translates roughly to "Sit on your Butt Coffee". You have to love that!
Here the students will be sharing different street foods from Corn stir fried with dried shrimp (Bap Xao), Grilled Rice Paper AKA Vietnamese Pizza(Banh Trang Nuong), or Rice Paper Salad with Dried Beef (Banh Trang Nuong). Now as the name might suggest they do serve coffee in this area but the young people of Vietnam might choose to split a soft drink. Sting seems to be a drink that is seen a lot at these no frills get togethers.
Some might say that you could experience this same energy in the Backpacker area called Bui Vien. Not for me though. These small on the street with no stool meetings of hopes, dreams, and pure silliness between the Vietnamese are much more insightful into what Vietnam really is over an overcrowded area like Bui Vien.
So while you are travelling here, I dare you to take a step out of the norm and go visit one of these sit on your butt and chat affairs to experience the true energy of Saigon's youth. No worries, as a lot of them will speak a decent amount of English. If you haven't participated in a showing of true Vietnamese hospitality yet, you are in for a surprise. They will honestly be interested in who you are, where you're from, and what your observation of their country is. Wanting nothing in return except for your company, to break bread, and share a coffee together as you humbly rest your butt on streets of Ho Chi Minh City at Night.
Cafe Bet
Located just across the street from the Notre Dame Cathedral at the park. You can find the park at the cross street of Pasteur and Han Thuyen. Just take a seat wherever you think you might be comfortable, a vendor will soon be by to take your order. "Cafe Sua Da" is always a good choice in my opinion.
Turtle Lake
Situated in the round about where Pham Ngoc Thach and Tran Cao Van meet this offers a scenic view along with lots of Vietnamese Street Food Vendors selling excellent street food. Don't forget to ask about the vendor across the street who sells an excellent coconut ice cream with Dried cherries and banana's.
Opera House
This is a prime example of "if you build it they will come", make shift seating arrangements are made all along the Opera House around 8 PM at night by students and young people enjoying drinks and the energy of downtown Saigon. Not much street food to enjoy here but still an interesting sight.
Thu Thiem Tunnel
Just across the river in District 2 the government has turned what was once Slums into beautiful parks. This features a great view of the city with numerous street food carts set up selling everything the heart might desire.
The Eiffel Bridge
Little known fact that this is the only remaining bridge in Vietnam that was built by the once famous Eiffel company. Across the road canal in District 4 young and older couples gather here to enjoy the view of the canal while holding each other tight. With benches set up along some small park like area's it is easy to find seating that is not on the ground.