What to Do in Ho Chi Minh City District 3 at Night? Best 8 Places in District 3 at Night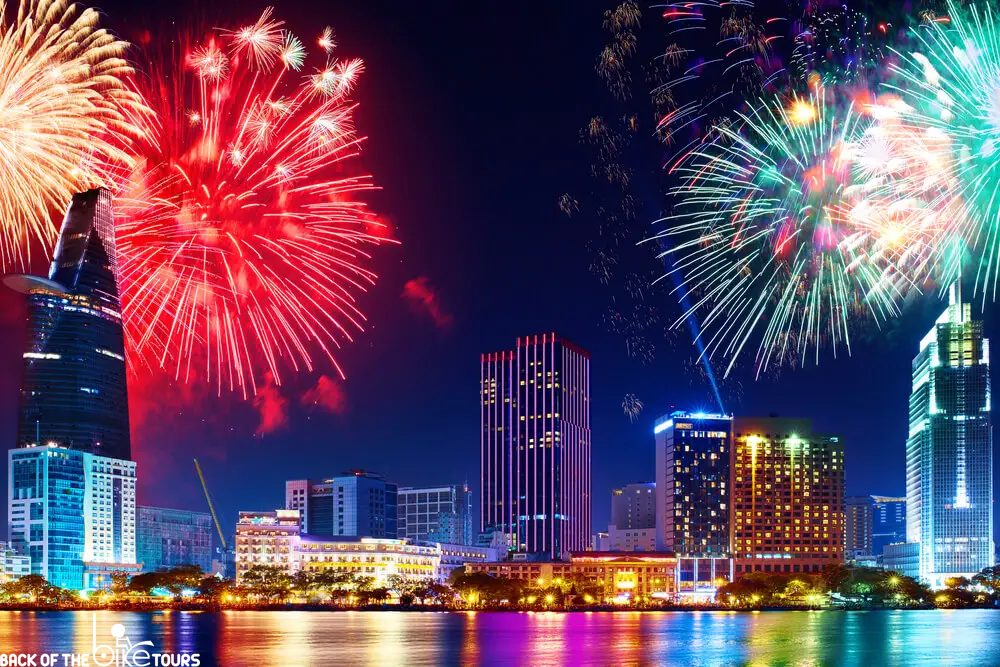 District 3, Saigon has been a part of my daily life for two years since I started my career as a freelance tour guide. As a guide, I like discovering new places in my free time, either by myself or with a group of friends. As a result, I found so many interesting things to do in my current area. District 3 to me is a quiet town where a majority of the middle-class Saigonese live. When darkness falls, District 3 starts coming to life as people from other parts of Saigon flock here for a night of stress-killing.
What to do in Ho Chi Minh City District 3 at night?  District 3 nightlife has many coffee shops, boutique stores, hipster bars, restaurants, and clubs. Down below I will recommend my favorite spots to spend a night out in District 3. The price, vibe, and experience are different and diverse depending on which location you pick.
Feel free to mix and match from these recommendations to create a fun night out that is customized for you and friends! For me, a night date with my boyfriend would start with watching live music with a drink at the Acoustic Bar, then a lovely dinner at Shri, and a late night filled with dancing at the Social Club.
Acoustic Bar – Cafe Rock
Acoustic Bar to me is one of the leading bars with live music in Saigon. They hire fantastic bands who jam out classic rock ballads for customers to dance and sing to. These smart choices of rock ballad songs keep the faithful regulars coming back to the Acoustic Bar night after night. What we love about Acoustic Bar, besides the music, is the lounge itself which is not too big so we can actually feel the beat of the music.
There are several familiar bands playing at the bar each night as their regular customers always praise them highly. My favorites are the Stick-it-tu-da-man (Rock ballad), Akalika (Alternative Rock) and Acoustic Band (R&B, Pop Ballad, Blues).
When coming to the bar I would recommend taking a grab bike or taxi cab. Acoustic Bar is located at the end of an alley so parking is very limited. There are two things I would like to see improved in the future at the Acoustic Bar. The first is that smoking is allowed inside which becomes a bit heavy and smelly for non-smokers. My second suggestion is that the cocktails could have a better taste and variety if compared to other cocktail bars in the city. However, if you're here just for the live music then a bottle of Strongbow or beer still works perfectly for a fun night out. For fans of rock out there, remember to come before 9:45 PM, as this is when the bands ignite the crowd with impressive rock beats! Afterwards, feel free to request your favorite songs for the band to play. These bandmates are always happy to please their fans!
Address: 6E1 Ngo Thoi Nhiem Street, Ward 7, District 3, HCMC
Open hours: 06:00 PM – 11:30 PM
Phone number: (+84)816 777 773
Price: $
Biacraft Artisan Ales
I'm more than happy to include Biacraft Artisan Ales to any of my guests or friends every time they ask me for recommendations. I always come here at least once a month because Biacraft has the most extensive collection of craft beers in Vietnam, both locally brewed and imported.
The Space is cozy and delightful, which is fantastic for a discussion with customers, a romantic date, or simply a stress-killing night. Biacraft founders did an excellent job in offering a wide range of beers that differ in their taste and smell. The way they name their beers is cool and exceptional. You can find some beers with their funny names such as Holy Grail, Short But Arrogant, or Ugly But Vain. In addition to the beer itself, the food is very tasty. Biacraft offers some classic comfort food along with more creative dishes. I have really enjoyed their Chicken Skin Nachos, Fresh Oysters, and Fish and Chips. If you are craving some great craft beers and comfort food then don't miss Biacraft for a night out in D3.
Address: 1 Le Ngo Cat Street, District 3, HCMC
Open hours: 11:00AM – 11:00PM
Phone number: (+84)2839 330 903
Price: $$
SOHY – Sky Lounge and Dining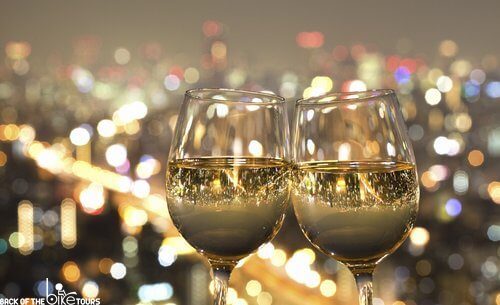 SOHY comes to my mind when I need a panoramic view of the city and a deep conversation with my friends. To me, SOHY is a lot more than just being the highest rooftop lounge in Saigon.
My experiences with SOHY usually start at around 7 PM, a great time for dinner. I prefer booking a table for a group of 4 somewhere near the glass window. I enjoy the vibrant view when looking down at the buildings lit up at night. I'm a devoted fan of Vietnamese cuisine , but there are times when I'm desperate for a new cuisine to taste. That's when SOHY pops up in my head with its wide range of European cuisine besides Vietnamese food.
Even though the food is very good, what I think SOHY does best is its theme as a drinking establishment rather than a restaurant. I prefer coming here for a glass of wine, and I love how diversified its wine choices are.
The space at SOHY is fancy, serene, charming, and cozy. Since the lounge attracts a huge number of celebrities in the city, the quality of staff, food and drinks are second to none, which make sense of the price. I think SOHY is a great choice for a drink at a rooftop lounge to enjoy the company of friends or a date. The price is on the expensive side so do expect to pay for the view.
Address: Floor 25-26 Centec Tower – 72 – 74 Nguyen Thi Minh Khai Street, District 3, HCMC.
Open hours: 5:30 PM – 1:30 AM
Phone number: (+84)907 878 778
Price: $$$
The Gangs – Grill and Beer
Beer and grilled meat definitely cannot go without each other, and The Gangs does a great job in combining the two together. This is indeed an exciting and popular spot where people can gather for a fun night out for delicious food and beers.
The Gangs offer both indoor and outdoor dining spaces, which I prefer the outdoor setting more as it's spacious, refreshing, and better for smoky grills. The grilled meat platters here are all excellent in taste and diversity. When I come with my close friends, we go for The Gangs Meat Platter. On the platter my favorite dish is the lamb shank. The meat can sometimes be a bit on the chewy side, which is the preferred texture for Vietnamese. If this is an issue for you, please be sure to let your waitress know. The next thing I would say about The Gangs is the atmosphere is very lively and crowded. This is a typical example of a memorable hangout or even a date with someone you like. Hence, there's no reason why you should skip this place when looking for what to do in Ho Chi Minh City District 3 at night!
The staff are active and quick when called, which means your girls' night out or boys' night out with beer, BBQ, talkfest, and laughter will be handled well with no issues. Some of their staff also speak a little bit of English to make it easier for travellers.
Address: 131 Nguyen Phuc Nguyen Street, Ward 10, District 3, HCMC
Phone number: (+84)971 565 557
Open hours: 11:00 AM – 02:00 AM
Price: $$
The Square Restaurant – Novotel Saigon Centre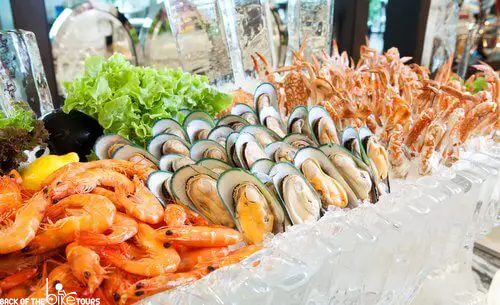 Since I'm a big fan of casual fun talk and crowded nightlife, I don't really go to a buffet restaurant quite often. In case I need some changes once in a while, I'll be opting for The Square Restaurant at Novotel Saigon Centre for their famous seafood buffet. The Square is located on the second floor of 4-star hotel in District 3 – Novotel Saigon Centre. That's why interior decoration and staff quality are undoubtedly excellent. This open kitchen allows you to feast in a wide array of Asian – European cuisine every day, where you can observe the cooking process up-close.
The seafood buffet is universally praised by patrons of the restaurant. Their seafood is fresh, tasty and diverse, which comes in a range of about 50 – 70 different dishes. Oysters, lobsters, crabs and fish can be grilled upon request. Sushi and desserts are available as well. While an expensive option, this is an excellent and fancy choice for a night out on the town.
Address: Novotel Saigon Centre – 167 Hai Ba Trung Street, District 3, HCMC.
Open hours: 06:00 PM – 11:00 PM.
Phone number: (+84)2838 224 866
Price: $$$
Rico Taco Saigon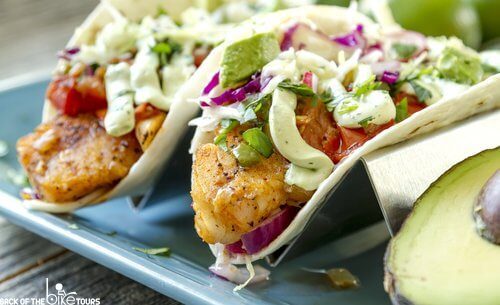 Rico Taco is where big fans of authentic Mexican food can satisfy their needs when in District 3, Saigon. I'm honestly not an expert when it comes to Mexican food, but Fish Taco here really wake up my taste buds. It's crispy and delicious with a sweet corn salsa. I highly recommend Fish Tacos for anyone intending to check it out.
At Rico Taco Saigon, the staff are well-trained and the atmosphere is perfect. There are two dining sections, one with A/C indoor and one outdoor. The Mexican background music boosts the dining space even more. They also offer pizza for those who aren't in the mood for traditional mexican fare.
Address: 29 Ngo Thoi Nhiem Street, District 3, HCMC
Phone number: (+84)2839 300 233
Open hours: 11:00 AM – 11:00 PM
Price: $$
Shri Restaurant and Lounge
It's not hard to find Shri mentioned in multiple platforms and blogs advising people where to have fun in District 3 at night. What I like about Shri beside its fantastic view are the food and drink selections.
Shri is well known for its stunning view from the outside patio on the 23rd floor. While Shri does serve food throughout the day on their lunch and dinner menu, I highly recommend checking out the Bar and Tapas menu for some small plates. This will go great with a cocktail on the patio as you sit and enjoy the gorgeous view of the city with a drink in your hand. I would recommend Shri for a romantic view and some cocktails with your significant other or a quiet conversation with a group of friends.
Address: Floor 23, Centec Tower – 72-74, Nguyen Thi Minh Khai Street, District 3, HCMC
Open hours: Mon – Fri: 10:30 AM – 12:00 AM | Sat – Sun: 04:00 PM – 12:00 AM
Phone number: (+84)2838 279 631
Price: $$$
Social Club – Hotel Des Art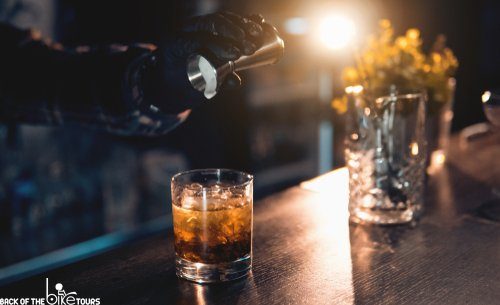 Sitting up above the rooftop of the Hôtel des Arts Saigon, Social Club Rooftop Bar is where I drop by for an overview of the hectic streets of District 3 down below. The first time I came to Social Club, I was joining a networking event by Travel Massive. I knew right away I would be back soon.
You will find a setting of standing tables and  tall chairs scattered throughout the outside lounge, which is a thoughtful design for different group sizes. The quiet and high-end atmosphere here makes it perfect for a meet-up with customers or a date.
I don't just come here for a sip of cocktails, because the vibrant ambient music and DJs playing also help chase my stress away, especially at the end of a hard-working day. Uplifting music by the local DJ is in between 8:30 PM and 1:00 AM weekdays, and 8:30 PM – 2:00 AM weekend. Social Club's staff are fluent in English, well-trained, and active. If you are staying nearby this area, you may consider coming here at least once during your stay.
Address: 76 78 Nguyen Thi Minh Khai Street, District 3, HCMC
Phone number: (+84)2839 898 888
Open hours: 12:05 PM – 12:00 AM
Price: $$$
What to do in Ho Chi Minh City District 3 at night? It's not a problem anymore with the list above. I believe you will have up to two or three fun nights out with these 8 places. Feel free to save this list for later use and don't hesitate to share it with your friends!