19 Best Coffee Shops in District 1, Ho Chi Minh City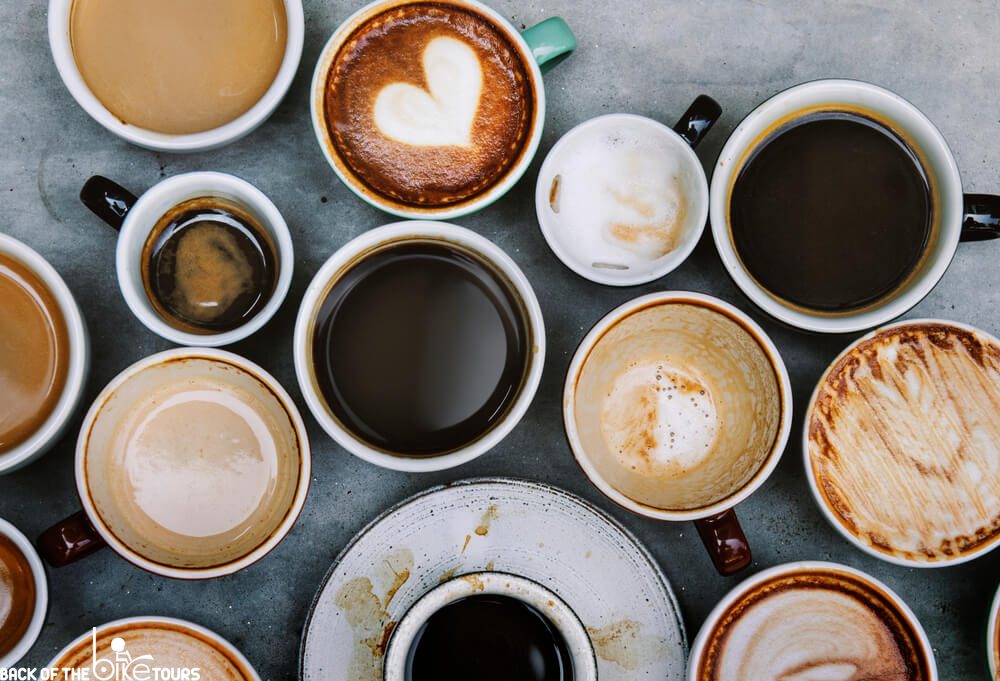 Ho Chi Minh City is Vietnam at its most dizzying and chaotic. This big city is known for its traffic, which can be overwhelming for newcomers to the city. You may want to escape from the chaos for a while. Coffee shops can be found in all the little cracks and crevices throughout the city. I'll help you locate a perfect coffee oasis, with my help you will be able to find the perfect spot for working, relaxing, or for just trying out some good coffee.
My List of Top 19 Coffee Shops in District 1
Phuc Long
325 Lý Tự Trọng, Phường Bến Thành, Quận 1, Hồ Chí Minh
At the top of the game is one of the most successful brands in Vietnam – Phuc Long express tea and coffee shop. This place serves various types of coffee and dried-canned tea leaves from Lam Dong Province. You can also bring home some of them as a souvenir. You should choose Oolong milk tea adding an egg plan cake and Lychee tea because they are signature drinks in this place. It's gonna make your day. The space is wide and clean with a wooden decoration theme. Having big thick wooden tables are suitable for working and new friends meet up. A tip for you boys, Vietnamese girls love going out on dates here. The food and beverages at Phuc Long costs around 30.000đ – 50.000 VND.
Đen Đá
96 Hàm Nghi, Bến Nghé, Quận 1, Hồ Chí Minh
In a modest and discreet space along a big Boulevard, Đen Đá draws the attention of many young adults. The reason for all the attention is that Đen Đá is open 24 hours a day. You will engage Vietnamese culture with a traditional coffee while sitting on our small stools along the sidewalk. Space is suitable for a group of friends or even your hot date. Each of the food and beverages cost around 15.000đ – 28.000 VND.
With a good environment, a small menu, and quality service, this spot checks every necessary box for a small coffee shop.
Maison marou
167-169, Calmette, Phường Nguyễn Thái Bình, Quận 1, Hồ Chí Minh
Award-winning chocolate production line – Maison Marou is gonna change your view about coffee shops in Vietnam. This coffee shop is self serve, so come up to the counter to pick from their delicious menu items. The menu ranges from hot tasty latte cups to other dishes made with Vietnamese World Famous Chocolate. The see-through kitchen allows the guest to have the sensation while seeing the chocolate processing chain. The seats surrounding the kitchen bar also can give you the best view. This cozy quiet place is perfect for working alone or a meetup for two. Visa payment is accepted here. The food and beverages cost around 100.000đ – 200.000 VND each.
Nest by AIA
Bitexco Financial Tower, Tầng 2, 02 Hải Triều, Bến Nghé, Quận 1, Hồ Chí Minh
Knowledge, celebrity, and fame are keywords to talk about this coffee shop. Nest by AIA is a half-decorated alike bookstore design with many staircase seats under bookcases and cozy light bulbs. The other half serves snacks and drinks on weekdays and lands special events like themed workshops or music sessions at the weekend.Vietnamese influencers and showbiz people always muster around here for shooting or even just for your entertainment (just kidding). David Beckham used to praise this place in his Instagram once when he had a business-traveled in Vietnam. This hotspot is a calm place, so no loud talks allow. The menu is usual with soft drinks and desserts. Those should cost you around 45.000đ – 100.000 VND each.
Thinker & Dreamer
Lầu 4, 42 Nguyễn Huệ, Bến Nghé, Quận 1, Hồ Chí Minh
Nestling snuggly at Nguyen Hue vintage apartment, this coffee shop is gonna bring you a bizarre feeling from walls full of moss to old-fashioned lift (which costs 5 VND per one round). Walking into the coffee shop area, it will grip your attention right away with the minimalisms design with white mainstream and wooden furniture. This trait completely conflicts with the French colonial building outside creating a sense of euphoria in the back of your mind. Food and desserts are served so you cannot bring any food from outside. There is a playful plot twist at this place occurred at the closing time. The coffee shop opening hours only is from 9 am to 4 pm. What happens? You ask. From 7 pm till late every day, this place becomes a bar named "The Loser" with red dim lights and sparkling cocktails. Grab the balcony seats to steal the walking street's best point of view. Young cool kids' club and dynamic people are gonna love coming here regardless of day and night. Each of the food and beverages cost around 50.000đ – 100.000 VND.
Nấp Saigon
3/5 Đường Nguyễn Văn Thủ, Đa Kao, Quận 1, Hồ Chí Minh
A whopping Liana tree intertwining the front door trellises will lure you in Nấp Saigon out of the sudden every time you have a chance to pass by. The see-through decor inside out with a motto:" Less is more" is the coffee shop theme. Many hot influencers inspired by a Hongkong trend would love to have pictures in this very modest place. You definitely can find a lot of lovable angles of this coffee shop from hashtag #napsaigon on Instagram. Egg coffee and Vietnamese French toast gonna be on your top list of Vietnamese favorite things. Each of the food and beverages cost around 40.000 – 65.000 VND. The single-story design makes this place kinda suit with dating but not loudly chat or large group's conversation.
Starbuck
39 Lê Duẩn, Bến Nghé, Quận 1, Hồ Chí Minh
Every high octane metropolis city always has Starbucks, and Ho Chi Minh City is definitely on the list. Taken place on the first floor of Mplaza so it is easy to find. Decoration and furniture make no difference with a standard Starbucks coffee shop. The drink menu is similar to your hometown plus the Banhmi for breakfast because you are in Vietnam. Order your favorite coffee cups, and it definitely can satisfy your taste as usual. The window view's seats are ideal since Starbuck covers an area at the corner of streets. There are nearby, few famous Middle East restaurants so highly recommended for inviting your Korean and Mexcian friends here FYI. Visa payment or Paypal validates too. Each of the foods and beverages cost around 40.000đ – 65.000 VND.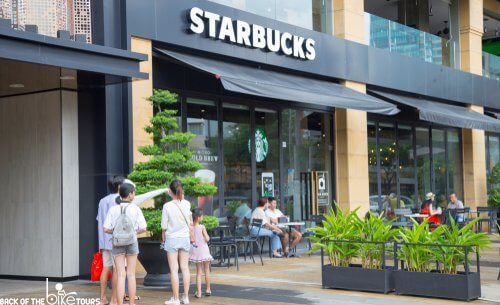 The Coffee Bean & Tea Leaf
1-3 Phan Chu Trinh, Phường Bến Thành, Quận 1, Hồ Chí Minh
Score one more excellent US coffee brand in Vietnam with The Coffee bean & tea leaf. Because of its good global reputation so I would rather take a brief introduction of this place. A wide range of food and beverage tastes as good as your hometown branch with the same price. This franchise coffee makes no difference with spacious space scattered around by big armchairs. Two-story design somehow makes the second seem a little less crowded than the first floor. Same with Starbucks, the one in Vietnam is located in a central area and so easy to be found. The food and beverages cost around 70.000đ – 110.000 VND each.
The Workshop
27 Ngô Đức Kế, Bến Nghé, Quận 1, Hồ Chí Minh
See more industrial coffee shop in Vietnam with the Workshop. Well-known by menu including good foods and beverages is the first thing to make this place hard to resist. The top favorite drink of all time goes to Latte. Make it double and you are good for a day. Wide wooden tables are scattered all around and ready for working hours. Special double height ceiling design helps to rank this place up at first place on every coffee recommendation article. People mostly look for a relaxing space to work and quick meetup at noon here so keep your eyes if bringing children along. Friendly staff, clean toilets, and soft instrumental background music are also nice things about this coffee shop. Each dish and beverage cost around 20.000 – 80.000 VND.
Cà phê Cô Ba Đồng Khởi
4-6 Đồng Khởi, Bến Nghé, Quận 1, Hồ Chí Minh
This is a brand newcomer of Saigon coffee shop located nearby Saigon river at the rooftop of one of biggest flat at Le Loi Boulevard. Every Saturday night weekly holds special acoustic music performances by Vietnam indie artists attracting aplenty music lovers at D1. Should reserve your seat before coming for having a good view of the stage and city surrounding. Highlighted by tropical design with short coconuts and wooden swings surround the bar shall give you a joyful mid-summer vibe. This place serves dinner dishes and tropical drinks because of the theme background. Ideal for dating and meeting friends at night time. Each of the foods and beverages cost around 45.000đ – 60.000 VND.
Trung Nguyen Legend
219 Lý Tự Trọng, Phường Bến Nghe, Quận 1, Hồ Chí Minh
Next stop, we will take a look into the Vietnamese go-global famous coffee brand named Trung Nguyen Legend. This early-stage coffee brand always reigns a special place in every Saigon coffee lover' hearts. Lucky for you that its original coffee shop takes place at Ly Tu Trong street nearby Ben Thanh Market at D1. You can easily make a quick street tour by walking from the famous market to the red-light district. Legend coffee (either black or white) can blow your taste whenever having a chance to stop by. Smokers allow taking cigarettes on the first floor in the air-conditioned room. An open space for all served purposes so that you can work, meetup or dating. It also has raw coffee beans on selling if any chance you want to bring home as a gift. Each drink and coffee beans package cost around 20.000 – 55.000 VND.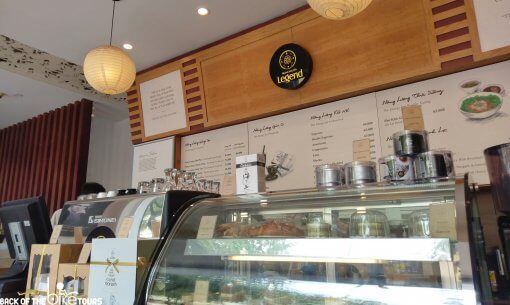 Highland Coffee
135A Trần Quang Khải, Tân Định, Quận 1, Hồ Chí Minh
Another sweet Vietnamese coffee shop for you to visit at the corner of De Tham and Pham Ngu Lao nearby Bui Vien entrance. It would catch your eyes at first sight. It can surprise even budget travelers for high-quality penny-pinching coffees (about 9 VND), especially the no-sugar black coffee. Highly recommended Banh mi and desserts will please your tummy, too. All-day welcoming with 24/7 service and no extra charge are special just for you. Wide space and plenty of benches suits with meeting friends and resting in break time hours. Each of the food and beverages cost around 9.000 – 65.000 VND. You don't want to miss out knowing this place I promise.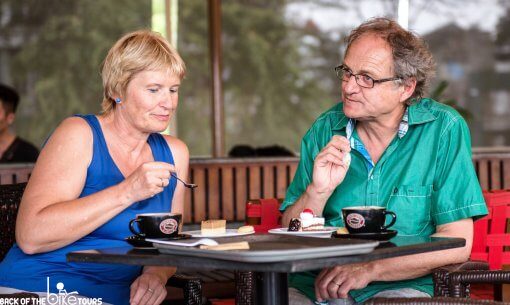 The Vintage Emporium Cafe
95 Nguyễn Văn Thủ, Đa Kao, Quận 1, Hồ Chí Minh
Beautiful French-colonial space reverberates via flowered enameled tiles and the medieval royal furniture makes a great impression when you come across this place. Classified as a vintage cafe, but it reveals way more than that. Brunch and coffee under service from 07:45 am till 06:00 pm that very rare in Vietnam usual coffee shop; but this place totally nails it. Breakfast serves aside luxurious pool is gonna sink you into Zen. Salads and Moroccan poached eggs taste delicious as a signature. The drink menu is fine with juices and coffee shots. Foreigners friendly neighbor has your visa card payment accepted. There is a lot of Vietnamese showbiz people taking photoshoot or may for your entertainment (just kidding). Each of the food and beverages cost around 50.000đ – 150.000 VND.
Vietcetera Cafe
77-79 Lý Tự Trọng, Phường Bến Thành, Quận 1, Hồ Chí Minh
Continue to come with Vietcetera cafe – an emerging Vietnamese coffee brand. Differ from others, this place serves bold Italian dishes and fine cups of latte. Attract curious comers by nostalgic style with surreal paintings and traditional benches. Two-story designer divides it into two sections as a downstairs coffee shop and upstairs souvenir store. Customers can grasp some good stuff while tasting some good cappuccino or latte cups in this chilling space. A book and city window view seats perfect for a good afternoon in this intense city. Each of the food and beverages cost around 15.000đ – 30.000 VND.
Heritage ChinaTown
10 Pasteur, Phường Nguyễn Thái Bình, Quận 1, Hồ Chí Minh
Ready to get obsessed right away with red lighting system glitter 80s China spirit in Heritage China Town. This cool spot serves famous Hongkong vendor dishes and alcoholic drinks for your chilling time with friends but strictly not for kids. Dimsum and chicken legs boiled with soy sauce always score as the most favorite dish of all time. Beers and mojitos all kind nails it. Small place 2 split spaces: outside with short stool seats and inside with vintage saloon color by cultural identity. Just so you know that many young models and actors outtake photoshoot here in the morning and noon. People allow to vape and smoke here during 24 hours store's opening. Each of the food and beverages cost around 20.000 – 50.000 VND.
Cộng Cafe
26 Lý Tự Trọng, Bến Nghé, Quận 1, Hồ Chí Minh
Cong Café is a coffee shop that brings the national spirit the most in Vietnam. Imprint Vietnamese communist tendency on every piece of this coffee shop from the decoration to drink menu. Coconut coffee is a special drink of all kinds. Banh mi pate also is a must-try dish whenever you ever visit here. Each of the food and beverages cost around 30.000 – 100.000 VND. Vietnamese benches sparkle with vintage red flower fabric scattered all around with vintage red flower fabric can really dazzle any eyes. The two-story designer coffee shop can fit people in, so be comfortable bringing along your friends and kids. Standing out from others, this place to be an interesting experience when in Vietnam and you don't want to miss out diving into this.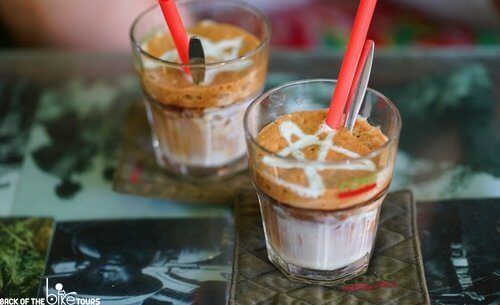 EON51
Level 50/51/52, Bitexco Financial Tower, 2 Hải Triều, Hồ Chí Minh
Let's have a plan bender go with a luxury chilling spot on Floor 52th of Bitexco Financial Tower at EON51. This famous coffee bar lures in a lot of tourists to see the whole Saigon city sightseeing. Enjoy beholding one-of-a-kind helicopter landing yard in the shape of a round dome in Vietnam. Everyone should probably come around sunset contemplate vanilla twilight to grip the best relaxing time. Excellent coffees and other beverages by its spacious bar counter. Grasp this place in your itinerary for alone time or a romantic date. Just so you know good things come with a price so it should cost you around 200.000 – 880.000 VND for each.
Snob Coffee
147A Đường Trần Hưng Đạo, Phường Cầu Ông Lãnh, Quận 1, Hồ Chí Minh
Differ from the name as a noun – Snob Coffee, this place is super friendly with 24 hours opening time. The first floor equips four iMac PCs serving everyone for playing games and searching for information. That is the reason this place becomes a hot gathering spot with gamers and geeks. Smoking area at the balcony parts from air-conditioned rooms for vaping or smoking talks. Nighttime shelter people and daytime full of working-class makes a common daily scene here. Fine drinks and desserts under your service served by a young and well-trained staff team. Each of the food and beverages cost around 50.000 – 100.000 VND. If you are wandering at night near the Bus Station and not knowing where to wait till morning, this is gonna be the place you don't wanna miss out.
The Chai Coffee
76 Nguyễn Đình Chiểu, Quận 1, TP. HCM
Afro style with a horn of stag and tan carpets breathe the European forest into this extraordinary coffee shop. Smokers can enjoy a cup of coffee or fine mojito here on the little chilling balcony. This place opens every day and night in 24 hours. Sometimes the owner brings a guitar and sings some songs with their band. It surely can make you wanna sing along. Many lovebirds are here for a date so it should not be talking too loud or bringing children alongside. Sidewalks with short stools on the outside placing along the peaceful Nguyen Dinh Chieu street surely are the best seats here. Each of the food and beverages cost around 25.000 – 60.000 VND.
Besides food and travel recommendation, I hope this list of 19 cafes in District 1 Saigon can help you avoid having to breathe in traffic fumes can be helpful for your journey. People probably shouldn't hesitate to come to these places. If you want to learn more about Ho Chi Minh City Things to Do you can learn alot here.