The Best Breakfasts in Ho Chi Minh Minh City
The Best Breakfasts in Ho Chi Minh Minh City Food Guide
Ho Chi Minh City is a street food wonderland. It's easy to find authentic treats around the hotels but why don't we kick the morning off with delicious dishes only local people know? In this blog post, I'm going to share with you the best breakfasts to die for in this foodies paradise.
Dear food lovers from all over the world, please be ready for these mind-blowing tips!
Phở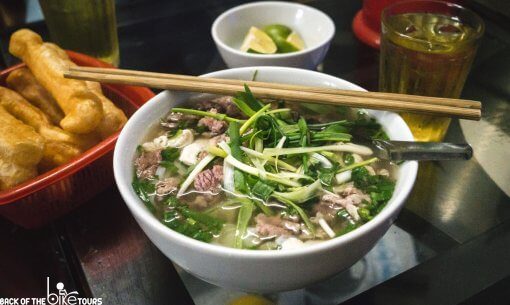 Let's start our journey with something traditional. Known as the most popular Vietnamese dish in the world, Pho is the local favorite as it's a perfect and healthy meal to enjoy on a peaceful morning. Once you start, you can't stop slurping on fresh, thin noodles dipped in the simmering broth. The meat in Pho can vary between beef or chicken but most restaurants specialize in beef Pho.
A tip from a pro Pho eater is to order a small side bowl of raw egg submerged in the beef broth. Then use a spoon to scoop the egg yolk and let it melt in your mouth. It tastes like heaven! If you want to explore the best food in Ho Chi Minh City check out our Ho Chi Minh food tour at https://backofthebiketours.com/saigon-street-food-tours-vietnam/
Originally from the North, Pho came a long way to the South and became the spiritual dish of the whole country. Each region does it a little bit differently. The Pho in Saigon is topped with beef balls and eaten together with many kinds of herbs, bean sprouts, vegetables, and sweet black bean sauce. While Pho in Ha Noi doesn't have side vegetables but instead: youtiao – a kind of Chinese deep-fried doughnut. For those reasons, I would recommend more than just one restaurant and mark the regional specialty of them below:
Traditional Northern Pho:
Phở Dậu: Alley 288 Nam Kỳ Khởi Nghĩa, District 3, HCMC
Phở Hoà: 260C Pasteur, Ward 8, District 3, HCMC
Southern Style Pho:
Phở Lệ: 303 – 305 Võ Văn Tần, Ward 5, District 3, HCMC
Bánh mì Hoà Mã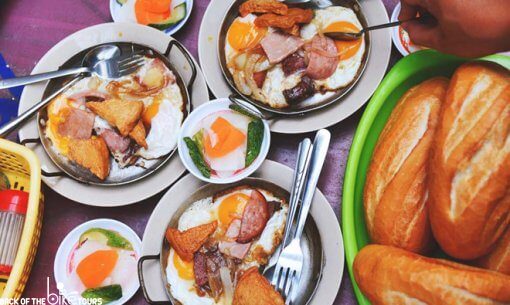 If you have a habit of having bread in the early morning, then there is no other greater choice than Banh Mi. Let's forget the image of Vietnamese traditional sandwich stuffed with different meats, vegetables, herbs, mayonnaise, and pepper. I'm talking about Bánh Mì Chảo, in which "chảo" here is "pan" in English. So when you come to bánh mì Hoà Mã, you are served with a hot pan of mixed ingredients like fried eggs, ham, Vietnamese sausage, fishcake, and pork liver pate to dip the crunchy baguette in.
What makes Bánh Mì Hoà Mã so unique is their homemade sweet and sour pickled carrots and daikon making you feel more refreshed while indulging in a bunch of fried foods. Taste all the goodness and enjoy banh mi like local Vietnamese by tossing in pepper, soy sauce and chili sauce to your dish.
The shop was launched in 1958 and it still remains the same authentic taste like the good old days. For travelers looking for the nostalgic Sai Gon feeling, feel free to come to Banh mi Hoà Mã and don't be a sleepy head because it's only open until 11 AM.
Bánh mì Hoà Mã: 53 Cao Thắng, Ward 3, District 3, HCMC
Bún mọc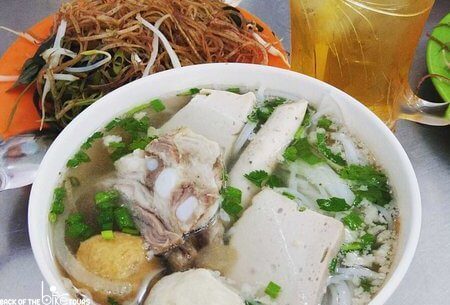 Vietnam is famous for its noodle soup dishes. If you're a pork lover, make sure to try Bun Moc when you come to Ho Chi Minh City.
Although Bún Mọc originated from the North, it's still important to Saigon food culture. The most popular shop for this special dish is definitely Bún Mọc Thanh Mai located right in the heart of the city center, near Ben Thanh market. This shop has been run by the same family for more than 40 years so the flavor is said to be the most authentic of all bun moc businesses in town.
The mushrooms are cooked with pork for hours to create a comforting, light and delicious broth with umami. Inside the bowl of Bún Mọc, you will find chunks of pork meat, pork balls, and slices of Vietnamese sausage topped with crispy fried shallots, green onions, and peppers. The vegetables served on the side include banana blossoms, bean sprouts, and fresh herbs. But that's not enough if the eater forgets to season his bowl of Bun Moc with lime juice, fish sauce, and crushed chilies. It's totally the type of noodle soup that you might want to eat in a relaxing rainy day.
Bún Mọc Thanh Mai: 14 Trương Định, Bến Thành Ward, District 1, HCMC
Cơm Tấm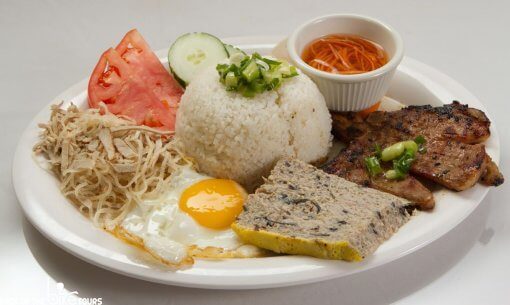 Vietnamese love to eat rice so this list wouldn't be perfect if I forgot to bring up this extremely common dish. Broken rice or Cơm Tấm is available all over the streets. Perhaps only in Saigon, it's more famous than even Phở, I usually brought a takeaway box of Cơm Tấm to class when I was a kid from one of the local street food vendors near my home.
Broken rice refers to grains of rice that come loose during the milling process. This ingredient is less expensive compared to the whole grain white rice and is usually eaten by lower-income class families in the past. In present-day Ho Chi Minh City, broken rice is eaten by everyone in the southern part of Vietnam and can even be considered an expensive dish at some vendors.
The basic version of Cơm Tấm is broken rice and topped with a marinated grilled pork chop, carrot and radish pickles, cucumber, tomato, and cooked green onion mixed with crunchy pork fat. This whole combination is served with sweet fish sauce drizzled on top. You can upgrade all your com tam with loads of extras such as sausage, steamed egg & mushroom cake, a fried egg, or even thinly sliced pigskin.
Throughout the city, you can find many versions of Com Tam because each stall owner has their own recipe. My mom said, "The thing that makes Com Tam exclusive from place to place is the fish sauce and how the pork is marinated." As it's difficult for me to choose only one restaurant, here are some recommendations for the best Cơm Tấm in Sai Gon:
Cơm Tấm Bụi: 100 Thạch Thị Thanh, Tân Định Ward, District 1, HCMC
Cơm Tấm Mộc: 85 Lý Tự Trọng, Bến Thành Ward, District 1, HCMC
Cơm Tấm Nguyễn Văn Cừ: 74 Nguyễn Văn Cừ, Nguyễn Cư Trinh Ward, District, HCMC
Bò Kho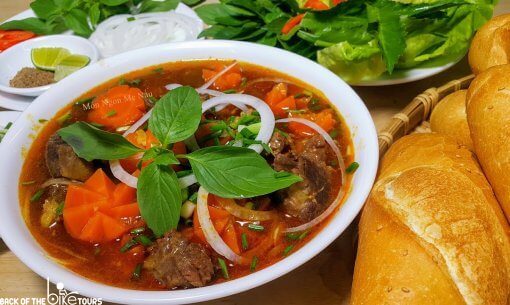 Finally, to complete this food guide, there is another wonderful and beloved Vietnamese favorite: Bò Kho. Bò Kho means beef stew in English.
The broth is savory and meaty in flavor as it is a combination of carrots, tough cuts of beef in cubes, shallots, and lemongrass simmered for hours. The beef is always marinated with different spices such as star anise, cinnamon, and seasonings for a long time before the cook pours them all into the cauldron. That's why the stew is so rich, flavorful, and the meat is deliciously tender.
A bowl of Bò Kho is accompanied with fresh herbs, vegetables and dipping sauce on the side just like other Vietnamese noodles. The taste is balanced but if you want extra flavor, add a few slices of spicy Vietnamese chilies to your bowl to extend the fragrant of natural spices and soothe the sweetness of luscious juicy carrots. It will be a mouthwatering breakfast you won't easily forget.
Beef stew is pretty popular for breakfast so there are many stalls serving it around the city. In Sai Gon, it's also common to eat Bò Kho with egg noodles.
Phở & Bò Kho Út Nhung: 109/7 Nguyễn Thiện Thuật, Ward 2, District 3, HCMC
Bonus Breakfast Tips for Saigon
Last but not least, I have a special mention for a small shop in Ho Chi Minh City that is a personal favorite of mine.
Craving for something light that still gives enough energy for the day? Then head to a small fresh milk shop in the vibrant center of Sai Gon. This place is pretty popular among the locals.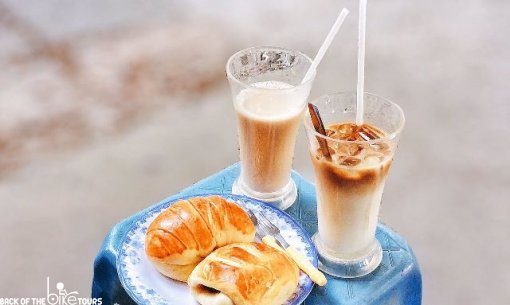 The shop is named "Mười", which literally means "10" in English. Milk at Mười is different from bottles of milk stacked in supermarkets because it's boiled fresh every day. The shop also offers milk mixed with classic black coffee for caffeine lovers. While fresh milk is the signature, Sữa Tươi Mười also serves traditional pastries as well.
Customers coming here are given plastic chairs to sit together along the sidewalk, right in front of the shop. This way of gathering is a wonderful way to enjoy the comforting morning while immersing in the Vietnamese culture.
Sữa Tươi Mười: 10 Phùng Khắc Khoan, Đa Kao, District 1, HCMC
If you're planning to have a trip to Ho Chi Minh City, I hope this has inspired you to seek some tasty, authentic treats around the city. The list has everything you need for a local traditional breakfast experience when exploring Sai Gon but you can check us out here to find a Ho Chi Minh Food tour that is right for you.
I would say this amazing culinary paradise has all kinds of foods from a renowned bowl of Pho to exotic snacks like fertilized duck embryo. As it's always good for a little wander, don't hesitate to taste other delicious treats if you stumble into some random stalls in the small alleys. Happy exploring!