42 Nguyen Hue Coffee Apartment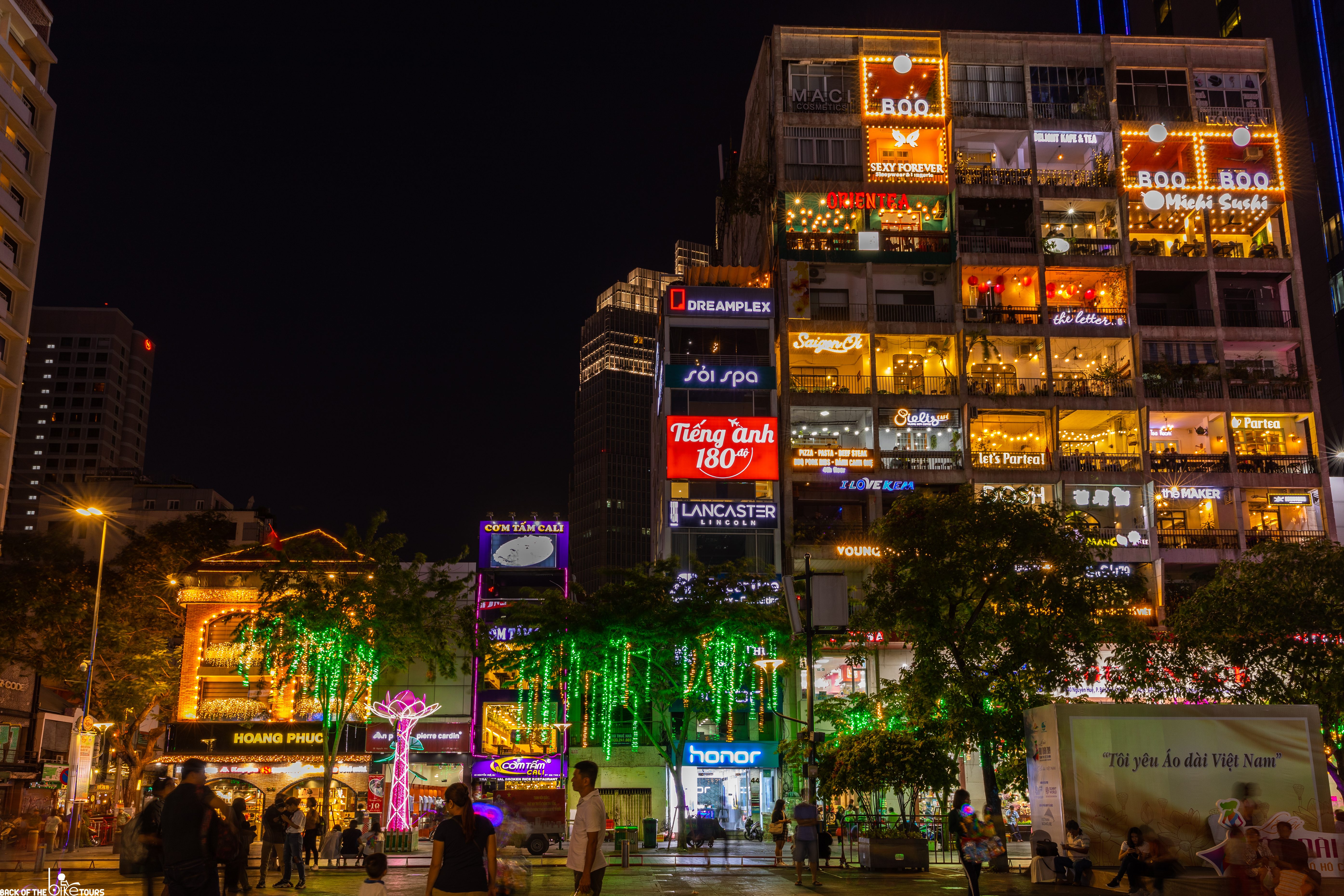 Where is Nguyen Hue Coffee Apartment? – The one-of-a-kind building in downtown Saigon.
If you are searching for the best photogenic spots in Ho Chi Minh City, never skip the 60-year-old building on No.42 Nguyen Hue Walking Street. The newly redesigned street in downtown Ho Chi Minh City, is right in the center of District 1. The coffee apartment at 42 Nguyen Hue is right in the middle of the street inbetween the Saigon River and the City Hall that sits on either end of Nguyen Hue.
What turns such an antiquated building into the trendiest place in all of Saigon? It's the perfect combination of a youthful Saigon vibe with the timeless, nostalgic beauty that makes Building No. 42 stands out among other places. Come here to capture the best scenes of Saigon onto your Instagram, to shop until you drop and to fill your taste buds with endless food and coffee. Let this article guide you on your exploration into this spot, and take away plentiful recommendations for fun activities to do while you are here. 
Nguyen Hue Cafe Apartment History
From a 60-year-old building to the coolest address on Nguyen Hue Walking Street
Building No. 42 charms visitors at the first look with its glorious history. Back in the Vietnam War when Saigon was the capital of Southern Vietnam, the nine-storey building at no. 42 Nguyen Hue Street housed many top-ranking government officers, including Truong Buu Khanh – the first secretary of the Vietnamese Embassy in Washington, as well as countless American military advisors, thanks to the central location.
When the Fall of Saigon in 1975 came, the building's honored days slowly faded away. As Vietnam thrives in the world's economy, skyscrapers rise higher and higher to take over the sky of Ho Chi Minh City, which turns the old apartment building into a dwarf among giants. After decades, time stained every corner of Building No. 42, from the dimly lit entrance with interlacing electrical wires to yellow brick walls with peeling paint and the twisting French-style staircase. Every breath inside the building gives you such a strong nostalgic feeling from a chaotic era.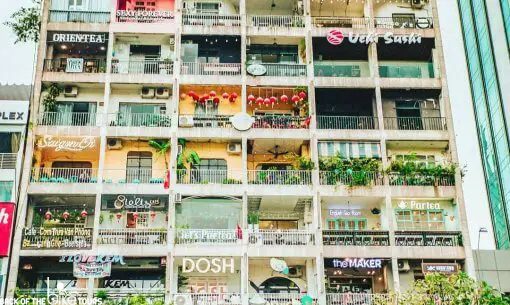 The building revived its fame in an unexpected event in 2015. Due to the high rental fee in the city centre, small coffee shops and fashion boutiques turned their eyes to the old building No. 42. A wave of renovation hit the building quickly, and when Nguyen Hue Walking Street was open to the public, Building No. 42 also went viral on social media for its brand new appearance: a hip complex filled with nearly 30 coffee stores, fashion boutiques and other independent stores, each with a unique concept and Instagram-worthy atmosphere. The building engages hundreds of local people and tourists every day from morning 'till dawn, and is now considered as the coolest address on Nguyen Hue walking street. 
Once you start your journey here, prepare to be confused since the 1st floor is occupied entirely by Fahasa – a renowned chain of bookstores in Vietnam. The diminutive entrance is on the left of the book store. Now squeeze yourself to make your way through vehicles and the flow of people in and out of the building. Visitors can either wander floor by floor on the stone staircase or pay 3.000 VND to use the elevator, which will be reimbursed by some shops. The exciting area starts on the 2nd floor.
Among 3 sections of the building, section A is where most stores locate, thanks to the good view looking down to Nguyen Hue walking street and the Saigon river. Section B is a little more hidden than section A, but it still attracts a good amount of businesses due to spacious apartments. Residents remain in section C as apartments are not favorable for renovation. 
While most stores open every day from 8 A.M to 10 P.M, the building is busiest in the evening. It's the best time to see the building glows in the beautiful light from balconies and decorative billboards. If you want to explore every corner of the building, it may take most of the day. To save your time, here's a list of what visitors usually do when visiting the building, from the most frequent activity to the unexpected ones. 
The Best Instagram Cafes at 42 Nguyen Hue Apartment
Whether you're a fan of photography, or you just want to share some beautiful holiday moments on social media, Building No. 42 is a must-go place for you. It's not exaggerating to say that the building is filled with Instagram-worthy backgrounds. The most photo-taken spot is not anywhere inside, but the outer view of the whole building when looking up from Nguyen Hue walking street, especially at night when the building sparkles in the light of lanterns, hanging naked light bulbs, neon lights, billboards and decorating signs. The building's cubic-like frame with evenly square balconies makes it look like a chocolate box full of tastes and styles. 
Inside the building, artistic layouts can be spotted anywhere, from the fuzzy tiled corridors, tarnished window frames to rusty apartment doors. Before settling inside any shop, do take some photos in the hallway.  The most recommended background is the corridor of the 4th floor where a little tropical garden flourishes in the middle of the building. Or opt to the 6th floor to be surrounded in a Hoi An atmosphere with bright yellow walls and hanging lanterns all along the aisle. Even the elevator lobbies can become a hip background with different signs, billboards and maps of floors.
Now you have to make a hard decision of which store to step inside because all stores in Building No. 42 deserve the praise for their aesthetic interior. Most well-known cafés to Instagrammers include Partea, The Maker Concept, and The Letter Cafe. Partea is a classic English teahouse that actualizes every girl's dream of living in a castle with royal-like decoration, while The Maker Concept's industrial décor focuses on the chic, modern and somewhat minimalist style. Otherwise, come to The Letter Café to stay on a tranquil oasis in the middle of the chaotic Saigon, thanks to the elegant Hoi An influenced decoration. 
After visiting beautiful stores recommended above, let's step out to the balconies and take a look. From there you'll get an overview of the busy walking street, Saigon River in a far sight and some iconic skyscrapers of Ho Chi Minh city. Buihaus Coffee & Workshop on the 7th floor or Boo Café on the 9th floor are most frequently visited for their spacious and wide-angled balconies, which is suitable to set up a good photo.
If you are an active Instagrammer, check out our recommendations for more Instagram-worthy places around Ho Chi Minh city. 
Best Coffee Shops in Cafe Apartment
Building No. 42 is called "the Coffee Apartment" for a reason. What makes people so excited about No. 42 is that the complex offers customers various drinks with different tastes in one place. Here you'll find people filling all seats in these cafés every day, mostly youngsters who not only want to have a good drink but also look for a cool place to hang out, socialize and date. Here in Building No. 42, all of their needs are fulfilled. 
For coffee addicts, you'll have a hard time choosing a café in the building, because each store has their signature drinks that you don't want to miss. To have a taste of Saigon style coffee, try Sai Gon Oi on the 5th floor. This shop has some different versions of the iconic ca phe sua da (Saigon iced milk coffee). A small detail that many customers like in this store is cute little name tags stuck onto your cup. The store also serves light desserts but we believe the true reason to visit is the drinks. 
On the same floor, you can find Nau Saigon Café, a cool place to try some unique Vietnamese coffee such as egg coffee, foam milk coffee, or coconut coffee. Egg Coffee is quite famous in Vietnam and worth trying for any newcomers to unique Vietnam's coffee universe. Don't hesitate of the bizarre combination of whisked egg yolk layered on top of black coffee, because it's likely that you'll crave for the creamy, tasty flavour of the drink.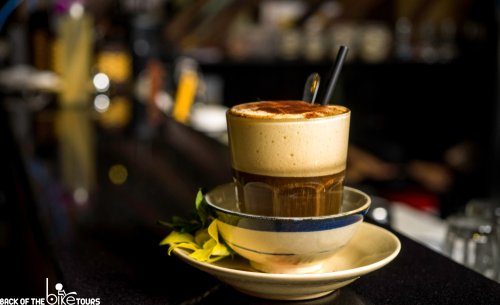 A tip for Instagram enthusiasts: Check out Thinker & Dreamer on the 4th floor. The drinks in this shop are famous for being Instagram-worthy. If you see a small camera icon on the menu, it means the drinks are "good for taking photos". Their drinks range from classic coffee like espresso or cappuccino to other popular drinks such as juices and tea. The combination of their tastes and looks is worth the price.
For tea lovers, there are two addresses that you shouldn't miss in this building: Partea on the 4th floor and Orientea on the 7th floor. Partea is considered as a fairy house in the middle of this tropical city. Customers are deeply in love with the royal-like ambience of the store, besides the extensive choice for tea flavours. You can even choose your own teacup from the store's huge display of vintage utensils.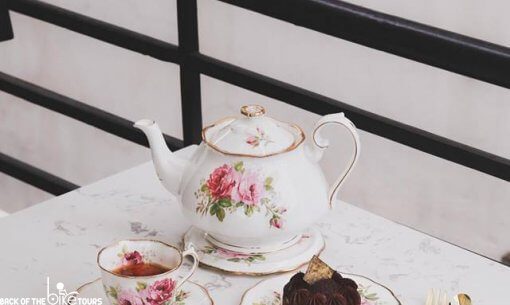 Orientea, as suggested in the name, is a place to taste oriental tea, mostly from Japan and China. The store receives positive reviews on the tranquil atmosphere and unique, delicate tea flavours. This is an ideal place to find a peaceful moment or to enjoy a Japanese tea ceremony.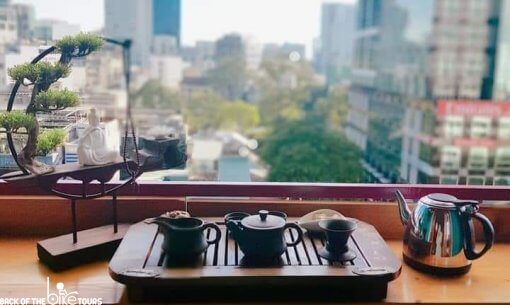 To cool down the heat of Saigon, don't forget to check out Mango Tree on the 3rd floor and taste the store's most recommended beverage: Mango Snowflake – a Korean famous drink/ dessert called bingsu, made from shaved ice topped with fruits, syrup and condensed milk. The dessert is famous for melting down in your mouth at the first bite. Eating a full bowl of bingsu guarantees to give you a shiver even on a blistering hot day. Other places of Saigon may also have bingsu, but  is notable for special flavours from coffee, bubble milk tea to durian.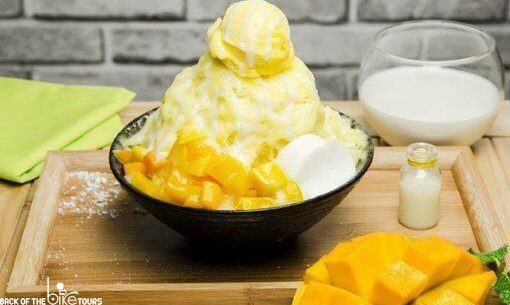 Cafe Apartment Food Recommendations
There are fewer restaurants in Building No. 42 than cafés, but almost all of them receive positive feedbacks for their quality and service. One thing for sure is whether you are into Eastern or Western cuisine, Building No. 42 has it all to offer. 
Start from the 2nd floor at Poke Saigon where you'll find tasty Hawaiian seafood. This is the first restaurant in Ho Chi Minh City that serves Poke – a popular appetizer in Hawaiian cuisine, composed of raw fish, salad, toppings and sauces, which tastes fresh and healthy. This restaurant is suitable for any meal in a day thanks to its diverse menu. Those who have a vegetarian or gluten-free diet can easily choose a dish from many options.  A great thing in Poke Saigon that many customers love is that you can create your own poke flavour from unlimited toppings and sauces.  
On the 3rd floor is the right place for people who look for a European taste, with Dosh and Downtown Steakhouse. Dosh is a perfect bakery for your sweet tooth. Doughnuts are must-try when you are here because of their unbelievable soft and tender taste. Besides doughnuts, freak shakes are highly recommended, both for the taste and the Instagrammable look. Since its opening, Dosh has been one of the top-ranking bakeries in Saigon and received much attention.  Downtown Steakhouse is lesser-known, but all reviews about this restaurant are compliments for their tasty food. As suggested in the name, the restaurant's main dish is American steaks and grills that satisfies your taste and vision. With delicious food, great outdoor setting, helpful service and affordable price, Downtown Steakhouse is worth visiting, especially suitable for dating and couples' night-outs.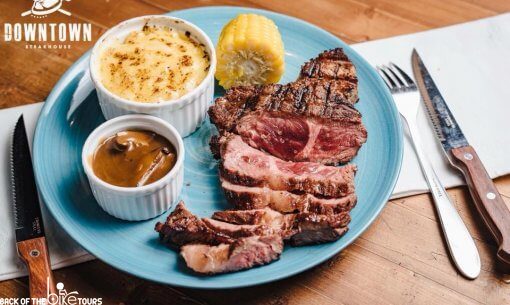 For fans of Italian cuisine, head to 8IELTS Café on the 4th floor. The good view and arty décor with beautiful wall drawings is the most significant feature of 8IELTS. The menu composes of general Italian food such as pizza and pasta. The price and customer service in this café receive mixed reviews but are still acceptable on the average. A good thing to note down is 8IELTS offers a generous weekly discount program every Wednesday and the cafe frequently throws live music nights.   
If you have had enough of Western food, look for Michi Sushi on the 7th floor. Their menu covers a broad range in Japanese cuisine, including sushi, sashimi (a delicacy made from raw sliced meat or fish and served with soy sauce), teriyaki (broiled or grilled meat with a glaze of mirin, soy sauce and sugar), udon (Japanese noodles) and some Western – Japanese combined dishes. The food in Michi Sushi is praised for its freshness and delicate preparation. The price is reasonable with frequent discount programs, making Michi Sushi one of the busiest stores in Building No. 42. 
Lastly, for those who want to try Vietnamese food, Saigon Vieux on the 2nd floor and Sai Gon Oi on the 5th floor are the places to go. Both cafes offer some traditional Vietnamese and Saigon dishes. While Saigon Vieux has a more diverse menu which is suitable for any meal in the day, Sai Gon Oi is better to grab a quick brunch.   
Best Shopping Spots in 42 Nguyen Hue
When it comes to shopping, Building No. 42 confidently beats down other luxurious shopping malls for its dynamic atmosphere. Fashionaholics dash down here to search for trendiest, one-of-a-kind items. Young local designers find No. 42 a heavenly place to start up and promote their styles. Both result in No. 42 becomes a fashion treasure where new boutiques pop up frequently and customers can dive into various choices on a budget. What's more, shopaholics crave for the aesthetic atmosphere not any less than clothes. Since social media is the main marketing platform of all start-ups here, shop owners strive to make every corner in their stores picturesque. All in combination makes a shopping spree in Building No. 42 definitely worth your time. 
A small thing to keep in mind: clothing stores in Building No. 42 are mainly for female customers with standard Asian sizes, so don't be surprised if you struggle to find a fit item. In that case, look for accessories, such as cool bags or jewels because you won't be disappointed. Below are some recommendations for stores you should swing by. 
For those who favour a minimalist style, Hayho Concept on the 2nd floor definitely wins your heart. Hayho Concept claims to serve customers "classic basics clothing with a twist". The store sells men and women's fashion clothes with uniquely designed embroidery and high-quality material. Customers usually look for cool T-shirts and polo shirts when they come here. For couples: don't forget to dig into their T-shirt section and find some cool matching outfits as the store provides plentiful unisex items at all sizes. 
To complete your minimalism – inspired look, head to a Scandinavian style store named The E.Y.E Saigon on the 4th floor. The artistic decor and display charm your eyes at first sight. Even though all products are plain black and white tote bags, they can add flavour to your outfit with creative designs, printings and unique slogans. The brand's mission is to proudly promote sustainable buying habit and showcase Vietnamese culture through modern fashion. The store also offers good quality, stylish white tees and chic wall prints that are worth considering. 
For girls who look for a feminine outfit, try Cosette or Chanchan. Cosette is a Vietnamese designer brand that emphasizes the classy beauty of vintage clothing. Their target customers are young office ladies who love to be trendy, yet maintain their formal and professional look.  If you adore the ao dai of Vietnam, do put this store onto your bucket list when you come to No. 42 as they offer a good selection of traditional, elegant ao dai styles. 
Come to Chanchan to find some funky pieces with gorgeous designs and nice materials. The store aims to customers who are into a somewhat casual and colourful style. Their most sold items are lovely dresses with nice cut-outs and tropical designs that brighten up your look. If you happen to come here around the Vietnamese New Year, you should also look for their very cool section of modern and chic ao dai designs.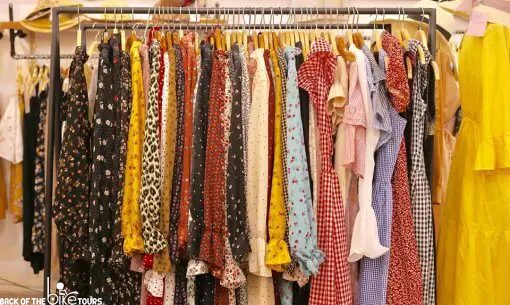 Now let's spice your outfit up with some cool accessories from Buom Boutique or The Maker Showroom. At Buom Boutique, take a look of their wide selection of various Japanese clothes and handmade accessories, from kimono, silk tank tops to wooden sandals and seagrass handbags. At The Maker Showroom, try out plentiful hip products from backpacks to jewellery and even designed phone cases. It's pretty hard to step out of the building without one or two items from these cool fashion stores. 
Co-working Spaces in Saigon
Now, just when you think that you have known everything about this building, it still has more to offer. Besides eating and drinking, many cafes define themselves as co-working space and provide a great environment for freelancers or anyone who simply needs to make something done. Famous cafés that are dedicated to working or study space include The Maker Concept, Buihaus Coffee & Workshop and Thinker & Dreamer. Other cafés are also fine for working, except for busy hours in the evening. 
For beauties, don't forget to wander around some beauty stores in the building, such as Naunau DIY Studio on the 5th floor. This cosmetics brand allows you to make your own beauty products, from handmade beauty soaps to your personally designed perfume, all with natural, eco-friendly ingredients. 
One thing for sure is that the business in Building No. 42 is competitive and frequently changing with more and more creative, unique stores pop up to the display, so the next time you visit it, prepare to discover some new and cool places.
The undefined future of Building No. 42 
Despite many compliments, the building has some drawbacks. Since apartment owners renovated it individually, the building lacks systematic management and organization, which makes common services, such as parking and using the elevator, quite low quality. The common areas are not taken care of, which leads to complaints as "dirty and messy". The run-down construction of this 60-year-old building brought a huge concern to both residents and customers about its safety. Moreover, turning apartments into business is actually illegal and a notice of eviction has been made to shut down the business here, though the government hasn't taken any strong action yet.
While the future of Building No. 42 Nguyen Hue Walking Street is unclear, business still prospers with new stores opening every month or so. Rumour has it that the building will soon be demolished, but until that day, No. 42 stays as the coolest address on Nguyen Hue Street and one of the best places to visit in Ho Chi Minh City. Check it out as soon as you can, before this unique place becomes the past.