What to Wear to Mekong Delta?
What to wear to Mekong Delta?
You are about to leave the bustling Ho Chi Minh City for a relaxing getaway to Mekong Delta – home to natural sights and on-the-water lifestyle. You are uncertain as what to wear to feel comfortable when you visit around the Delta. This article isn't going to help your itinerary go smoothly, it will help you wear the right clothes when going to the Mekong.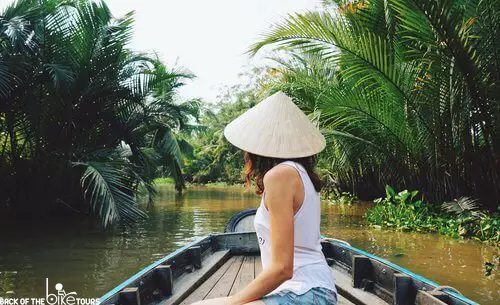 For the question "Does Mekong Delta have a dress code?", I flat-out shook my head NO. You are jolly free to wear what you feel at ease and confident in. From what I have learnt as a native Vietnamese, T-shirts, tank-tops, shorts, thin skirts, pants should be high on your list of priorities. My article below is about clothes you should and shouldn't wear to the Mekong Delta to help you feel comfortable and safe on your trip.
Clothes you should avoid
Mekong Delta has a tropical monsoon climate which is hot and cool all year round. Make sure you wave bye-bye to thick, warm clothes such as hoodies, heavyweight jackets and coats intended for SaPa or DaLat. You can just bring along a lightweight jacket to shelter you from scorching hot sun in the day time. You don't want to sweat buckets with clothes sticking to you like Scotch tape, do you?
I highly recommend you should wear linen, moisture-wicking or quick-dry fabric. These types of clothes help move your sweat to the outer surface, avoiding the clammy feeling.
Also, you'd best not be seen in light-colored and expensive clothes. Because when you weave through the jungle or get on the boat to explore floating markets, your light-colored clothes will get dirty with mud and stains. For these activities, make friends with neutral colors but not dark colors which easily absorb sunlight.
Sandals and sporty dark-colored shoes should be preferred to high-heels. Why? Coming to the Mekong Delta, you will go on and off boat a lot. Wearing high-heels will make you easily trip and fall over if you aren't careful. To be honest, I could have had a lot of trouble if I hadn't had a friend who was raised in this region of Vietnam. She became my guru for my first trip that makes my vacation an unforgettable and flawless one.
Can I wear shorts, bare shoulders?
The answer is "OKEY-DOKEY" unless you pay a visit to pagodas, temples and other solemn places. In all honesty, locals there are very friendly, easy-going and genuinely interested in visitors. You'll be wholeheartedly received even when you have shorts or bare shoulders on. But it would be super nice of you to pay respect to the land of religion and history by wearing a little bit more formal than usual.
For this, you can wear long pants, jeans, shorts or long-sleeved T-shirts (no shoulders and knees revealed). Growing up a native Vietnamese, I get used to pants and long jeans every time I go out. It saves me from skin burns because Vietnam is synonymous with hot and humid weather. Also, these types of garments can partially block you from mosquitoes and other insects hovering around at night.
How about valuable accessories (rings, watches, bracelets,…)?
You can but as little as possible. The first reason is that your accessories may drop into the water because the life here is surrounded mostly by water. The second one is that without many valuable accessories, you can easily mix in with the nature and locals there.
You can still have you wedding rings or watches on if you don't want to take them off. You just need to pay attention to them and keep them safe and sound. That's it! Plus, it is not a half bad idea if you bring along a scarf, a hat and a pair of glasses. These kinds of accessories not only help you to avoid harsh sunlight in the day time but also to make your outfit look nicer.
What to wear to Mekong Delta if it is going to rain?
It is going to rain if you are visiting Southern Vietnam in between May and November. If you aren't sure about the weather in Vietnam, you can find and read some articles on the best time to visit Vietnam before you embark. Farmers in the Mekong Delta are happy with the rainy season because their rice fields can get abundant nutrients during this time. Visitors, do not. Be sure to go online to check the weather forecast before planning your trip if you want to avoid rain.
Here is another trick for you from a native Vietnamese and a visitor who has explored the Mekong Delta before. If you intend to take along a small backpack or a cross-bag, you could slip a back-up pair of sandals and a small foldable umbrella inside. In case it rains, the pair of sandals will save you from getting dirty and the umbrella will protect you from getting wet.Also, raincoats are sold in every general store for you to find easily (10-15.000 dong/ per regular type and 60-100.000 dong/ per high quality type)
Ao Ba Ba – another option for an authentic feel
If you want to look like a real Vietnamese local, have a crack at the traditional "Ao Ba Ba" – a traditional set of clothes with a silk pair of pants and a collarless long-sleeve shirt. This type of garment is very loose and comfortable for you to explore the delta while wearing. You can buy it at any small store or shopping center when you come to Vietnam. You will look even more Vietnamese if you match the set of clothes with a checkered scarf and a conical hat. There are two color options of the Ao Ba Ba for you to choose from: dark and bright colors. The dark ones (brown, black, grey, etc.) are for daily working, the colorful ones (red, green, blue, pink, etc.) are for special festivals when you visit the Mekong Delta during a Vietnamese traditional holiday. Visitors in the picture below looks really nice and comfy in the combo Ao Ba Ba and conical hats, don't they?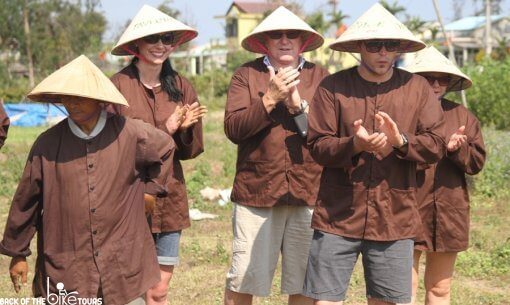 What else should I take along to the Mekong Delta?
There are four things you can pack with you when coming to the Mekong Delta that will be helpful for your trip. The first one is anti-mosquitoes cream to protect you from being bitten. The Mekong has a lot of mosquitoes which can be really irritating at night. The next recommendation would be Allergy medicine if you suffer from any food allergies. This is a good one to remember as Vietnames culture in general is not very aware of food allergies. A waterproof bag for your camera, smartphone, or any other electronic device is my next recommendation. The trip is gonna feature sometime on a boat if you go to the floating market, and this bag might be a real life saver.
Last but not least, high SPF lotion to take care of your skin is a must for a more pleasant experience. If you forget, don't worry, you can buy them at any brick-and-mortar stores right in the Delta. Anyway, wish you a safe and sound trip to our beautiful and abundant Mekong Delta.