Things to Do at Night in Ho Chi Minh: Our Top Recommendations!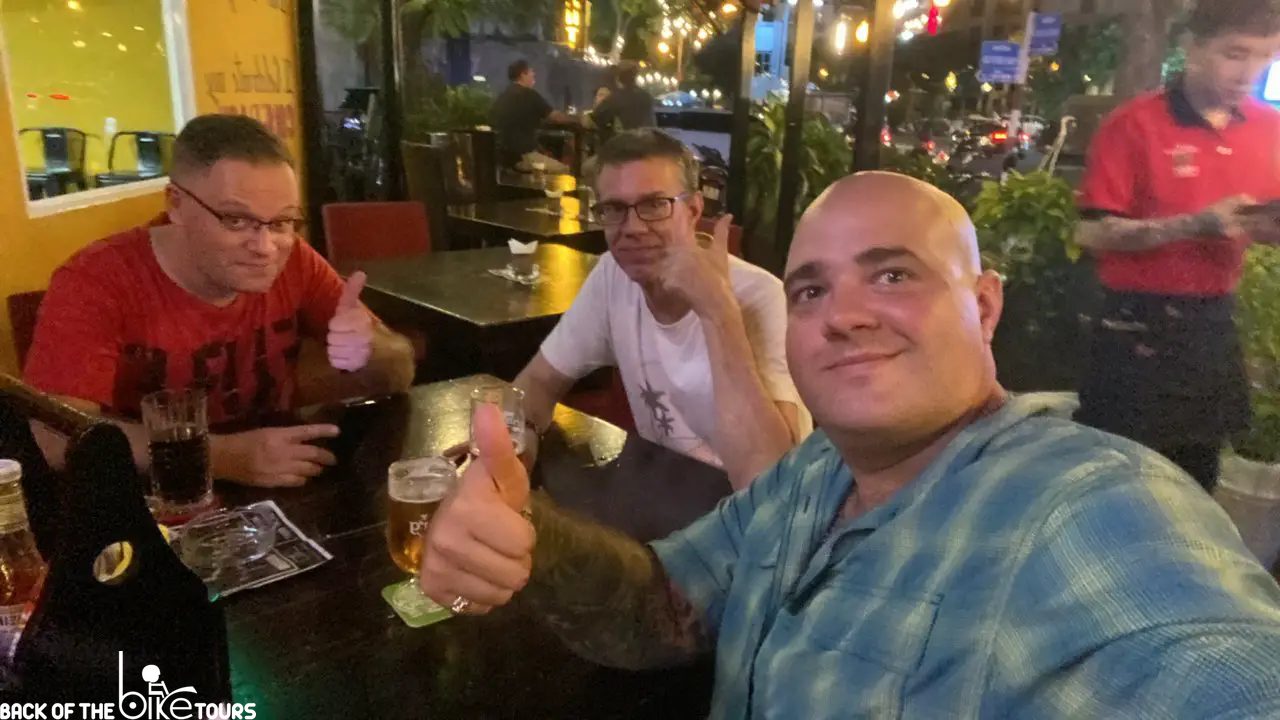 Ho Chi Minh City is always hustling and bustling even during the witching hours of 3 am – 4 am. There is no shortage of things to do at night in Ho Chi Minh City but as an experienced ex-pat living here for over a decade, I will say the best of Ho Chi Minh's nightlife is not an easy nut to crack without a bit of guidance.
You should know that this isn't the best city for nightlife compared to other parts of Southeast Asia, like Bangkok or other popular destinations. I know that is going to hurt some people's feelings to hear. Still, it's the truth, and that's why there are always reports coming out about proposals for how the city can create new and interesting attractions for tourists to spend their money at night in the major cities of Vietnam. Because as of right now, there just isn't much to do especially if you are a family or not into the party scene.
If this concerns you, be sure to check out our complete guide to things to do in Ho Chi Minh City as there is quite a lot to do during the day!
What you can do is walk around a bit, see some local areas that are busy at night, eat and drink, and book a food tour! This isn't just your normal shameless promotion that I am capable of but in all honesty, our motorbike food tours are one of the pinnacle things to do in Ho Chi Minh at night. And that will be my very first recommendation for anyone traveling here.
The Best Thing to Do at Night in Ho Chi Minh City- Book a Food Tour!
If you know anything about me or my company you know first and foremost I am a foodie. So many of my recommendations will always be centered around the best place to get a good meal. Our motorbike food tours are hands-down one of the best things to do at night in Ho Chi Minh City. Between 4-5 hours our team will take you through some of the most interesting districts in Ho Chi Minh City as we make our way to 5 different restaurants to share with you some of the best Vietnamese food you will ever have. All the dishes are Tasty and unique! Check out our Taste of Vietnam Night Food Tour Group tour if you want to experience my recommendation.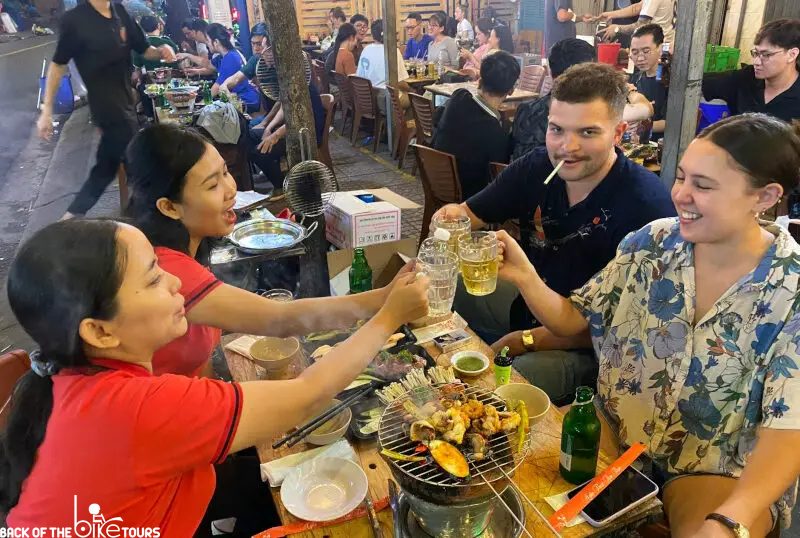 Can I Visit the Benh Thanh Night Market?
No, Unfortunately, the Ben Thanh Night Market is gone. I wanted to note at the beginning of this article for everyone traveling to Ho Chi Minh City. Many guides online tell you to visit the Ben Thanh Night Market. The Ben Thanh Night market does not exist anymore. It stopped operating when the city began construction on its metro line downtown sometime around 2017.
Explore the Food Scene in Saigon with the Classics!
If you just want to enjoy the classics like Pho, Banh Mi, or Banh Xeo then there are some late-night options for you to experience and you won't necessarily need a motorbike food tour to do so. Our tour doesn't focus on classic dishes but rather unique and delicious so those looking for a quick bite can quickly explore the options below.
Pho Hoa – 260C Pasteur
This is a very good Pho in Saigon! It's easy to access, and simple enough to figure out if you aren't familiar with Saigon. Is it my favorite pho in the city? No, I don't think so but my favorite pho is a little bit more off the beaten path and better for a more unique guide to Ho Chi Minh City. Pho Hoa is centrally located in the city and is a great choice.
This vendor offers only beef Pho known as Pho Bo and I would recommend ordering the pho with Brisket and Fresh Raw Tenderloin that gets cooked directly with the hot broth in your bowl.
Banh Mi Ba Huynh (Madam Win) – 185K Cong Quynh
This Banh Mi shop is the child of divorce as it is the restaurant created after the breakup of the very famous Banh Mi Huynh Hoa two owners. My verdict, this has become the better version of the two shops. Why? The crown of best banh mi in Saigon definitely belonged to Banh Mi Huynh Hoa for many years but now the sandwich has just become a freakshow of way too much meat piled onto bread.
Banh Mi Ba Huynh sticks with the more traditional portion sizes of a Banh Mi Thit and delivers a classic and delicious sandwich that is worth experiencing while you are in town.
Banh Xeo 46A – 46 Dinh Cong Trang
The southern version of Banh Xeo is light, flakey, and delicious. I recommend giving this shop a go if you are in town. It's well-known and famous which should make it easy to navigate for those new in town. This Banh Xeo is also fairly centrally located, it is actually not too far from the Pho restaurant mentioned above. Give this dish a try while you are in town if you are craving somewhere to eat during the night.
Things to do at night in Ho Chi Minh – Take a Walk Down Some Cool Streets!
There are some interesting boulevards and streets in Ho Chi Minh that are known for their nightlife. I'll cover the streets in Saigon that I believe are the best fit for a traveler or someone new to the city.
Nguyen Hue Walking Street in District 1
Nguyen Hue has become the go-to street for having a nighttime stroll. There are often vendors here that are selling snacks that you can enjoy as well although I would recommend not doing this on your own if you have no experience picking a food-safe vendor from a not-so-food-safe vendor. I believe you would be better off getting some food from a restaurant on this street.
Honestly, though, this street gets a bit boring rather quickly. It's really just about seeing and being seen by other people. You can make your way down to where the street ends to take a walk along the river for a nice view with some great ambiance though.
If you want to jump off of Nguyen Hue, have a beer, and get into a bit of what the locals like to do then check out "The Gangs". In all honesty, this place was great a few years ago but they expanded quite quickly, and in my opinion, the food isn't nearly as good as it was before. With that being said, come to their location on Nguyen Hue, grab a tower of beer, order a platter of meat, and take in the party atmosphere!
Vinh Khanh Seafood Street in District 4
If you feel like getting local then Vinh Khanh Street in District 4 is a great place to catch some food and have some beers. BE WARNED: This is an extremely local street and District 4 has a reputation for petty theft. Generally speaking, you are safe, but if you get foolish with your possessions you might lose an iPhone or something. Keep your phones in your pocket and do not wear jewelry coming down here.
If you come down this way then check out one of my favorite BBQ restaurants in HCMC, Chilli. This place is a simple table BBQ in the fun atmosphere that is Vinh Khanh Street at night.
Are There Great Things to Do at Night in Ho Chi Minh City?
As you can see from the article above, there are some fun things to do at night in Ho Chi Minh City but not the typical tourist activities you see in other areas of Southeast Asia. Saigon's nightlife is very much focused around eating and drinking. This goes hand in hand with the Vietnamese culture and how important it is to spend time with family and friends.