Best Instagram Places in Ho Chi Minh City: Our Top 10 Instagrammable Spots
Traveling to Ho Chi Minh City means you are going to immerse yourself in a vibrant and bustling lifestyle. This city is made of a variety of colors simply lying there in its daily life waiting to be discovered. No matter if you're a wanderer who loves to capture and save every single moment on the go or an extreme instaholic with a ton of followers, Ho Chi Minh City deserves a place in your Instagram feed. 
Although you'll find lots of photogenic sights around the city, the following are among the most Instagram-worthy spots that can't be missed once you're in Ho Chi Minh. 
Unique Instagrammable Cafes in Ho Chi Minh City
Nguyen Hue Café Apartment
Would you like to let everyone know that you're right in the heart of Ho Chi Minh City? Take a photo and check-in at No.42 Nguyen Hue Apartment right away! Standing proudly in one of the most festive and expensive streets in Ho Chi Minh City, what this iconic apartment holds inside is more than meets the eye.
Nguyen Hue Apartment was built in the 1960s and only high-ranking officials in Saigon were able to own a room here at that time. Over the years, more and more residents had left this place due to the poor maintenance. It's the privileged location that saves the apartment from abandonment. 
Nguyen Hue Apartment features over 30 businesses, including coffee shops, workshops, and local brand boutiques. Many of the shop owners here are artists and designers. Nguyen Hue Apartment has blossomed into a hot spot not only for cafe hoppers and shopaholics but also art lovers. You'll find plenty of inspiration in this apartment to make your followers jealous! From minimalism to impressionism, there will be a place that satisfies most any eathestic. All the shops face down Nguyen Hue Street and utilize their balcony space, giving you a perfect view of the crowded walking street. 
Because this is actually an old-school apartment that wasn't designed for commercial purposes, you may find it a bit puzzling when exploring the apartment for the first time. Here's a tip for you:
Research for a certain coffee shop or business before heading into the building. This will save a lot of time wondering and looking for your destination in this 9-floor maze. If you have no idea where to go, here are some of my favorite places to visit:
Thinker & Dreamer Cafe – 4th floor
Partea – English Tearoom – 4th floor
DOSH – Doughnuts and Shakes – 3rd floor
Orientea – 7th floor 
Where to find it: 42 Nguyen Hue Street, Ben Nghe Ward, District 1, HCMC
Opening hours: 7 a.m – 10:30 p.m
Price: 30,000VND – 150,000VND
Ba Lu Café
Another destination in District 5 that will drive your followers crazy with envy is Ba Lu Café. Hiding itself in a busy local market, the coffee shop is a frequent destination of residents in the area and those who enjoy the Vietnam's traditional coffee culture.
This is an heirloom coffee shop owned by a Chinese family. Its former owner is Mr.Lu (he's the second child in his family, this is how the name "Ba Lu" was formed), a Chinese who left his homeland and settled down in Saigon in the 1940s. The over-70-year old business is now run by his daughter, Ms.Hoang with support from her brother.
Even if you've visited lots of coffee shops downtown, Ba Lu Café is a totally unique experience. This experience first comes from the way they roast coffee beans to make a cup of "đen đá" or "nâu đá". Every step is handmade with traditional roasting equipment that is no longer used widely. Come to the shop at night and you might get lucky enough to watch the roasting process right on the street. The shop also uses an old school filter when making their coffee, which results in a very special and different flavor from modern coffees.
Ba Lu Café is not just a place where you come to enjoy a cup of coffee. People keep coming to this coffee shop for over 70 years to share daily stories with each other and to take part in the memories of generations of Vietnamese-Chinese that stay alive with every drop of coffee served here. 
As a foreign visitor, it's best to have a native tour guide or a Vietnamese friend accompany you to this coffee shop. So that you can have an easier time talking with the owner and get to know more about this interesting coffee shop.
Where to find it: 193 Phung Hung, Ward 14, District 5, HCMC (inside Phung Hung Market)
Opening hours: 2 a.m – 5 p.m (YES, the café is open that early to serve the merchants at the market) 
Price: 12,000VND – 15,000VND
Best Photo Spots of Ho Chi Minh City Attractions
Ben Thanh Market
If you want to capture all shades of the bustling lifestyle of Saigon in just one photo, do it in Ben Thanh Market. Although the market is becoming touristy over the years, it's still worth a visit since you can have a ton of iconic photos here.
The market was built even before the French colony came to Vietnam. In 1912, it was rebuilt and relocated to the current location in order to serve higher commercial demands. Since then, Ben Thanh Market has survived through several major events in Vietnam's History, including the revolution against the French and later the American War. This market has been featured in many movies filmed in Saigon, and mentioned in every single Vietnam tourist guidebook for decades.   
Apart from being the single most notable Ho Chi Minh City icon, the market is an Instagram-worthy place thanks to its architecture. Ben Thanh Market inherits the typical French Architecture that you can find sprinkled all over Vietnam. Over 100 years, it hasn't gone out of style but has even matched well with the continuously changing pace of life in Saigon. Outside of Ben Thanh market, there are four main entrances called East, West, South and North. The South entrance, which is ornate with a facade clock a facade clock above the door, is one of the most recognized icons of the market. You may have seen it somewhere on Instagram before because it is depicted in several pictures from those who have traveled to Ho Chi Minh City.
Tips: Feel free to take photos inside the market, however, don't touch any goods unless you intend to buy them. Picking up things without buying them may get the sellers angry.
Ben Thanh Market is definitely an eye-catching background for your photos, but watch your back when posing here. Traffic in Ho Chi Minh City is crazy, and it's even worse at market areas like this one. Check out our articles about Shoe Shopping in Ho Chi Minh for safety and shopping tips. 
Where to find it: Le Loi Street, Ben Thanh Ward, District 1, HCMC.
Price: No entrance fee   
Opening Hours:
Ben Thanh Market : 6 a.m – 6 p.m

Ben Thanh Night Market: 6 p.m – 10 p.m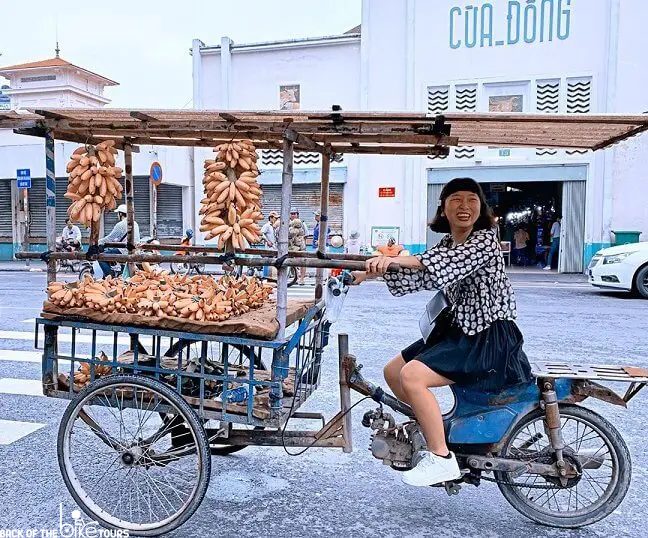 Tan Dinh Church
More than a religious destination, Tan Dinh Church attracts both Vietnamese and foreign visitors due to its charming pink color. This is why its so-called name "The Pink Church" is somehow more popular than its official name.
Tan Dinh Church is the second oldest cathedral in Saigon. You will be amazed at the architecture of Tan Dinh Church. This is a Roman-style cathedral with the combination of Gothic and Renaissance elements. The church was built in 1870 under the French colonization in Vietnam. This over-hundred-year-old church has been reconstructed many times since then. In the fourth construction in 1957, Tan Dinh Church was repainted into its current lovely color – pink. The whole building is covered in 3 shades of pink inside out, turning the solemn cathedral into a dreamy Cinderella Castle.  
I know it's a bit disappointing but tourists are not allowed to visit inside the church. The good news is, the best photos of Tan Dinh Church are usually taken from the roadside. The best time to visit the church and get some photos here is in the early morning (except Sundays) when the surrounding streets are vacant. For those who are not professional photographers, shooting vertical panorama with your smartphone is a good idea to get the full stunning view of the whole church.
Where to find it: 289 Hai Ba Trung, District 3, Ho Chi Minh City
Open hours: Daily 5 a.m – 5 p.m 
Price: No entrance fee
Thien Hau Temple
Welcome to the biggest ChinaTown in Vietnam – District 5. Your next destination, Thien Hau Temple or Ba Thien Hau Temple, is an iconic and Instagram-worthy destination that can't be missed. Built in the 19th century, the temple represents important religious traditions which have been valued by the Chinese community living in the South of Vietnam for over 200 years.
Thien Hau Temple is a Taoist temple dedicated to Mazu Goddess, the "Lady of the Sea" in Taoism. The temple is miscalled in Vietnamese as "Thien Hau Pagoda" because "pagoda" is labeled for any religious places except for churches in Vietnam. Thien Hau Temple, in fact, has nothing to do with Buddhism. The temple displays the famous ancient Chinese architecture with the traditional curvy roof, well-carved pillars, and sculpted holy animals. Having survived for over 2 centuries, the temple and its interior decorations are still in good condition.
There are 2 things that shouldn't go unnoticed once you visit Thien Hau Temple: worshiping and photo shooting. Take your time and zen your soul in the deeply sacred atmosphere of the temple. Don't forget to pray for health and good fortune as this temple is very famous for its spiritual power. Then it's time to capture your best moments here. Every single corner of the temple is photogenic. If you want to have some fantastic ancient mood photos, don't hesitate to wear Ao Dai – the Vietnamese traditional costume. It matches perfectly with the background here.
You're going to visit a solemn destination, right? So please mind your clothes before dashing to the temple: dress smart and appropriately. Long clothes like trousers and shirts are always the safe choice. Anything that is too revealing is not recommended in order to keep this place respectful.
Where to find it: 710 Nguyen Trai Street, Ward 11, District 5, Ho Chi Minh City, Vietnam
Opening hours: 8 a.m – 4:30 p.m
Landmark 81
This is the latest Instagrammable hotspot in Ho Chi Minh City.
Landmark 81 was completed in the mid-2018 and is now the tallest skyscraper in Vietnam. This 81-floor skyscraper offers a lot of high-end services, including shopping, entertainment, long and short term apartments. On important holidays or events in Vietnam, the building is also used as a giant led screen for celebrating purposes.         
Inside the building there are tons of shops to explore but the Landmark Skyview is the must visit destination here. The views are located on the 79th, 80th and 81st floor. They are the highest spots to observe the whole of Saigon with an awesome view along the river. Each of the 3 floors is a different experience. The 79th floor is a coffee lounge called MIWAKU. The 81th floor is MIWAKU Premium. Its highlight is a Japanese restaurant, where you can enjoy a fine dinner high up in the sky. And the highest floor – 81st floor offers a full-view telescope. There is also a service called SkyTouch, which allows true thrill seekers to step outside the building from an altitude of nearly 400 meters.
Due to its outstanding height, Landmark 81 is recognizable from almost every corner of the city. Yet the best place for you to capture the whole building is from Saigon Bridge or Thu Thiem Bridge.
Did you know that there's an amazing park inspired from the famous Central Park in New York City right in the residential of Landmark 81? The park that first served the Vinhomes residents exclusively is now open for all visitors. From the main entrance of the building, you'll see a huge red bridge leading to the park. This is the easiest way for you to visit the park after exploring the fabulous Landmark 81.
Where to find it: Vinhomes Central Park, 208 Nguyen Huu Canh, Ward 22, Binh Thanh District, HCMC
Opening hours: 8 a.m – 10 p.m
Landmark Skyview ticket price: 810,000VND/adult – 450,000VND/child   
Abandoned Places in Ho Chi Minh City
Nguyen Thien Thuat Apartment
Another aged apartment cracks our top ten list, guess what's waiting for you here? While this apartment is far from being abandoned, if you are looking for that old empty feeling instagram spot for a great photo, there are tons of opportunities in this location. While Nguyen Hue Apartment embraces a dynamic and young vitality of Ho Chi Minh City, Nguyen Thien Thuat Apartment is where you can breathe in the old Saigon of the last century.
The apartment was originally aimed to provide contemporary accommodation for residents who suffered from the fire loss in 1968, and no one expected it to last for such a long time. After the Vietnam War, the apartment was governmentalized and rented out to residents. While some people have decided to move on, a lot of residents still live here. Many of them are doing quite well though with local business here, and they also probably love the location.
It's best to visit Nguyen Thien Thuat Apartment in the late evening. This is when people coming home after a long working day, light up their homes, or gather around the playground for some small talk with their neighbors. In the warm light that spreads from home to home, don't forget to capture this lazy but cozy pace of life right in the middle of bustling Saigon.
One of the best things about this old apartment is that you're free to enter the building. And Nguyen Thien Thuat Apartment is no exception. At block G of the apartment, there is a small temple that you would love to visit. Unlike other temples, this one is located on the 3rd floor, which also allows you to have a full view of the apartment complex.
Where to find it: Nguyen Thien Thuat Street, Ward 1, District 3, HCMC
Opening hours: Always open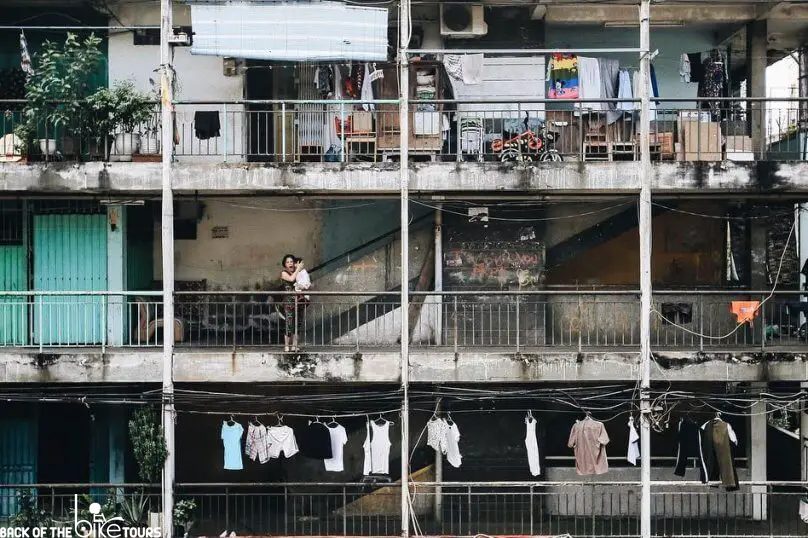 More Instagram Worthy Places around Ho Chi Minh City
Bui Vien Street
It's time for a night out on the most touristy and controversial street in Saigon! You may love the overfilled atmosphere of Bui Vien, while some can't stand such a flood of people. But still, no trip in Saigon is completed without a visit to Bui Vien Street. This is where every photo taken is extremely energetic and full of nightlife.
Started as a small alley that foreigners can easily find a hostel room, Bui Vien has turned out to be a famous (and infamous) party destination, where there's more to do than just drinking. Walking through this short street, you can capture every typical scene of this city. It is filled with pubs, bars, massage services, restaurants, hostels, and street food. All these things are squeezed in a crowded space and seasoned with high pitch EDM, making the whole street insanely chaotic and thrilling.
The typical Instagrammable shot on Bui Vien will show the large crowd of people on the streets with the Bitexco looming large in the background. Don't miss the perfect Bui Vien plastic chair instagram moment: A small stool right on the sidewalk with a local beer and street food.
Important tips: ALWAYS take care of your things! There is no better place for a pickpocket than this street. Put your valuable things at the hotel, keep your stuff on your front and use a neck strap for your phone or camera and you'll be fine.
Where to find it: Bui Vien Street, Pham Ngu Lao Ward, District 1, HCMC
Opening hours: Always open – but the street actually wakes up at night.
Cu Chi Tunnels
Getting off the central city around 50 kilometers, you're heading to the most iconic historical destination in the South – Cu Chi Tunnels.
Let's take a quick glance at the history of this destination back in 1948. The tunnels in Cu Chi are parts of a tunnel system stretching from the South Vietnamese capital to the Cambodian border. In Cu Chi, the total length of the tunnel is around 250 kilometers. Can you imagine that whole area of underground honeycomb was completely man-made? There were trapdoors, constructed living areas, storage facilities, weapon factories, field hospitals, command centres and kitchens all underground in the network of tunnels. This is where Vietnamese soldiers lived and survived the fiercest carpet-boombings during the war.
Your trip to Cu Chi Tunnels will be an eye-opening journey, which gives you the chance to peek into the past of Vietnam during the war-time. The deeper you dig into the tunnels, the more you unearth about how "real" the war was, and what the soldiers had suffered in those darkest days. Along with these tunnels, historical exhibits are also displayed here such as tanks, guns, military aircraft, and punji sticks – which are a type of booby trapped stake.
The tunnels have a lot of activities for visitors to experience the real atmosphere of days long gone. One of the most recommended reasons to visit Cu Chi Tunnels is to try crawling in the tunnels, experiencing how terrible it would be as a soldier during those times. There is also the opportunity to fire a gun. Wouldn't it be cool to capture and share the moment you are letting the bullets fly from an AK-47?
Tips: Although exploring the tunnels seems to be an interesting experience, it's not advisable for visitors with breathing problems because the tunnels are extremely narrow. Photos from the internet may be hard for you to know the tunnels' actual size. Large people can fit into the tunnels but some may be too large. So consider it before jumping into these tunnels. 
If the history of Vietnam excites you, then spend more time visiting the nearby Cu Chi War History Museum. You can find many old and valuable photographs and large chunks of rusting military hardware here. For an, check out our article here!             
Where to find it: Provincial road 15, Phu My Hung Ward, Cu Chi District, Ho Chi Minh City
Opening hours: 7:00 AM – 6:00 PM
Price: Entrance fee: 80,000 VND
Minimum Price to shoot 10 Bullets: 600,000 VND
Floating Market – Can Tho, Mekong Delta
How about taking your Instagram followers a bit further to the South and explore the unique experience in the Mekong Delta – floating market? Although the floating market is quite popular in the South, Can Tho stands out as the capital of this kind of market. You can opt to visit one of the two biggest floating markets in Can Tho, Cai Rang and Phong Dien. Cai Rang Floating Market is also the oldest and located in the Mekong Delta.
With the absence of the road traffic system over 100 years ago, floating markets were initially formed to serve the demand of trading activities. It made good use of the river systems in the Mekong Delta. Now since the traffic system has been developed, the floating market today serves mainly as a tradition rather than the original purposes it was created for.
For all first-time visitors, I'm sure that you're going to marvel at the merchants' boating skills. On their medium-size boats, which are also their floating houses, they can run a very fine business. Fresh farm products, fish, flowers, fruits, foods and drinks are all available at any floating market just like a normal market.
The best time to capture the busy atmosphere of a floating market is in the morning. As the Southern residents have the habit of starting a day very early, you should plan to visit the market before 7 A.M. The temperature is also more comfortable at that time.
If you're interested in floating market and Can Tho, don't miss out our article about the
Where to find it:  Cai Rang District, Can Tho Province
Tip: The floating market as lost a bit of it's business over the years, so it isn't the destination it once was. We recommend checking out the Mekong Delta with a tour company who will show you more than just the market so you can have a trip that was well worth the journey. Read more about how to in our article.
Opening hours: 3 a.m – 9 a.m