What to do in Can Tho? An Overnight Trip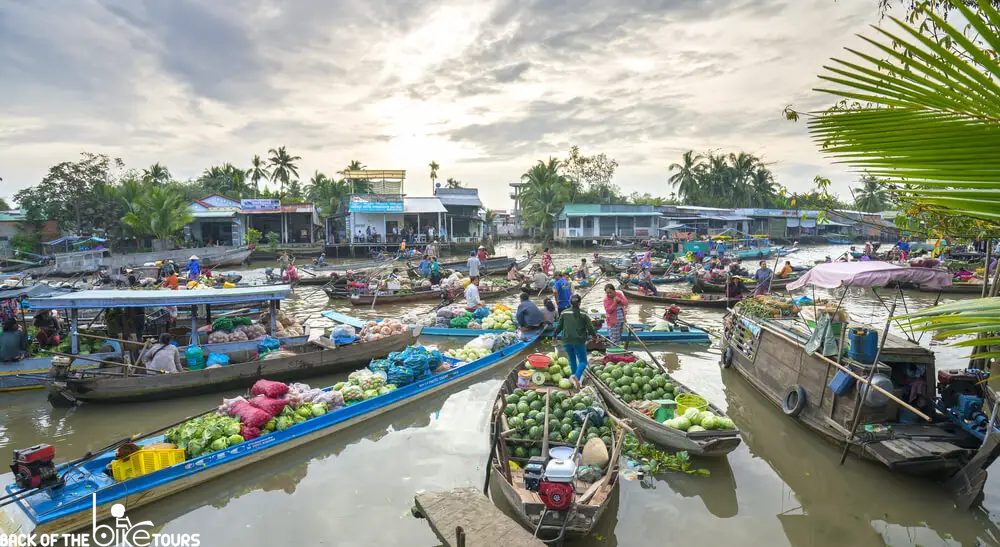 So You've heard about the floating market in Can Tho as a must see in Southern Vietnam's Mekong Delta, but your options to visit are endless. Should you take a full day or half day tour? Spend the night? Or relax in Can Tho city for a few days?
So you want to know, How many days should you stay in Can Tho? My recommendation is 2 days in Can Tho if you can spare the time in your itinerary. I believe that the floating market is only great if you visit very early in the morning, which will require you to stay overnight in Can Tho at least 1 day minimum. The rest of this article, I'm gonna lay out more information so you can better decide how many days in Can Tho is right for you.
Getting to know Can Tho
As a Ho Chi Minh City girl, when I visited Can Tho for my first time I thought that I would only want 1 day in the area to explore the famous market. After that visit, I found myself coming back 2 more times because I really loved the experience and warmth that I felt from the people in the Mekong. All of us Vietnamese know that people from the Southern parts of our country are hospitable, but you really don't know until you experience it for yourself.
Can Tho is a great city because it's unique compared to others in Vietnam. Located in the heart of the Mekong Delta, this city has become a must see destination for travelers in Southern Vietnam. While most other cities in the Mekong see barely 1 million visitors a year, the Mekong delta receives over 8 million a year. This cities popularity comes from the numerous canals and the river access that helped develop the famous floating market which has become a must see for travelers.
Can Tho is home to over 1.5 million local Vietnamese making it a large city. It takes only 4 hours from Ho Chi Minh City to get to Can Tho, which makes it an easy day trip for tourists. This prime location next to Ho Chi Minh City is the reason it has a big economy that supports its large population. The rivers and canals give access to local farmers to sell their goods and easily bring them to market in Can Tho before they finally make their way out to Ho Chi Minh City or the rest of the world.
Even though the city is large and bustling with trade, it's easy to escape to the countryside of the Mekong Delta just outside of Can Tho. This area is dense jungle and farm land filled with traditional Vietnamese culture. Many visitors love to visit small homestays in the area to have some time away from the big city of Ho Chi Minh and experience the real charm of the Mekong Delta.
Full Day Tours to the Mekong
I know there are lots of people who choose to visit Can Tho for only a day trip. When you choose to only visit on a day trip, you miss most of the fun. The floating market should be the highlight of this trip but unfortunately, not many buses or travel agencies could get you there early enough in the morning. By the time you get to Can Tho, the market won't be busy or worth the trip.
If it's the first and maybe your only chance to visit Can Tho, then you're in for something special. Don't push yourself to the point of exhaustion to see everything in just one day. There are even some great tours out there that we recommend you check out, we put together this great list for you to choose from here.
What to do in Can Tho with 2 days?
To be honest, it would be a shame to travel all the way to Can Tho without taking a trip to Cai Rang Market. I don't want you to look back on the trip with regrets or the feeling of missing out.
Make sure you can visit for at least 2 days in order to see the best of what the city has to offer. This way you can have more flexibility in your itinerary and avoid tiring yourself out.
Canal boats are popular transport link in Can Tho in order to visit other destinations such as the floating market and islets. It can be time-consuming because tourists will need to wait for the next boat to arrive. That's why you should consider how much time you will need to travel between sites. If you choose a day trip, you won't have enough time to see the city's main highlights.
Organizing such a short trip to visit the city's top attractions is tough. If you are seeking for some bits of advice on what to do in Can Tho, check out my itinerary below.
What to do on the First Day in Can Tho
Depending on when you arrive in Can Tho, you will have more or less time to visit places. If you arrive before noon, you may want to get yourself to Con Son islet right away.
Con Son
Con Son islet lies in the middle of the river, so to get there you need to take a boat from Co Bac wharf. It will take you only 5 minutes to arrive at Con Son.
This place is community based tourism where locals share their way of life. This allows the locals to support themselves and improve livelihoods  Around 10 families take part in tourism services, each family has different interests or activities to offer the tour experience.
On your first destination, you will have the opportunity to explore a tropical fruit garden. You are free to try all sorts of tropical fruits or buy some to eat later.
At the next destination, visitors will have the opportunity to learn how to make traditional cakes and learn how to fish.
After enjoying all the activities, you are welcome to stay for a homemade lunch. The locals will serve simple yet flavorful dishes such as canh chua, banh xeo, and banh lot.
It should take a whole afternoon for you to enjoy everything in Con Son.
Ninh Kieu Bridge
Then, let's head back to the city of Can Tho and spend a nice evening here. After dinner, you can burn some calories by taking a walk on Ninh Kieu pedestrian bridge. This is the most photogenic place in Can Tho with 2 gigantic lotus flowers made of thousands of neon lights that brighten up the whole area. This is a great spot for taking pictures or just simply enjoying the great view of Can Tho at night.
Tay Do night market
Continue your visit of Can Tho by going to Tay Do night market, located right next to Ninh Kieu Bridge. Inside the market, there are many souvenir vendors, coffee shops and small restaurants.
If you want to discover this area a little more, you will easily find dozens of food stalls across the street, serving all kinds of delicious street foods. This could be an option for dinner treats if you would like to explore street food.
What to do on the Second Day in Can Tho
Floating Market
The whole reason for visiting Can Tho overnight is so that you can see the floating market super early the next morning. This means around 6 am you should be on your little boat going out to the see the vendors, this is when the market is really in full swing. The market will usually settle down by 8 am which is the time that day trips in Can Tho are leaving Ho Chi Minh City. It means that the market they see is only for the tourists benefit, it isn't actually the real hustle and bustle of the early morning market.
On each boat, the owner will tie whatever they are selling to long poles that reach high above the boat so others can see what they are selling from far away. For example, if you want to buy some pomelos, look for a hanging pomelo and ask the boat to sail towards it.
The biggest attraction of the market must be the delicious food that is cooked and served right on the boat. There are lots and lots of tasty Vietnamese food for you to choose like Hu Tieu, Bun Bo, or Bun Rieu. There are a few drinks being commonly offered like iced coffee, coconut juice, and soy milk.
Once you finish your breakfast, you should take a tour around Mekong canals before leaving Can Tho. By the time the sun starts to heat up, your tour has come to an end.
Below are some of the tours that will help you go to the floating market in Can Tho
Vietsun tourist
211/13 Nguyen Van Linh street, Hung Loi Ward, Ninh Kieu District

Hotline: 0939844234
Mekong delta explorer
58 3/2 street, Xuan Khanh Ward, Ninh Kieu District

Hotline: 0932886008
Mekong smile tour
46 Hai Ba Trung Street, Tan An Ward, Ninh Kieu District

Hotline: 0939729609
I hope my recommendations will be useful for you to enjoy a wonderful vacation without missing all the fun in this marvelous city in two days.