How to get to Ben Tre from Ho Chi Minh City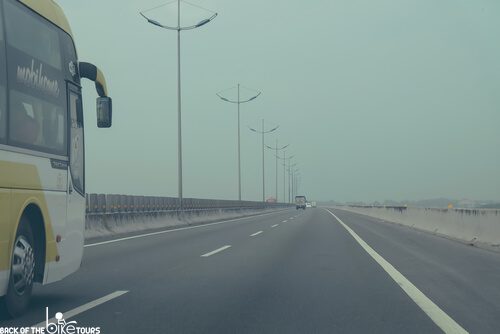 Though Ben Tre is only 85 km to the west of Ho Chi Minh City, How to get to Ben Tre from Ho Chi Minh City has a lot of tourists confused when researching transportation. Information on many online travel platforms or websites seem to be very general and sometimes outdated. Some websites may even suggest that the easiest and cheapest way to do it is to buy a tour from a travel agent in Ho Chi Minh City. This may be an easier option, but an adventurous wanderer will surely not fancy spending time on a tour bus, cramming in as many towns as possible, and eating in the prescribed restaurants.
Being a local from Ben Tre, I believe there are plenty of alternatives that would help you create a memorable experience. In this blog, I will list all means of transportation that the local people usually use to get to Ben Tre from Ho Chi Minh City. You can get there by Bus, Taxi, Car Rental, or Grab. You may get into some trouble communicating with the locals as most people in Ben Tre cannot speak English. Learn how these transportation services operate and plan your trip carefully before you go to avoid language barrier issues!
Bus
Catching a bus is the most suitable for people who are on a budget to get to Ben Tre. On average, there is a bus from Ho Chi Minh City to Ben Tre every 15 minutes a day. It takes 2 hours to travel from Ho Chi Minh City to the city center of Ben Tre by bus. The earliest bus departs at 6:00 AM and the last bus going to Ben Tre is 7:00 PM. The bus ticket price is very affordable, ranging from $3 to $5 depending on the type of seat and transportation company. If you travel during some national holidays in Vietnam, the price may slightly increase to $7 but it's not significant. All buses have air-conditioning and most provide free wifi. Despite the cheap fare, buses to Ben Tre have some drawbacks. It will be slower than other transportation as the on the way to Ben Tre the bus will make multiple stops to let off guests during the trip. Once you arrive at the bus stop, you have to transfer to a transit mini car to drive you to different spots around Ben Tre City.
There are two ways you can catch a bus to Ben Tre. If you can speak some Vietnamese, you can call the hotline to book a ticket and ask to be picked up anywhere in Ho Chi Minh City. If your place is further than 5 km from the bus station, they will charge you $1 more for a transit car to the bus station. If your pick up location is on the way to Ben Tre, it's free of transit charge. On the way to Ben Tre, the bus will stop at a bakery. The driver will collect bus fare and the passengers can buy some food or go to the toilet before reaching the highway to Ben Tre. Remember to keep the ticket that you have already paid for at the bus station and give it to the driver. If you haven't purchased your ticket yet, you have to pay the fare by cash to the driver.
You can also go directly to the bus station to buy a ticket and get on the bus there. Each bus company has its own bus station in the center of Ho Chi Minh City, which is the bus departure place. But you can also buy a ticket at Mien Tay bus station at 395 Kinh Duong Vuong Street in Binh Tan District. All bus companies have a ticket office there.
Some recommended bus services are listed as follows:
Thinh Phat
Website: thinhphatbentre.com
Address: 25A Su Van Hanh Street, Ward 9, District 5, Ho Chi Minh City
Contact: (028) 38303042 – (028) 38393625 – 0913965050
Minh Tam
Website: xekhachminhtam.com
Address: 204C Su Van Hanh Street, Ward 9, District 5, Ho Chi Minh City
Contact: (028) 38306106 – 0948222207
Hoang Khai
Website: www.hoangkhaibentre.com
Address: 50 Nguyen Chi Thanh Street, Ward 2, District 10, Ho Chi Minh City
Contact: (028) 38353953 – 0902340452
Thao Chau
Website: thaochautour.com
Address: 70B Hung Vuong Street, Ward 9, District 5, Ho Chi Minh City
Contact: (028) 38339954
FUTA Bus Line
Website: futabus.vn
Address: 395 Kinh Duong Vuong Street, An Lac Ward, Binh Tan District
Contact: 19006067
If you want to arrive in a different part of Ben Tre rather than the city center, you should ask the driver to drop you off at the Ben Tre bus station. From there take a different bus to your destination. Some bus services also offer you drop off in other parts of town but there are fewer departure times than those arriving at the city center.
Grab, Taxi, or Car
If you travel in a group of 4 or more, this option will save you a lot of money. With the rapid growth of Grab and its widespread network and diverse services, it is easy to take a Grab car to Ben Tre. The car fare will be around $48 for a 4-seat car ride and $57 for a 7-seat car ride from Ho Chi Minh City to Ben Tre. Grab is very convenient as you have all the information about the fare and driver in the app. You can pay by either cash or card via the Grab app, which the bus service doesn't have. It's also faster than travelling by bus as your car will arrive at the exact address you request. But of course, it will cost you more. Also, you should take into account that your Grab car is a random one so it may not meet your expectation about the cleanliness, the driver's behavior, or the comfort of the seats.
Another option is taking a taxi. There are plenty of taxi services to get to Ben Tre but the most popular are Mai Linh Taxi and Vinasun Taxi. These two are among the first traditional taxi services in Vietnam. The fare may fluctuate between $55 and $70. You can call the taxi hotline to pick you up at your place and ask for the fare in advance. For a long ride, they often give you a price deal instead of a taxi fare calculator. Also, both of these taxi services have their own app like Grab for your reference. You can download on App Store or Google Play by searching the name of taxi.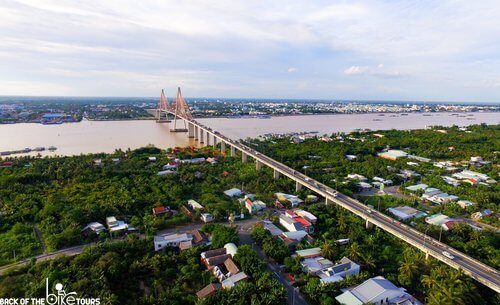 Mai Linh Taxi
Website: mailinh.vn
Contact: (028) 38277979
Vinasun Taxi
Website: www.vinasuntaxi.com
Contact: (028) 38272727
A much more comfortable service than Grab or taxi is renting a private car. With this transportation, you can be sure of the quality of the car and the person in charge if there is any incident. This is the most expensive means of transportation to get to Ben Tre from Ho Chi Minh city, but brings you the best comfort and convenience. You need to book the car at least 3 days prior to your trip so that the car company can arrange to offer you the best price and service. Some of the car rental services you can consider are:
Congtythuexe.com
Website: congtythuexe.com
Contact: 0941122211 – 0937711777 – 0922456678 – (028) 22667711
Fare: $61 (4-seat car); $66 (7-seat car); $79 (16-seat car)
ibookcar.com
Website: ibookcar.com
Contact: 0933370114 – 0868713318
Fare for one-way car:
4-seat car fare = number of kilometer x $0.35 + $17.4
7-seat car fare = number of kilometer x $0.35 + $21.7
Fare for round-trip car:
4-seat car fare = number of kilometer x $0.17 + $30.4
7-seat car fare = number of kilometer x $0.17 + $39.1
These are ways that you can get to Ben Tre without relying on a tour. Whether you choose to take a bus, car, grab, or taxi, I hope your trip to my hometown is one you'll always cherish and remember. I hope you found my blog helpful and are able to plan your ideal trip to Ben Tre.