Why Take a Food Tour in Ho Chi Minh City?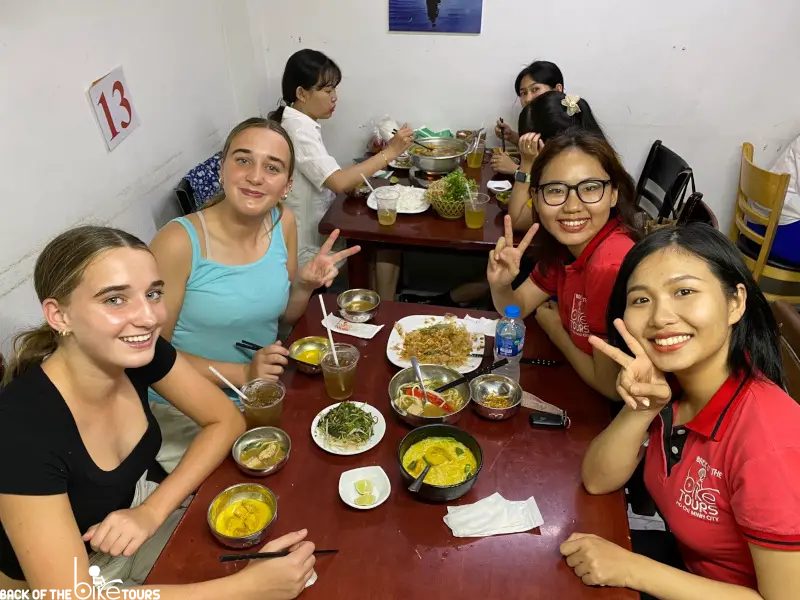 Food tours in Ho Chi Minh City (aka Saigon) offer travelers more than just a fun eating time. You will meander through the vibrant scene and sneak into the hidden alleyways that other tourists barely know. No matter where you are in Vietnam, joining a night food tour brings you closer to the Vietnamese culture through varieties of cuisine. So Why take a food tour in Ho Chi Minh City?
A food tour in Ho Chi Minh City is the best way to immerse yourself in this city's unique culture and people through it's food. Besides eating delicious Vietnamese cuisine, you'll be supported by a local who will be open to answering all your questions. Food Tour patrons will also gain Insider knowledge of the best places to eat and how to navigate through Vietnam's food scene.
This article will help you understand why joining a food tour in Saigon is much more fun than dining in a regular touristy restaurant.
What is a Food Tour in Ho Chi Minh City?
A food tour in Ho Chi Minh City is a food-tasting trip guided by local experts who are big foodies. This culinary tour covers the best local food and drinks that can only be found in Ho Chi Minh City. It usually lasts for 4 to 5 hours,, most of which require tourists to ride on the back of the bike of a local guide. Eaters will have a taste of local ingredients and insight into the history and culture of Ho Chi Minh City by stopping at 4 to 5 different spots. More than just eating, travelers can enjoy the hands-on experience by making a specific dish independently. These experiences are well guided and explained by the local guides, who understand their culture and cuisine more than anyone else. We dive into this in our article explaining What a food tour is and why you should book one in any city you visit.
Best Time to Take a Food Tour in Ho Chi Minh City
The best time to take a food tour in Ho Chi Minh City can be anytime during the day. Even though most food tours are offered at night, the number of available day food tours is becoming a big hit. A morning tour can start at 8 a.m. and lasts for 4 hours. It gives visitors an absolute perspective of what the locals do in the morning, from ordering breakfast to shopping at a wet market. Walking is the best way to enjoy a tour like this since it allows you to embrace the genuine morning culture at a slower pace. Meanwhile, a night food tour will take you to the liveliest scene of Saigon by night. You will learn what people do after a long day at work, how they party, and what they eat for dinner!
For those new to the Saigon culinary tour, please look at the following section for our recommendations for the best food tours in each section of the day!
Morning Food Tour in Ho Chi Minh City
The best example of a morning food tour in Ho Chi Minh City is Saigon Street Eats' Pho Trail. Unlike other popular night food tours, the Pho Trail food tours give tourists a real experience of having breakfast like a local dweller. Starting with Pho, tourists will then wander around the backstreets for a closer look at the hidden food stalls to explore other common breakfast choices in Saigon. Another attractive feature of Saigon Street Eats offers is visiting a local wet market and ending up at a famous holy shrine.
Afternoon Food Tour in Ho Chi Minh City
For those interested in a food tour in the afternoon, you may like to check out Big Eats and Small Eats by Back of the Bikes. This particular food tour focuses on introducing family-run establishments. What makes these places interesting is the small and tight ambiance filled with tiny stools. This is one of the most popular concepts regarding street food in Ho Chi Minh City. The local citizens love to hang out with their colleagues every day in a place like this for a plate of papaya salad or grilled seafood. If immersing into the mix of native culture and street food is what you are looking for, then Big Eats and Small Eats is made for you!
Night Food Tour in Ho Chi Minh City
The number of night food tours in Ho Chi Minh City is endless, so choosing the right option is getting harder. If you want to experience something more off-beaten and unique than the rest of other food tours, then A Taste of Vietnam is what you need. Checking out up to five different locations all across Saigon, you will be introduced to heaps of famous dishes you haven't heard of before. Otherwise, the evening private street food walking tour by Street Food Man is a great choice for those on the shoestring but loving to taste famous Vietnamese food samples.
6 Reasons to Take a Food Tour in Ho Chi Minh City
Food tours in Ho Chi Minh City are one of the most worthwhile things to do at night in Vietnam. If you're wondering why you should sign up for a tour like this, here are the 6 best reasons!
Experience Ho Chi Minh City from Different Angles
Every section of the day has its captivating characteristics. That's why travelers can choose their favorite food tour based on their preferences. For those seeking a new and unique food experience, Saigon has plenty of tours done in the morning and afternoon. A morning food tour teaches you how to eat breakfast like a local. An afternoon food tour may take you to the lesser-known backstreet food stalls run by a small family, which allows you to support the local economy. Meanwhile, nighttime is the liveliest time in Saigon. Most restaurants and food stalls are open before sunset till late at night to please the big crowds of dwellers looking for food after office hours. Joining a night food tour is a great chance to admire the dazzling city after dark. People love to hang out with their colleagues and best friends for some beers with a fragrant serving of BBQ and seafood. They visit a rooftop bar to sip some cocktails while admiring the lit-up scene of Saigon under the darkest night.
Immerse in the Local Culture of Ho Chi Minh City
The best food tours in Ho Chi Minh City reveal each cuisine's history and cultural tradition by showing you how a certain food is meant to be cooked and eaten. You can easily experience a tad bit of Southern Asian gastronomy. The food in Saigon is a sweet influence and mix of variable cultures, from Chinese, Indian, Cambodian to Vietnamese. During a food tour, your local guide shows you the best way to consume an authentic dish. Mastering chopstick skills or dipping in the right sauce are interesting experiences.
Apart from learning about the food, eaters can interact with native home cooks and local chefs who have mastered their gastronomic skills for years. Especially if you're a vlogger or travel writer, joining a food tour in Ho Chi Minh City is all you need to meet and greet with the master chefs behind Vietnam's best kitchens.
Learn How to Make Famous Vietnamese Cuisine by Yourself
This is the right time to take a look behind the scenes. Vietnam is an emerging food paradise, and you're likely to see some iconic dishes on the famous series, such as Street Food by Netflix, Bizarre Foods, or No Reservations. One of tourists' favorite dishes on a food tour is Banh Xeo, a popular Vietnamese sizzling pancake. In the best Ho Chi Minh City food tour, tourists can watch the cooks frying Banh Xeo in the kitchen behind the restaurant. They learn what the cake is made of, what is stuffed inside, and how to cook a round, crispy Banh Xeo like an expert. Take this chance to peek at what the cooks do behind the door and have a hands-on experience. The professional foodie guide gives you an A-to-Z tip while the cooks process the food before you. Whether you're a kitchen goer or not, you will want to pick up some pointers on the famous Vietnamese recipes and even make one for yourself.
Discover the Best Eating Spots Only the Locals Know
Local foodies and guides carefully choose all the selected spots in a food tour. They leave big restaurant chains and look closer into the food paradise hidden behind the alleyways. Ho Chi Minh City is so large that if you're a food lover, the next day can be a whole new day for you, eating in a new area. These food crawls often lead you down the hidden streets and stop at an independent food stall in a wet market.
Many travelers had an awesome time grilling their favorite food in a Vietnamese-style BBQ restaurant in District 4 after starting with Banh Xeo. District 4 is the top getaway for seafood fanatics. Some others learn about a famous Chinese sweet dessert in Chinatown at the end of the tour. Another interesting food paradise hidden from tourists' eyes is an old apartment in District 3. Located off the main streets, these old blocks offer a genuine look into the local apartment life. Scattering throughout these buildings is a wide array of street food. Fish noodle soup, milk tea, seafood, soy milk, beefsteak, hotpot, and many more are available, to name a few!
Every stop in a food tour gives eaters a different feeling and insight into Vietnamese tradition. Get ready to surprise yourself at how crowded these places are packed with native eaters every day!
Make More Vietnamese Friends
Most of the guides you meet on a food tour are students who are big foodies themselves. They show you where they like to eat most, and beyond that, they love cultural exchange with people worldwide. You will get to spend a few delicious hours with a stranger and ride with them on their bikes. Yet at the end of the tour, you make a new friend from the other half of the planet. Get ready to talk, learn, and have fun with the loveliest local friends!
Support the Local Home Cooks
One of the great things a food tour in Ho Chi Minh City offers is a real connection for travelers and home cooks. Most of the eating spots on a food tour are family-owned establishments. This is a completely different experience from what you get when dining in a restaurant chain. You will meet the owners and hear about the story and passion behind the birth of their business. They mainly rely on word of mouth and repeat customers. Eating in a place like this is a big bonus for these local families who don't have a big budget for large-scale marketing.
A Food tour is one of the most worthwhile things in Ho Chi Minh City. These 6 reasons above make a food tour in Ho Chi Minh City a memorable activity to immerse in the genuine local culture. All you need to do now is to sign up for the best food tour in Saigon and get ready to eat up the whole city!