How To Visit The Cu Chi Tunnels On Your Own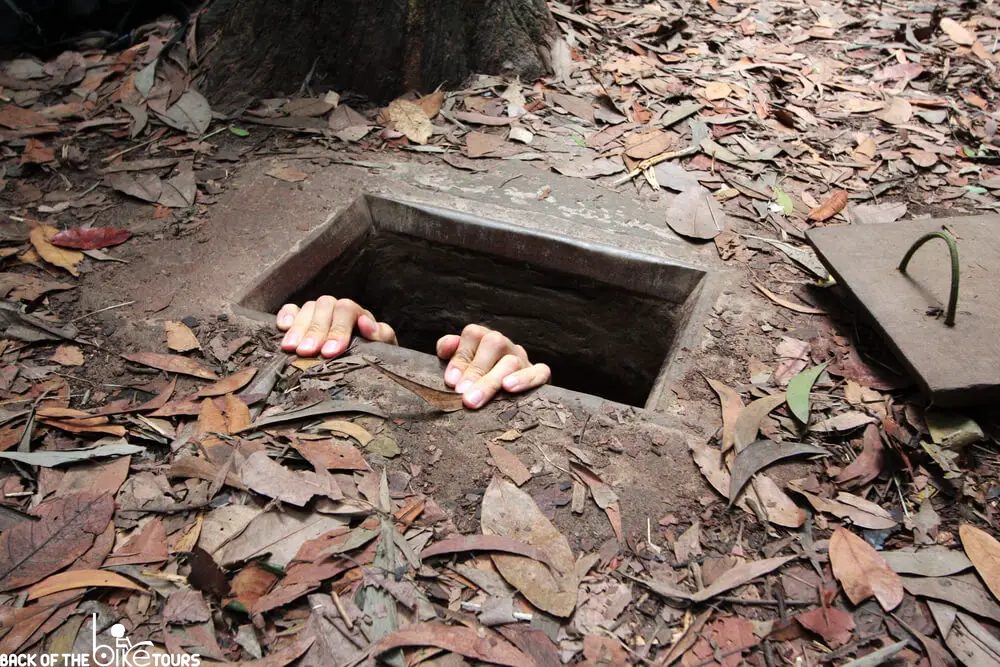 Banging your head against the bus window on a boring tour isn't an adventure. Challenging yourself with getting to the Cu Chi Tunnels on your own is an experience. I've crafted this article featuring all you need for getting to the Cu Chi Tunnels on your own.
Selecting a guide can be expensive and time consuming. The Cu Chi Tunnels supply free guides for visitors with an admission ticket. Read on to learn about how to get to the Cu Chi Tunnels, then follow their free guide for a money saving adventure.
Visit the Cu Chi tunnels on your own by calling a taxi, renting a Car, or hop on the local bus. Every option above has its own merits. Follow my recommendations found below, and you will be climbing through those elaborate tunnels in no time at all.
If you are adventurous but on a budget, I believe you are not looking at hiring a taxi or renting a car. Renting a Taxi or Car is a great option though for some that are not on a tight budget. I'll give you options to pick and choose the best transportation for your Cu Chi Tunnel experience.
Hiring a Taxi
Standing on the sidewalk, waving your arm to flag down a taxi isn't what I have in mind. Mai Linh, one of the most reputable Taxi companies in Ho Chi Minh City, offer some roundtrip fares to Cu Chi.
Be clear with the taxi company over the phone on dropping you at the Benh Duoc entrance. Also your driver will most likely not speak much English, if any. Speak to the operator on the phone ahead of time about any questions you might have before departing with the taxi.
Here are the contact information for Mai Linh. Use this information to get a taxi anytime not just for the Cu Chi Tunnels.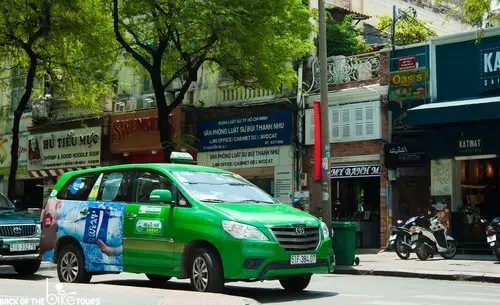 Mai Linh Taxi (10-15 minutes call before)
Hotline: 028 3838 3838
Saigon (District 1) -> Cu Chi Tunnels( Ben Duoc Entrance)
Option 1: 7 Hours or 70km (140km total) Package
4 Seats: 1,160,000 VND
7 Seats: 1,340,000 VND
Option 2: 6 Hour or 50 km (100km total)
4 Seats: 950,000 VND
7 Seats: 1,130,000 VND
***Every Extra Hour is 60,000 VND, Every Extra km is 12,000 VND***
***Tolls are not included in the price***
How would I visit the Cu Chi Tunnels on my own in a taxi?
Hop out of bed early, even though it's vacation time. Drag my lazy butt down to the hotel buffet for breakfast. Speak with the hotel concierge directly about calling Mai Linh. Show the hotel staff this article with the Mai Linh prices and be sure to repeat destination is the Ben Douc entrance. Confirm that twice, sometimes details get lost in Vietnam.
When driving to the Cu Chi Tunnels, ask the taxi driver for his phone number. Ring him up when you finish and are ready to be picked up.
Eating a tantalizing bowl of Pho for lunch or experiencing new dishes at the famous Beef Restaurants out in Cu Chi might be worth planning ahead of time on the way home.
How to do the Cu Chi Tunnels with Car/Van/Van Limousine Rental on your own!
Traveling with my family is like pulling my own teeth sometimes. A little sister who cries when out of her comfort zone and a brother who shouts about always being bored. The picture I am painting is familiar to some people. The family comfort factor rests heavily on us when traveling sometimes.  Rental services have large comfortable vehicles that will make getting to the Cu Chi Tunnels easy for the planner in the family. A free guide at the Cu Chi Tunnels balances out the price to make it affordable to travel in style.
An Minh Car Rental
Phone (Mr Phong, Speaks some English): 0909 555 783
0913 724 238
Email: [email protected]
Website: xedulichanhminh.com
Saigon -> Cu Chi Tunnels
6 Hour Two Way Trip Package
4 Seats : 1,100,000 VND
7 Seats: 1,200,000 VND
***100,000 VND for every hour over 6 hours***
***Tolls INCLUDED in the price***
The price is comparable to renting a taxi. I would go for renting the car as I would be able to set up communication and confirmation ahead of time via email. I also like being able to call Mr Phung on the phone during the trip if I needed to.
You could arrange the address you want to be dropped off at for the tunnels and then the address for anywhere you would like to stop for lunch.
Getting to the Cu Chi Tunnels on your own on the public bus.
Starting out a window on a long bus ride isn't what some would call an adventure. When the local language is not English, something that sounds so mundane can become quite the voyage though. Not knowing what exactly will happen is all part of the mystery and fun of traveling.
I've tracked down everything you need to know to jump on the bus and get to the Cu Chi Tunnels. This way to travel is budget friendly.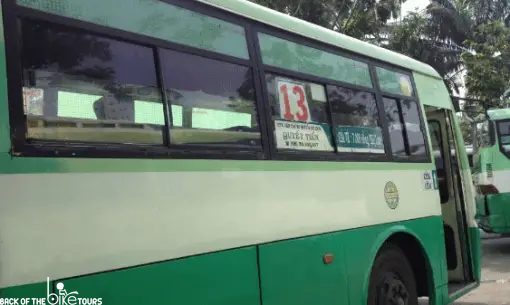 # 13 Public Bus to Cu Chi Tunnels
Open time: 3:30 – 20:30
Type: 46-80 seat bus
Price: 7,000 VND
Quantity: 150 trips/day
Time length each trip: 60 – 75 minutes
Time between each bus: 10 – 20 minutes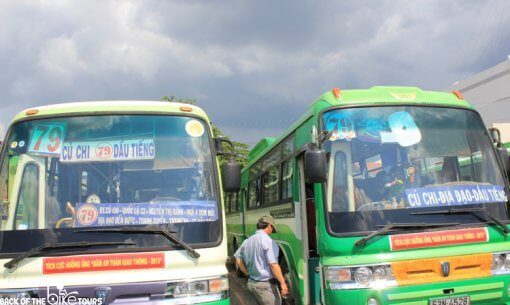 #79 Public Bus from Cu Chi Bus Station -> Ben Duoc (Cu Chi)
Open time: 5:30 – 17:30
Type: 46-80 seat bus
Quantity: 70 trips/day
Time length each trip: 45 minutes (25 km)
Time between each bus: 10 – 20 minutes
10 Steps to do the Cu Chi Tunnels on your own By Bus:
Step 1: Wake up early. Eat some breakfast then head off to the bus station.
Step 2: Pack a small bag of any supplies you might need.
Step 3: Make your way to the Pham Ngu Lau Bus station at the end of 23/9 Park towards Nguyen Trai street. The location on the map below.
Step 4: Get on the Public Bus #13 to Ben Duoc. You will purchase your ticket in Vietnamese Dong from the Ticket Agent on the bus!
Step 5: Read a book, nap, strike up a conversation, or whatever tickles your fancy.
Step 6: Arrive at the Cu Chi Bus Terminal and search for Bus No. 79. There will be taxi drivers and motorbike drivers offering their services. Just ignore them, get to Bus No. 79 and buy a ticket from the agent on the bus.
Step 7. After 35 minutes there will be blue sign saying Ben Duoc to the left and Ben Dinh to the right. Get off 2 minutes later at the Ben Duoc entrance.
Step 8: Congratulate yourself for a mission well accomplished!
Step 9: Go into the main entrance, buy yourself an Entrance ticket. Walk your way to the local Cu Chi building where you will watch a short introduction video. After, you will receive a guide who will show you through the tunnels!
Step 10: Return to the No. 79 bus BEFORE 17:30, THIS IS THE LAST BUS OF THE NIGHT. Hop back on the No. 13 back to Saigon at the Cu Chi Terminal!
There you have it all of the knowledge you need to do the cu chi tunnels on your own. You might want to ask yourself if visiting the cu chi tunnels is worth it? If so, then what should I wear to the cu chi tunnels?
I hope this article helped, I invested some serious time into making it so if you enjoyed it please don't hesitate to share it for other adventurous travelers like yourself.