Can I Wear Shorts in Vietnam?
For foreigners who wish to travel to Vietnam, the dress code for famous attractions is a common question travelers ask about. Shorts make you feel comfortable and cool during the journey, which helps you to enjoy the best of your trip. On the other hand, you need to make sure that the types of outfits or the short level of clothes you wear are appropriate for the weather, culture, and etiquette in the places you visit. Doing these things well is the way you show respect for the culture of the country you come in. This guide tells you exactly what to bring in your suitcase.
When traveling to Vietnam, Famous Beaches, the Coastal Cities or Hot and Humid Areas … are the places you can feel free to choose short clothes to put on. On the contrary, there are also a few special places such as Ho Chi Minh Mausoleum, Temple, Church, Mosque, Small Villages … you must be covered up. Along the length of Vietnam, you will experience many changes that occur from one region to the next. Typically changes you can easily recognize are landscapes, climate, language, culture, and etiquette. All of them will decide how much short you can wear. Read on to discover the way locals dressing in Vietnam.
Places you need to dress conservatively
In the Eastern countries in general and Vietnam in particular, the culture of public dress, especially the sacred places, is highly respected and even becomes the criterion for assessing human qualities. Here are situations you must choose outfits carefully and dress conservatively to comply with regulations and do not cause offense to people around.
Ho Chi Minh Mausoleum
President Ho Chi Minh, who is called as the beloved Father of the Nation by Vietnamese, brought freedom and independence to this country. All Vietnamese people give him respect and love. So when visiting Ho Chi Minh mausoleum, you must dress conservatively to be allowed to enter.
Ho Chi Minh Mausoleum does not stipulate what visitors must wear exactly when they visit, but it needs to be polite and respectful. That means you absolutely have to stay away from Short pants, Two-piece shirt, Open-back shirt, Short skirts are not over the knee … In addition, you are also not allowed to choose Penetrating Clothes, Clothes with too Thin Material and Tight Legging Pants when walking around in this area. The suitable outfits for this place are discreet costumes with elegance colors.
On special occasions like National Day 1/9 or Ho Chi Minh's birthday 19/5, locals often wear Ao Dai (for women) and White Shirt (for men) to visit Ho Chi Minh Mausoleum to pay homage to the Father of the Nation.
Temple, Church, Mosque, and other prayer building
In Vietnam, there are two popular religions that are Buddhism and Christianity. Pagodas, Temples, and Churches are places where show cultural characteristics of Vietnam and also have many beautiful architectural works. That's why these destinations are often on the 'must visit' list of foreign tourists.
Vietnamese people believe that shorts show disrespect to the Gods. If you are wearing shorts, you will be denied to enter and everyone around you will criticize you. Costumes suitable for these sacred places are long pants to your heel, long-sleeved shirts or short-sleeved shirts but not the sleeveless shirts. Additionally, a shirt with a deep collar to reveal the chest and torn jeans is not a good choice.
Small villages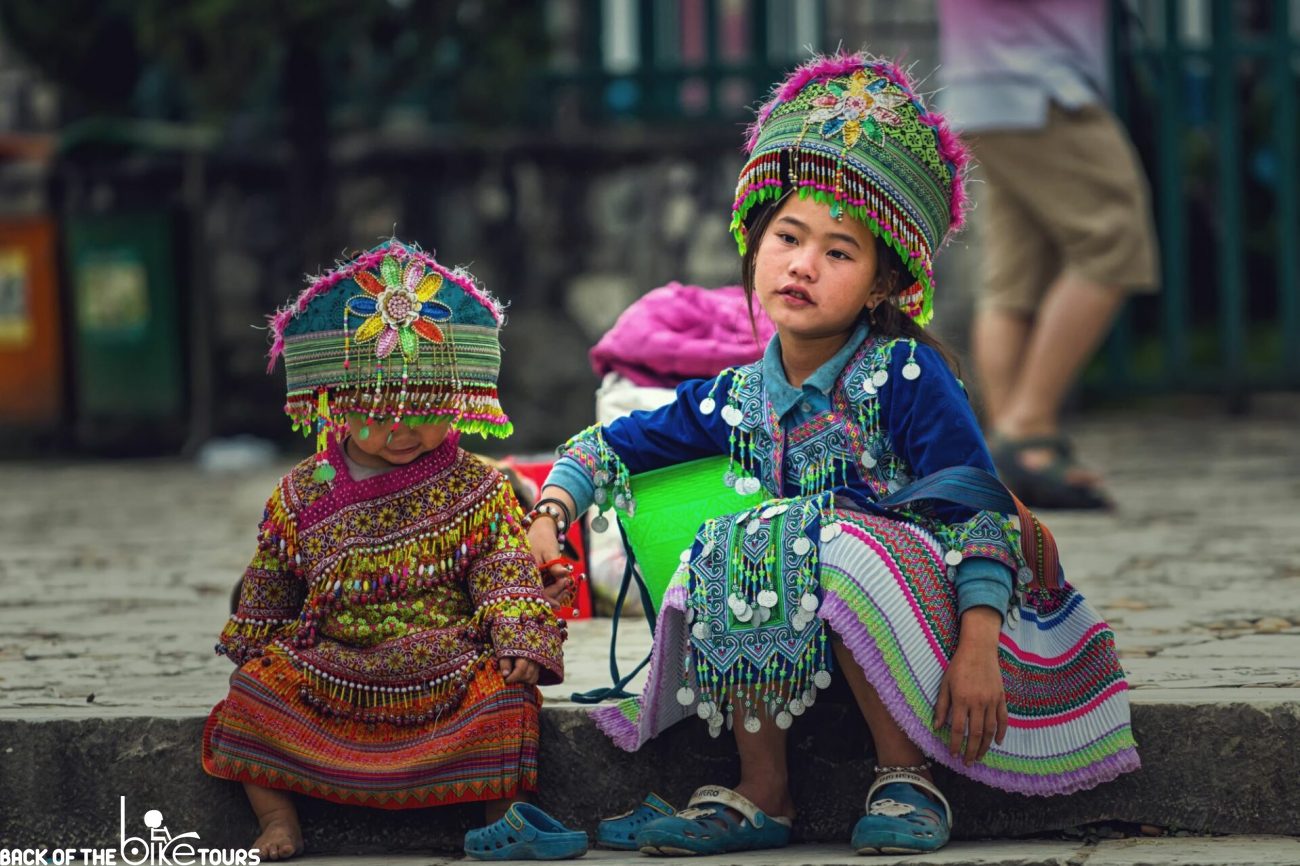 Vietnam has a total of 54 ethnic groups, the Kinh ethnic group accounts for the majority. Kinh people live in most areas of the country such as Ho Chi Minh City, Hanoi, Danang, Haiphong … 53 remaining ethnic groups account for less than and often live in highland areas. People of these ethnic groups often have a rather discreet dress tradition and rarely wear short outfits.
Different ways of dressing between the North, the Central, and the South in Vietnam
The climate is the first thing leading to the differences in the way locals dress in the North, the Central, and the South.
The South (Ho Chi Minh) and the Central (Danang) only includes 2 seasons in a year: Rainy season and Dry season.
Rainy season: from May to November
Dry season: from December to April next year
There is no Winter in the South and the Central, so the weather is really hot, especially in the Dry season. That's why locals often choose short outfits to make them feel cooler and comfortable. You will never see people dress warm clothes on the street in these areas.
Around 11:00 am to 1:00 am is the time sunlight is super strong. If you are exposing large parts of skin without protection, your skin may be burned or damaged. To protect the skin from sunlight, locals wear a coat, hat, and mask when going out, which makes them look like a ninja. My advice to you is to use Sunscreen while walking around, you can also wear a coat to better shield it.
The North (Hanoi) contains 4 seasons in a year includes Spring, Summer, Autumn, and Winter.
Spring: from February to April
Summer: from May to July
Autumn: from August to October
Winter: from November to February next year
In the North, the weather is quite cold in Autumn and Winter. At this time, locals wear long sleeves, long pants, and a sweater. Winter clothing is just available in the North and some areas with cold climate, not in the South. Young people in the South often complain that they can not wear beautiful winter outfits, because the weather in the South is too hot. When traveling to Northern Vietnam in the last months of the year, remember to bring warm clothes. Short outfits are not suitable for the weather around this time.
Spring which begins from February to April has a cool climate. Summer in the North has a high temperature but not as high as in the South and the Central. Locals prefer to wear T-shirts and shorts. So you can freely put your favorite Tank top into your suitcase and carry it with you in a trip to Northern Vietnam around this time.
Another factor affecting the dressing styles in the North, the Central, and the South is the cultures and lifestyles of locals. A long history of resistance and influences from invading countries have caused differences in the culture of the costumes in these regions. People in the South and the Central have a modern and liberal way of lifestyle and thinking. They often choose outfits that are trendy, comfortable and sexy. Meanwhile, in the North, people have traditional and humble views.
Wearing Shorts at Famous Beaches in Vietnam
The cities or areas adjacent to the sea in Vietnam such as Phu Quoc, Nha Trang, Phan Thiet, Vung Tau, Con Dao … are the most suitable place for short outfits. Cool winds from the sea often blow into the city and the sun is not too intense. Revealing and comfortable clothes are the best choice in these places. The most popular clothes locals wear are Three-hole shirts, Crop top, Tank top, Shorts, and T-shirts.
However, you should note a few things about the short level of dress you can wear in coastal cities and the beaches.
Do not walk around half-naked in other places of the city apart from the beaches
Do not take off your bra and dress only a thin fabric when walking around the city
Most beaches in Vietnam do not allow nude
What to Wear in Areas having Cold Climates?
Sapa and Dalat are the two most popular tourist destinations in Vietnam not only by foreign tourists but also Vietnamese, especially young people. The reasons for that are they have pleasant weather, fresh air, and many majestic natural landscapes. They are suitable for those who love nature and want a vacation away from the bustling city center.
Sapa and Dalat are geographically located in the highlands, which makes them cool and cold all year round. When walking at markets in these places, you will often see dress shops displaying warm clothes such as sweaters, thick coats, gloves, scarves … Wearing shorts in cold weather (the lowest temperature in Sapa is below 0 degrees Celsius) is odd and not good for your health.