Where to Buy Northface in Ho Chi Minh City?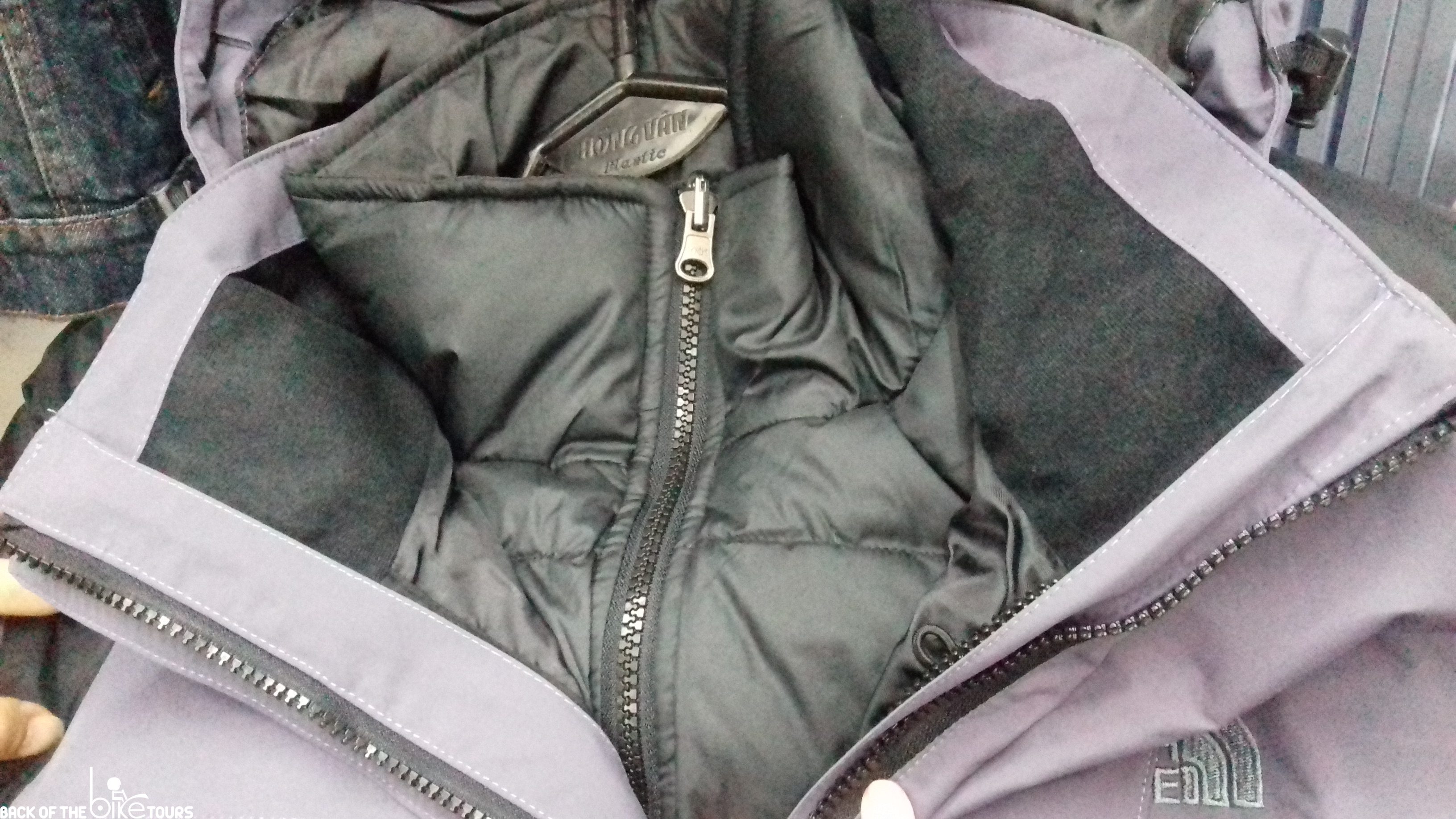 If you expect to buy Northface factory rejects in Vietnam, I'm afraid you'll be disappointed. I have spent days researching and shopping for both factory rejects and high quality fake Northface products in Ho Chi Minh City. Even for a local, who speaks Vietnamese, I found it impossible to track down factory rejects. With so many people asking the question about where to buy Northface products in Vietnam, I was surprised I didn't find any good resources and suppliers since it is such a popular request for tourists.
What have I learned about Northface in Vietnam?
Factory Rejects are non-existent in all of Vietnam but you can buy fake Northface with decent quality in most cities.
Where to buy Northface in Ho Chi Minh City?
I feel the best location is at certain Local Markets and a few small shops. My Local Market recommendation includes Saigon Square Center and the Russian Market in District 1. Smaller retail shops selling Northface include places like Armyhaus an outdoor and camping supplier in District 1 or Wetrek an outlet store in Tan Binh District close to the airport.
What Should you know before shopping for Northface in Vietnam?
Be Aware of the Tourist "Scam"
While not really a scam, some shopkeepers may sell Northface at high prices in order to make you believe that the products are real. I am confident after my research that all of these sellers are pushing fakes. I've spent a serious amount of time contacting shopkeepers and sellers to find out whether their products are real, fake, or factory rejects. Whenever I asked them if their Northface products were real or not, they all said that it's a trade secret. My feeling after talking to a few vendors is that they didn't really care about the quality of their Northface or even where they were getting them from. They just want to sell them to anyone who will buy for the highest price possible. While not illegal or a scam, it's good information for potential buyers.
That's why it's important to buy from the right suppliers and check the quality of the products thoroughly before committing to spending your money. Not all sellers are looking at getting rid of bad products some legitimately care about their products and reputation. That doesn't mean they are selling factory rejects with super high quality, it means they are trying to provide fakes that have some craftsmanship to them. Which is gonna be your best bet for buying a product that will last for a while.
How to Identify Quality Fake Jackets and Backpacks in Ho Chi Minh City
Before a fun day of shopping, here are some tips that will help you check the quality of the Northface jackets and backpacks.
You should check any fake product carefully before buying. Even though I'm gonna give you some great tips, you should always be aware of the risks when buying fake products. They might last two years or they might break in two days. It's the risk we take when haggling for a great deal.
Fabric
Feel the material and the thickness of the jacket to determine the quality. This is the easiest way to determine high quality from low quality.
No stains or tears in the fabric

The fewer wrinkles the better

No frays on the shoulders, collar, or flaps

Check the thickness of the garment, your jacket must be thick enough to keep you warm

Thicker Material is of course, better quality
Craftsmanship
If you are buying a raincoat or an anorak, beware of the area around the seams and zipper. Those are the places water may leak in easily. The good quality jackets have those parts covered.
Check the lining and inside of the garment. Give it a sniff! Make sure that there is no off-putting smell

Check the buttons and items inside the garment. Poor quality fake jackets may not have these items
Buttons
Some fake Anoraks change the buttons on the covering cloth outside of the zipper to velcro, but I prefer buttons to velcro because they seem to be more secure. You should make sure that the buttons are sewn firmly on the jacket.
Check the number of buttons, especially on rainwear

Check the state of sewn on buttons

Missing buttons are a huge giveaway of low quality that is easy to spot during your first quick inspection.

Pull on that button a little bit, does it feel like it's gonna pop off sooner than later?
Zipper
I've read complaints about the zipper metal being broken quite easily on many jackets and backpacks. That is because the zipper is made of poor-quality metal. Make sure that the zipper for anoraks is made of metal and not plastic. Without being too aggressive, see if it feels like the zipper metal is thin and brittle.
– Test Durability of Zipper Metal
– Zip up and down many times to test quality or if it gets snagged easily
Stiching
Your jacket should have firm and neat seams. Make sure that there is no redundant thread at the corners of the product.
Check the strength of the seam

Check the neatness of the seam

No redundant thread at the corners of the products

Tight stitches and no loose thread
Where to Buy Good Quality Fake Northface in Ho Chi Minh City?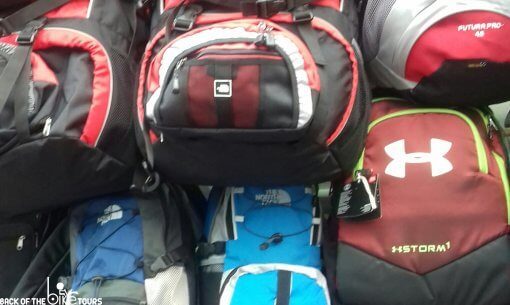 Buying Good Quality Fake Northface at markets
I've gone shopping at popular markets in Ho Chi Minh City to find quality fake Northface jackets. Since then I have come up with these recommendations. The prices are noted in this section so that you can compare them when you go out shopping.
Russian Market
Address: 328 Vo Van Kiet Street, Co Giang Ward, District 1, Ho Chi Minh City
Hours: 10 AM – 7 PM
There are two buildings sharing the same address at 328 Vo Van Kiet Street. Northface jackets are sold in the bigger building when you pull into the complex. The market is air conditioned and is suitable for those who prefer a peaceful shopping experience.
The shops that sell Northface jackets are next to the escalator which is at the center of the market. There is also another shop at the front corner of the market. They may not sell many styles of Northface jackets that you want, but the products are much higher quality compared to the other markets. The price here ranges from $28.3 to $40 USD each for a winter coat or jacket. The Western market is known for carrying large western sizes so this is a reliable spot to check out if you need bigger sizes.
The Russian market is not known for haggling, most prices are set in stone. The employees here actually speak limited English, we recommend having a translation app on your phone handy if you have any questions about the products.
Saigon Square Center
Address: 81 Nam Ky Khoi Nghia Street, Ben Nghe Ward, District 1, Ho Chi Minh City
Hours: 9 AM – 9 PM
Saigon Square is a popular shopping destination in Ho Chi Minh City for both locals and tourists. When you enter the market from Nam Ky Khoi Nghia Street, go straight ahead to the end of the market and then turn left towards the corner. You will find shops that sell Northface jackets from $20.9 to $57.5 USD. The prices depend on the thickness of the jacket. They have both 2 layer and 3 layer jacket options.
The Northface backpack aisle is on your right side. Depending on the size of the backpack, they can be sold from $11 to $26 USD.
Shops around Ben Thanh Market
You can visit Ben Thanh Market if you are confident with your bargaining skills, since this market is notorious for intense selling techniques. I prefer the small shop on the corner of Le Lai Street and Phan Chu Trinh Street which is just across the street from the right side of Ben Thanh Market. They sell fine quality fake Northface backpacks with the same quality at a much cheaper price. The backpacks are from $16.5 to $21.8 USD each.
Buying Good Quality Fake Northface at Small Shops
Armyhaus
Address: 68/25B Tran Quang Khai Street, Tan Dinh Ward, District 1, Ho Chi Minh City
Hours: 9 AM – 8.30 PM
This is the favorite brand for teenage backpack travelers in Vietnam. You can find the following Northface products in Armyhaus: Pants $17, shoes $54, jackets 20$, and gloves $15. There are also different types of equipment for your travels if you are doing any adventure tours. Their products include helmets, tents, gloves, air cushions, and mountain climbing clothes.
The inconvenience at this shop is that they sell clothes for Vietnamese, which is best for the average height of 1m70 and 70kg weight so your size may not be available unless you are smaller.
Wetrek (Update October 2019, This shop no longer carries Northface.)
Address: 2D Truong Son Street, Ward 2, Tan Binh District, Ho Chi Minh City
Hours: 8.30 AM – 9.30 PM
This shop is recommended by many local travelers. Located near Hoang Van Thu Park and Tan Son Nhat Airport.
Northface's backpacks, caps, shoes, jackets, and pants are all sold here. The prices for these items vary from $17 to $87 USD each.
What have I learned about buying Northface in Vietnam?
You can't expect to buy real Northface in Ho Chi Minh City or Vietnam. Fake Northface products with good quality are available in certain shops or markets if you know where to look. With our tips to identify Quality fake Northface, we hope you have the chance to buy Northface products for a great price that will last a long time.