How to go to the Mekong Delta from Ho Chi Minh City?

As a local Vietnamese from the Mekong, I spent the first 18 years of my life living in the beautiful Mekong Delta before moving to the big city of Ho Chi Minh!  In the past 5 years, I've been traveling back and forth between Saigon and the Mekong Delta at least once a month to visit my family. I guess you can say that I am pretty much an expert on how to get to the Mekong Delta from Ho Chi Minh City.
There are five different methods you can use to visit the gigantic and popular Mekong Delta. You can get to the Mekong Delta by Car, Bus, Motorbike, Boat, or Plane but not all ways to travel or created equal. It's best to plan what kind of Mekong adventure you want which will be a large part of how you should get there!
In this article, I'll give my personal recommendations for every method of travel including my preferred way to travel and the best version of each method. Whether you are adventurous and want to drive yourself on a motorbike, easy going and want to join a bus tour or looking for something more personal like a private experience this article has all the information you need.
How to go to the Mekong Delta from Ho Chi Minh City by Motorbike?
Taking a scooter to the Mekong Delta from Saigon on your own can be an exciting adventure that you will remember for a lifetime.
Coming from Vinh Long in the Mekong Delta, I am familiar with motorbike drive from Ho Chi Minh City down to the more famous areas of the Mekong. When I visit my hometown, I almost always use my motorbike. The motorbike trip takes around 4 hours which makes it fast, easy, and cheap. On average, it takes me less than 4 hours one way from my house in Saigon to my mother's house in the Mekong Delta.
With such a short distance between the two cities, a trip to the Mekong Delta on the motorbike will be a fun and exciting day trip that will only take around 4 hours each way. If you are a first-time traveler to Vietnam, you should focus on visiting Can Tho, Ben Tre, and Tien Giang. These cities are known for the splendid floating markets, alongside the infinite green rice fields and an immense network of rivers and canals.
If you're about to go to the Mekong Delta from Ho Chi Minh City on your own motorbike, then here are some of my useful tips from my own experience.
Even for a local like me, getting pulled over by traffic police along the way is always my top fear. They can appear all of the sudden from nowhere and pull me in for some random reasons. To avoid this situation, don't break the rules when driving. Driving your scooter in the car lane, not using turn signals, and speeding are the three most common reasons for being pulled over from my own experience.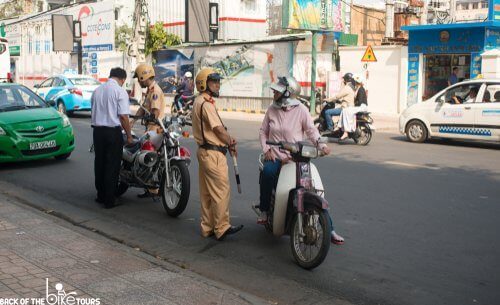 I'm usually worried about getting lost and the language barrier when driving on my own in a new place outside of Vietnam. I think you may face the same issue when driving to the Mekong Delta on your own. In this case, a local guide or a Vietnamese friend by your side will be super helpful. They will know the way better, and it's easy for them to talk to a native person in case you get lost.
Find a Local Buddy to Show You the Way
If I were you, I would consider having a local Vietnamese friend or a tour guide to escort me to the Mekong Delta. It's good to have a local friend who's willing to travel back and forth by your side. Otherwise, you may need a local tour guide, who can become really helpful if you have some problems on the drive, like a flat tire.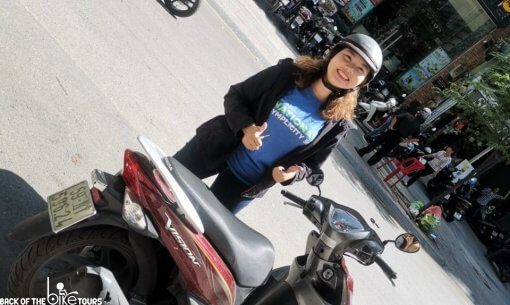 Where to Rent a Scooter for Driving to the Mekong?
Before planning a motorbike trip to the Mekong Delta, you need to rent a scooter for yourself. TIGIT does a really good job in scooter rental services in many big cities across Vietnam including Saigon. Just go-ahead to the TIGIT website, skim through all the categories offered and contact them for more details!
Is Driving a Motorbike to the Mekong on Your Own Right for You?
Even though driving to the Mekong is super fun and pretty easy in general, it's still not for everyone. Joining the traffic in Vietnam is another kind of game, which requires you to have basic knowledge and experience driving a motorcycle or two-wheeled vehicle.
Not every single Vietnamese driver follows the rules strictly while driving on the roads in Vietnam. This means a car or container truck may show up all of the sudden in front of you at a cross-road or T-junction, along with many other random situations that you're not aware of beforehand. Therefore, it's good if you're an adventurous person, but without basic motorbike driving skills, I do not recommend you drive a scooter in Vietnam on your own!
Last but not least, remember to cover yourself with travel insurance before arriving in Vietnam just like anywhere on Earth, especially if you're up for driving a scooter here.
How to Find a Good Motorbike Tour to the Mekong Delta from Saigon?
Knowing that many of my foreign friends are not capable of driving a motorbike in Vietnam but are still interested to see the Mekong in a totally cool new way got me researching. After some digging, I had some recommendations for them which turned out to be a great experience. They told me it was the highlight of their time in Southern Vietnam. Some of the top agencies offering motorbike tours to the Mekong from Saigon that come highly recommended are Vespa Adventures, Saigon Riders, and Onetrip Adventures.
As a passionate worker in the travel industry myself, these are simply some of the best motorbike tour agencies that bring you the finest off-the-beaten-path experiences. I don't think other mainstream agencies are able to give you this type of in-depth tour. Their well-trained guides can guarantee a fun and safe adventure! Go ahead and check them out!
How to Go to the Mekong Delta from Ho Chi Minh City by Bus?
The Bus is easily the most used transportation method for both locals and tourists to visit the Mekong Delta. There are many types of bus companies ranging from cheap and very local to high quality that are expensive. We are gonna discuss two options for you as a traveler to get to the Mekong Delta by bus. The first option will be to book a bus on your own to be dropped off in Can Tho or another city in the Mekong. The second option is to work with a reputable company that will arrange not only the bus but also the tour experience.
Booking a Bus on Your Own to the Mekong Delta
When it comes to booking your own bus to the Mekong Delta, it can be a bit overwhelming as there are so many options out there that all seem relatively similar. This may not be true when it comes to the quality of the trip or the bus itself. I recommend the bus company of Futa for anyone wanting to book tickets themselves. Compared to other brands, Futa is a leader in terms of quality and charisma. When I'm just feeling too exhausted to drive my motorbike for 4 hours to my hometown, then Futa is my go-to alternative.
To book the tickets, you can either call them or purchase online via. After that, arrive at the ticket booth at Ben Xe Mien Tay (West Coach Station – Booth No.23), show your confirmation email to the ticket seller in order to get the tickets. Remember to arrive around 60 minutes before departure.
West Coach Station Address: 395 Kinh Duong Vuong St, Binh Tan District, Ho Chi Minh City.
Futa hotline: 19006067
Booking a Bus Tour to the Mekong Delta
Many tourists in Saigon will opt for a one or two day trip to the Mekong Delta when they don't want to go sightseeing by themselves. This is a good pick as you will have a tour guide arrange everything for you, and show you all the most iconic features of the Mekong Delta. This choice is also relatively cheap compared to many private tour packages around the city.
However, you need to keep in mind that these bus tours are usually very low quality and touristy. You will stop at places where they ask you to spend money on souvenirs so that the tour guide can make extra commission. The standard tour for these large bus groups is also not very appealing and has led to some major complaints that can be found in many online reviews. We recommend doing your research and understanding what kind of experience you would like for the amount of money you want to spend.
If you would like to experience the Mekong Delta via a bus tour, I recommend checking out the offers from Sinh Tourist, TNK Travel or Saigon Tourist. While these companies do offer your typical Mekong bus tour experience, these brands have been around for a long time and can be trusted in terms of safety and reputation. They all offer a wide array of packages to the Mekong Delta with the cheapest price starting at around 300.000 VND/pax, which is very reasonable.
How to Go to the Mekong Delta from Ho Chi Minh City by a Private Car?
When is a private car the better option? If you don't want to join other travelers, then you may consider renting a private car with your own driver.
Most of the time, I don't take a private car to travel to my hometown. The exceptions that my family might consider renting a car from Saigon to the Mekong would be for a large family gathering or for a wedding. This way the older family members can travel in comfort and the whole family can be together for the trip.
For those considering visiting Can Tho, a price for a one-day round trip should be around 1,500,000 VND. However, it varies a lot depending on the distance and route, so when you contact a car rental operator, remember to go specific on details such as pick-up and drop-off time.
We have worked with An Minh Car Rental to book cars for our private tours inside of Ho Chi Minh City. They are easy to communicate with and offer a wide range of cars, vans, and buses. If you have any issues with a language barrier, please free to reach out to your localhost or receptionist.
An Minh Car Rental
Phone (Mr. Phong, Speaks some English): 0909 555 783
0913 724 238
Email: [email protected]
Website: xedulichanhminh.com
Roundtrip Saigon to Can Tho
8 Hours or 110 Km
For 4 people: 2,000,000 VND
For 7 people: 2,200,000 VND
Overnight: 3,000,000 VND
*Note: The price could be different on National Holidays. 
How to go to the Mekong Delta from Ho Chi Minh City by plane?
There is only one flight from Ho Chi Minh City to the Mekong Delta, which takes you directly to the island of Phu Quoc. Traveling by bus and then boat to Phu Quoc can take up to 9 hours. I would much rather spend a little extra money to take a 1-hour flight to visit Phu Quoc.
Vietjet and Jetstar Pacific usually offer flights to Phu Quoc that can range from $64 to $128 USD. With such reasonable prices, I think it's a no brainer to fly to Phu Quoc over the bus/boat route.
For your information, there are two airports in the Mekong, one in Can Tho and another one in Phu Quoc. My initial thought was, why not just spend 45 minutes on a flight to Can Tho instead of spending 4 hours on a bus? However, it turns out that there's no direct flight from Saigon to Can Tho, not at this time. It is possible to fly straight to Can Tho from other major cities in Vietnam like Hanoi and Da Nang. You may consider flying directly to Can  Tho and then making a trip up to Ho Chi Minh City.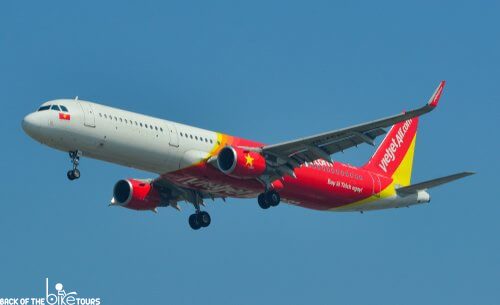 How to go to the Mekong Delta from Ho Chi Minh City by Boat?
One last option is to go to the Mekong Delta on a boat. As far as I know, you can only sign up for a tour offered by a company. There is no rental boat service for the route between Saigon and the Mekong Delta since the daily rate is usually high, it can go up to $1000/hour depending on which type of boat you're looking for.
For boat tours, Les Rives and Fish Eye Travel are the two top-rated agencies introducing boat trips to different parts of Saigon and also to the Mekong via waterways. Les Rives and Fish Eye offers one-day trip to the Mekong at nearly 3,000,000 VND.
Pricey as it seems, their quality is second to none! You can read all the reviews on their website or TripAdvisor before making a decision. Most of their services include pick-up and drop-off, multiple departure times throughout the day, and additional tour inclusions.
I hope this article helped you navigate the best option that suits you! If you think you enjoyed this article and found it helpful please share it so others can also find out how to go to the Mekong Delta from Ho Chi Minh!