What Food is Ho Chi Minh City Known For?
Vietnam is a long country with three major parts: North, Central, and South. Each major area has its big city, which is a great place to try local specialties, as the big city is where most people from the region congregate. Ho Chi Minh City is that congregation point in southern Vietnam, bringing some Southern-style dishes into one place for easy access. So, What food is Ho Chi Minh City Known for? What famous food in Ho Chi Minh City is a must-eat?
In this article, I'll recommend dishes from the Southern Vietnam region that are easily found in Ho Chi Minh City and that I believe you should try while visiting here. Vietnam is funny in that dishes don't necessarily make their way to a different region and remain the same. So, if you are looking for famous Southern specialties, Saigon is the place to eat them!
Famous Food in Ho Chi Minh You Should Try:
Before people get into an uproar, I am aware that some of these dishes, like Banh Trang Nuong, come from Da Lat and are famous there. But Da Lat is a Southern Vietnamese city close to Ho Chi Minh City, and you can find great versions of Banh Trang Nuong in Ho Chi Minh City. And you can find it everywhere in this city. So, I am willing to say that Ho Chi Minh City is known for having a great version of Banh Trang Nuong.
Also, not many tourists visit Da Lat. This means they should try it in a city they are most likely to travel to, Ho Chi Minh City.
On the other hand, Ho Chi Minh is also known for having great options for Bun Bo Hue, a central Vietnam dish. So, I would not put it in this list as the name of the city where it comes, Hue. If you are only coming to Ho Chi Minh City, sure, search out and eat Bun Bo Hue. This list is for those trying Southern specialties in Ho Chi Minh City.
Where to eat the most famous food in Ho Chi Minh City?
I know that most people reading this blog are traveling to Ho Chi Minh for just a short time. So, I'll do my best to keep all my recommendations to easily accessed locations in the city's center. That would be Districts 1, 3, and 4, if I can. A great dish is usually worth traveling for, but sometimes, it's not feasible given time restraints.
My recommendations below will be restaurants I have eaten at, and I feel they are great. It should be noted that all of these locations are small, privately owned businesses. Sometimes, small restaurants just close for the day. This happens all the time, and I am sorry if this happens to you while you are trying to eat around the city. The best thing you could do if you want not to waste a trip is ask your hotel receptionist to give them a call before you go.
Ah, one last tip, most of these restaurants serve one dish and one dish only. There are no substitutions or any adjustments possible.
What Food is Ho Chi Minh City Known For Description and Location!
Alright, lets dig into our list and provide you with some recommendations!
Bun Thit at Quan Bun Thit Nuong Kieu Bao
📍Location: 139 De Tham, D1
⏰Open: 11 AM – 9 PM
💸Price: 30,000 VND
💡 Tips: Order the "Tô Đầy Đủ" from the menu. That will have pork and spring rolls.
This dish has my heart in it's hands! I love me some Bun Thit Nuong. Especially in the afternoon!
The bowl starts with bean sprouts and herbs as the base. Rice Noodles go on top of the sprouts and herbs. Then grilled pork sausage & pork shoulder, and fried spring rolls are next. Add pickles, chili, green onions cooked in pork fat, and sweet fish sauce.
This dish is simple, light, sweet, and will have a hint of heat with the fresh chili on top. It is a masterpiece in a bowl. This is my #1 recommendation for a must-eat in HCMC. And in my opinion, I've never come across a bad bowl of Bun Thit Nuong!
Com Tam at Quan Com Tam Nguyen Van Cu
📍Location: 74 Nguyen Van Cu, District 1
⏰Open: 7:30 AM – 3:30 PM
💸Price: 160,000 VND
💡 Tips: They sell out often, so I recommend getting here early to try the Com Tam from this restaurant. Order Cơm Tấm Sườn và Trứng
Is Com Tam the king of food in Ho Chi Minh? I think you might be able to make that argument. You can find this dish being served at all hours of the day and there are so many famous spots across Saigon serving this dish with their own twist to the pork, chicken, or egg cake.
I recommend my favorite Com Tam on Nguyen Van Cu with the traditional grilled pork chop and fried egg served over the steaming broken rice. Pour the sweet fish sauce over the top of everything and jump in! You don't have to eat here at my recommendation as it is the most expensive Com Tam in the city, but it is worth the trip.
Com Tam also has many things you can eat with it; you don't have to opt for the pork chop and egg. Although I do recommend that choice as it's delicious and classic, you could choose the following:
It depends on the location and what options they have for you to choose from. Typically they are available for you to see behind glass in the preparation area.
Pho at Quan Pho Hoa
📍Location: 260C Pasteur, D1
⏰Open: 6 AM – 10:30 PM
💸Price: 80,000-95,000 VND
💡 Tips: Mix hoisin and chili sauce in a separate bowl for an enhanced meat flavor and dip the beef in the sauce, preventing the soup from being overly garnished.
Everyone reading this has already heard of Pho and hopefully had a bowl. If you are coming to Ho Chi Minh City, you should eat a bowl of Southern Pho here. Even just the bragging rights are pretty cool to me. "Oh, you like Pho? I've eaten it in Saigon!" :)))
The name Pho comes from the noodle, a flat rice noodle. The broth is made from beef bones simmered for hours along with roasted onion, roasted ginger, and spices like Cardamom and Cinnamon. Chicken Pho is also available as well. The difference between Southern and Northern Pho starts with the additional ingredients added to the broth. The most notable will be rock sugar. The Northern version of Pho is not very sweet and leans towards being saltier.
Hu Tieu at Hu Tiu Mi Cat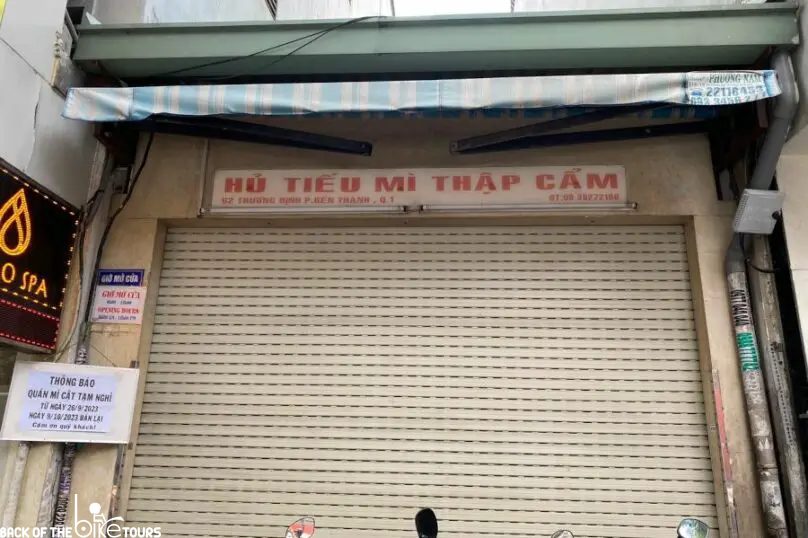 📍Location: 62 Truong Dinh, D1
⏰Open: 6 AM – 12 PM
💸Price: 60,000 VND
💡 Tips: Opens Early and Closes Early!
This dried rice noodle dish is ubiquitous across the city, especially in District 5, China Town. But you can find a great bowl anywhere. Hu Tieu is really interesting as this mash of Cambodia meets China, specific to Southern Vietnam.
Hu Tieu comes with dried rice noodles (so not fresh noodles like Bun or Pho), a broth made with pork bones, dried shrimp, dried squid, and various meat toppings like pork offal, pork meat, and shrimp. A plate of vegetables is usually on the side, including green leaf lettuce, Chinese chive, Bean Sprouts, and Chrysanthemum.
Hu Tieu can come dry with soup on the side or broth in the bowl. I do love having the dried version and drinking the soup separately. This allows me to add some soy sauce and spicy chili sauce to my noodles and mix them up. I enjoy eating hu tieu this way.
Banh Trang Nuong
📍Location: 61 Cao Thang, D1
⏰Open: 6:45 PM – 9 PM
💸Price: 25,000 VND
💡 Tips: Order the Bò Trứng Phô Mai which is Dried, Beef, Egg, and Cheese. This is the classic Banh Trang that comes to mind when I think of the dish.
Vietnamese Pizza is a hit among everyone in Vietnam, especially the youth. A vendor is probably selling this dish outside nearly every Ho Chi Minh City school. So, it had to crack my list of what food is Ho Chi Minh City known for.
This dish is simple: a thick, dried rice paper circle is placed over a hot coal fire. Then butter, egg, and green onion are mixed over the fire. The paper absorbs the moisture from the egg and cooks while creating a crispy texture. The toppings usually include dried beef, hot dogs, and cheese. Hot dogs and cheese don't sound traditional, and of course they aren't. But these two specific ingredients have worked their way into the Vietnamese Cuisine lexicon over the past 15 years.
A drizzle of Sweet Chili Sauce or Mayo is added to the top or side for dipping. So, go ahead and give this awesome street food snack a try! You are going to enjoy it!
Banh Xeo Pho Thanh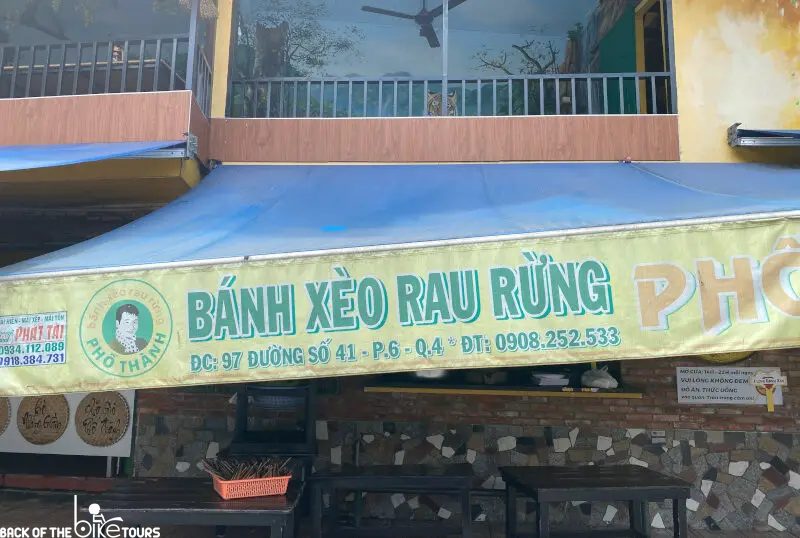 📍Location: 97 Đ. Số 41, Phường 6, Quận 4
⏰Open: 2 PM – 10 PM
💸Price: 70,000 VND
💡 Tips: You'll have to wait a while at this location for them to cook the Banh Xeo. It's worth the wait though!
Southern Style Banh Xeo, to be frank, is not my favorite style of Banh Xeo, so it isn't a dish that I search out too often. I prefer the Banh Khot, which you can try at the recommended restaurant. The difference is the size and texture. You should try the southern-style Banh Xeo while visiting Ho Chi Minh City.
The batter for this dish is quite simple, using rice flour and water. Some vendors may also add some coconut water required for the Banh Khot. Inside your Banh Xeo, you'll find mung bean, bean sprouts, shrimp, and pork, depending on which Banh Xeo you ordered.
The way to eat this is a style of wrapping which is very popular in Vietnam. You'll take rice paper and place a bed of lettuce and herbs on top. Then, add a piece of the Banh Xeo. Wrap this up tight and then dip into a sweet fish sauce dipping sauce. The flavors will be fresh, sweet and savory when everything combines together in your mouth.
Quan Bun Mam 144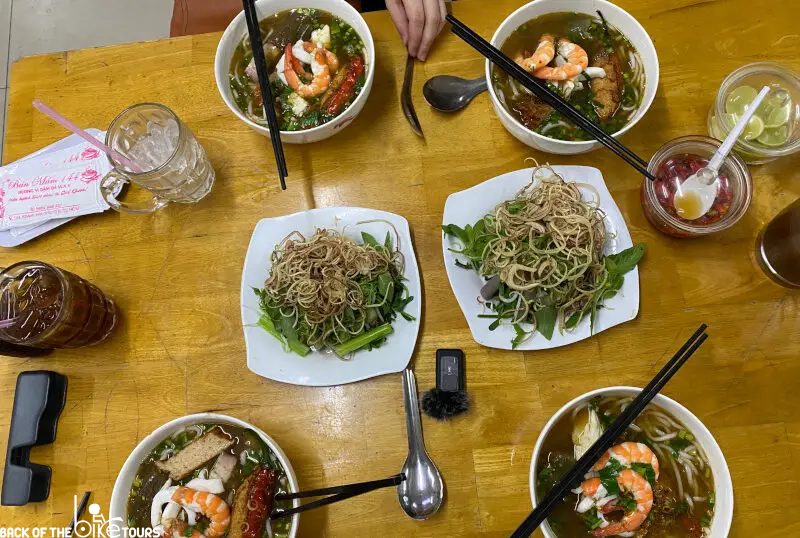 📍Location: 144 Khanh Hoi, D4
⏰Open: 8 AM – 9 PM
💸Price: 90,000 VND
💡 Tips: There is tamarind and chili on the side. Make a small bowl by mixing the two together and dip your seafood and meat into the sauce.
For me, this dish truly is a taste of the South. Funky and sweet, these flavors combine to create a truly unique Vietnamese dish. Some Bun Mam runs funkier than others, I believe the one I have recommended is a great middle-ground for foodies looking to push their palate and try something they may or may not like just for the experience.
The funky flavor of this broth comes from fermented fish paste used inside of the pork bone broth to give it this umami-rich flavor that Vietnamese love. Bun Mam has many toppings inside on top of the rice noodles. In a bowl of Bun Mam, you should find steamed white fish, roasted pork, chili stuffed with fish cake, eggplant, and shrimp. The side plate of vegetables with Bun Mam is a must-add, especially the "rice paddy" herb which for me is extremely bitter.
Oc Oanh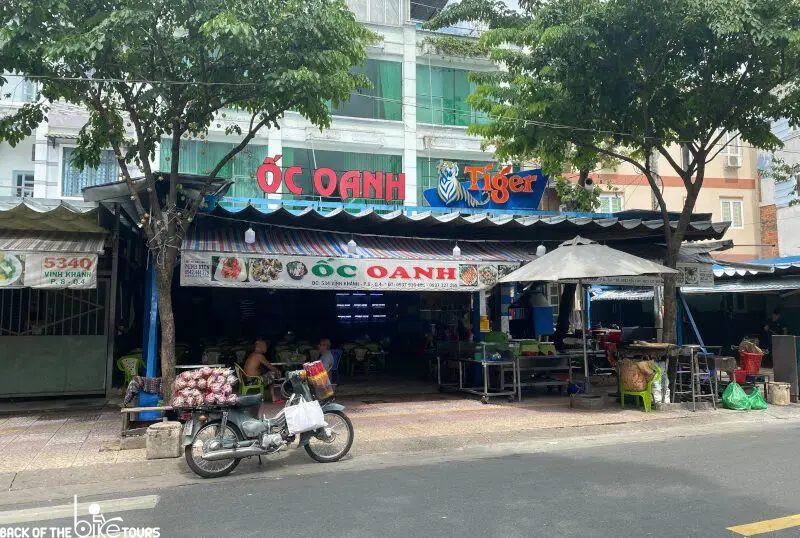 📍Location: 534 Vinh Khanh, D4
⏰Open: 1 pm – 12 AM
💸Price: 70.000-120,000 VND Per Dish!
💡 Tips: Depending on what you order, this isn't necessarily cheap by Vietnamese standards. But it is very good! It's still the restaurant my old expat friend asks me about everytime we speak.
I hesitated to add Oc as a specific food that Ho Chi Minh City is known for because Vietnam is a coastal Country. You find seafood from the North to the South. But, Ho Chi Minh City has a snail/seafood culture around its food that makes me feel eating seafood at a great restaurant in Ho Chi Minh City is a must-do.
Oc means snail in Vietnamese, but the restaurant I recommend you can order all types of seafood. I recommend trying some snails, though, to give it a go. Try the Mud Creeper, Oc Len, with a Vietnamese baguette in coconut milk. It's a gentle way to ease yourself into eating snails. The rest of the menu is easy enough to choose from though. Try out some Clams, Scallops, Shrimp, and Crab!
Mi Vit Tiem at Them Huy Mi Gia
📍Location: 455 Nguyen Trai, Q5
⏰Open: 7:30 AM – 1 AM
💸Price: 135,000 VND
💡 Tips: This is a big duck leg and thigh that will fill you up. Don't miss out on dipping in the hot sauce on the side!
This was another dish that I almost hesitated to add because of it having a Chinese Origin. I'm not an expert on Chinese food by far, but my understanding of this dish is that it originated in China, but this isn't a dish you will find in China exactly. I am including it on the list because of the importance the Hoa people have on Ho Chi Minh City and its food culture and also because it's delicious.
Mi Vit Tiem is a roasted duck soup with wheat noodles in an extremely fragrant sweet broth. This broth uses the traditional red dates and wolfberries common in Chinese herbal broths. I love the flavors of this soup, and sometimes, when I'm looking for something just a bit different, this can hit the spot.
What Food is Ho Chi Minh City Known For? Conclusion and Final Recommendation
It might be hard to try all of these dishes while traveling. Most travelers have a tight itinerary and usually have limited time to explore the local food. That's a shame, and I hope those reading this understand how important food culture is in Vietnam and dedicate some time to exploring the food scene. That being said, here are my MUST recommendations if you have limited time.
Must-Eat Famous Places in Ho Chi Minh City on Limited Time:
Bun Thit Nuong – I said before, this dish has my heart. Don't miss this!
Com Tam – Class Southern Vietnam, Don't miss!
Banh Xeo/Banh Khot – You can find this elsewhere in Vietnam, but the Banh Khot is one of my favorite lunch dishes, and I think it would be a shame if you didn't try it!
That's it! Thanks for reading, and I hope this helps you on your travels to Ho Chi Minh City!