Which District in Ho Chi Minh City has the Best Street Food?
This is a big question and probably a bit contentious for some locals. Ho Chi Minh is a massive city with over 24 districts, some quite large! Street food vendors are sprawled all over the city, and you'll find someone serving food everywhere you look. So, Which district in Ho Chi Minh City has the Best Street Food? It is a difficult question, but I have the answer.
The best district in Ho Chi Minh City for street food is District 4. You can find great Vietnamese street food, specifically on Vinh Khanh Street and Ton Dan Street in District 4. These streets are near each other and will have nearly every Vietnamese Street Food a foodie could request. Vinh Khanh Street is known for seafood, hotpot, and drinking, while Ton Dan is a long street with over a hundred different street food vendors and small restaurants selling street food.
Keep reading; I'll cover some of my recommendations for eating in District 4 and other districts that I consider runners-up. I'll do my best to fully answer which Ho Chi Minh City district has the best street food!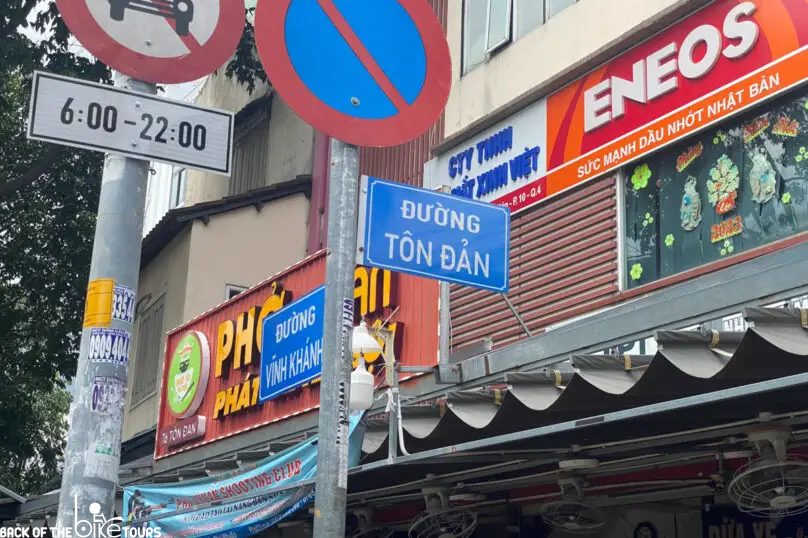 Why is District 4 the Best District for Street Food?
The variety, price, and atmosphere make this the best district for street food. I would also throw in that it's so centrally located that you can consider District 4 downtown. The taxi ride to the best area in District 4 for food will only take 5 – 10 minutes in a grab car or taxi, depending on the traffic.
The variety of options on Ton Dan Street is amazing. And nearly anything you decide to eat will be good. To compete in an environment like that, your food needs to be good, or you won't survive very long. There are just too many great street food options on that street for locals to choose to eat anything subpar.
District 4 is one of Saigon's most densely packed districts, but it still keeps a very competitive price for food even though it's so centrally located. Your average bowl of soup should be $2-$3, depending on what you get. One of the most expensive local seafood restaurants, Quan Oc Oanh, is also here. But the price will be great at most vendors and small restaurants serving local Vietnamese dishes.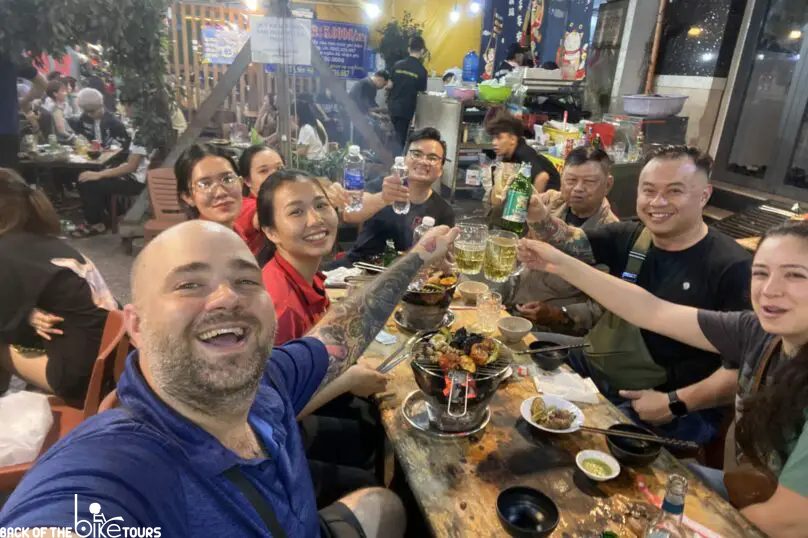 Wow, the atmosphere of this area is on a different level, honestly. I lived on Ton Dan Street for over 5 years, and I'll tell you.. that street never stops. The quietest the street gets is about 3 am – 4 am, and then it's already getting busy again by 5 am. So, if you are looking for a late-night food option or to drink and eat with locals, this area is where to be. But be safe; District 4 has been known for petty theft.
Where Should I Eat in District 4?
There are more than a few options; before I get into specific recommendations for food in Ho Chi Minh, let me teach you how to fish so you can feed yourself.
If you are in the mood for sitting down, having some beers, eating some seafood or hotpot, and being surrounded by a loud but fun atmosphere, head to Vinh Khanh Street. Pick any restaurant, and they will give you the menu. A beer girl will come by and offer beer. It will be quite easy for you to fend for yourself. You can keep walking along Vinh Khanh until you find a spot that resembles your comfortable atmosphere.
If you are in the mood for more classic-style Vietnamese food and want to try a few different places, get to Ton Dan Street. Start walking down Ton Dan and eat wherever suits your fancy. You'll see Banh Mi, Pho, Bun Bo Hue, Bot Chien, Grilled Chicken, Chicken Salad, Fried Food, and more. It is probably the best place for a walking tour if I was to create a walking tour, but that area completely sucks for walking. So, that is my #1 tip: be careful. District 4 is densely packed, and the motorbikes are crazy in this area.
Which District in Ho Chi Minh City has the Best Street Food? Honorable Mentions:
The options below are great and probably the answer for others if you ask which district in Ho Chi Minh City has the best street food. But, for me, their is something a little lack luster in comparison to my top choice of District 4. Each their own though, and if possible you can visit all of these places and decide for yourself!
District 10 – Su Van Hanh and Ho Thi Ky Food Street
District 10 is a great place to get some street food. I would recommend the Su Van Hanh area as a great place to start. Why isn't this my top choice? I think it's a bit farther than needed for tourists to travel to find great local street food. I would also say this area will likely be a bit less easy to navigate than just the two streets in District 4.
District 10 also has the Ho Thi Ky Food Street near the flower market. This is filled with lots of snacks and trendy food. I think this is easy enough for someone to navigate, but honestly, the food there leaves something to be desired for me. That's why I don't believe its the best answer when someone asks me which district in ho chi minh city has the best street food. I feel there are better options where locals eat.
District 3 – Apartment Complex Food Area
A quaint little area in District 3 surrounds a very old apartment complex that serves all types of food in an area that makes it very easy to walk. You can find interesting things here, like Seafood, Banh Xeo, Vietnamese "Pizza", and more. Again, this is worth checking out, like I taught you with District 4.. I don't think you need specific recommendations. Go hungry, walk around, and eat! You'll have a ton of fun trying new things!
Summary
Which district in Ho Chi Minh City has the best street food? It's, of course, subjective, and many people are going to make arguments for one over the other, but for me, in my expertise, if I had just one night and wanted to show the average person why I love Ho Chi Minh City and it's food scene. I am taking them to District 4, and I think that's where you should visit, too! Do I take my food tours to District 4? We do on our smaller private tours and Chef Tours, but I don't take my larger group tours there as it's just a bit too busy and packed of an environment for a large group. But, its perfect for a traveler wandering around as a solo, couple, or small group.