Staying in Ho Chi Minh City District 4 : Tips for Air Bnb Guests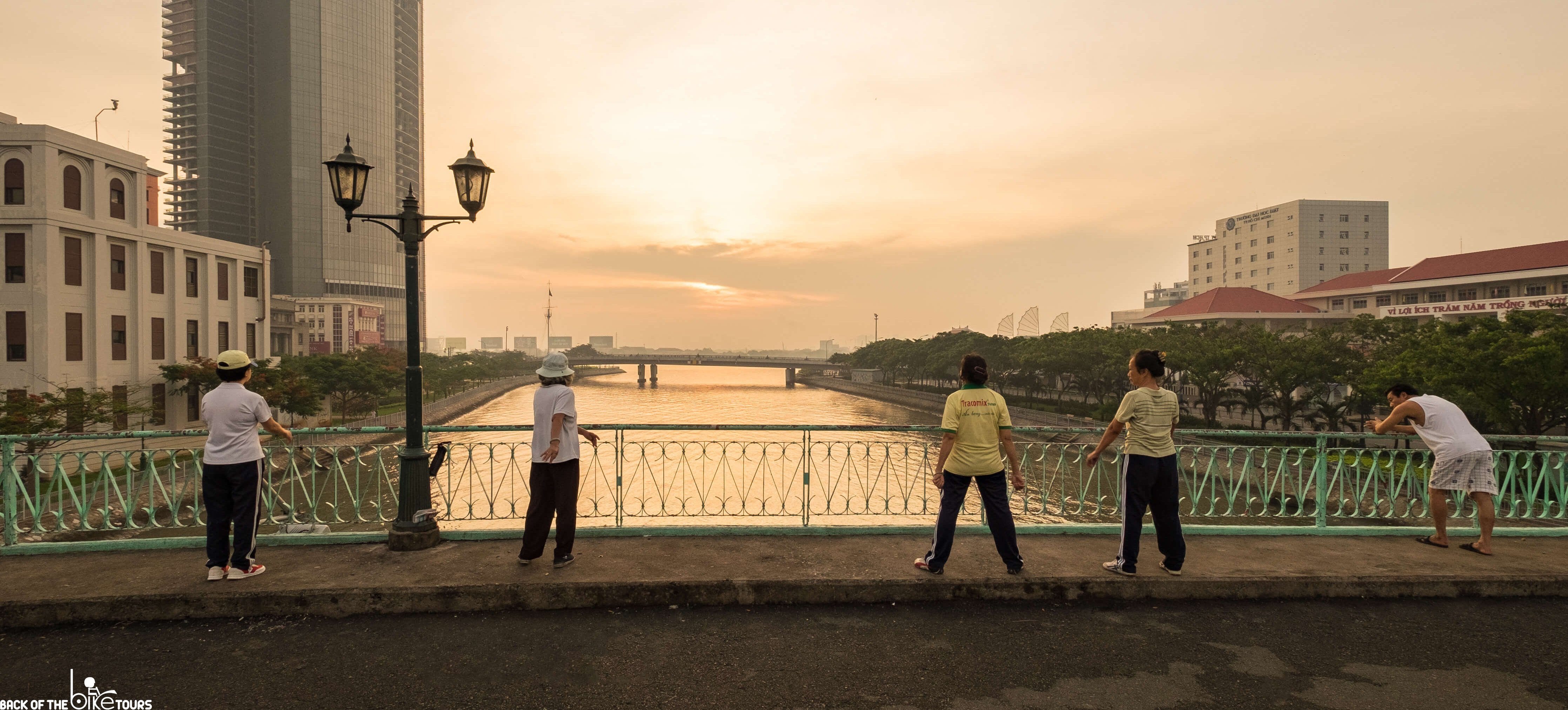 Let's face it, during your first tip to Saigon, You don't know anything about the different districts of Ho Chi Minh City. Now it's up to you to pick the best spot for your family to stay during your vacation to Ho Chi Minh City! The pressure is on! I'm gonna give you some information about District 4 compared to District 1 to help you make a decision if an Air Bnb in District 4 is a good option for your family.
How does Ho Chi Minh City's District 4 compare to District 1? They are very different but District 4 is so close to District 1 that it makes sense to stay here if you are travelling. I'm going to go over some of the questions you might have if you choose to stay in District 4 rather than District 1.
Should I stay in D4 instead of D1?
This all depends on what you are looking for. In my opinion, if you are planning to spend most of your time outside of your hotel, I would have no problem staying at one of the accommodation options in District 4. It is an easy hop in a taxi cab to get right into the thick of things in the middle of District 1.
If you are looking for an apartment style stay that has a swimming pool, the accommodation options in D4 are pretty sound. The location is good if you are okay with jumping in a taxi cab ride when you want to go out. If you decide to walk around, you'll be in for a real experience of a local area of Ho Chi Minh City. Honestly, this isn't the right location to stay in if you want to leave your hotel and walk right outside to find a restaurant that is suitable for younger kids or western food.
District 4 Information
Over Thirty years ago, district 4 was often known for its low level of security and gangsters. However, thanks to improving management by government and gentrification, today District 4 is a pleasant place. It hasn't been known as a dangerous area since the 70's.
Due to its location, District 4 has become a coveted area for people to live and work. This makes the property value for homes in District 4 extremely high. Many of the families who still live in this district now have been living in these houses for decades. The small houses that we refer to as tube houses because of their narrow width but tall height are tightly packed in, creating a web of small alleyways that are very interesting.
In recent years, due to the influence of other nearby districts like District 1 and District 2, District 4 has gradually developed. Many new apartments were built here, streets were improved and repaired, entertainment areas also began to appear. This not only makes local people's lives better but also creates convenience and comfort for tourists when visiting District 4.
District 4 Location Compared to District 1
District 4 is likened to a triangular island located in the heart of Ho Chi Minh City. It is surrounded by rivers and canals and stuck among 3 other developed districts: District 1 (in the Northwest), District 7 (in the Northeast) and District 2 (in the South).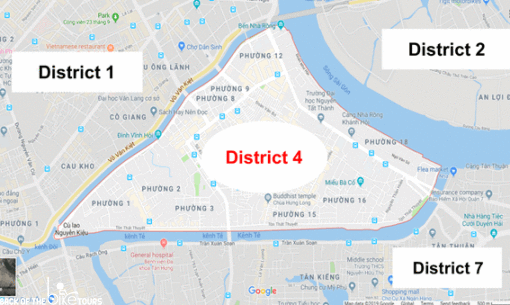 This means that District 4 is very close to District 1, people here usually only take 10 minutes to reach famous places in District 1. To get to District 1 from District 4, you need to cross a Ben Nghe canal. There are 5 bridges built to cross this canal such as Khanh Hoi bridge, Calmette bridge, Ong Lanh bridge, Rainbow bridge, and Nguyen Van Cu bridge. Depending on your location, you can choose the closest bridge to shorten the time to reach District 1.
Hotels or Airbnb?
Honestly, District 4 doesn't have many hotels like District 1. So sometimes on holiday, hotels in District 4 often run out of rooms. Therefore, if you want to stay at a hotel to enjoy high-class service, you should book a room advanced.
Although not owning many famous hotels like District 1, however, District 4 has a lot of room rental services which local people open by themselves. To be able to find out more information about these rental rooms, you can easily find it on Airbnb's website.
Normally, both hotels and room rental services will be in the newly constructed apartments right across from the canal. This means you are very close to the center of the city for a bit cheaper price. The area to wander about from these large apartments is actually interesting. Just behind these large apartments you can wander into Xom Chieu market for a visit during the day to see one of the most local and busiest wet markets in Ho Chi Minh City.
Transportation in District 4
District 1's location for walking to some of the main attractions in Ho Chi Minh City is better than District 4. District 4 is about a 10-minute walk plus a bridge crossing in order to get to Nguyen Hue walking street in the center of the city. The walk might be a little bit difficult but interesting. While walking across these bridges, you can watch the canal flowing through the city and take some nice photos. The bridges at night will shine by the beautiful street lights, which is one of the typical beauties of this city.
If you are going for a night out and a bit dressed up, you'll probably want to call a taxi or grab to give you a lift. I don't think District 4's location is convenient for making a lot of trips back and forth to the city center on foot but its very close if you are using a taxi cab. Check out our in depth article about about taxi cabs in Ho Chi Minh City to
Another thing about transportation in District 4 you should know is heavy traffic jams at rush hour. Because the roads in District 4 are quite small and narrow, so during peak hours these roads often occur more serious traffic jams than other districts. My university is located in District 4, every afternoon after school, it takes me about 45 minutes to 1 hour to get home. If you choose to use a taxi or grab to take you around, don't choose rush hours to go out.
Walking around District 4
If district 1 is famous for high-class and luxury restaurants, the cuisine of district 4 is famous for being found in plenty with delicious options. There are so many people living, working, and visiting District 4 that the local street food is fantastic and famous. You can find street foods in food carts, food stalls or small private restaurants open by locals.  Food stalls and restaurants are usually located along many streets in District 4, which makes district 4 is so famous for many food streets. The three most famous food streets that I want to recommend to you are Xom Chieu, Vinh Khanh and Ton Dan.
Xom Chieu has special and delicious dishes. The food stalls and restaurants in this street have existed for a long time and have created a famous reputation. That makes them attract many people coming and trying the taste of special foods. These dishes which are cooked with unique recipes seem to be "specialties" of this district. Some "specialties" on Xom Chieu street I want you to know are banana cooked with sugar, crab soup mixed vegetables and many other types of ingredients, mussel noodles.
– Pha Lau Miss Oanh
Beef Organs Cooked in Coconut Milk served with Banh MI
Address: C200 / 20 Xom Chieu, District 4
– Vermicelli crab and snail
Address: C200 / 6 Xom Chieu, District 4
– Oc To
Small but Popular Seafood Stand
Address: C218 Xom Chieu, District 4
– Crab Soup Hang
Thick Soup made with Tapioca, Crab, Shrimp, and about 8 other ingredients
Address: C200 / 18 Xom Chieu, District 4
– Banana cooked with Sugar
Braised with sugar and topped with sesame seeds, this dish is unique to Xom Chieu
Address: Head of the alley 200 Xom Chieu, District 4
In 2018, Vinh Khanh street officially became the food street of District 4 and is strictly managed on food safety and hygiene by the government. Up to now, it has been extremely famous not only to locals but also for foreign visitors. Most of the restaurants here serve seafood and beer. Plates of seafood here are cooked in Vietnamese-style but a little bit spicier than normal Vietnamese food. Famous dishes like snails cooked with coconut milk, fried crab with salt and chili, grilled octopus with sate can be found up and down Vinh Khanh Street. If you are a person who loves seafood, Vinh Khanh is definitely a great choice for you. The operating hours of Vinh Khanh street are from afternoon to evening. The restaurants here are crowded at 6:00 pm until Midnight. Make sure that you are there at the right time so you can enjoy the bustling atmosphere of this food street and delicious dishes. If you want to experience street food like this but are a bit nervous to do it yourself,
– Chilli hotpot
Alot of grilled meat options, oysters, and hotpot. Delcious and Highly recommended
Address: 232 Vinh Khanh, District 4
– Oc Oanh
A standout on a street known for seafood, don't miss out on the scallops!
Address: 534 Vinh Khanh, District 4
– Sushi Ko
International Sushi on the Street?
Address: 122/37/15 Vinh Khanh, District 4
In addition, other roads like Hoang Dieu, Doan Van Bo, Ngo Van So or Nguyen Truong To also have a few interesting restaurants. These roads are very close to Vinh Khanh and Ton Dan, you can visit them conveniently.
– Mi Vit Tiem Thuan Hieu
Chinese inspired Duck soup with wheat Noodles. Very Tasty and Open late
Address: 3 Hoang Dieu, District 4
– Crab Curry in Quan Oc 63
Crab smothered in Delcious curry sauce that you mop up with Vietnamse Bread. Very close to Air BnB's on Ben Van Do
Address: 63 Nguyen Truong To, District 4
Any other recommendations?
Yeah, I'm gonna let you now about my secret coffee shop that is my absolute favorite This is my place for working during the afternoon. This is located 2-5 minutes from the Air BnB locations in District 4.
Spotlight Coffee 
Address: 64 Le Quoc Hung, Ward 12, District 4, Ho Chi Minh City
The operating hours: 7:00 am – 9:00 pm
We hope these tips help you make a decision on staying in District 4 or not. If so, please enjoy our recommendations for spending time in District 4 and commuting to District 1. Please share this article if you think it will help other travelers like yourself book a vacation that they will remember for a lifetime.