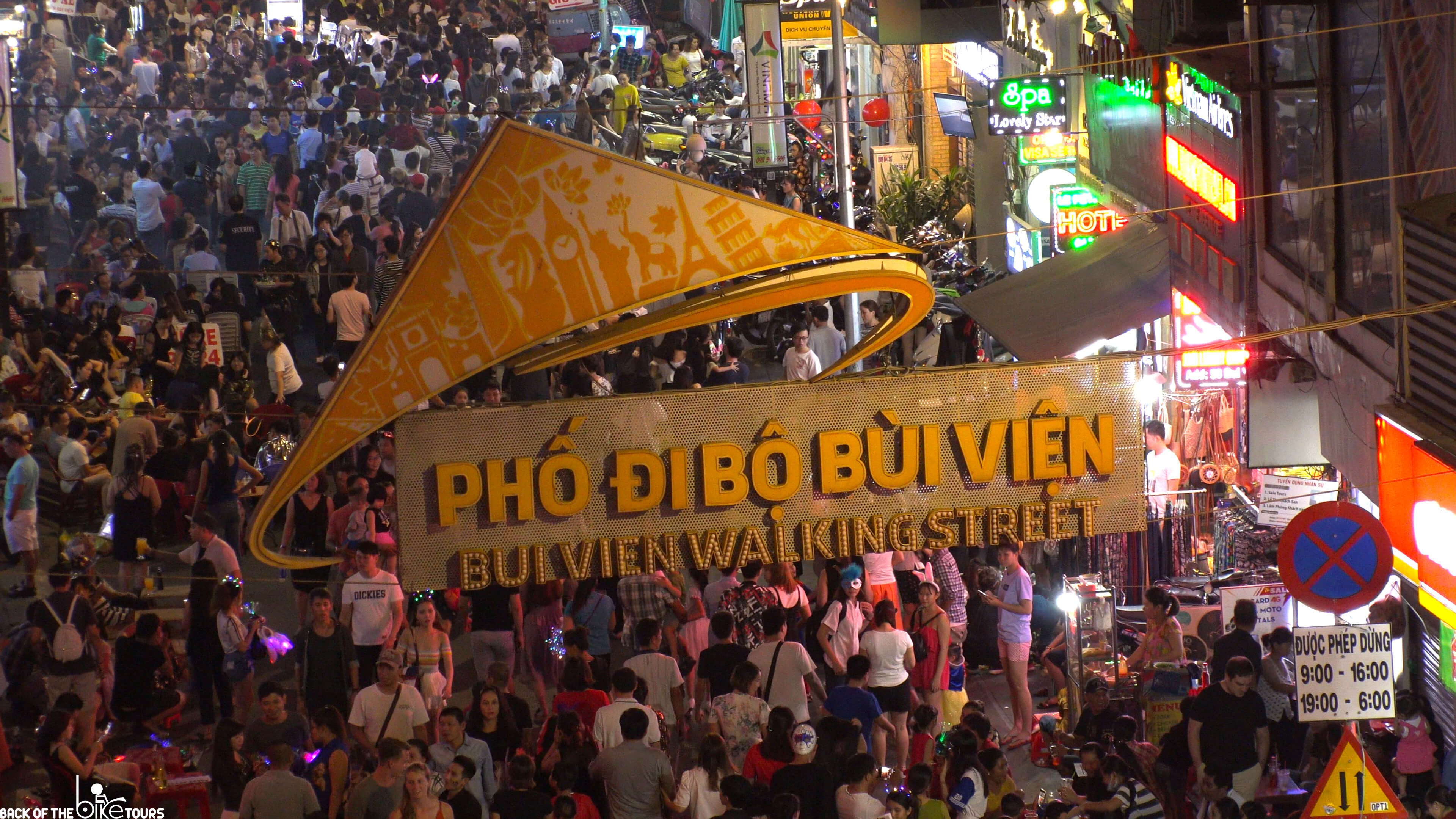 Bui Vien is the most crowded walking street in Saigon and is also called the Red Light District. This street features all kinds of entertainment. There are Vietnamese pubs that have pavement sitting where they serve beer and food. There are also many hot dance clubs and bars.
Is a street like Bui Vien safe? Unfortunately no, it is not always safe because the street is a very crowded place and can be dangerous especially if you're a tourist. Although this area may look attractive, it is a haven for prostitution, pickpockets, drug dealers and other elicit activities. This area can be safe if you are a smart and follow our tips below.
Top 10 Tips to Stay Safe in Bui Vien Nightlife
Don't flash your jewelry, cash, or expensive camera while walking in Bui Vien. There are several local people who are just waiting to target foreign tourists. Some of your belongings are probably worth at least two month's wages for some of the local people living here. Be aware and don't tempt thieves to rob you  of your possessions and cash.

If you cannot trust leaving your valuables  in your hotel room, wear a money belt under your clothes to keep your property and cash safe. Don't carry a handbag or backpack. If you have to carry your backpack with you, make sure you wear it in front of your body. Wear a neck wallet around your neck and under your shirt to carry your Vietnamese cash and any credit and ID cards. Never leave a bag unattended in a public place.

Be aware of pickpockets while walking in crowds. Put your camera away and don't keep your hands in  your pockets or on your bags if that is where you have your valuables stowed. Store your handbag and camera case in your backpack and keep it zipped up and in front of your body.

Make sure everything is secure if you take a ride in a cyclo or on a Xe om (Vietnam motorcycle ride). There are many vagabonds and thieves around the area who are looking for travelers to scam. Choose a safer cab in Vietnam by using Grab that has tracking tools to help locate your rented cab anytime by phone. You can download this app from the Appstore both on ios and Android systems.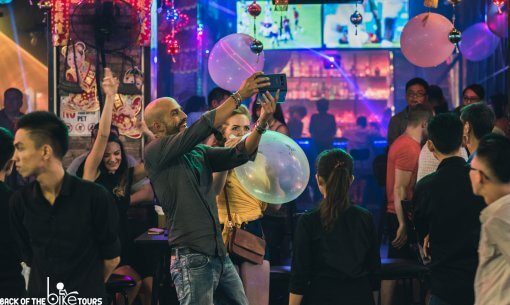 Small children wanting a hug may be adept pickpockets. Stay at arm's length even if these children look cute and harmless.This is an old trick.  Touchy-feely hands on the street are looking for your valuables.

You may want to get high with friends in this joyful place. Drug dealers are only too willing to offer whatever you are looking for to have some cheap thrills at a great price. Remember to check which drugs are legal before buying anything on the street. Bui Vien has a street watch for keeping order and they can arrest anyone, even foreigners, who  break the rules, especially for drug issues. Although, truth be told, smoking a little marijuana on Bui Vien is overlooked most of the time.

Don't let your curiosity get the better of you. If anyone starts becoming aggressive, you'd better get out of there because things escalate quickly in Bui Vien when it involves drunken people and perverts. If you are in a bar or pub, be pleasant to the staff and they will cover your back if things get wild.

Watch your drinking, especially when you are in a dance club or bar. There are a lot of incidents where people have been doped and kidnapped for human trafficking and the organ trade. Unscrupulous individuals are just waiting to take advantage of naive tourists who are inebriated. Don't let a moment of dropping your guard to end up being a lifetime of regret.

Prostitution is common and you are more than likely to be set up in a sting. If you party hard, only bring the cash you need to have a good time and leave the rest safe in your hotel or a secure location.

Do not walk in deserted alleys. If you are a wanderlust, colorful signs nestled in small alleys would definitely lure you in. Be careful with your belongings because pickpockets and scammers are always waiting to prey on that kind of visitor. A particular circumstance to watch out for is a girl who gets overly familiar with drunk foreigners. She is just looking for a chance to fleece them of all their valuables and then disappear into the darkness.
Be careful with Bui Vien Street's Sellers and Beggars
Lots of street vendors sell useful personal items from maps and fans to razor blades and sunglasses. Some people find this annoying, but it is one of the unique experiences of Asia. Imagine sitting down to enjoy a coffee and have everything you might want to buy pass by your table . Buy something for yourself and don't forget to drive a hard bargain but still be polite even when you cannot make a deal. Yes, it can be annoying after the fifteenth time. But hey, these guys are only trying to make a living. Just give them a friendly smile and look away, they will understand. If it still bothers you, find a second story or a seat inside the bar or restaurant. They rarely come inside without an invitation.
There are also a fair number of beggars. Many of them are struggling to survive because of a disability or disease which might have led to them being homeless are very poor. It is your call to decide to spare a few cents or not. I suggest that you should because it can make a difference in their lives. Do it discreetly when there is only one individual around so as to avoid being noticed by others. Otherwise, it will attract more beggars' attention.
How to Report a Crime on Bui Vien Street
If you are a victim of a crime,  report the crime to the nearest police station. You will need a police report to make a claim on your insurance.
Police stations are available all over Ho Chi Minh City but the chances of someone speaking English vary. Try to ask for help from a trusted local if you encounter language difficulties. (Reward them to show your gratitude for their help when things are done.)
For backpackers and budget tourists, there is a police station right in Bui Vien across from the Amazon Bar at 66 Bui Vien,  Pham Ngu Lao Ward, District 1.
There is another police station at 24-26 Pasteur Street in District 1 near the Fideco Tower. They are open 07:30-11:30 and then 13:00-17:00.
Is Bui Vien safe enough? It can be if you follow my safety tips to have a safe vacation and avoid being a victim. The vast majority of people in Ho Chi Minh City are honest, hardworking, and incredibly happy to have you visit their city. Come and see for yourself.