9 Places You Must Visit After Ho Chi Minh City!
You've just finished your trip to Ho Chi Minh City. You've developed a crush on our kind hearted people, street food, the constant sound of honking and crazy traffic. You've decided to explore some more nearby places, yet you have no idea where to go next?
The following are 9 places to go after Ho Chi Minh City  that you should consider. They are all close by and you can easily get there by taking a bus or a short-haul flight (except for Chau Doc) from Ho Chi Minh City. Let my article guide you so you can seize the chance to explore these beautiful areas in South East Asia.
Chau Doc
Chau Doc is truly a hidden gem in the Mekong Delta that not everybody has a chance to discover. Tourism has yet to shatter the natural lazy feel of this small peaceful town. Travel 3 to 4 hours from Ho Chi Minh city to plunge into a completely different atmosphere in Chau Doc – quite and peaceful.
There are fancy luxury resorts in Chau Doc, such as the famous Victoria Nui Sam Lodge. This may not be for you if unearthing  the modest and natural scenery of this area is important for your trip. Instead, check out staying in local homestays to be immersed in the true vietnamese culture of Chau Doc.
Marvellous natural landscape is what will steal your heart away in Chau Doc. It's like you've just jumped into a whole new world. This is the kingdom of green fields, shining rivers and mountains stretching over the horizon. Don't forget to get involved in the solemn atmosphere at Buddhist temples and pagodas. They are what help Chau Doc gains its reputation as a religious area. Check out Ba Chua Xu Temple, Tay An pagoda and Chau Phu temple and let the pure spirituality engulf your soul.  
Phu Quoc
Phu Quoc island is now one of the most attractive destinations in Vietnam. Beautiful and clean beaches will amaze you. This will be the ideal destination for a luxury trip with modern resorts and excellent services. But you may need to think twice if you're looking for a budget trip. It's because the majority of the goods on Phu Quoc is imported from the mainland, which raises up the prices in general.  
It's so enjoyable to indulge yourself in Phu Quoc. You can spend your whole day lying under the sun, having some fruity cocktails and fresh seafood right on the beach. Although no one would get tired of such a lazy day, but if you want to stay a bit more active, these activities can wipe out your boredom:
Spend your whole day in Vinpearl Land Phu Quoc amusement park

Engage in water sports like snorkeling, scuba-diving or kayaking

Get around on a motorbike with an informative tour guide

Visit Ham Ninh fishing village and place yourself in a slow pace of local life  
When the night comes, you surely don't want to miss out visiting Dinh Cau Night market. This is a wonderful place to try fresh local dishes and get some souvenirs for your beloved ones.
Da Lat
Here comes an all-time favorite destination in Vietnam for any romantic soul. Just a short trip to escape from the bustling Ho Chi Minh and fall into the heart of Da Lat, the poetic "Little Paris".
Hotels and homestays there take great advantage of this romantic city.  They feature spacious views dotted with elegant French-style villas. Whichever you choose to stay, you can breathe in the scent of thousands of pine trees and become absorbed in the idle life in Da Lat.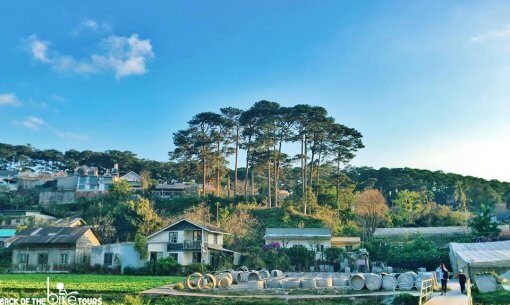 Riding a bicycle or walking is the best way to get around and explore Da Lat. This is because the city has many little corners embracing simple yet interesting shades of the local life. You may miss out on those moments if traveling by car or motorbike. Try to wake up early and wander around Da Lat in the morning, this is when the whole city is still under the cover of a huge foggy curtain. You can catch most of the significant sights and landmarks in the town on your way, like Xuan Huong Lake, Da Lat Market, Lam Vien Square and Rooster Church. For places outside the town, you may need to rent a motorbike or book a day tour that is available at almost every hotel. In the tranquil suburban area, your senses will be awakened by the beauty of nature in Da Lat. Must-see sites include Elephant Waterfalls, Thien Vien Truc Lam, Cau Dat Farm and Me Linh Coffee garden.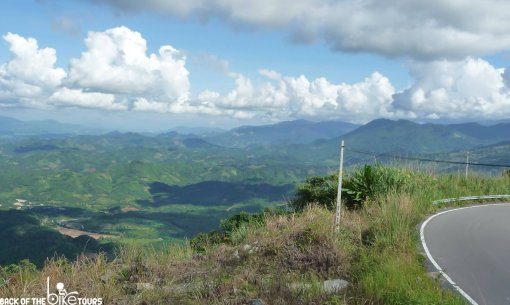 Nha Trang
If you've made your decision to visit Da Lat, why don't you include Nha Trang- a nearby city. Riding from Da Lat to Nha Trang is one of the most amazing journeys that you'll ever have in Vietnam.
A resort or hotel room by the sea is the best choice for you to savor every moment in Nha Trang. This is the mix-up of comfortable and luxurious services with stunning tropical surroundings: alluring beaches of white and crystalline turquoise water shining in the sunshine.
During the daytime, you can spend hours sunbathing by the sea, trying fresh seafood or taking outdoors activities such as snorkeling, surfing and motorcycling. There are also many spiritual activities for you, too. You can book a local guide and visit religious places like the ancient Cham towers. They are the symbols of the historic Champa – a great and distinct civilization in the past. When the sun sets and the nightlife wakes up, you will see Nha Trang is a party town. Rooftop lounges, swimming clubs, whiskey bars or sports bars & grills, everything is on offer in Nha Trang for you to have an unforgettable night.   
Hoi An
This ancient and vibrant town is an old trading port during the French colonial period. The town reflects a combination of indigenous and foreign (Chinese, Japanese with later European influences) spirit in its architecture.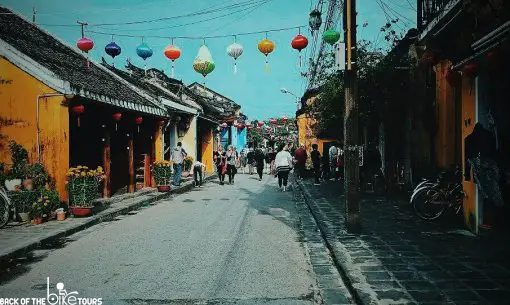 Although Hoi An is such a small town, there are a number of interesting activities portraying Vietnamese traditions that you should take a try. For instance, you can:
Experience a boat trip down the Thu Bon river

Walk around Tra Que village and practice planting vegetables as a true farmer

Visit Hoi An silk village or join in the flower-garland releasing festival on the Hoai River to pray for luck and happiness.
The town truly comes into its own at night. Take a walk and you can feel an old Hoi An wrinkling under the magical light of several lanterns.
Siem Reap
Saying goodbye to Ho Chi Minh City, guess what's waiting for you in Siem Reap? This is where an ancient world meets the modern lifestyle of a developing city. This is the land of golden temples.
Angkor Wat is the religious landmark that you should first pay a visit in Siem Reap. Not only providing visitors with historical values, Angkor Wat has one of the most breathtaking sunset views in Cambodia. Taking an Angkor balloon tour is the best way for you to contemplate and capture that picturesque scenery.   
Adventurous trips outside of the town are also available for those who are interested. You can travel to the mysterious twelfth century temple, Beng Mealea, or try a wide range of cuisines at local markets. What if you plan to have a completely relaxed trip in Siem Reap? Then you can stay in a world-class hotel right in the center of Siem Reap, enjoying sumptuous spas and great shopping. Siem Reap can fulfill all your needs!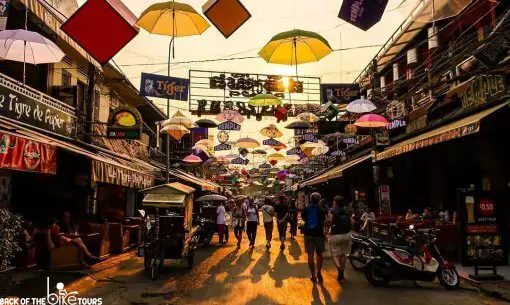 Bangkok
Bangkok city is an interesting mixture of traditional Asian culture and Western lifestyle. One moment you're walking in a local market bargaining with a seller, and just a few minutes later you are right in the center of a luxury shopping mall.
Your first impression with this city is probably strong smell of food from the streets and crowds of tourists. They are what vitalise Bangkok city. Street food is definitely the first thing you should try in Bangkok. You can taste the original Thailand with traditional dishes like Pad Thai, Khaohnew ma moung (or Mango sticky rice), Neua satay and Tom Yum Goong. Or if you are a brave tourist who dares to try exotic (and scary) things, how about eating scorpions and cockroaches? Hit the streets and you can find them all.
Siam Square, Terminal 21 Bangkok, and Chatuchak weekend market are the next worth-visiting stops in Bangkok, especially for shopaholics. You are looking for international brands and high quality clothes in Bangkok? Terminal 21 Bangkok shopping mall is your ticket. You're interested in Thai and Asian brands that offer great designs at affordable prices? Make a dash for Siam Square. And if you want to fall into one of the largest markets in the world, don't miss out Chatuchak market. This huge weekend market brims with almost all kinds of products. It's also a street food paradise and the best place to buy Thai handicrafts.
Phnom Penh
To put it simply, Phnom Penh is like a half-and-half pizza made from the lifestyle of Thailand and Saigon. It's the perfect contradiction between traditional values and modernity.
First thing first, the city is remarkable for its historical and religious sites. National museum of Cambodia, Royal Palace, Killing fields, and Silver Pagoda are among the most-visited places in Phnom Penh. There are several things for you to learn about Cambodian history and Buddhism there. The opposite side of Phnom Penh is all about fancy hotels and restaurants, heated festivals on the street with fireworks, impressive shopping hubs, charming café and bustling night bars.
Singapore

        
The last destination in my list is a paradise for shopping. This tiny island can make every shopaholic marvel due to its huge number of shopping malls.
Orchard Street is on top of the recommended stops list in Singapore. ION Orchard and Paragon are the two most important complexes on this 2.2-kilometer road. They offer all the brands, both domestic and international, that you'll ever need and take you almost a day long to explore. Tourists favor the two malls also because they often provide them with promotions and exclusive deals.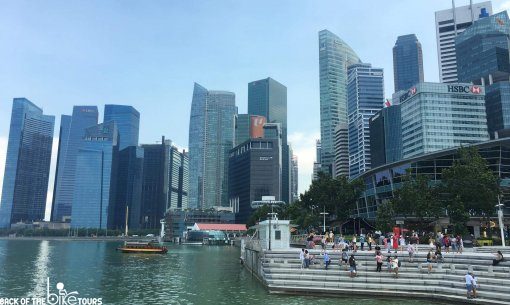 During your visit in Singapore, make sure that you won't miss visiting Chinatown, another shopping landmark in this island-city-country. Here in Chinatown, you can spend your whole day, or even a whole week, wandering and shopping. For those who just want a quick tour around this town, I'd like to suggest Chinatown Street Market. It covers a large area including Pagoda Street, Trengganu Street, Sago Lane, Smith Street, and Temple Street. This deeply Chinese-inspired market gives you the feeling of being in the most bustling town in China. Souvenirs are probably the easiest to buy because they are sold at several stalls. Silk garments, paper fans decorated with calligraphy and lucky cats are among the most-favored stuff. You can also find a variety of street food there. Don't forget to try tasty Chinese dishes such as dim sum, noodles and peking duck.