Ho Chi Minh City Street Food: An International Twist with Japanese Street Sushi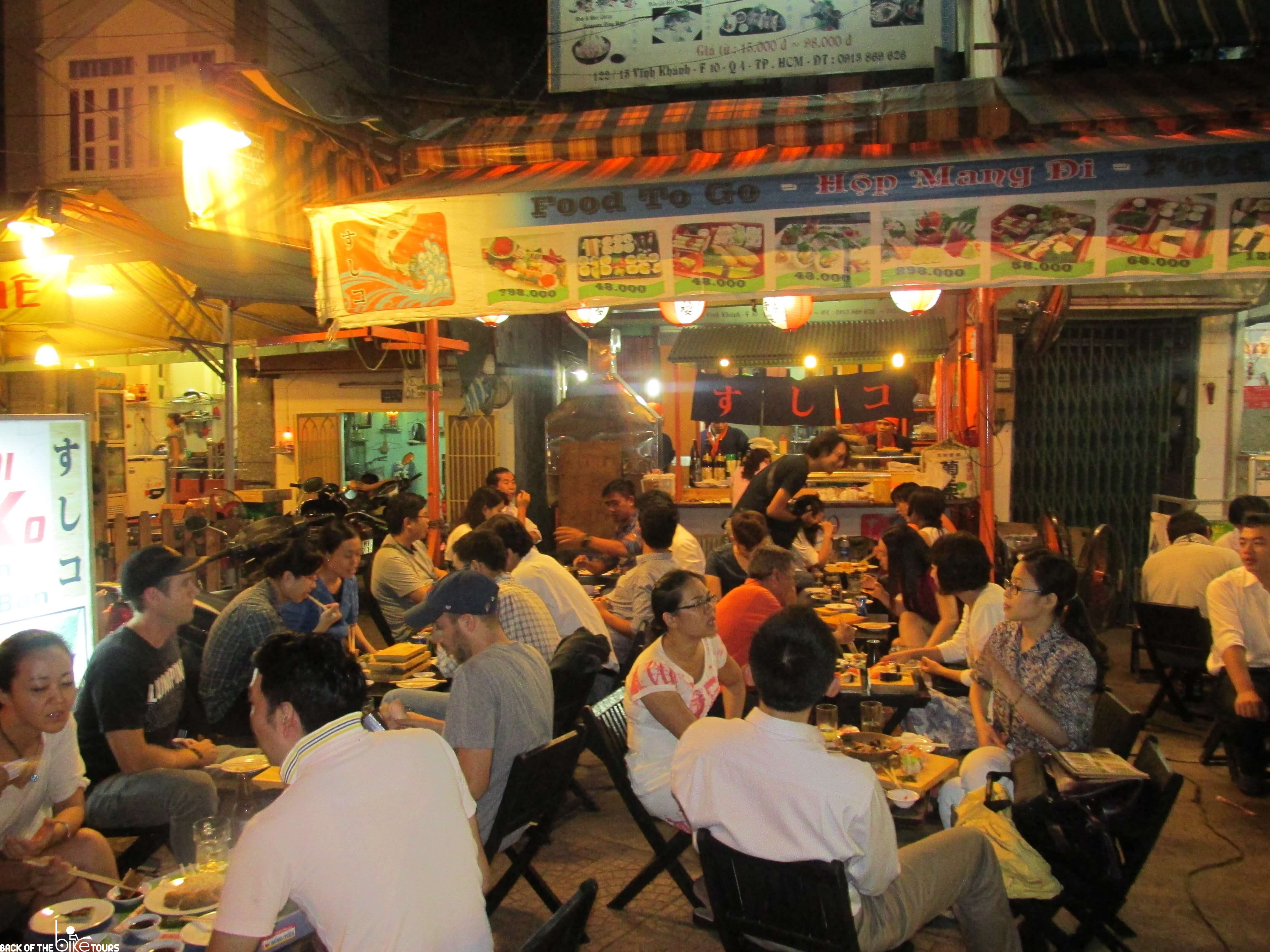 Saigon's Street Food is always evolving and changing
The Saigon Street Food Scene is known for moving in fads or trends. It doesn't neccesarily even have to be traditional Vietnamese street food that you will find on the street these days.
In my two years of scrounging the streets for the best of the best street food, I have gotten to see a few of these cravings come and go. Like the Korean favorite of Topokki  or Cheese Sticks served with Lemon Tea.
Street Sushi started popping up around town over a year ago, quietly, but aggresively.
At first, Yes, I was just as skeptical as you are now.
.
A few things do not mix in my realm of what is conceivable here in Vietnam, eating raw fish in the streets of Saigon would be close to the top of that list.
Well ladies and gentleman, alleluia, I am a believer!
Last year in May, I was living in District 4 and noticed what looked to be a sign for a Sushi restaurant that I hadn't noticed before although I had driven by this location hundreds of time on my way to and from our tours.
Street Sushi? In district 4? That is crazy talk!
So, being the curious street food eater that I am, I decided to recruit some other intrigued foodies and test it out.
To say that it was the best Sushi I have ever had in my life would not be true.
What it is though, quality sushi for a great price in a unique setting.
Who was behind this delicious Saigon International Street Food Restaurant?
Ms Giau, a young business woman of 30 years old.
She had been working in a Japanese Restaurant in District 1 for a while and decided she wanted to work for herself.With the help of her friend, who is the Head Chef at Sushi Ko, she started her restaurant in May 2013.
Things have been going well since, she even has a customer from Japan who has come to the restaurant every night for dinner since she opened in May.
"The best customer" she says with a big smile when asked about him.
Your only as good as your last dish is a phrase you hear in the Culinary scene so….
How was my last dish of Japanese Street Food?
When I am in a local area of Saigon, and I spot 5 foreigners in a neighborhood that they are a rarity in eating at a restaurant.You know the word is out! Sushi Ko is a hit!
The restaurant is so packed that Ms Giau's father, who is always helping out at the restaurant, arranges us some very impromptu seating that is just enough for our table of two to squeeze in.
   Sushi-KO filled up late on a Tuesday with a mix of Vietnamese and Foreigners
Your always wondering if quailty drops in a restaurant when they start getting busier but that didn't happen here.
What Japanese Street Food Delicacies are they serving up at Sushi KO?
I like Sushi Ko's menu for having a large range of grilled or cold appetizers to choose from before just jumping straight into the sushi.
There is alot to choose from and I haven't had anything that I would have ever considered "bad" from their large selection.
                                         Mixed Seaweed Salad with Dashi          Price: 88,000 VND
                                         Grilled Pork wrapped Asparagus      Price: 18,000VND
                             Chicken Meatballs with Black Sesame Seeds    Price: 28,000 VND
                  Tuna Belly, Salmon, and Octopus Sashimi        Price: 25,000-35,000 VND
                                 Salmon and Avocado Roll          Price: 58,000 VND
                                 Fried Shrimp Roll            Price: 58,000 VND
Want to check out the local Ho Chi Minh City Street Food Scene here at Sushi KO?
Sushi-KO 
122/15 Vinh Khanh  F10, Q4
0913869626
Open from 5pm-10pm